There will be no leftovers when you make this flaky, chewy and crumbly Dutch Apple Pie Recipe. This indulgent dessert is ready in an hour from start to finish!
Dutch Apple Pie Recipe
Have you ever made something so good that you worried for the safety of the leftovers? Not that someone would do them harm as they relaxed under cling-wrap – just that they might be devoured unfairly quickly in a clandestine middle-of-the-night raid on the fridge. Unfortunately, that food-crime happened recently in our brownstone. I call it the case of the missing Dutch apple pie. Ben has another take on the matter and refers to it in far less pejorative terms: midnight snack.
Trust me – I'm thrilled that my apple pie was so good that it couldn't be resisted! The secret to this Dutch apple pie is the crumble on top. Oats and brown sugar are mixed with a bit of flour, butter and olive oil. When it gets baked atop the pie, it's turns into chewy, crumbly magic. Like in a lot of my healthier recipes, I still use butter – just less. You can easily substitute some of the butter for extra virgin olive oil and not lose out on any of the rich taste! Win/win. The crumble can also be referred to as streusel.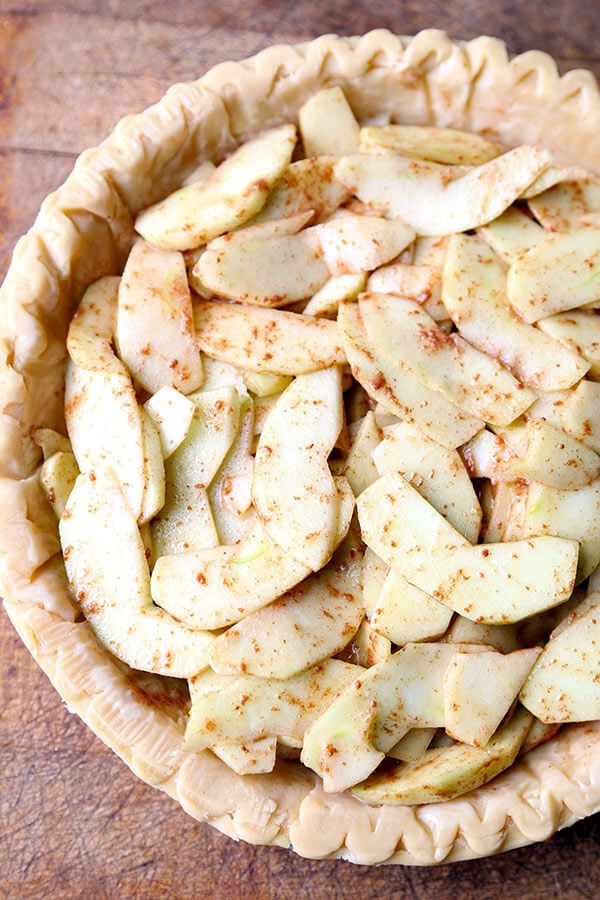 I used Granny Smith apples for the filling. They are just tart enough to counteract the sweetness of the other ingredients in this indulgent dutch apple pie. Cinnamon, nutmeg and allspice really round out the flavor as well. The textural differences between the flaky bottom crust, the gooey apple filling and the chewy and crumbly streusel topping were a complete mouth party. It also didn't hurt that this pie tasted like a slice of the holidays. And there is a happy ending to the case of the middle-of-the-night disappearance of the Dutch apple pie. I just made another one! Is there anything you've made that was so delicious that you knew the leftovers wouldn't make it through the night? I'd love to hear about it. Hit me up in the comments!
Other simple, delicious dessert recipes:
Did you like this Dutch Apple Pie Recipe? Are there changes you made that you would like to share? Share your tips and recommendations in the comments section below!
Dutch Apple Pie Recipe
There will be no leftovers when you make this flaky, chewy and crumbly Dutch Apple Pie Recipe. This indulgent dessert is ready in an hour from start to finish!
Author:
Pickled Plum - Caroline Phelps
Recipe type:
Easy Recipe, Dessert, Pie
Ingredients
1 deep dish pie crust (regular is fine too)
1 egg white, lightly beaten
FILLING:
¼ cup granulated white sugar
2½ tablespoons all-purpose flour
1 teaspoon ground cinnamon
¼ teaspoon nutmeg
¼ teaspoon allspice
5 Granny Smith apples (or other tart apples), peeled, cored and thinly sliced
CRUMBLE:
½ cup rolled oats
½ cup all-purpose flour
½ teaspoon kosher salt
⅓ cup dark brown sugar
2 tablespoons extra virgin olive oil
2 tablespoons butter, room temperature
Instructions
Preheat oven to 425°F.
Brush the pie shell with egg-white and let it dry. This will act as a barrier for the moisture.
To make apple pie filling: place apple slices in a large bowl. In a separate bowl combine 2 tablespoons flour, granulated sugar, cinnamon, nutmeg and allspice. Mix well, then add to apples. Toss until apples are evenly coated. Add to pie shell and spread evenly. Bake in the oven for 10 minutes.
To make the topping/crumble: In a bowl, add oats, flour, salt and brown sugar and mix well. Add olive oil and stir until mixture clumps. Add butter and mix until mixture is crumbly.
Take pie out of the oven and top with crumble mixture.
Lower heat to 375°F and bake for 30-35 minutes, until apples are soft and crumble is golden brown.
Note: If crumble is brown, but apples aren't soft, cover loosely with aluminum foil to prevent crumble from browning too much and continue baking.
Notes
This Dutch Apple Pie Recipe is:
Very low in cholesterol
Very high in vitamin B6