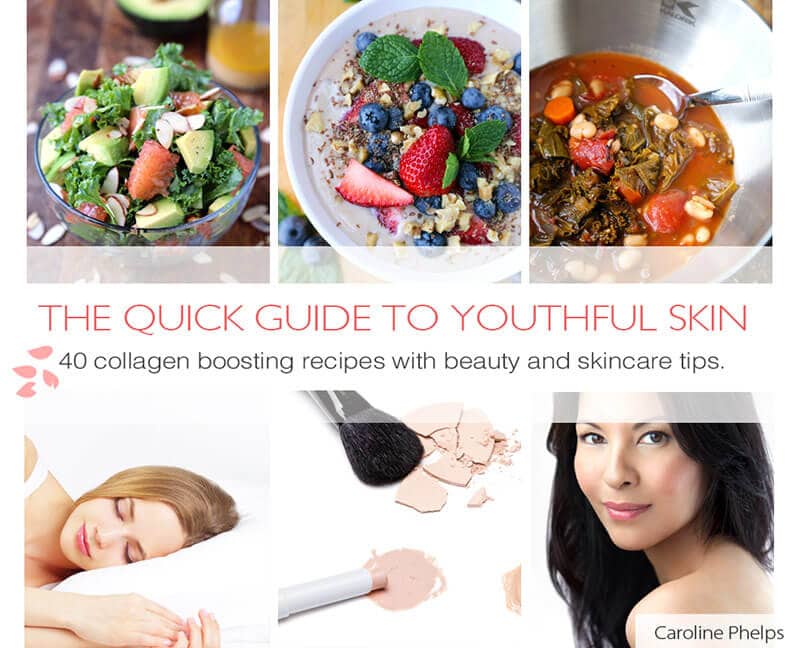 Are you ready for youthful looking skin?
Searching for natural ways to reduce fine lines and other signs of aging? Then this is the ebook for you.
In this ebook I share with you my favorite skin rejuvenating recipes and daily habits that I firmly believe contribute to healthy age defying skin. I have been modeling professionally for 21 years and get asked all the time what my skincare routine is, in order keep my skin looking smooth and clear. The answer is: lots of collagen boosting foods and a consistent beauty routine that's easy and manageable!
How did this age defying diet help me?
It all began when I turned 30. My body was changing and this resulted in breakouts and dry skin. Up until then I had been pretty lucky with my skin, never needing to worry about the way it looked or felt. I began researching ways to improve my skin and how to keep it bouncy, hydrated and clear. I focused on creating recipes that were high in anti aging nutrients and bumped up my daily skin care routine.
What happened next was magical; my skin started to clear up and within three months, it looked better than it had in years! That's when I realized that a diet rich in foods that are high in vitamins and nutrients aid is essential to healthy looking skin. Including foods that aid in the production of collagen help keep the skin hydrated and supple. By Including these foods into your daily diet, you can drastically change the way your skin looks and feels!
---
ABOUT THE AUTHOR
Hi! I'm Caroline, the home chef, photographer and blogger of Pickled Plum. I'm also a professional, veteran model who has been in the industry for over 21 years. I started when I was 20 years old in Tokyo, Japan, and since then have worked all over the world in places such as London, Taipei, Hong Kong, Singapore, Bangkok, Hawaii, Toronto and New York city. Being surrounded by top beauty experts has taught me so much about skincare and makeup application. I spent hours sitting in makeup chairs, watching them transform me from plain Jane to someone worthy enough to represent big brands like Lancôme and Kanebo. I have worked with famous makeup artists like Mally Roncall and Rumiko (RMK) who shared their favorite tips on how to make skin look flawless. I've had a good career and am lucky to still be working regularly as a model. The only difference is that I now shoot for anti aging products as opposed to makeup targeting younger women, which I'm fine with! I'll never have the glowing complexion of an 18 year old girl again, but I can still have beautiful, youthful and healthy looking skin!
    Lancôme Visionnaire Commercial
---


– 20 Never before published recipes, only available in this ebook.

– 2o of my favorite age defying recipes from the blog.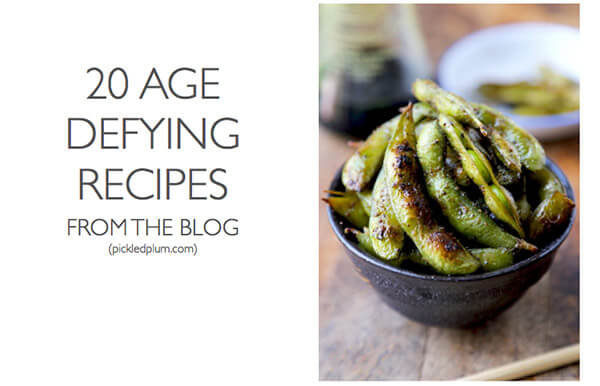 – A step-by-step natural looking, full makeup application I've learned from the professionals. 
A diet high in collagen is the start to beautiful skin. The second step is caring for it. This ebook also has a section devoted to showing you how to prep your skin before applying makeup, the entire makeup application (with step-by-step photos) and a list of products that are lighter on your skin, for a more natural look. The healthy skin look is the opposite of caky; it's simply an enhanced version of your natural beauty!


Age Defying Skincare
Included in this ebook is a daily hydrating face massage I practice on myself that has truly changed the way my skin looks +  a beauty mask recipe for days when your skin needs a little extra help radiating. There is also a simple beauty routine to help keep your skin firm and smooth.

A list of store bought snacks since no one likes to cook every little thing from scratch! It's nice to know you can still practice this age defying skin diet with store purchased goods.

– Printable age defying sheets for you to fill up with your own ideas.
Create your own age defying recipes and keep them stored neatly in a binder!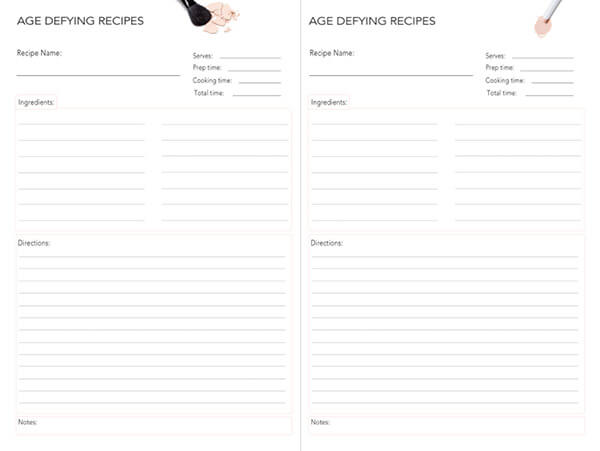 A 'Hit your goal' calendar to motivate you daily along with an age defying menu planner.
Are you ready for youthful looking skin?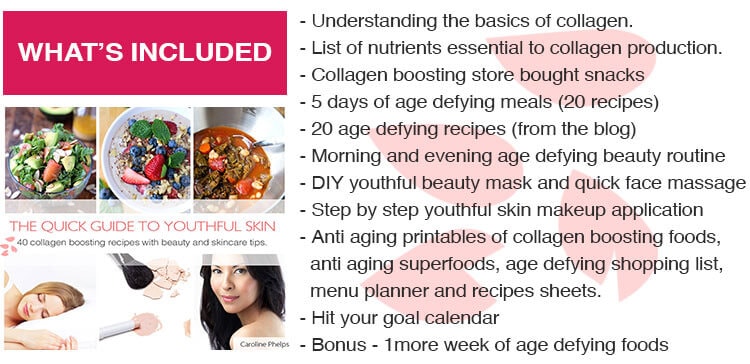 Are you ready for youthful looking skin?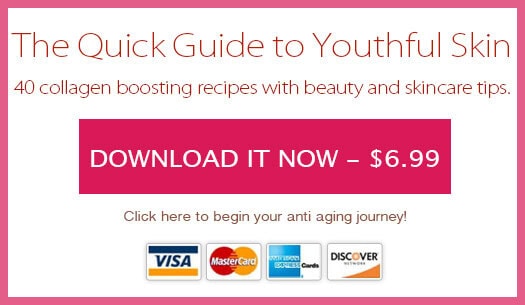 How to purchase and download:
Click on the button below to add this ebook to your cart.
Enter your paypal account or credit card number (with basic personal information).
You will receive an e-mail with a link to download this product.
Click on the link, download and begin your anti aging foods journey!
Troubleshooting:
For iPad: You must have the iBooks app (it's free) installed to save (into your library) and view.
For smart phones: The easiest way to view PDFs on smart phones is to first download the product on to your computer and e-mail it to yourself as an attachment. Save it in your phone and voila!
What is an Ebook?
It's a digital book you can read from your computer, iPad and smart phone (you MUST have Adobe Reader or some other reading software/app installed for smart phones, otherwise go to the troubleshooting s below.)
This ebook can be printed however it will not look as nice as what you see on screen (printing paper size is also different). It is best viewed from a computer, tablet, or smart phone. What's great about ebooks is that you can have them with you everywhere you go, including at the grocery store! This way you can easily pull up the collagen boosting food page and start shopping!