Marinated zucchini slices
Earlier this week I had lunch at Boqueria, one of my favorite tapas restaurants in the city. I like the relaxed atmosphere, the simple yet delicious wine list and small plates of bold flavors to be shared among friends. They recommend two to three plates per person but we usually go way over and walk out feeling fat and groggy. I love the idea of tapas style meals; so many options and different dishes to try, it feels like I'm sampling instead of having a formal sit down dinner. It's a lot of fun and sometimes I'll put together a list of small and easy dishes to cook at home to recreate the same feel. Marinated zucchini slices are one of those dishes that's very versatile; you can have it as a snack, as a topping for a sandwich (vegetarian or chicken), a side to a pasta dish (spaghetti meatballs anyone?) .. The options are endless!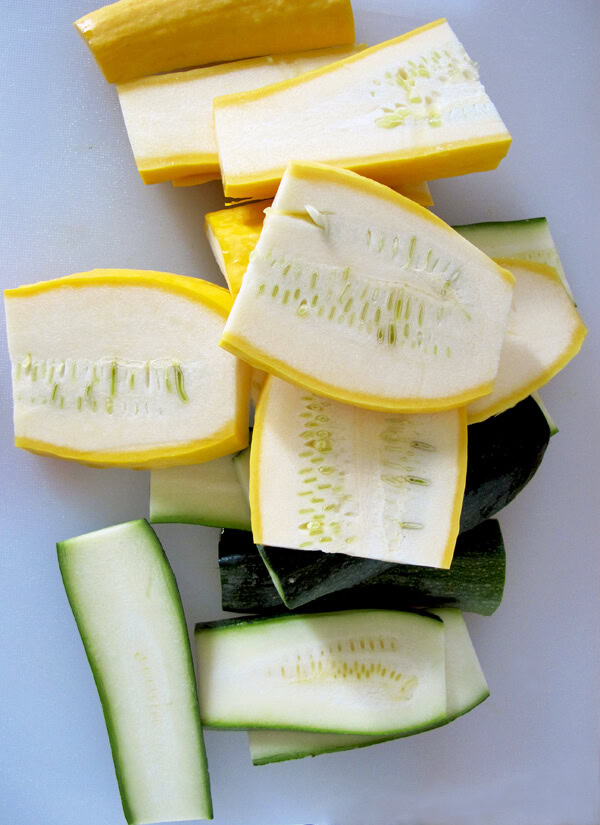 Very little work is needed for this dish, so this is good news for all of us and especially hard working moms out there! It's healthy, colorful, clean and it can keep in the fridge for a few days. If you find the garlic to be too strong, use less and your kids will snack on these marinated zucchini slices without even knowing they're eating vegetables (click here for more kid friendly recipes).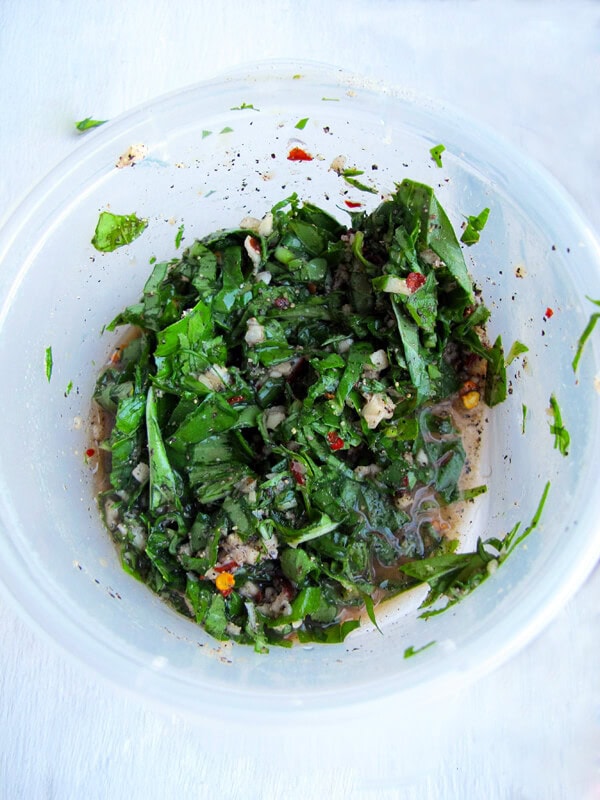 Nothing pairs with a vinegar base dressing as well as freshly picked herbs. The shredded basil in this recipe brightens up the dish with an invigorating summer feel and looks beautiful. It's got a lot of zing and a strong pepper taste – classic Italian flavors we adore and love so much.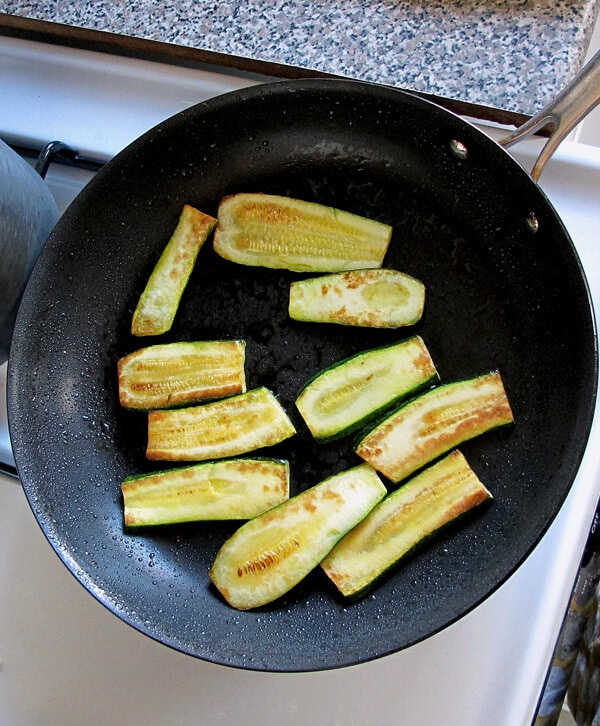 Italian food is so much more than just pasta, what I love about their cuisine is how clean and simple many of their seafood and vegetable dishes are. They're easy to cook and let the pure flavors of high quality ingredients shine. A lot of Italian dishes are friendly to the waist line as well (like this orange and fennel salad) so that's an added bonus in my book! If you're feeling a little adventurous, substitute the basil for shiso leaves. Still delicious but with a little Japanese kick to it!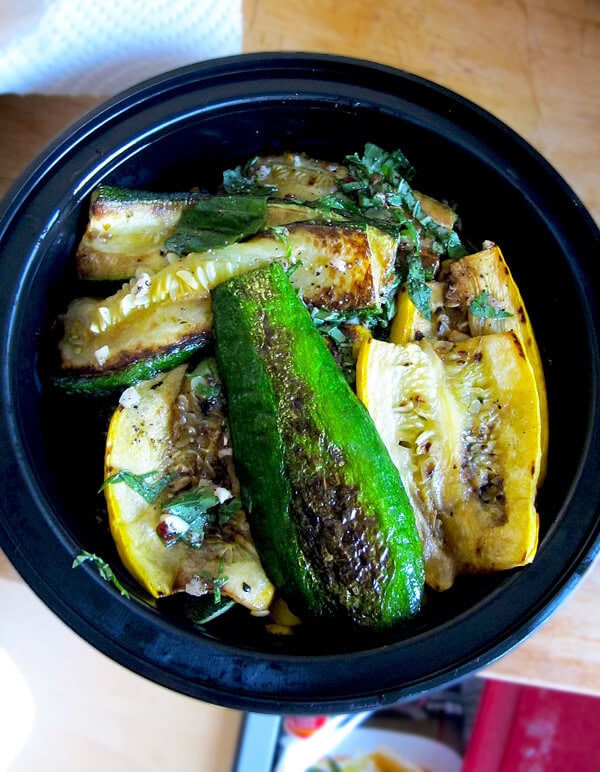 Marinated zucchini slices
Ingredients
2 yellow zucchinis, sliced ¼ thick, lengthwise
2 green zucchinis, sliced ¼ thick, lengthwise
2 tbsp extra virgin olive oil
Dressing for the marinade
3 garlic cloves, minced
1 tbsp red wine vinegar
1 tbsp sherry vinegar
1 tsp kosher salt
1 tsp freshly ground black pepper
¼ cup fresh basil, roughly chopped
Instructions
- In a large pan over high heat, add olive oil.
- When the oil is hot, add zucchini slices but do not overcrowd the pan (as this will lower the oil temperature).
- Cook on medium/high until slices are golden brown, almost slightly charred.
- Rest the slices on paper towel and repeat until all the slices are cooked.
- In a bowl, mix all the ingredients for the marinade.
- Use a tupperware for the next step: Line bottom of tupperware with zucchini slices and drizzle with a little dressing. Continue layering and adding a little dressing until all slices are used.
- Cover with a lid and refrigerate for a few hour (at least 2). Serve cold.
Nutrition Information
Serving size:
6
Calories:
66
Saturated fat:
1g
Unsaturated fat:
4g
Trans fat:
0g