You won't miss the meat in this savory, smoky and protein loaded Seitan and Vegetable Stir Fry Recipe. Healthy, delicious and on the table in 20 minutes!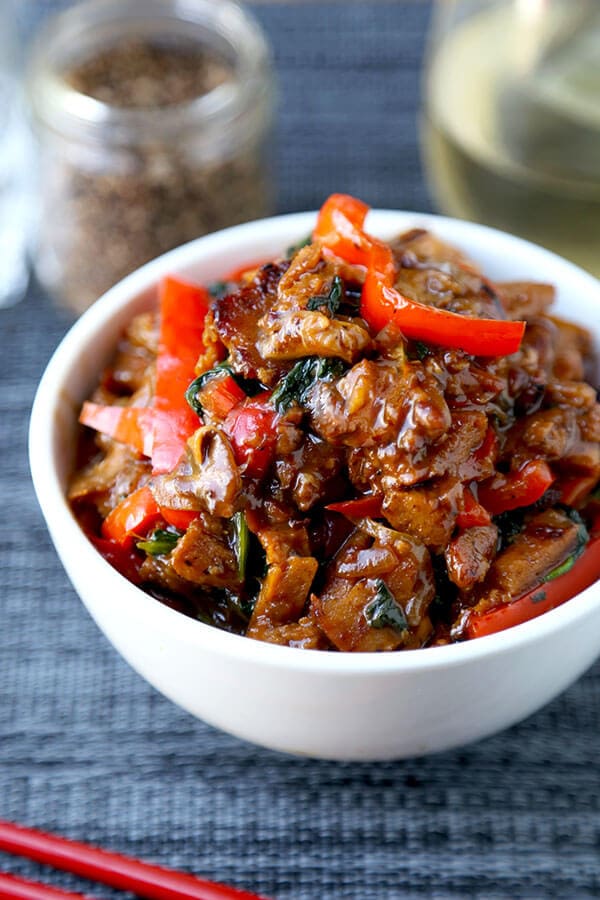 Seitan and Vegetable Stir Fry
I have my local Thai take out-spot to thank for introducing me to seitan. A few years ago, when we began our efforts to decrease (but not quit entirely!) our intake of meat, I'd pick up the phone and place an order for mock-duck with Thai basil. It was similar to the flavor profile of my Thai basil chicken recipe and really hit the spot. The first time I tried the fake duck in the to-go container, it had such a meaty texture I thought they might have made a mistake and prepared my order with meat. It wasn't quite a carbon-copy of meat – but it was close. The texture was really on-point! So, the next time I ordered, I asked what they used for the mock-duck. After a slightly confusing back-and-forth, the sweet girl on the other end of the phone said, "wheat-meat." A quick Google search for that term turned up results for seitan. I've been a fan ever since!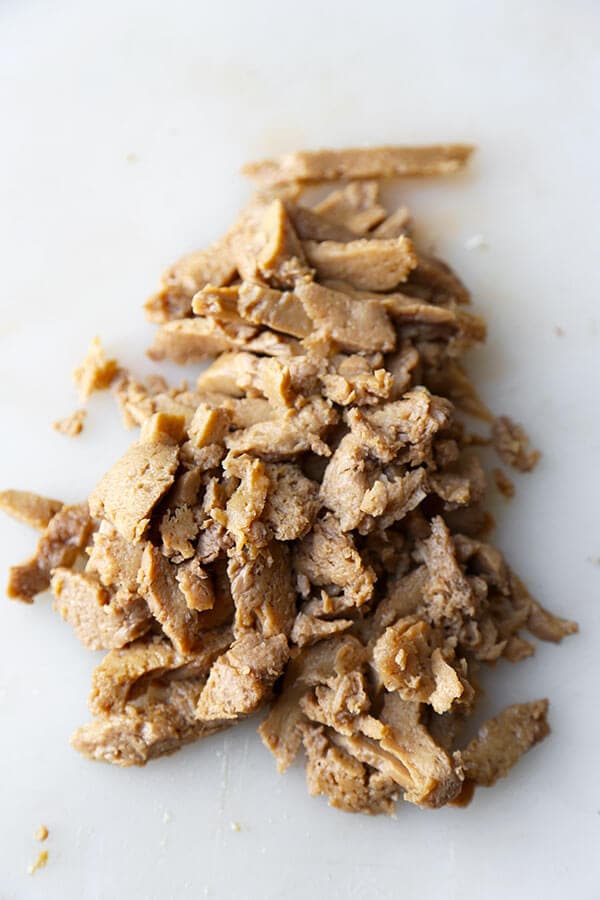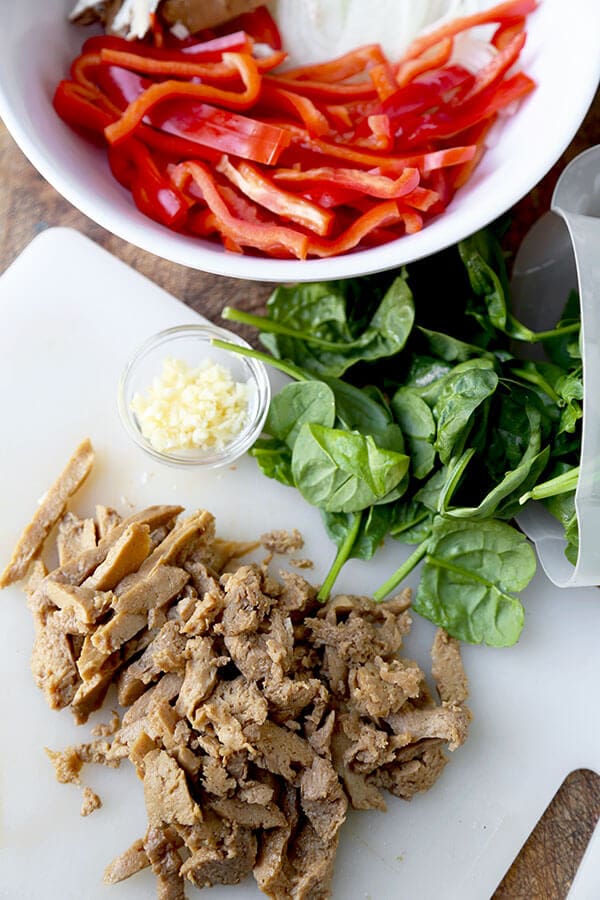 Seitan is derived from the protein portion of wheat and is a fantastic ingredient to use when you're craving meat, but are trying to keep it healthier. This seitan and vegetable stir fry recipe has such intense smoky and savory flavors. As an ingredient, the seitan does an excellent job of soaking in the flavors of the oyster sauce, dark soy and sesame oil. In fact, similar to tofu, the old adage that it tastes like whatever you cook it with totally applies here. On it's own, it's just wheat gluten with a meat-like texture. However, add assertive flavors and it really sings! Seitan has been used for ages in Chinese, Japanese and Vietnamese cultures – and is super easy to find in most grocery stores in the West these days.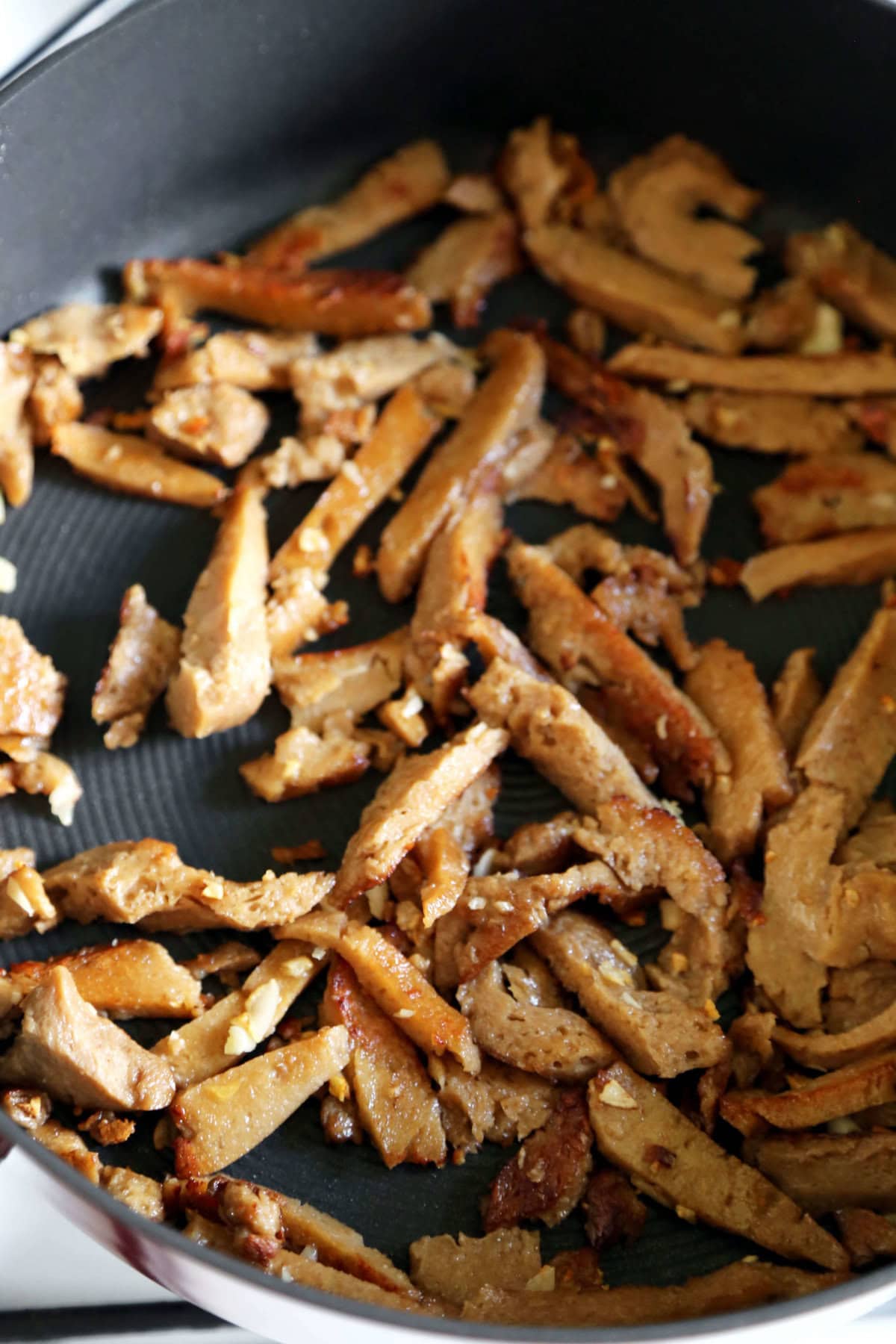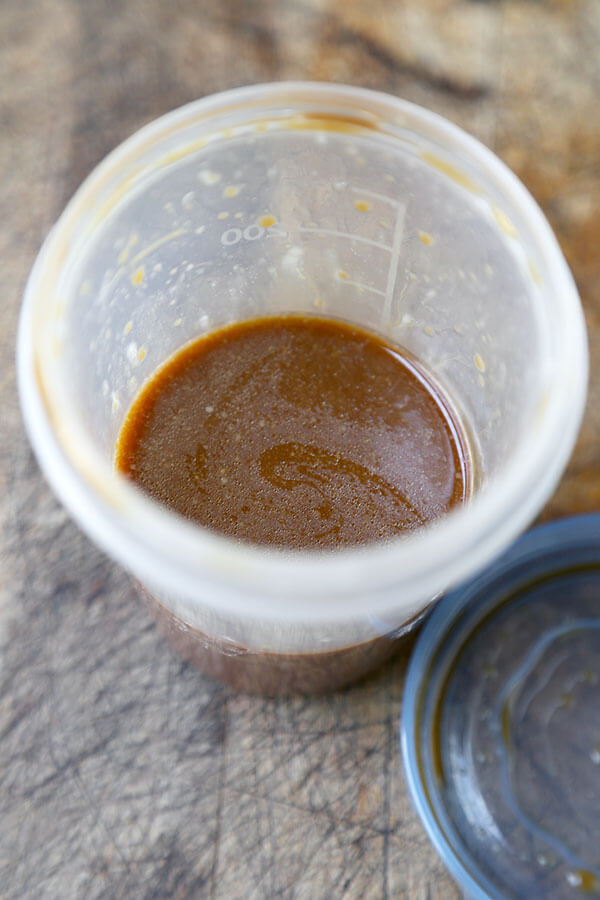 While super healthy and packed with wheat-based protein, this delicious seitan and vegetable stir fry is not a vegetarian recipe. However you can totally substitute the chicken broth for veggie broth and use vegetarian mushroom-based oyster sauce if you're avoiding all meat-based products in your own home-kitchen! This is one simple stir fry, perfect for a tasty dinner after a busy day. And, even though it tastes indulgent, the seitan keeps it lean and mean! Have you ever tried mock-meat before? Did you like it? Tell me about your own delicious experiences in the comments!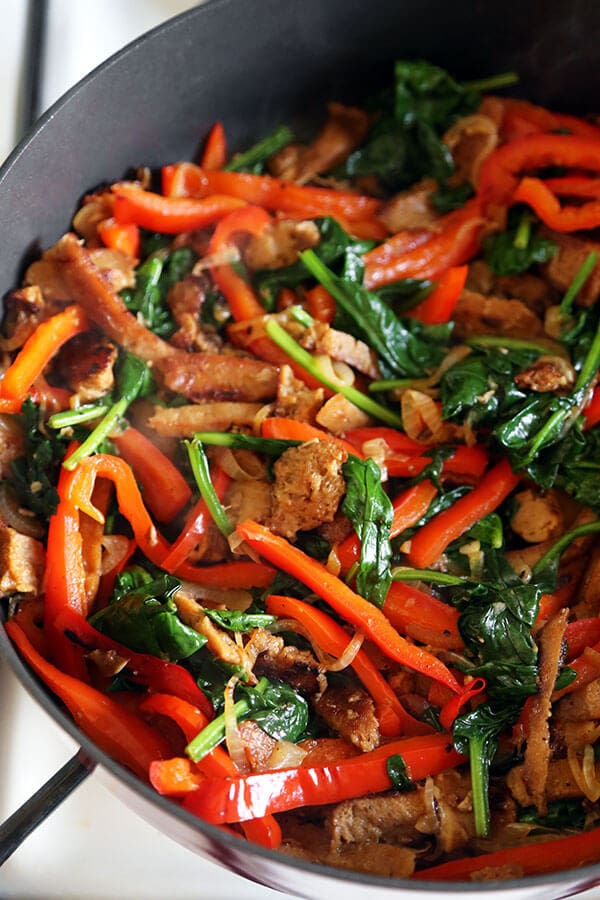 Other simple, delicious stir fry recipes: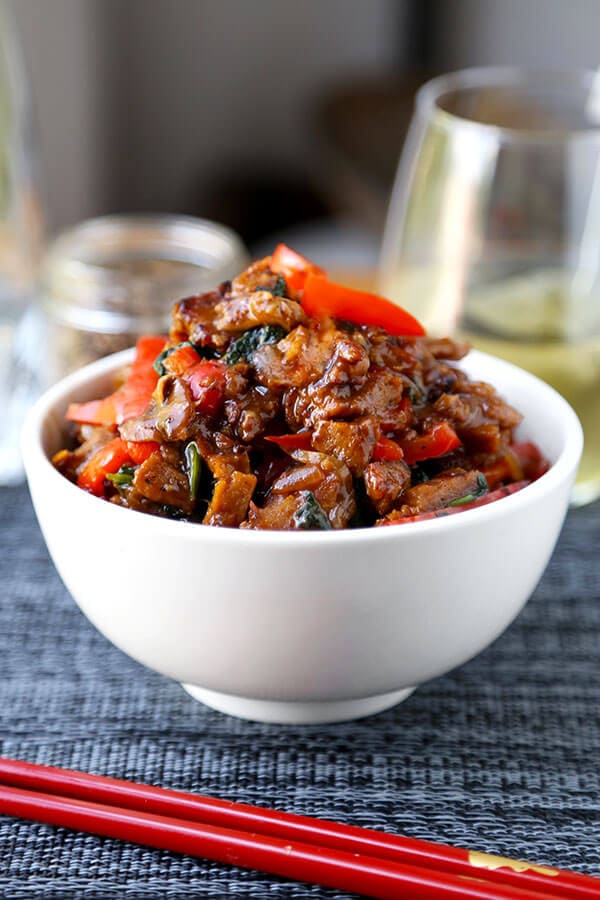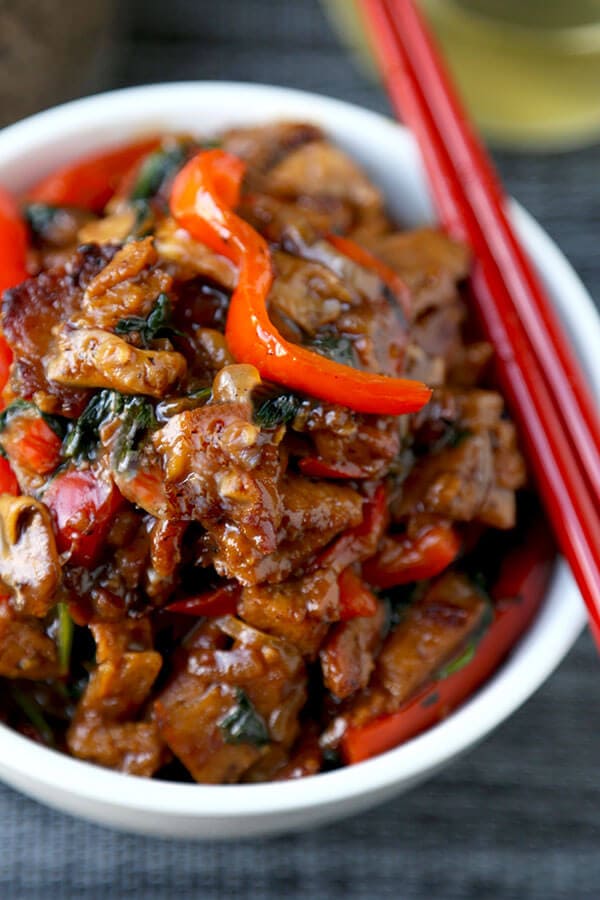 Did you like this Seitan and Vegetable Stir Fry Recipe? Are there changes you made that you would like to share? Share your tips and recommendations in the comments section below!
Seitan and Vegetable Stir Fry Recipe
You won't miss the meat in this savory, smoky and protein loaded Seitan and Vegetable Stir Fry Recipe. Healthy, delicious and on the table in 20 minutes!
Author:
Pickled Plum - Caroline Phelps
Recipe type:
Healthy Recipe, Easy, Stir Fry
Ingredients
1 tablespoon canola oil
2 garlic cloves, minced
8 oz seitan, sliced into bite size pieces
1 small onion, thinly sliced into half moons
1 red bell pepper, sliced into strips
5 shiitake mushrooms or button mushrooms, sliced bite size
4 oz (about 4 cups) baby spinach
For the sauce:
¼ cup chicken stock
1 ½ tablespoons oyster sauce
1 tablespoon dark soy sauce
1 tablespoon Shaoxing wine or dry sherry
2 teaspoons rice vinegar
2 teaspoons sesame oil
1 tablespoon cornstarch
Instructions
Put all the ingredients for the sauce into a tupperware container and seal. Shake well until cornstarch has dissolved and set aside. You might need to break up the lumps by squashing them with a spoon.
In a large pan over medium high heat, add canola oil. When the oil is hot, add garlic and seitan and cook for 4-5 minutes, until seitan is golden brown.
Add onion, red bell pepper and shiitake mushrooms and cook for 4-5 minutes, until vegetables are tender but still yielding a crunch.
Add spinach and cook for 1 minute.
Shake the tupperware container with the sauce and pour into the pan. Stir well and cook for 1 minute.
Turn the heat off and serve with rice.
Notes
This Seitan and Vegetable Stir Fry Recipe is:
High in selenium
High in vitamin A
Very high in vitamin C
High in protein
No cholesterol