Spaghetti with turkey meatballs
Can you believe it's already mid-September? Summer's gone by so quickly and now we can hear the children running and screaming whenever school lets out. I have to wrap myself in light wool for our chilly evening walks, which is one of my all time favorite things to do in Brooklyn. I love how quiet the neighborhood gets past 9pm; all that's left are people walking their dogs, the occasional car driving by and us breathing in the fresh Northern air. I'm also thinking of comfort foods; stews, pot roasts and meat pies (tourtiere is a classic Quebec dish) and.. spaghetti with turkey meatballs – hearty, filling and so incredibly satisfying!
Spaghetti with turkey meatballs is one of those perfect family recipes that will make everyone smile and ask for more (it's my husband's favorite). Made with lots of vegetables and turkey, it's a fairly healthy pasta dish that's anything but bland. The sauce is thick, sweet and savory while the meatballs are moist and infused with herbs and freshly grated parmesan. Many traditional Italian sauces use anchovies as a base to add saltiness but since I was out, I've substituted a little fish sauce for a similar effect (which can be omitted if you find that too scary). I also like smaller size meatballs for the simple reason that they're easier to eat and look prettier on a plate. A good presentation is something I picked up from my mother who always served the best looking plates. She took as much time cooking tasty food as she did cutting up strawberry and kiwi slices for garnishes. You gotta love that!
This is a hefty meal! You really don't need sides with this but if you want to make a big Italian feast, I would recommend serving it with a kale Caesar salad , some bread and a red pepper and olive spread. Finish with a nice slice of lemon pie or a simple tiramisu to end dinner on a sweet note. This recipe is enough for 4-6 people (depending on the serving size). For us, there was enough left for two dinners.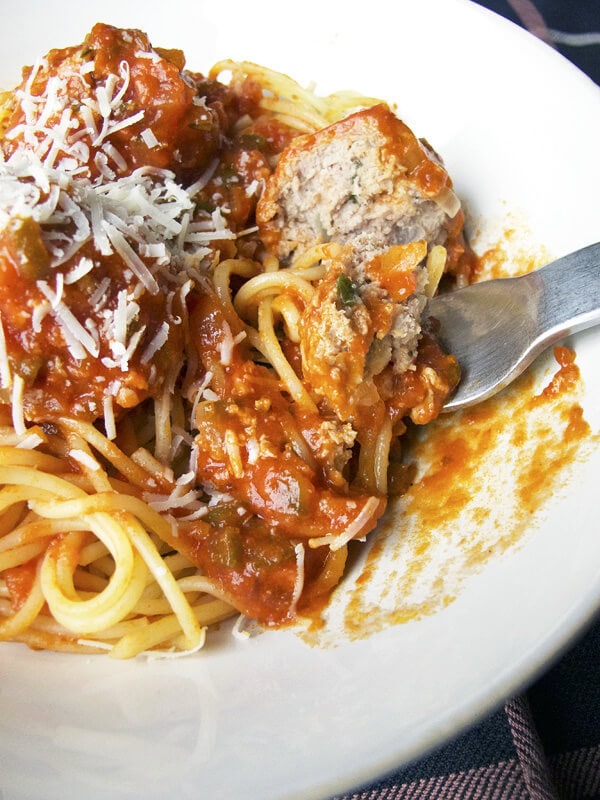 Spaghetti Turkey Meatballs
Comforting and hearty bowl of spaghetti turkey meatballs perfect for a Sunday dinner with family.
Author:
Pickled Plum - Caroline Phelps
Cuisine:
Italian, Noodles
Ingredients
1 pound dry spaghetti (or thin spaghetti)
freshly grated parmesan

For the sauce:

2 tbsp extra virgin olive oil
4 garlic cloves, minced
1 tsp red chili pepper flakes
1 tbsp fresh thyme, finely chopped
2 tbsp tomato paste
1 tbsp fish sauce (optional)
1 medium onion, peeled and finely chopped
1 medium green bell pepper, seeds removed and finely chopped
1 can tomato sauce 29oz (822 gr)
a handful fresh basil, roughly chopped (about 2 tbsp)
¼ cup water
1 tsp kosher salt
salt and pepper

For the meatballs:

1 pound ground turkey
¼ cup freshly grated parmesan
1 tbsp fresh tarragon, finely chopped
1 tsp dry parsley
1 tsp dry oregano
½ tsp kosher salt
1 large egg
¼ cup panko breadcrumbs (or regular breadcrumbs)
Instructions
- In a large deep pan over high heat, add olive oil, garlic, chili pepper flakes, thyme and onions. Cook for 5 minutes, until onions are translucent.
- Add green bell peppers and tomato paste and cook for 2 minutes.
- Add basil, fish sauce, salt, water and tomato sauce, stir well and bring to boil.
- Lower heat, cover and simmer for 40 minutes.
For the meatballs
- In a large mixing bowl, add all the ingredients for the meatballs and using your hands, mix well.
- Shape into small, two bites size meatballs and one by one, add them to the sauce WITHOUT stirring.
- Wait a couple of minutes, to let the outside of the meatballs cook, then slowly stir and cover them with sauce.
- Cook together for 40 minutes.
- Bring a large pot of salted water to boil. Cook spaghetti and drain without rinsing.
- Serve individually on a plate and top with a little sauce and meatballs.
- Season with salt and pepper and serve with freshly grated parmesan.
Nutrition Information
Serving size:
6
Calories:
625
Saturated fat:
5g
Unsaturated fat:
13g
Trans fat:
0g