White bean swiss chard soup (vegetarian)
Last week, eight inches of snow fell on Brooklyn ensued by bitter cold temperatures and strong, gusty winds. Most people would say it's the worst possible weather to be stuck in but for me, this cold snap takes me back to my childhood in Quebec where blizzards were a regular occurrence. Wearing snow pants and lunar boots, I spent hours outside building snow castles, sliding down snow banks and walked to school pretending to be a snow princess riding an imaginary horse. Whenever it gets bitter cold, a part of me melts with happiness as I can still feel the glow and warmth of our old fireplace and see my mother cooking rustic, comforting soups in the kitchen or making my favorite dish; tourtiere. 
[adsenseyu2]
P.S: I love winter.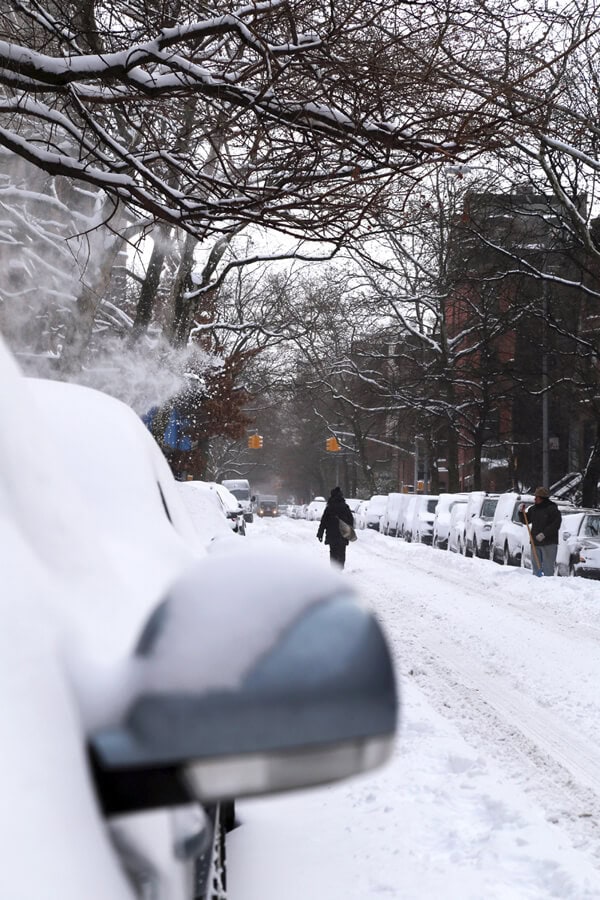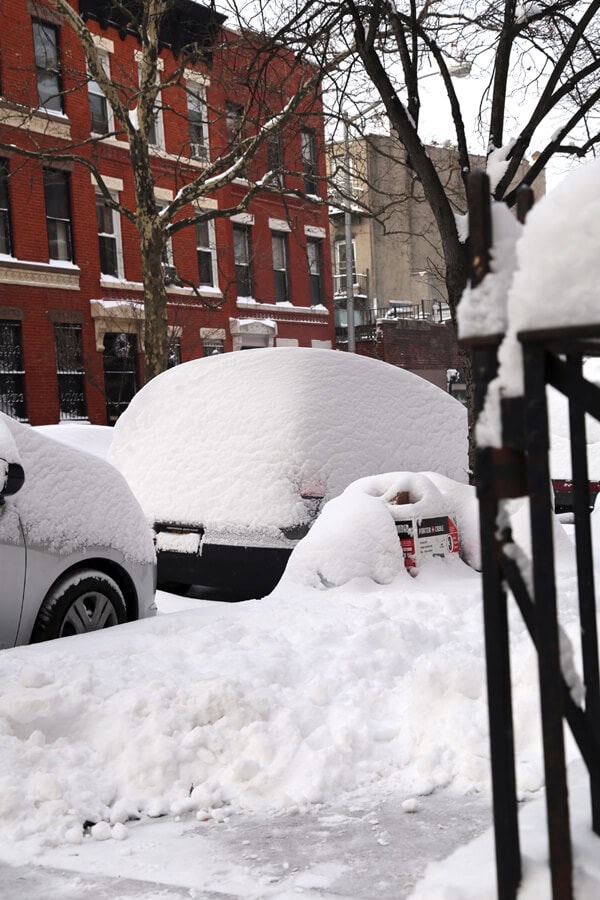 Bean soups were a popular choice back then and are still as much in demand in my own kitchen today. A simple white bean swiss chard soup like this one is not only quick to make, but also filled with vitamins and nutrients. Beans are filling and low in fat while swiss chard is packed with vitamins essential to our basic immune and health. Add to that the fact that these two ingredients pair extremely well together and you've got one yummy, easy and healthy bowl of goodness!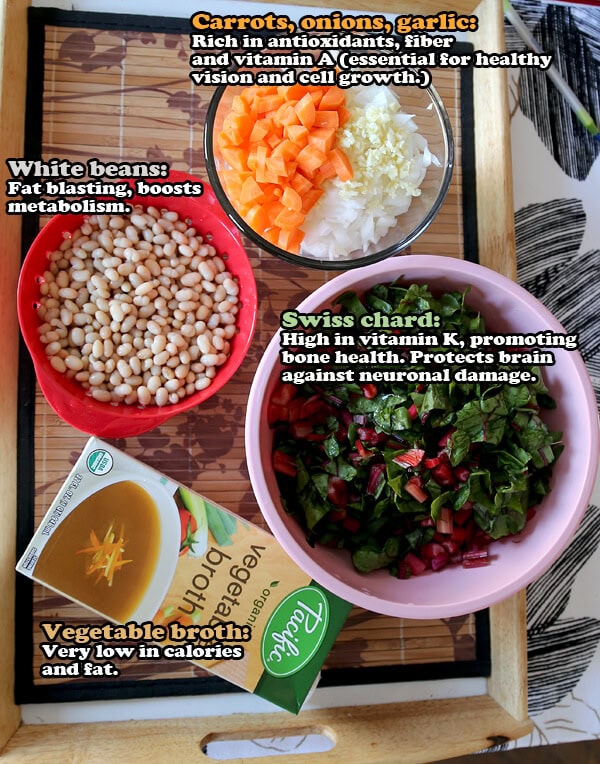 This white bean swiss chard soup is entirely vegetarian though it still feels hearty and comforting. I tend to go fully vegetarian if I see that the main ingredients for my recipe are (like this potato celery soup and spicy tomato and sweet potato soup) and it's become a habit to take advantage of those days to go without meat.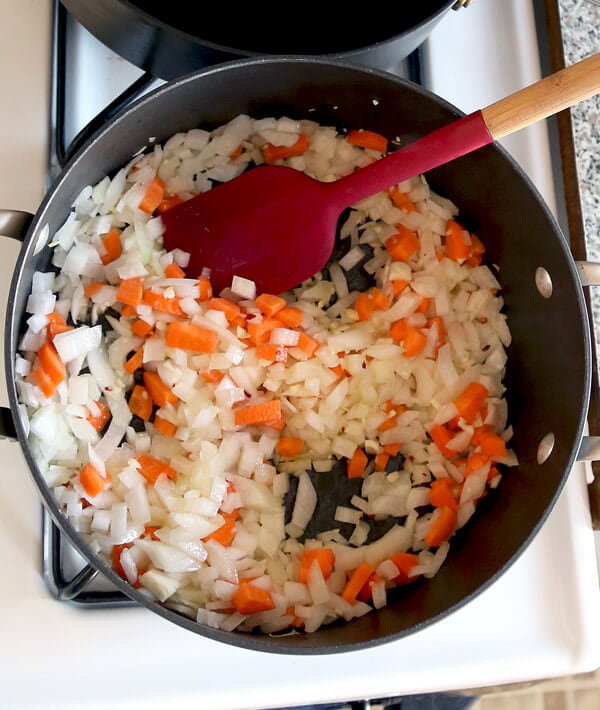 Most swiss chard soups I've seen online are made with sausages, bacon or some other type of meat. If you are looking for something healthier and lighter, this is the recipe for you.
Pair this white bean swiss chard soup with my favorite arugula walnut and cranberry salad or fennel and ciabatta pizza.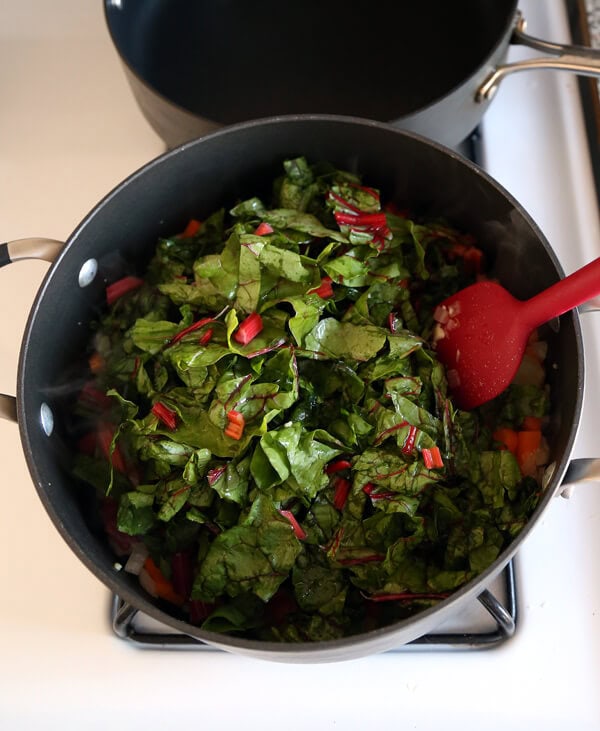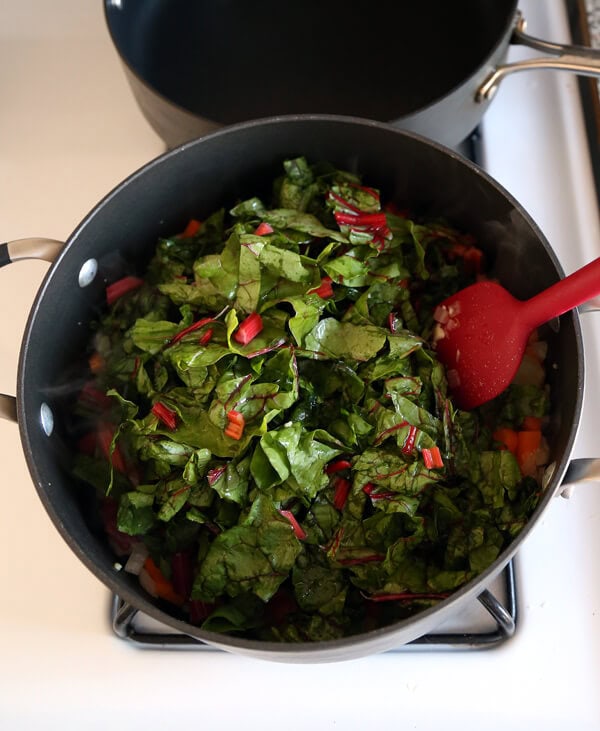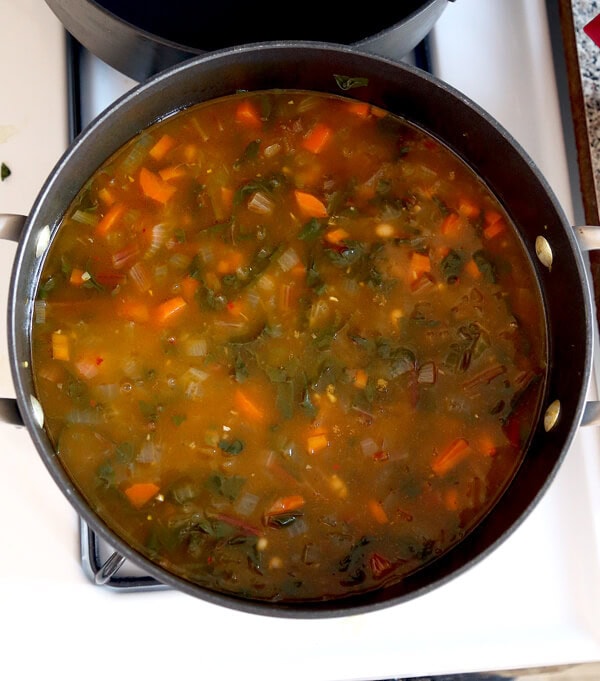 White Bean Swiss Chard Soup
Ingredients
1 large carrot, finely chopped
1 large onion, finely chopped
3 garlic cloves, finely chopped
2 tbsp extra virgin olive oil
1 bunch swiss chard, rinsed and roughly chopped
6 cup vegetable broth
1 15.5oz (439g) small white beans (or navy beans)
salt and pepper to taste
Instructions
- In a large pot over high heat add olive oil, garlic, onions and carrots. Cook for about 5 minutes, until onions are translucent.
- Add swiss chard and cook for 3 minutes.
- Add broth, bring to boil, cover and simmer for 15 minutes.
- Add beans, stir and cover. Cook for 10 minutes.
- Season with salt and pepper. Serve hot.
Nutrition Information
Serving size:
8
Calories:
121
Saturated fat:
1g
Unsaturated fat:
4g
Trans fat:
0g