Level up your late night snack game with this savory and crunchy, veggie loaded Broccoli Tots Recipe. Vegan or not, these will be a crowd pleaser! 
Broccoli Tots
Look…
By the time it happened, I had been scouring the pantry for waaaay too long for a couple of potatoes.

MY LATEST VIDEOS
My hope was to make one of the late night tater tot recipes I had been obsessing over since a Tastemade video featuring tots had popped up in my Facebook feed.
But, after two thorough searches of the pantry and the crisper, I had to concede there were no spuds.
I had broccoli though. So I got my Google on. I searched for 'broccoli recipes' and for 'healthy broccoli recipes' and for 'baked broccoli' – all to no avail.
Snacks are important
My hope was to make a late night snack that was both clean and delicious. But 45 minutes of searches wasn't giving me the inspiration I was looking for.
Obsess much? Uh – yeah, I'll admit it, I was! Try as I might, I couldn't get tater tots out of my mind.
I closed the computer and decided I'd just make popcorn.
Then, as it so often does, inspiration struck when I had almost given up.
I would make broccoli tots. And I hoped they would be delicious!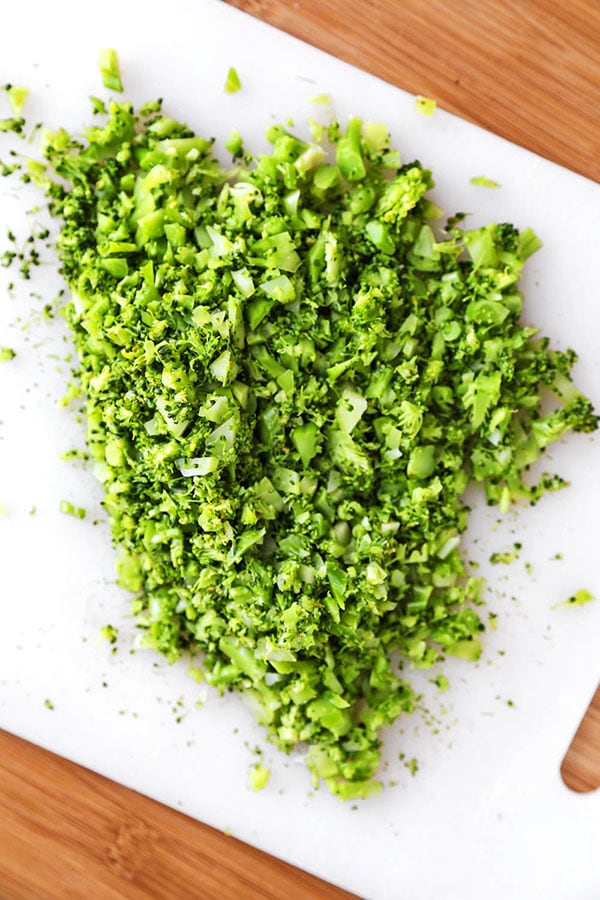 A leap of faith
I think you'll agree that making veggie tots (when you're REALLY craving tater tots) is a bit of a stretch.
Well, it turns out, these crispy, savory and super tasty broccoli tots are so good that eating them didn't feel like a compromise at all.
In fact, from the perspective of flavor alone, I actually prefer these healthier broccoli bites to deep fried tater tots!
Good news, friends: today I'm going to show you a recipe that will totally satisfy your craving for crunchy, fried potatoes – in a healthier broccoli based package.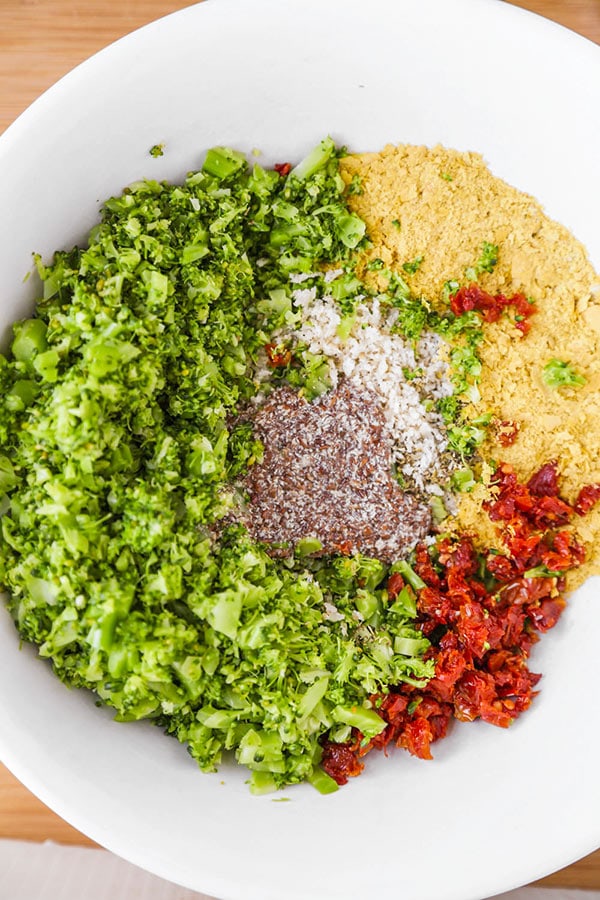 How to make broccoli tots
I gotta tell you, this is a super straight ahead recipe. And, yep – it's definitely doable as a late night snack in your PJs.
You'll want to blanch the broccoli florets before working the broccoli into the mixture that's going to become your veggie tots mixture.
Two important things about the broccoli
There are a couple of things to keep in mind when prepping the broccoli.
After blanching and draining the florets (but before finely chopping them), pat them dry with paper towels or a tea towel. This way you won't introduce a ton of unwanted moisture to your broccoli tots mixture.

After blanching and patting the florets dry, it's super important to chop the broccoli quite finely. If the broccoli has large pieces, the mixture won't stick together when you go to form it into individual tots. You can easily use a knife here – or feel free to break out the

food processor

.
After making the mixture, it's all about forming the broccoli tots and baking until golden brown!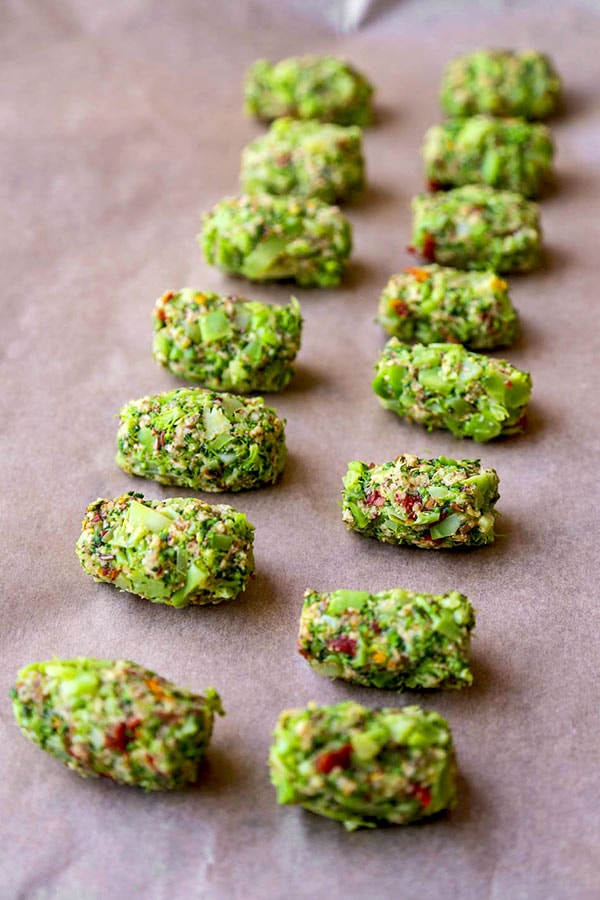 To cheese, or not to cheese?
You'll notice that the instructions below have a couple of options.
When making these broccoli tots, you can use an egg as a binding agent. Or go with ground flaxseed if you're following a plant based diet.
Similarly, feel free to use a bit of Parmesan cheese for an umami punch. Or opt for savory nutritional yeast if you're making vegan broccoli tots.
The best part
Whichever route you choose, your tastebuds are gonna be dancing.
I tried these broccoli tots both ways, fully expecting to prefer the version with egg and Parmesan. Shockingly, I found that I preferred the vegan version with ground flaxseed and nutritional yeast! Go figure.
Nutritional yeast just has this savory depth to it that plays really nicely with the lightness of the broccoli.
Ketchup optional
These oven baked broccoli tots soooo hit the spot!
They were the perfect late night snack for my Netflix binge. The crunch was there – and more surprisingly the flavor was much more bold than plain old tater tots.
Of course they were super delicious with ketchup, but these tasty broccoli tots didn't actually need it.
And after polishing off a plate on my own, I found myself extremely glad that I'd snacked on healthy baked broccoli instead of deep fried potatoes. It had been too late in the evening to be eating tater tots anyway!
No potatoes, no problem
I can't wait to make these clean and delicious broccoli tots again for my next late-night TV watching binge. Now I just gotta find some new shows!
So glad I was out of potatoes that night 🙂
What about you? Is there something you've made because you had limited ingredients that you ended up liking more than the original recipe?
I'd love to hear about it! Drop me a line in the comments section below!
Other simple, delicious plant based and veggie-centric snack recipes:
Did you like this Broccoli Tots Recipe? Are there changes you made that you would like to share? Share your tips and recommendations in the comments section below!
Print
Broccoli Tots
Prep Time:

15 minutes

Cook Time:

20 minutes

Total Time:

35 minutes

Yield:

15 tater tots
Ingredients
2 heaping cups bite size broccoli florets
1 1/4 tablespoon ground flaxseed (OR 1 large egg)
2 tablespoons sun dried tomatoes (in oil) (patted dry and finely chopped (optional))
3 tablespoons nutritional yeast (or 1/4 cup grated parmesan cheese)
1/2 cup panko breadcrumbs
1 teaspoon dried oregano
1 teaspoon dried parsley
1/2 teaspoon kosher salt
1/8 teaspoon ground black pepper
Instructions
Preheat oven to 375ºF.
Line a large baking sheet with parchment paper and set aside.
In a small bowl, mix ground flaxseed with 3 tablespoons water and set aside.
Fill a large pot with water and 1 tablespoon salt. Bring to a boil. Add broccoli florets to the water and blanch for 3 minutes. Drain well and dry broccoli with paper towel.
Finely chop broccoli. Make sure the pieces are very finely chopped so they easily blend with the rest of the mixture. Alternatively, you can use a food processor and pulse the broccoli until it's finely chopped.
Add chopped broccoli and all remaining ingredients to a large mixing bowl. Mix thoroughly.
Using a soup spoon, scoop about 1 1/2 – 2 tablespoons of the mixture into the palm of your hand. Gently mold into a tater tot shape and place on the baking sheet. Repeat this step until all the mixture has been used.
Bake in the oven for 20-25 minutes, until crispy and and golden brown. Serve.