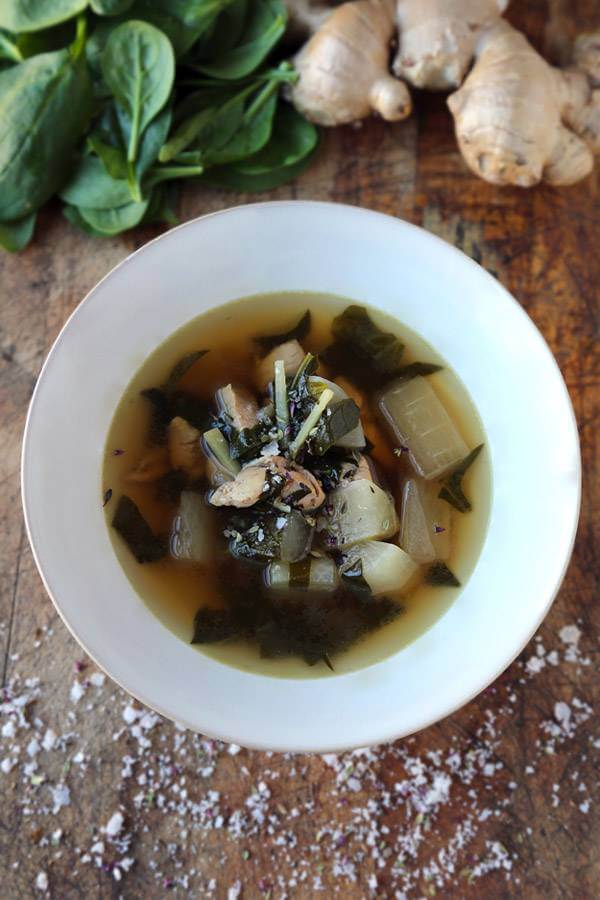 Daikon and chicken soup
Whenever I catch a bad cold, I crave a big bowl of chicken soup. Last week with polar temperatures settling in for a long stay, I was hit with a stuffy nose and body aches. My husband, who also felt under the weather brought home some canned chicken soup that we ate for dinner, accompanied by several episodes of Downton Abbey. Canned soups sounded like a great idea until we had a few spoonfuls and remembered why we rarely buy them: They don't taste very good. Whether it's the metallic taste or starchy texture that makes canned chicken soup not so comforting, it's hard to enjoy a bowl of it when you are used to eating fresh, homemade ones (like a French onion or a bean and chard soup).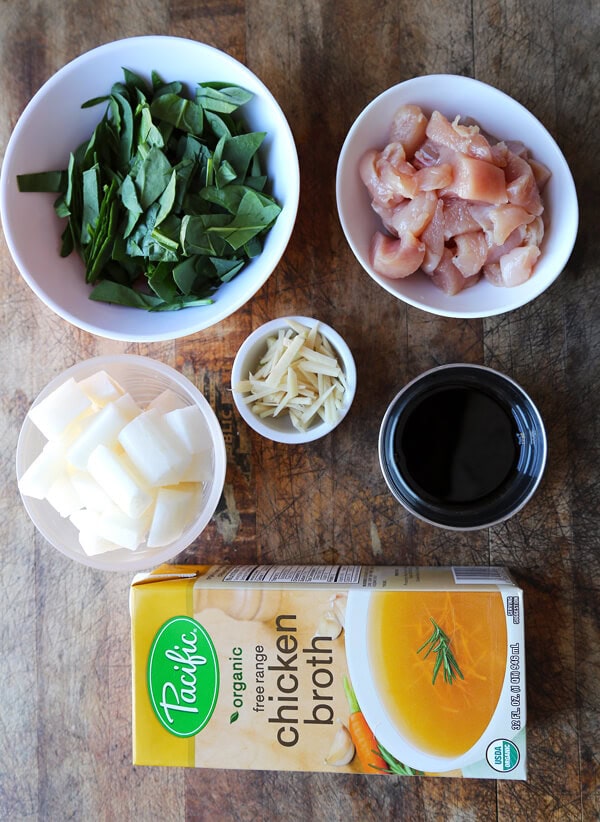 Not all chicken soups are the same but I'm pretty sure every country has their own version. One of my favorites was by a vendor off a dusty road somewhere near the Golden Triangle in Thailand. The recipe couldn't have been simpler; chicken broth, shredded chicken, thin rice noodles and fresh cilantro. I don't know what the vendor did to her broth but it was spectacular; deep yet mild flavors of chicken (bones that must have cooked for hours), so incredibly savory that I had to get a second bowl. I also love French creamed chicken and noodle soup with carrots and peas – hearty and filled with coma inducing deliciousness (I'm reminded of Japanese white stew). Or a slow cooked Southwestern chicken soup with creamy avocados and sweet corn… Stomach growling…The options are endless.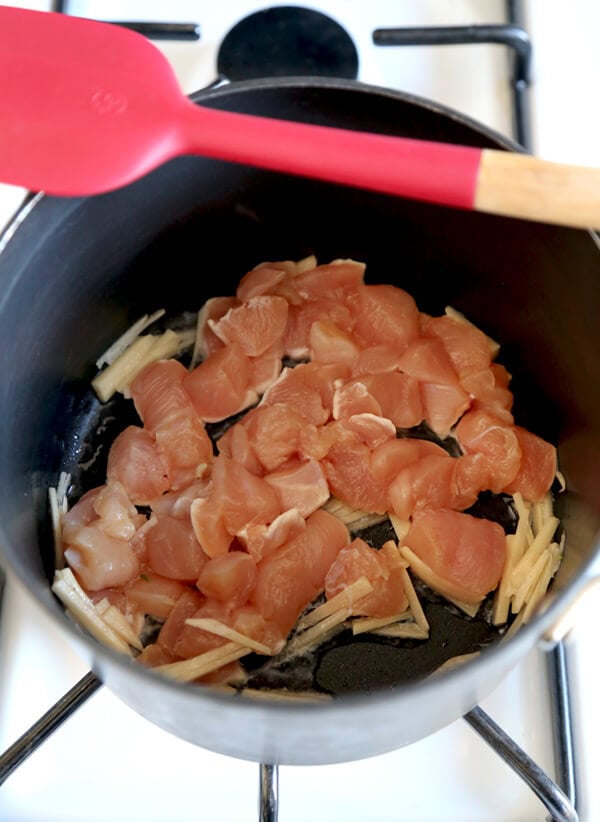 But for this post I choose a simple and light Japanese chicken soup recipe that's healthy and easy. It requires little work and is perfect if you feel a little tired and weak and in need of something re-energizing. Ginger is very helpful for throat and nose congestion and can also soothe an upset stomach. Ben and I ended up trading our canned soups in favor of this one and added more ginger to fight our stuffy sinuses. A few Downton episodes later, we had finished the entire pot and fell into bed where we slept like babies. I couldn't say if it was because of the soup, but we woke up the next day feeling much better!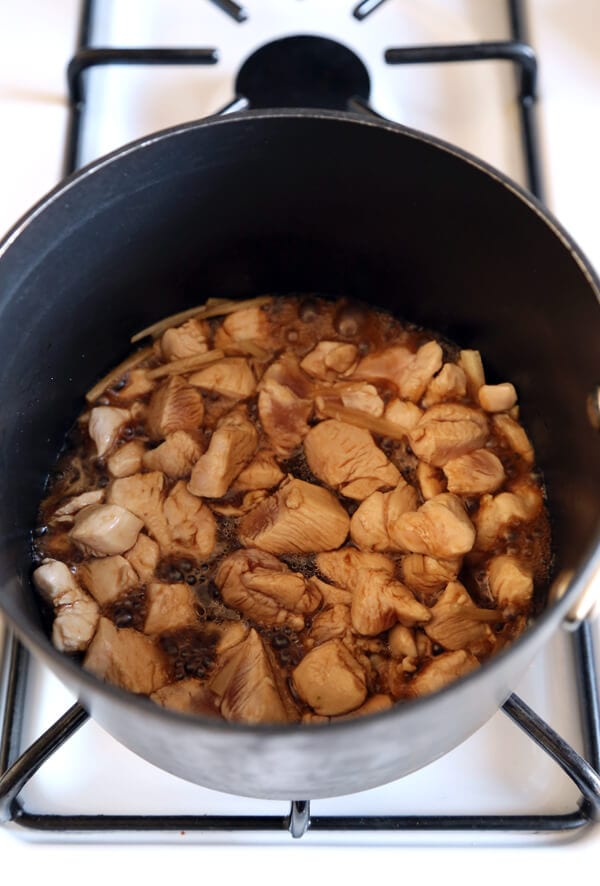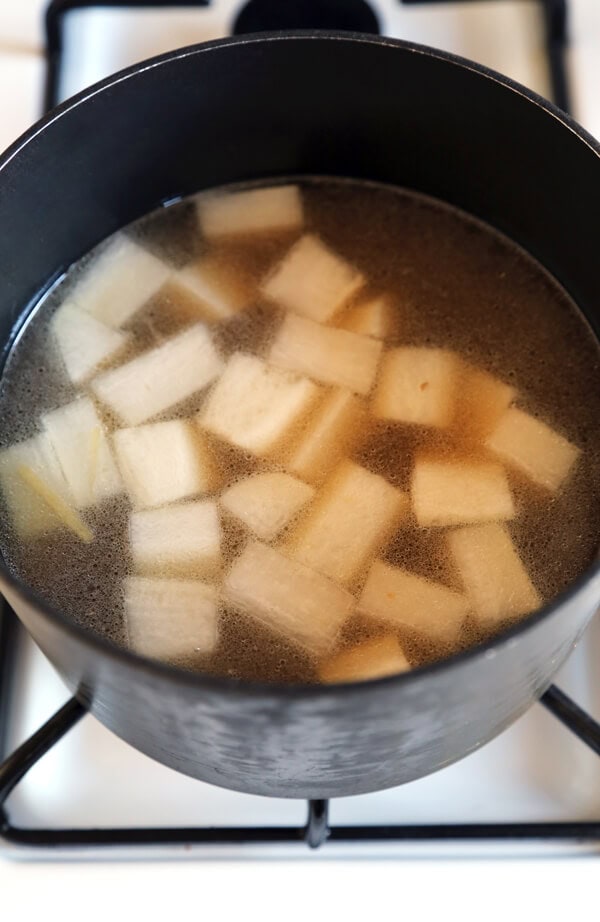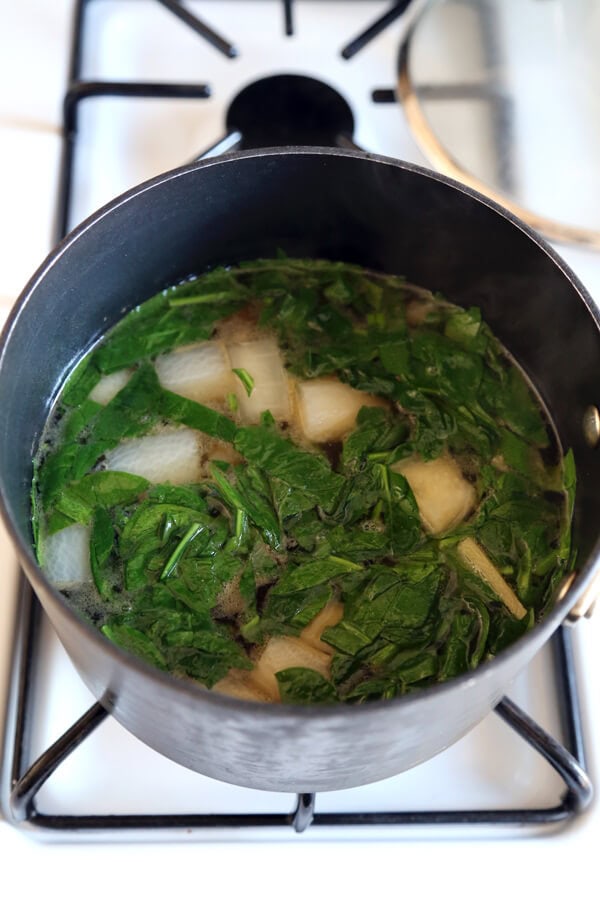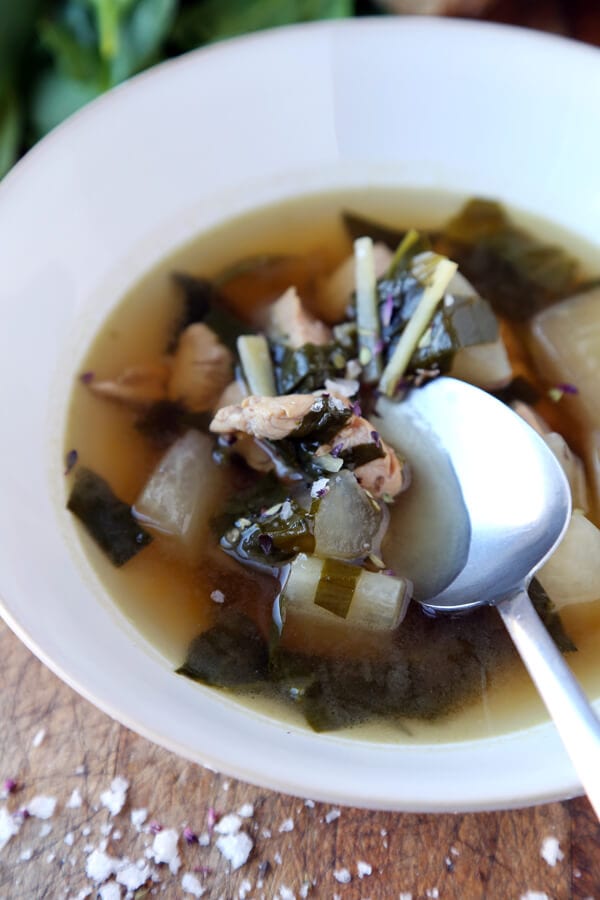 Servings

Prep Time

4

people

10

minutes
Servings

Prep Time

4

people

10

minutes
Servings

Prep Time

4

people

10

minutes

Servings

Prep Time

4

people

10

minutes
1/2

pound

skinless, boneless chicken breast

chopped bite size

1

tablespoon

vegetable oil

2

tablespoons

ginger

peeled and cut into strips

1

cup

daikon

chopped bite size

4

cups

low sodium chicken broth

2

cups

spinach

roughly chopped

2

tablespoons

sake

2

tablespoons

light soy sauce
In a pot over medium/high heat, add oil, ginger and chicken. Cook for 5 minutes or until chicken is cooked through.

Add sake and soy sauce and cook for one minute.

Add chicken broth and daikon and bring to a boil. Lower heat, cover and simmer for 20-25 minutes, until daikon is tender.

Add spinach and cook for 5 minutes. Serve hot.