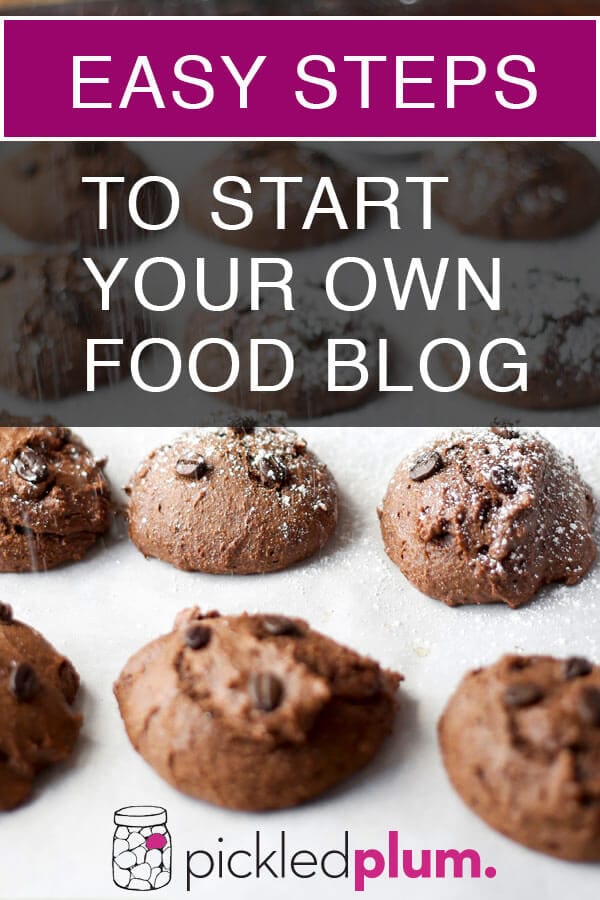 If you love cooking, browsing the net for recipes and looking at pictures of food with melted cheese on top, my guess is you have thought, at one point or another, about starting your own food blog. That's great news and I think you should do it! We should all dive into our passions and enjoy what we do in life. Maybe this could be your next career!
But starting a food blog can seem a little intimidating at first: it seems there is so much to learn and so many things to join, buy, install! If you have the desire to start one but feel overwhelmed because you don't know how to get started and what steps you have to take, I'm here to help!
I'm sharing with you the tools that brought me success and what helped me create a solid, successful and profitable food blog. Starting your blog with a strong foundation will save you days, if not weeks, of tweaking and fixing oversights down the road. And if you already have a blog and are looking to make changes or improvements to it, these tools will benefit you just as much, and can hopefully simplify your daily tasks. Let's get started!
Disclaimer: Please note that this page contains affiliate links. I only recommend products I love and trust 100% because I  have previously used them, or am currently using.
How To Start Your Own Food Blog.
What is my blog going to be about? 
Steps to starting a food blog:
Joining affiliate programs (start making money!)
1. Buying a domain name (free or between 12$-15$)
Is your food blog going to be about paleo cooking? Vegan desserts? Comfort food? Restaurant reviews? Choosing a name that's relevant to food and something you will love is very important, so take your time choosing the right name for your blog. This will define what your blog is about and what will eventually become part of your logo! Buying a domain name will cost you between 12$-15$ (or can be free – see below) for a year and the registration process is very easy.
Use this widget to see if the domain name you have in mind is available:
2. Find A Web Hosting Company ($42-$48 for a year)
Bluehost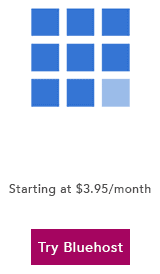 : I used Bluehost for the first three of Pickled Plum and still use it for other side projects. Bluehost has extremely affordable plans starting at just $3.49/ month. PLUS, you get one FREE domain name when you buy a year's worth (or more) of hosting. You can also cancel at any time and will be refunded for the months you haven't used should you sign up for a year.
What I also love about Bluehost is the fact that they make the set up process easy. They have a one-click automatic WordPress installation along with plenty of video tutorials to get your blog up and running swiftly. Since they create their own videos, watching the step by step using the same interface as shown on screen makes the
3. Installing WordPress
Now that you have a domain name and hosting company, it's time to install WordPress. Installing WordPress is easy and straight forward. Every hosting company should have a step-by-step page detailing how to set up WordPress. For Bluehost, watch the video below or click here to learn how to install WordPress.
For Siteground, click here to learn how to install WordPress.
Log in into WordPress
Once you receive your login information, click on the admin url and sign in with your username and password. The page should have this login box: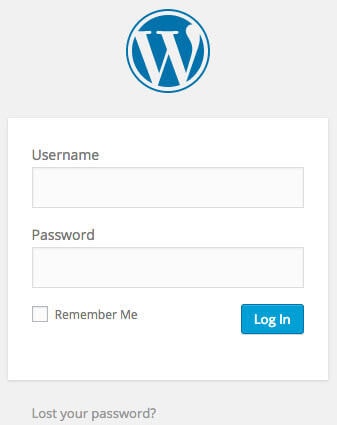 4. Find a WordPress theme
You made it! Now comes the fun part: picking a theme and building your site. There are plenty of free themes available in the Themes section of your Admin (Appearance -> Themes). If you cannot find one you like, don't worry, there are plenty of other options to choose from!
WordPress Premium Themes (around $100 including Genesis Framework)
I bought my first theme from a small company I found online. The design looked great and I thought I could manage it on my own.  After playing with the theme for a few days I realized it was much more complicated than I had expected. I didn't receive much support and was left to figure things out pretty much on my own. It didn't take long before I gave up and bought another one from an independent designer's website. Sadly, both times I walked away feeling confused, angry and unsatisfied. I wasn't impress with the ease of usability (there was no tutorial available anywhere to be found) since I'm not a techie person. One of them was also super clunky. Which is why I only feel comfortable recommending Studiopress.
Studiopress: Since then, I only buy my themes from Studiopress. They are beautifully designed and very easy to use. Each theme offers a detailed tutorial on how to install it so the theme looks exactly like what you see when you buy it! Or you can customize it to your own liking if you are proficient in html and/or coding.
Genesis Framework: My blog runs on the Genesis framework along with many other bloggers out there. The reason why Genesis is so popular is because it's a robust, secure and search-engine-optimized framework. I am not proficient in coding but it's been quite easy customizing certain aspects of my blog. It looks good on its own or you can use it with a child theme to 'dress it up'. 
Foodie Pro : This is the child theme I use for my blog (together with Genesis Framework). Using this theme changed the way I have been food blogging: it's well built and makes it easy to keep all of my recipes neatly categorized! This theme has a minimalist style, is extremely flexible and showcases pictures beautifully. The tutorial is also excellent and really easy to follow- a big help if you're not familiar with customizing themes!
Crave : This is another great child theme created specifically for food blogging. It has a modern magazine layout, 3 color choices (default, citrus and berry) and is extremely easy to navigate. If you are looking for something vibrant that stands out right from the get go, Crave might be what you are looking for.
 * What is a child theme?
A WordPress child theme is a WordPress theme that inherits its functionality from another WordPress theme, the parent theme (in my case – Genesis Framework). Child themes are often used when you want to customize or tweak an existing WordPress theme without losing the ability to upgrade that theme.
5. Installing WordPress Theme
Installing a theme is quick – just follow these steps and you will be ready to publish your first recipe in no time!
1. Inside your WordPress dashboard, click on Appearance -> Themes.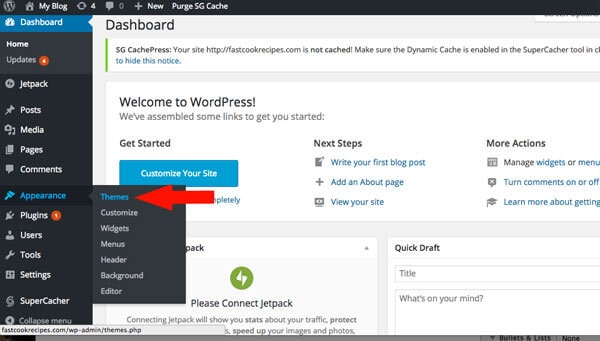 2. Here you can browse through the free themes available. If you like something, click on the picture and you will be able to preview and then install. If you are importing a theme (Studiopress or other outside template), Click on the Add New button.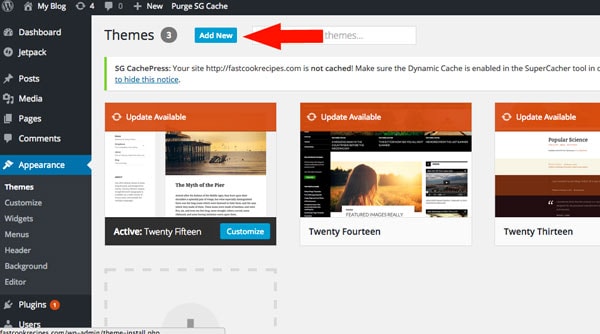 3. Click on Upload Theme.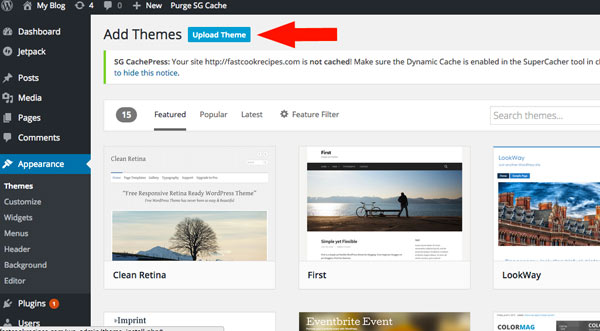 4. Click on Choose File and upload the ZIP file. Not the folder but the ZIP file (the one with the zipper). Click on Install Now and click on Activate. You're done! Your theme is now live and you are ready to start blogging. Congratulations!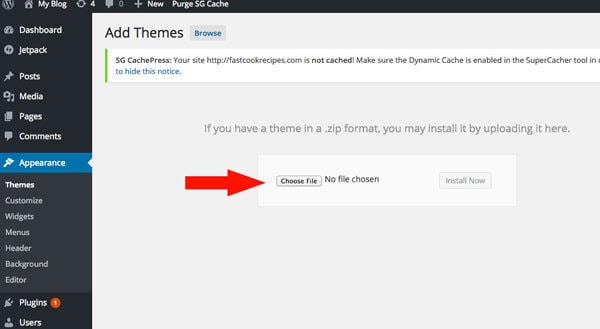 6. Recommended Plugins
Easy Recipe : I've been using Easy Recipe for a few years now and I absolutely love it. It's very easy to set up and format and is also seo-optimized, making it search engine friendly. 
jQuery Pin It Button For Images : This plugin makes it easy for your readers to pin and share your beautiful food pictures on Pinterest. Bonus point: the button is not invasive as it only appears when the curser hovers over a picture.
Simple Share Buttons Adder : A simple plugin that adds share buttons on top of each post, page (you choose where you would like the buttons to appear) so your readers can share a recipe with friends.
EWWW Image Optimizer : This plugin will make your pictures load faster by reducing the file size (the quality still remains good). This is important for blogs that rely heavily on pictures as it helps them load faster.
7. Basic Photography Equipment
I currently use a Canon 6D camera and switch between a 24-105mm and 50mm lens for my food photography. I am very happy with the equipment I have but it's not something I would recommend for beginners. My advice is to start small, make some money and invest as you go along.
Canon PowerShot G16. If you are starting out and don't want to spend a fortune I recommend the Canon Powershot G16. I started using one of those (it was the G11, an earlier model) and was able to shoot pictures good enough to be featured on Foodgawker (a food photography site you will want to submit your pictures to for traffic!) You can get a Canon G16 for around $400. It's also very easy to use – I left it most of the time on automatic and always got great shots!
Lighting
Natural light is by far the best type of light for food photography but sometimes you need a little help when the sun and clouds won't cooperate.
If it's a beautiful and sunny day, shooting food by a window should be good enough to produce lovely pictures. If it's later in the day or it looks like it's about to rain, you can use a Lowel EGO light. It's a simple tabletop fluorescent soft light that adds just enough light to enhance the food you are shooting. It's recommended by most food bloggers and photographers. I have two and I use them especially in the wintertime when finding pure sunlight becomes a difficult thing.
Westcott 301 Photo Basics 40-Inch 5-in-1 Reflector . Aside from my camera and lenses, this is what I use the most for my food photography. I couldn't live without a reflector as it can sometimes bounce as much light as a soft light box can. It's light, easy to carry around and fits almost everywhere. I highly recommend buying yourself a reflector – this is $40 well spent!
Photo Editing
I have been using Photoshop since I started my food blog as I had been using the programs for years already. However you don't need to learn a complex photo editing program since there are much simpler and easier options out there.
Canva. Canva may just be the easiest to use design program in the world – and it's free! You can do a lot in canva – fix lighting, color, add filters, create photos formatted for Facebook, Pinterest or Instagram, and the list goes on.
PicMonkey. Another easy online design program that has photo effects, retouching, frames and overlays. You can also add text using one of their thousands of fonts available. There is a 30-day free trial period – once the trial is up you will be charged $4.99/month.
8. Joining Affiliate Programs
There are a LOT of affiliate programs you can join but many of them have requirements such as a minimum of 100,000 monthly pageviews, etc.. Here is a list of affiliates I use, I am happy with, and that you can join today.
Adsense . Perhaps the most famous affiliate program on the internet! They were the first company I signed up with and still use to this day. Adsense is a CPC (cost per click) program – this means visitors to your blog have to click on an ad in order for you to make money. Warning: Do NOT click on your own ads – you can get banned!
Sovrn .  Sovrn is a cpm (cost per thousand impressions) program. This means you make money for simply displaying the ad, per thousand views (visits). Cpm affiliates tend to do better for food blogs from my own experience and from what I've read online. It might have to do with the fact that visitors come to your site to look for something specific – they come in, follow the recipe and leave – as opposed to browsing .
CJ Affiliate (formerly known as Commission Junction). CJ Affiliate is a network that works with thousands of merchants such Elizabeth Arden, Verizon, UGG and most of the big name companies you know. There is an approval process you must go through with each company you want to use to display on your blog, and each company offers different commission rates. I tried using CJ Affiliate a couple of times because of its good reputation. Many bloggers make good money with them but it didn't work for me.
ShareASale : ShareASale is similar to CJ Affiliate and has done much better for me. I find their user panel user friendly and informative. ShareASale is another big affiliate program – it has around 3,800 merchants on their list, 1000 of which are exclusive to them.
Amazon Affiliate : This is another affiliate program I've been using since I published my first post. With Amazon, you can link products you mention or recommend directly to the store's product page and make a commission. And it doesn't end there; if the person who clicked on your link doesn't buy your recommendation (e.g: cutting board) and instead buys a tv, you still make that commission! I've never had a problem with them and highly recommend this program.
Lastly – Selling Your stuff.
Selling your own product(s) can become a significant part of your income. All I can say is take your time creating something good that you love and believe in, and people will love it as much as you do. What you need to do to sell it is a post for another day!
And there you have it – all the tools you need to start a profitable food blog today!