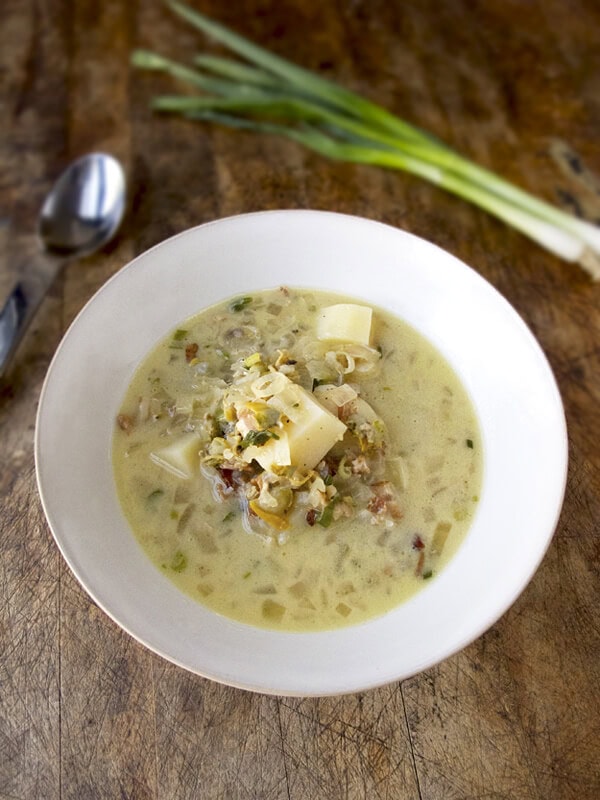 Japanese clam chowder
I heart clam chowder.. A creamy soup with clams, bacon and potatoes? Yes please and right now! I've loved clam chowder since I was a little girl but must admit to being quite picky when it comes to how I like the texture of it. It can neither be too thick nor starchy otherwise it takes on the consistency of school glue. Plus, I get full after three spoonfuls and get that awful heavy feeling in my belly that just sits there forever. No es bueno! To me, a good clam chowder is hearty but also light. This Japanese clam chowder uses the potatoes and bacon as the comforting part while the broth is much less fatty, using a mixture of dashi, white wine and whipped cream.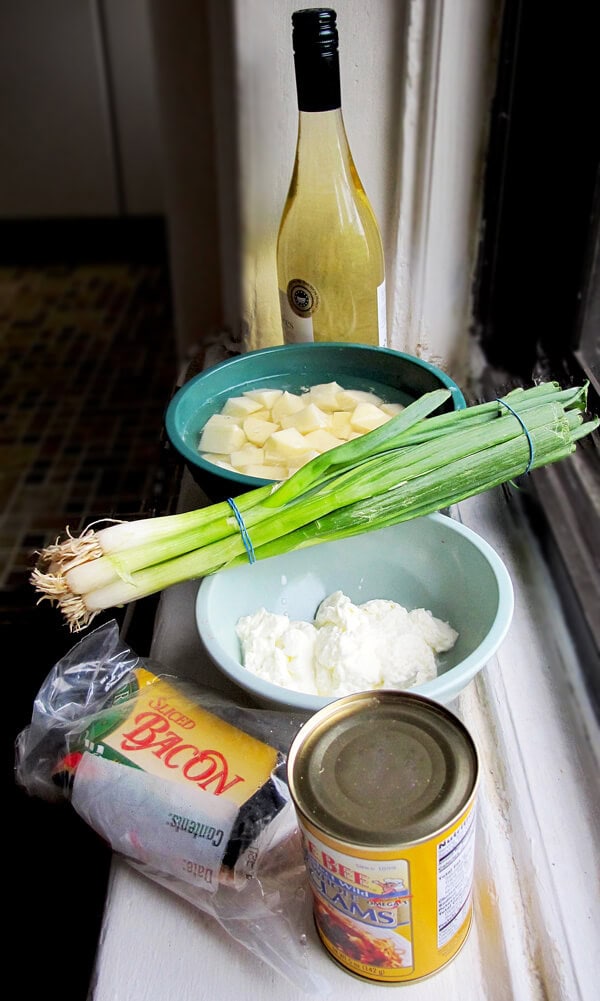 What you get is just as satisfying as the classic New England clam chowder but lower in fat and brighter in flavor. It's a win win situation! The fact that you don't need fresh clams for this recipe means it's easy and accessible for everyone to make as well. The use of dashi punches up the seafood taste in this soup which is why I named it Japanese clam chowder instead of just plain clam chowder.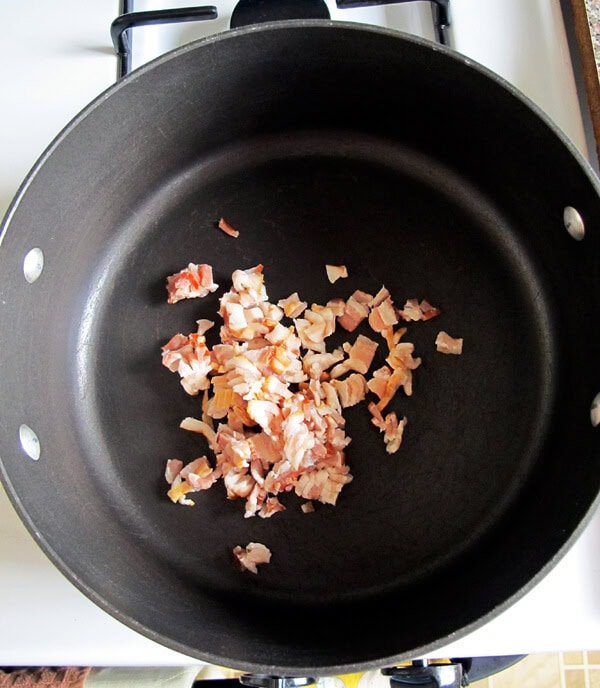 We gobbled up the whole pot throughout the evening, dipping hand torn pieces of fresh baguette into it while intensely watching the entire season finale of Breaking Bad on Amazon Prime, back to back to back (we went to bed at 3:00 am).. A night of indulgence to say the least and that's what makes life so good; curled up on the sofa with my hubby and a purring kitty between us. Good tv, good company and good food. This is my idea of happiness ♥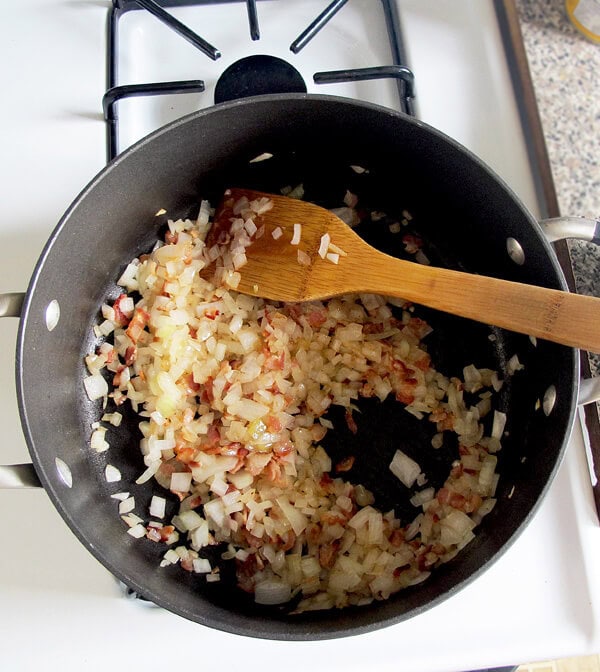 Did you see the spaghetti with turkey meatballs recipe I posted not long ago? These two dishes make a gorgeous dinner together! But if you want something lighter, serve the Japanese clam chowder with bread and have littles side dishes like cucumber vegetable maki rolls, Korean chicken wings or marinated zucchini slices (with a cheese and ham board.. so good!) They're all very easy to make and will add fun to your meal. Bon appetit!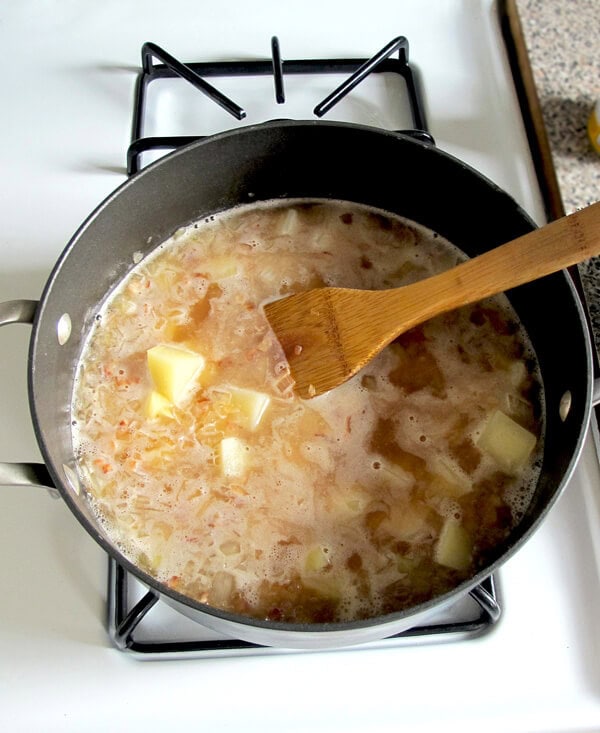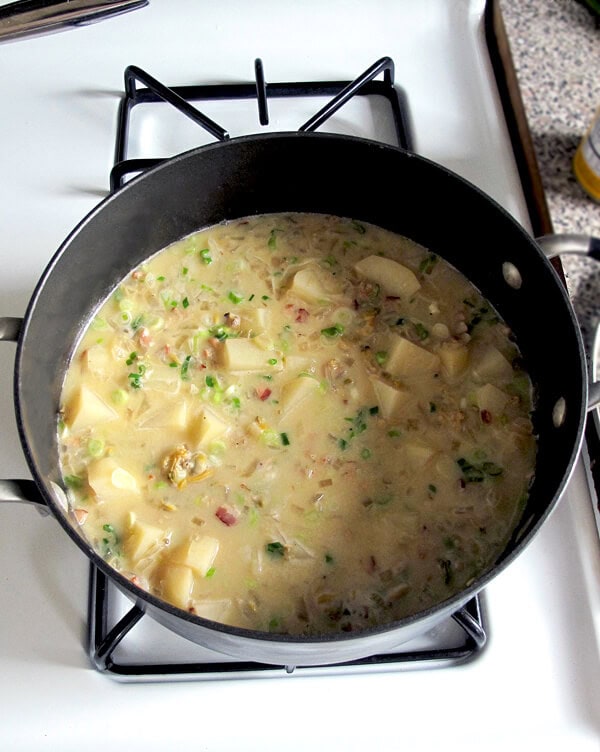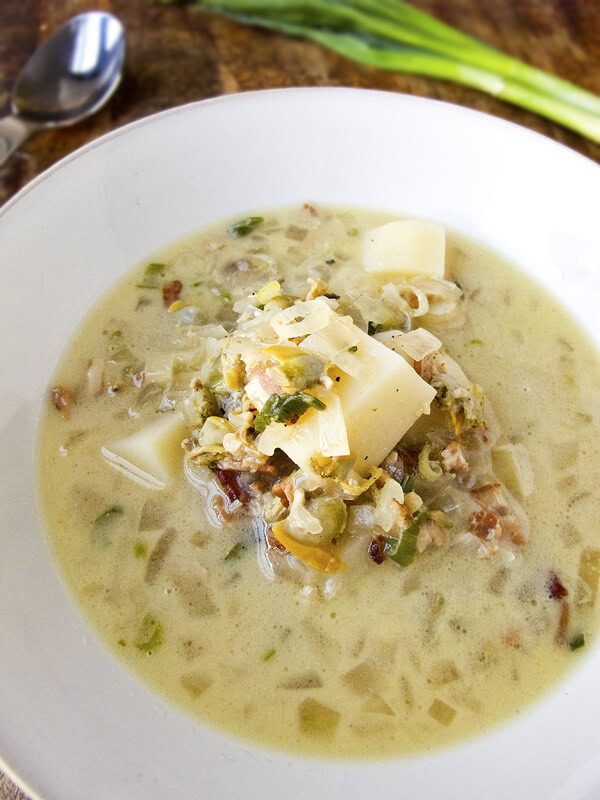 4

slices

bacon

1

medium

onion

finely chopped

2

potatoes

peeled and cut into bite size cubes

1 1/2

cup

white wine

10

ounce

can whole baby clams with juice

3/4

cup

whipped cream

(or heavy cream)

1

cup

dashi broth

1

cup

water

2

tablespoons

salted butter

3

stalks

scallions

finely chopped

salt and pepper

to taste
In a large pot over medium/high heat, add bacon and cook until almost crispy (about 3 minutes).

Add onions and cook for 4 minutes, until onions are translucent.

Add white wine, water and dashi and bring to a boil.

Add potatoes, lower heat, cover and simmer for 25 minutes.

Add clams and juice from the can, stir and simmer for 3 minutes.

Turn off the heat, add whipped cream and butter, stir until the broth isn't bubbly anymore.

Season with salt and pepper and top with scallions. Serve.