This a quick and delicious chilled ramen noodle salad recipe tossed with fresh tomatoes, corn, lettuce, eggs and bean sprouts, dressed in a sweet vinegar and sesame dressing.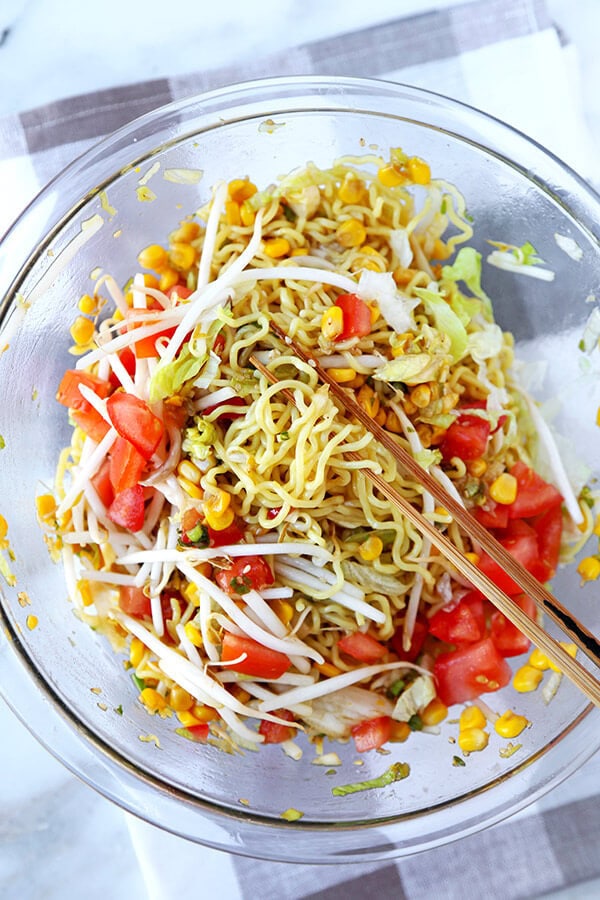 Ramen Noodle Salad
How many days can you go without eating Asian food? For me it's two.
I could do three, even four but by then my brain and body are jonesing for soy sauce and chewy noodles. I get the shakes and have visions of dumplings and sauteed vegetables with chili crisp, shrimp fried rice and deep fried tofu cubes dancing around my head… Okay, I'm exaggerating but you get what I'm trying to say – I LOVE Asian food so much that I get withdrawals when I go too long without it!
That's why I always have a freezer full of fresh ramen noodles in case I get a craving. Believe me when I say homemade ramen can be just as good as what you get in restaurants, sometimes even better! It will also cost you a lot less, especially if you live in NYC where a simple bowl of noodles will cost you $15-$20 – that's insanity. Take this ramen noodle salad for example: I got the noodles in Chinatown for less than $4 and topped them with canned corn ($1), an egg ($0.50) beans sprouts ($3), shredded lettuce ($2) and a diced tomato ($1). The total cost for two bowls of ramen noodle salad – $11.50.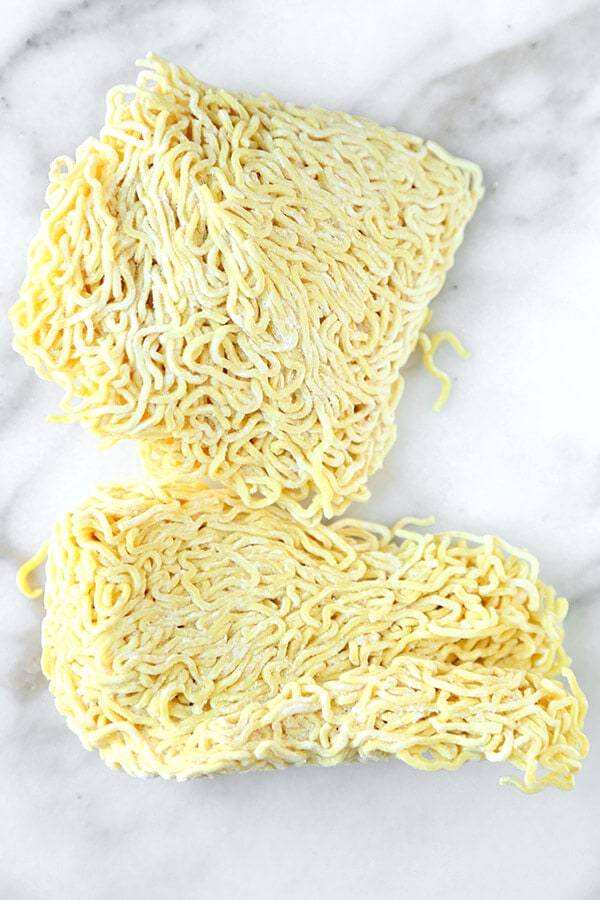 What about the dressing? Sure, you have to buy the basic Asian food pantry ingredients in order to be able to make this meal for $6.25 a pop, but think of how many uses you get out of a bottle of soy sauce. Totally worth it, plus, you get to flavor your noodles exactly the way you like them which is a huge advantage over restaurant food. It's healthier, cheaper and you get to eat the noodles in your underwear while watching your favorite TV show. It doesn't get any better than that!
Chilled ramen noodles are very common in Japanese cooking. This recipe is similar in flavor to the traditional hiyashi chuka dish (which I've adapted using zoodles for a carb-free recipe here) – it's very cleansing, nutty, sweet and salty. I often make this ramen noodle salad for lunch since it's light and doesn't make me groggy. There's nothing worse than going back to work with your eyes barely able to stay opened because you've had to much to eat!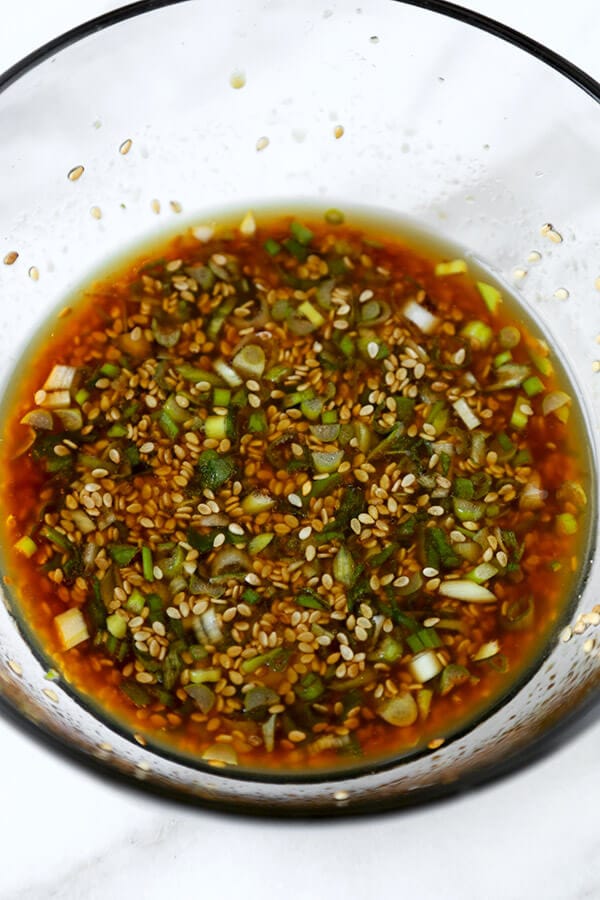 Most of the ingredients for this recipe can be prepped ahead of time, which makes it the perfect dish to take to work. You can slice the veggies and keep them separate in tupperware containers, boil the egg, make the dressing and even cook the noodles. Just make sure you toss and coat the noodles with a little sesame oil to keep them from sticking together.
This ramen noodle salad will keep refrigerated for a day when the ingredients are already mixed together. You may also need to add more dressing to bring back the strong flavors since the noodles will have absorb them. Otherwise the ingredients will keep for 3-4 days, separate.
Other healthy, scrumptious Asian noodles: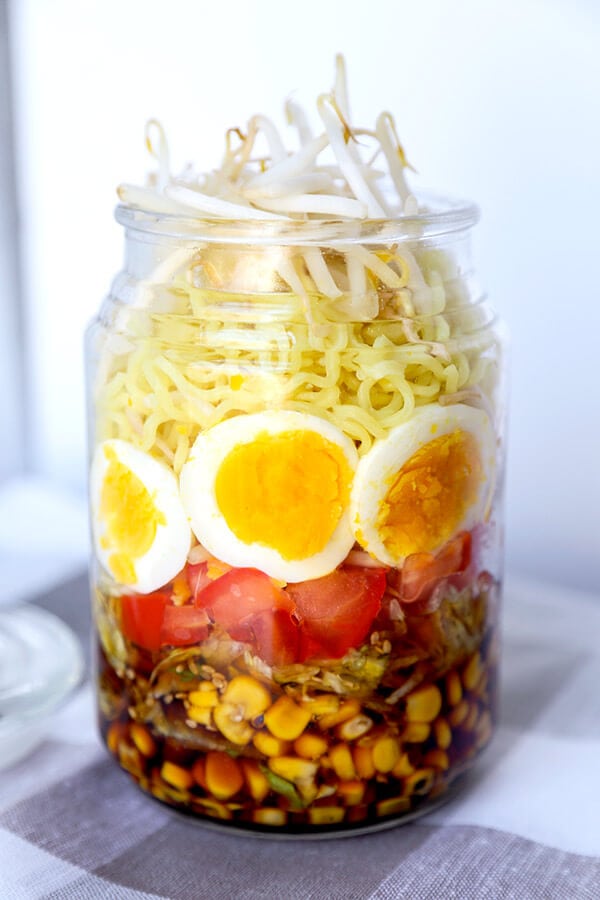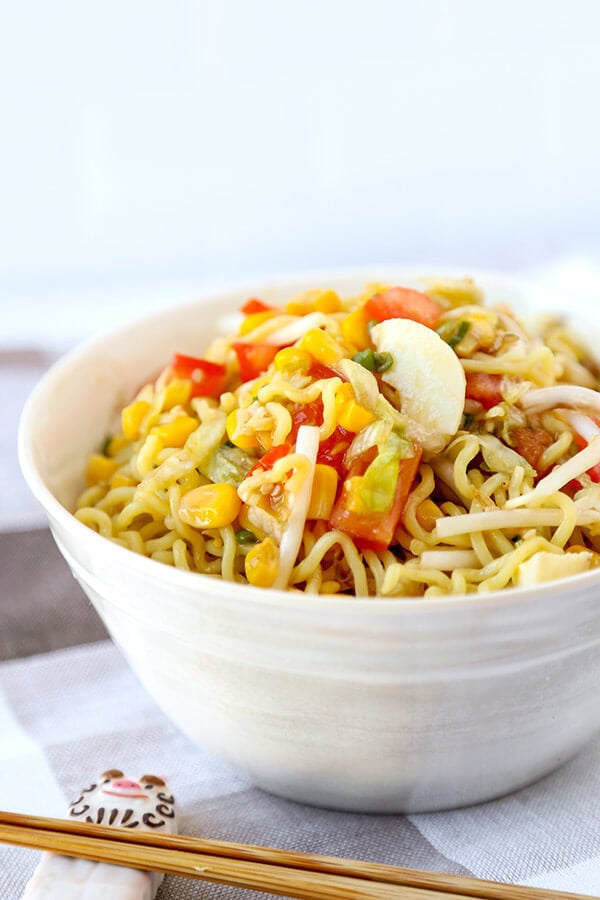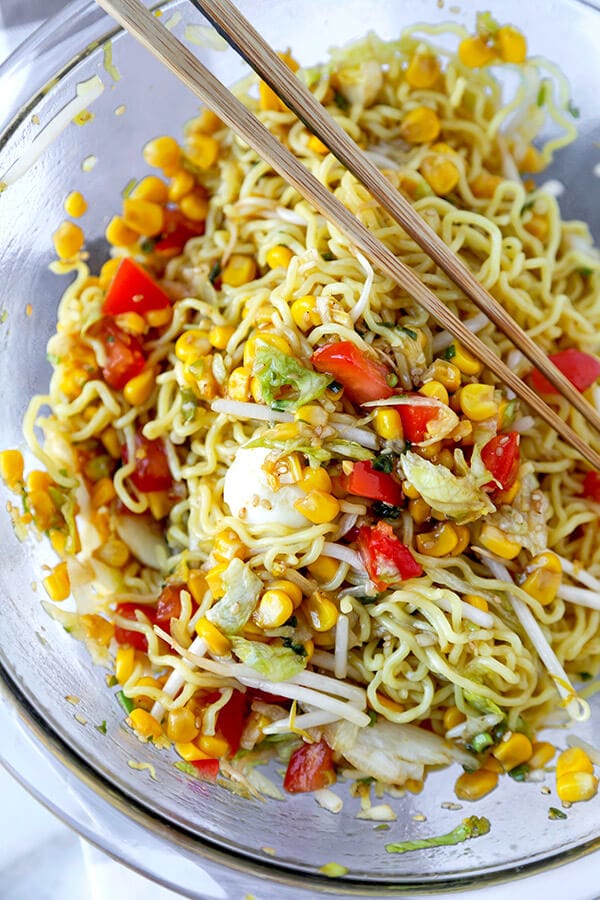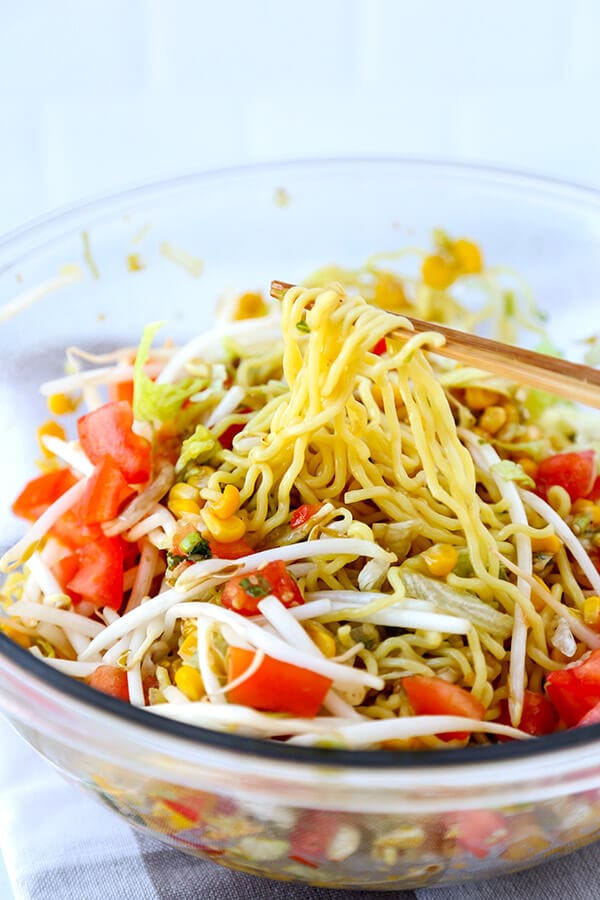 Did you like this Ramen Noodle Salad Recipe? Are there changes you made that you would like to share?
Servings

Prep Time

2-4

people

7

minutes
Servings

Prep Time

2-4

people

7

minutes
Servings

Prep Time

2-4

people

7

minutes

Servings

Prep Time

2-4

people

7

minutes
100

grams

can corn kernels

240

grams

fresh ramen noodles

1

large

egg

cooked and sliced into bite size pieces

handful

bean sprouts

1

cup

iceberg lettuce

shredded

1

large

tomato

chopped
1 1/2

tablespoon

honey

1/4

cup

rice vinegar

3

tablespoons

sesame oil

2

tablespoons

soy sauce

2

tablespoons

sesame seeds

2

tablespoons

scallions

finely chopped

1/4

teaspoon

kosher salt
In a mixing bowl, whisk in all the ingredients for the dressing. Set aside.

Bring a pot of water to boil and cook the noodles until they are tender (about 1-3 minutes). Drain well and transfer to a bowl.

Pour the dressing on top of the noodles and toss until the noodles are evenly coated.

Add corn, bean sprouts and tomatoes to the bowl and toss well. Serve immediately.