The holiday season is officially here and we, home cooks, are getting ready to put our oven mitts on for some serious cooking! Store bought stuffing is good but nothing beats a homemade one. This vegan stuffing is healthy, savory, nutty and packed with freshly chopped herbs. It's so yummy, your guests will be asking for seconds! 
Easy Vegan Stuffing
Thanksgiving is almost here and we are so excited to celebrate this particular one!
Every year, we and the same group of friends take turn in hosting Thanksgiving dinner. This year, Ben and I will be welcoming them to our humble abode in Brooklyn. We have a fun and diverse menu that's sure to delight all of our guests!

MY LATEST VIDEOS

On the menu we have:
Turkey breast with gravy
Gluten free cranberry cornbread (the recipe is coming up in the next post)
Mashed potatoes with mushroom gravy (a favorite among this crowd!)
Vegan shepherd's pie
Green bean casserole
Vegan stuffing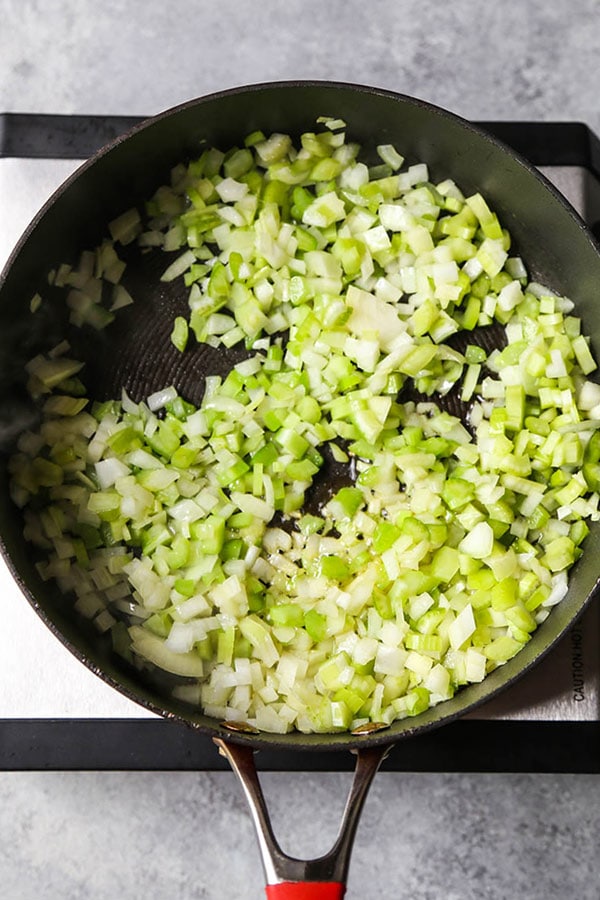 Because many of us have dietary restrictions, I focused on creating a menu that everyone can enjoy without having to worry about the preparation. To give you an idea, the only dish containing meat is the turkey breast, and the only dish with dairy is Ben's famous green bean casserole.
Everything else is plant based and I can promise you that it will be just as delicious as a regular Thanksgiving dinner!
Here's the deal about plant based dishes – they really aren't that different from meat based ones.
It's only when it comes to dairy that the taste can greatly vary. For example, I won't even pretend to liking vegan cheese – it just doesn't taste the same. And since Thanksgiving is about hearty and comforting food with familiar flavors, Ben is keeping his green bean casserole old style, with cream of mushrooms and 100% real cheese.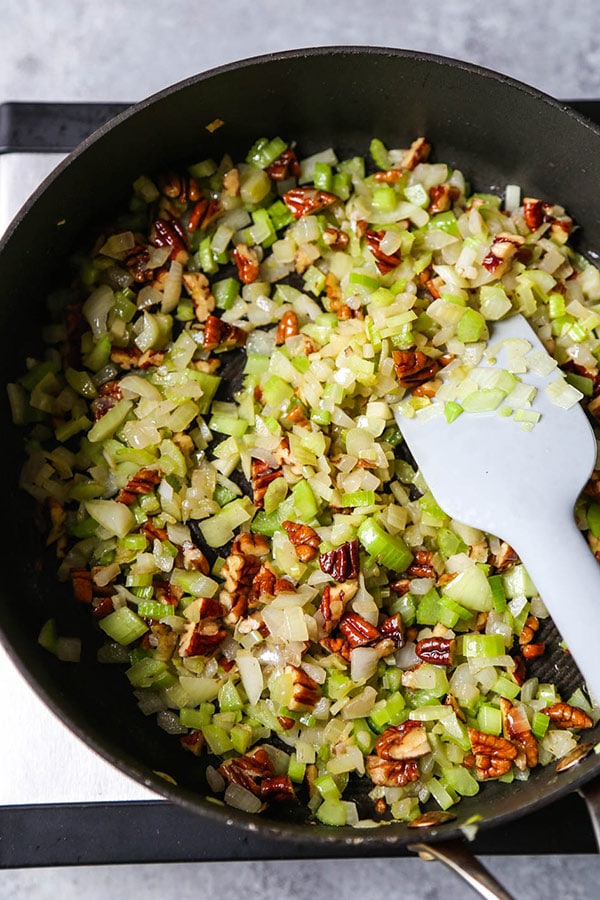 As for this vegan stuffing, your meat loving guests won't be able to tell the difference! The use of vegetable broth and olive oil means it's lower in saturated fats, but the taste and texture are exactly the same as a chicken broth and butter based stuffing. This recipe is a win win for the health conscious!
How to make vegan stuffing
This easy vegan stuffing is moist, fragrant, savory and even a little crunchy! That's because I've kept the crust on the bread cubes to make the texture a little more interesting.
All you need is white bread such a fresh baguette or ciabatta that are cut into cubes. To dry the bread cubes, you can either leave them in a bowl overnight or bake them in the oven for 20-30 minutes at 325ºF.
Once dry, toss the bread cubes with vegetable broth, olive oil, chopped onions and celery, pecans, a flaxseed egg and some fresh herbs.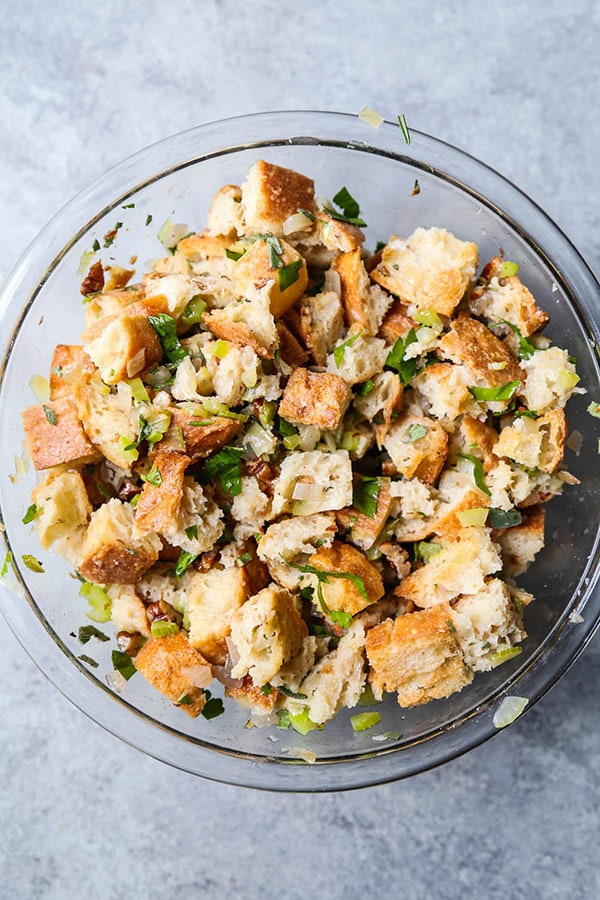 What is a flaxseed egg?
A flaxseed egg is simply 1 tablespoon of ground flaxseed mixed with 2 1/2 tablespoons water. This helps bind ingredients in the same way an egg does.
Season with plenty of salt and pepper (I use about 1/2 teaspoon salt) and transfer the mixture into a baking dish.
The last step is to bake the stuffing for about 45 minutes, broil for 5, and serve.
Watch your vegan stuffing disappear in minutes – the mix of fresh celery and herbs add so much depth of flavor, everyone will be asking for seconds!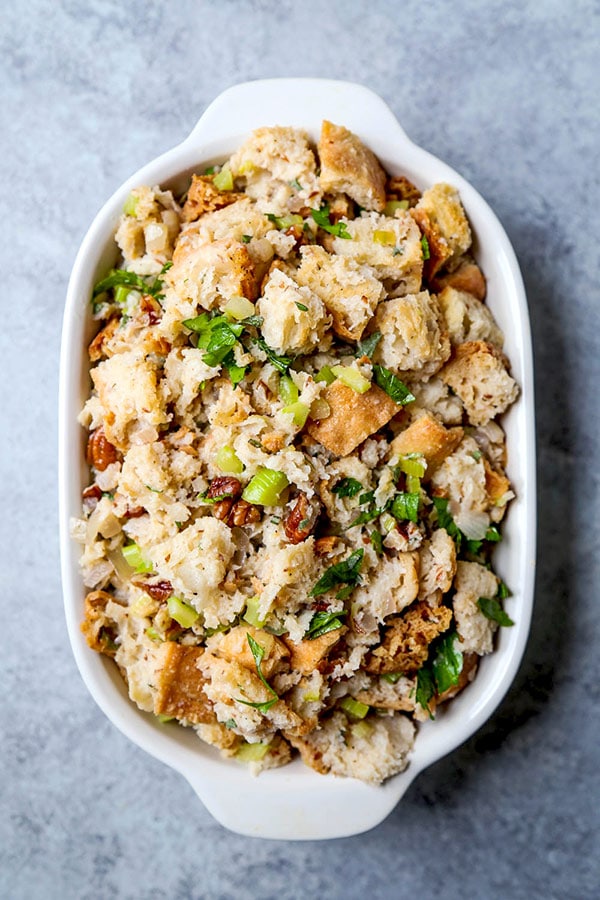 You can make this vegan stuffing a day or two ahead of time, stored in the fridge. To reheat, place the stuffing in a baking dish and reheat on low (280ºF), for 30-40 minutes.
Of course, the texture is best when it's fresh so making this vegan stuffing the day of is what I recommend.
Now that you know how simple and healthier it is to have homemade stuffing at your table, you will never go back to store bought!
Other delicious Thanksgiving recipes: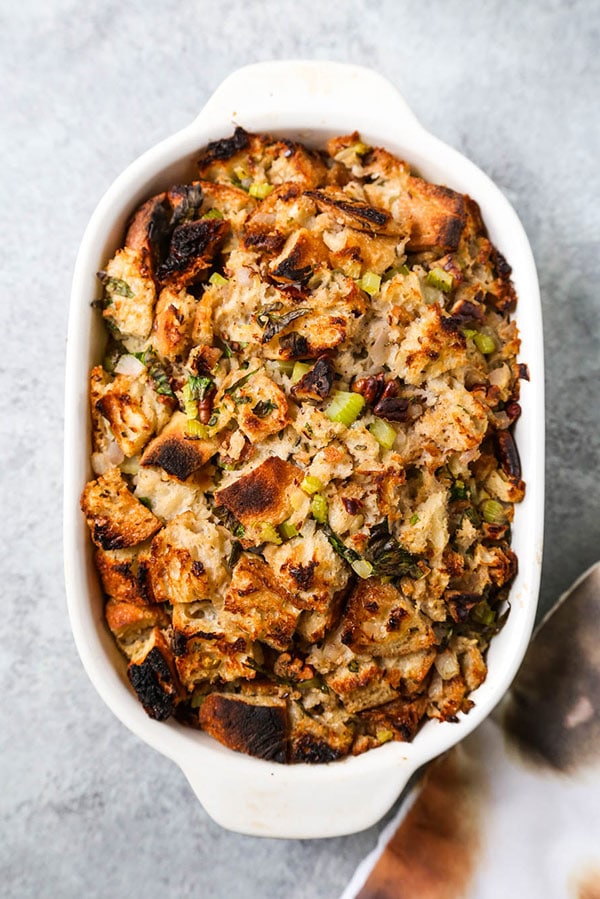 Did you like this Easy Vegan Stuffing Recipe? Are there changes you made that you would like to share? Share your tips and recommendations in the comments section below!
1

pound

white bread such as baguette or ciabatta

cut into 1 1/2-inch cubes

3

tablespoons

extra virgin olive oil

1

cup

white onion

diced

1

cup

celery

diced

1/2

cup

pecans

chopped

2 1/2

cups

vegetable broth

1

flaxseed egg (1 tablespoon ground flaxseed mixed with 2 1/2 tablespoons water)

3

tablespoons

fresh sage

chopped

3

tablespoons

flat leaf parsley

chopped

1

tablespoon

fresh rosemary

chopped

salt and pepper

to taste
Place bread cubes in a bowl or a tray and leave overnight to dry. Or Place bread cubes on a cooking tray and bake in the oven at 325ºF for 30 minutes, or until bread cubes are dry and slightly colored.

In a pan over medium heat, add olive oil, onions and celery and sauté for 4-5 minutes, until onions are translucent.

Add walnuts and sauté for an additional 3 minutes. Turn the heat off and transfer to a large bowl.

Add bread cubes and vegetable broth and gently toss. Add flaxseed egg, sage, parsley and rosemary and gently fold.

Season with salt and pepper and transfer mixture to baking dish.

Cover dish with foil and bake for 45 minutes.

Turn oven to broil, remove foil and bake for an additional 5-7 minutes, or until the top is golden brown. Serve.
This vegan stuffing recipe will keep in the fridge for up to a week.