Who knew fried ketchup rice covered with an omelette could taste so good! This easy omurice recipe takes less than 20 minutes to make and serves 2.
Omurice – オムライス
Oh how we love omurice (Japanese omelette) here at casa de Phelps! Omurice is so easy to make and great for using up all the the leftovers in your fridge! The basic flavor couldn't be more American (ketchup) which is why it is categorize as a yoshoku (Western-influenced cooking) meal in Japan. The dish is very simple: ketchup and tomato flavored fried rice wrapped in an omelette. It is the quintessential kid friendly meal that's usually topped with an American flag in Japanese okosama lunches – kids meals served in family restaurants.
Not only is omurice a good family meal but it's also great for.. Hangovers! Yes, omurice is filling and helps make a rough morning a little easier on the head. As part of the breakfast menu at Denny's in Tokyo, it's one dish I recall ordering more than a few times during my days when staying out until the sun came up seemed like a normal thing. Nowadays, it's served at dinner time at my house while Ben and I are rooting for our favorite hockey team. Those hard party days are long gone!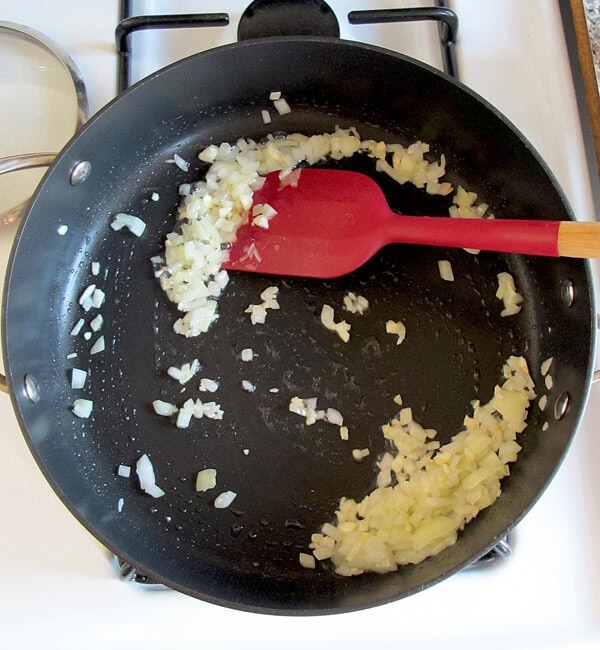 How to make omurice is very easy! Each household has their own favorite way to cook it. We personally enjoy the addition of spicy Berkshire sausages for the added kick of heat and mushrooms for their natural earthy flavor. The result is a Japanese omelette that's a little smoky, spicy, sweet and salty. There's nothing light about this dish so if you're planning to serve it with sides, I'd suggest going for healthy Japanese options such as oshitashi (boiled spinach with dashi and sesame), soy and sesame edamame, or some savory nasu dengaku (broiled eggplant with miso glaze). Or if you want to stick to something closer to a breakfast, try these baked potato chips – healthy and yummy!
Omurice can keep in the fridge for a couple of days but I would suggest making the rice ahead of time and topping it with a freshly cooked omelette. I'm not big on overcooked eggs, I believe a fresh out of the pan omelette to be so much more pleasant to the palate! You can top Japanese omurice with ketchup, kewpie mayonnaise or your favorite barbecue sauce. Ben loves to drizzle a little soy sauce on top while I like mine with chopped scallions and sriracha sauce.
Other yummy Japanese home style recipes: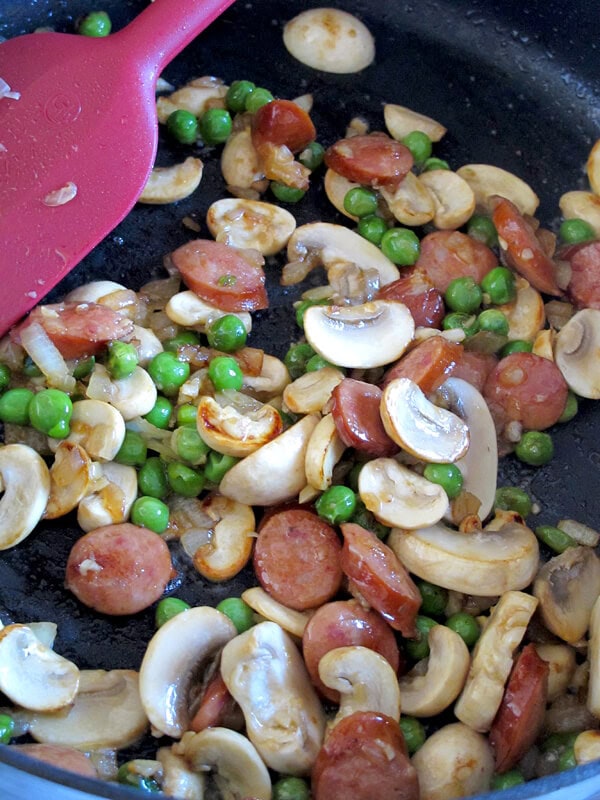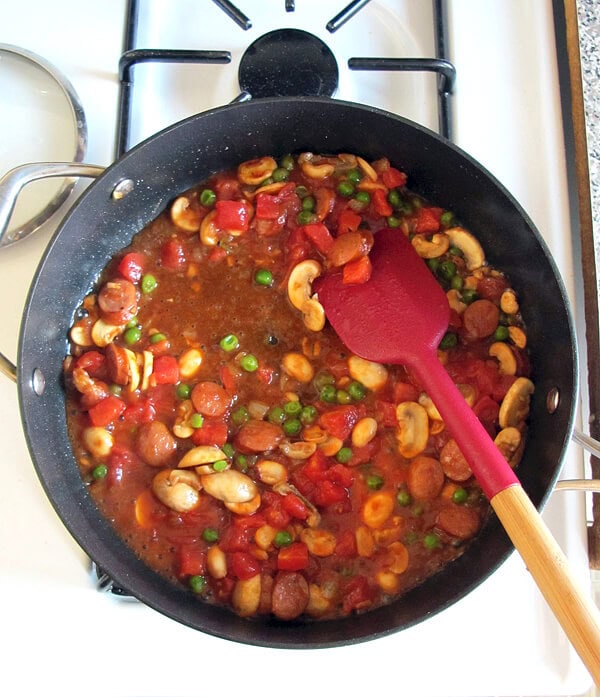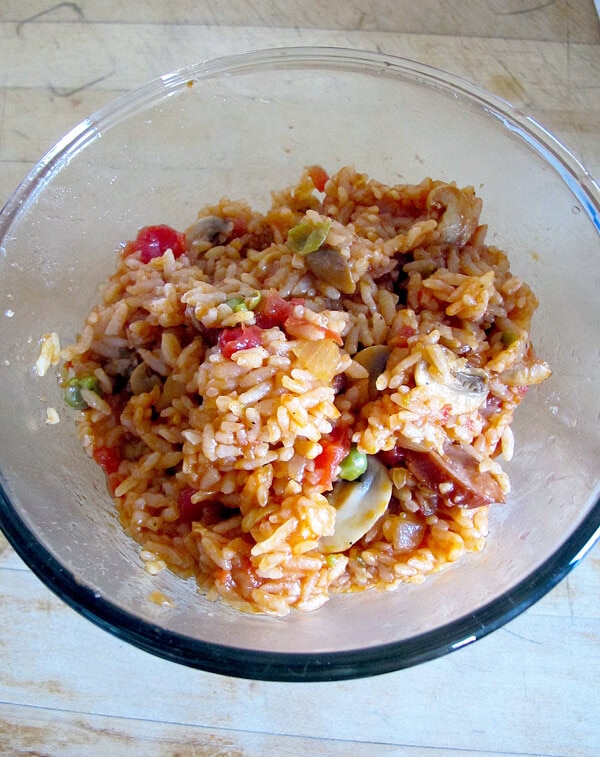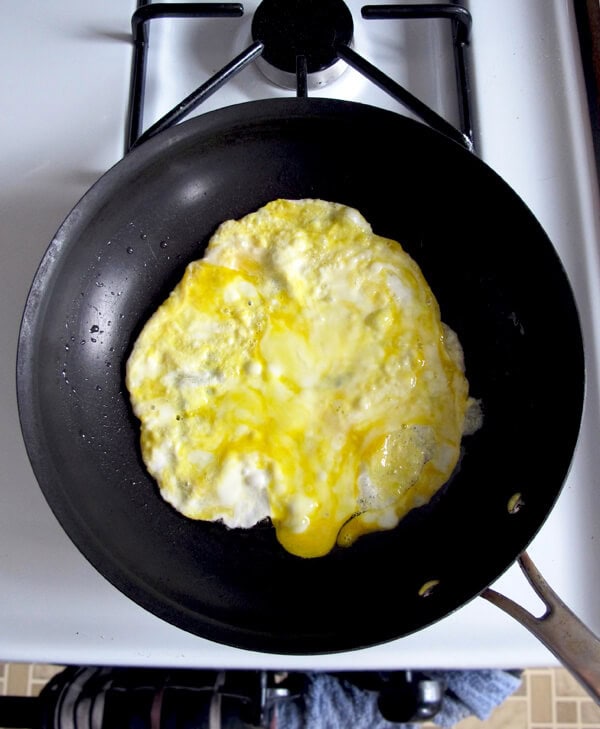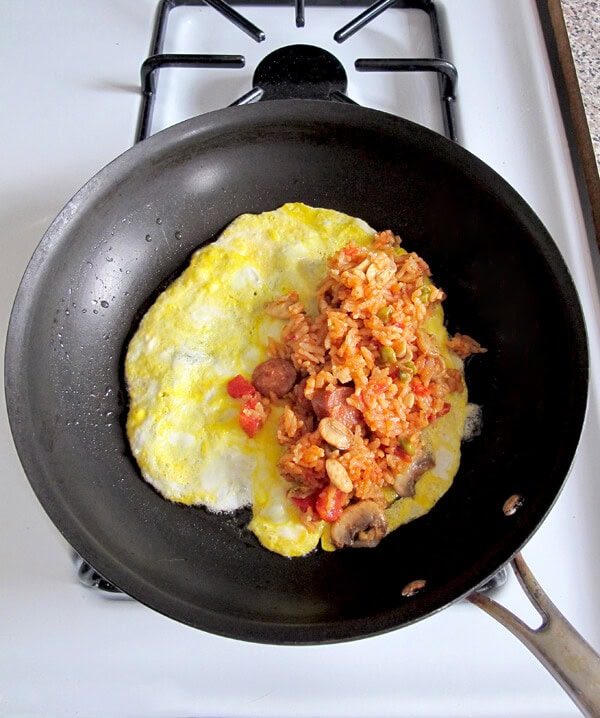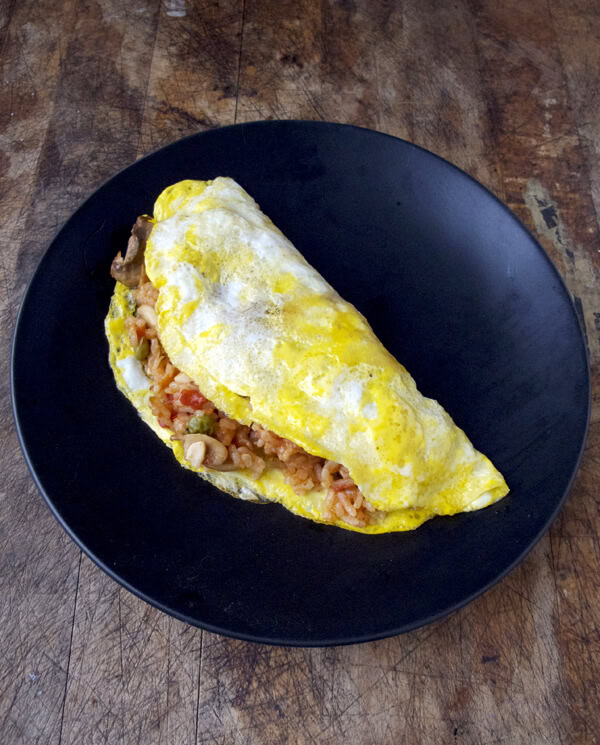 Did you like this Omurice Recipe? Are there changes you made that you would like to share? Share your tips and recommendations in the comment section below!
2

tablespoons

vegetable oil

2

cloves

garlic

finely chopped

1/2

small

onion

finely chopped

8

button mushrooms

sliced

2

links

Japanese Berkshire sausage

optional

1/4

cup

frozen peas

thawed

3/4

cup

canned diced tomatoes

2

tablespoons

white wine

optional

1 1/2

tablespoon

ketchup

1 1/2

cup

cooked Japanese rice

salt and pepper

to taste
2

large

eggs

2

tablespoons

vegetable oil
In a deep pan over medium/high heat, add oil, garlic and onions. Cook for 3-4 minutes, until onions are translucent.

Add mushrooms, sausages and peas and cook for 3 minutes, or until sausage are cooked through.

Add canned tomatoes, white wine and ketchup and cook for 2 minutes.

Add rice, stir well and cook for 3 minutes, or until all the liquid has been absorbed. Turn off the heat and season with salt and pepper. Set aside.

In a mixing bowl, whisk the eggs.

In a large pan over high heat, add vegetable oil and eggs and swirl the pan until the eggs coat the entire bottom surface of the pan.

When fully cooked, add rice mixture on one side of the omelet.

Turn the heat off and fold the omelet. Carefully transfer to a plate and squirt a little ketchup on top. Serve hot.
This Japanese omurice recipe makes one large omelette.
This Omurice Recipe Is:
Low in sodium
Very high in vitamin B6