This is a delicious Thai peanut sauce perfect for dipping your favorite veggies and skewers! While being both sweet and savory, this peanut sauce is also packed with aromatic spices and a hint of curry. It's the best!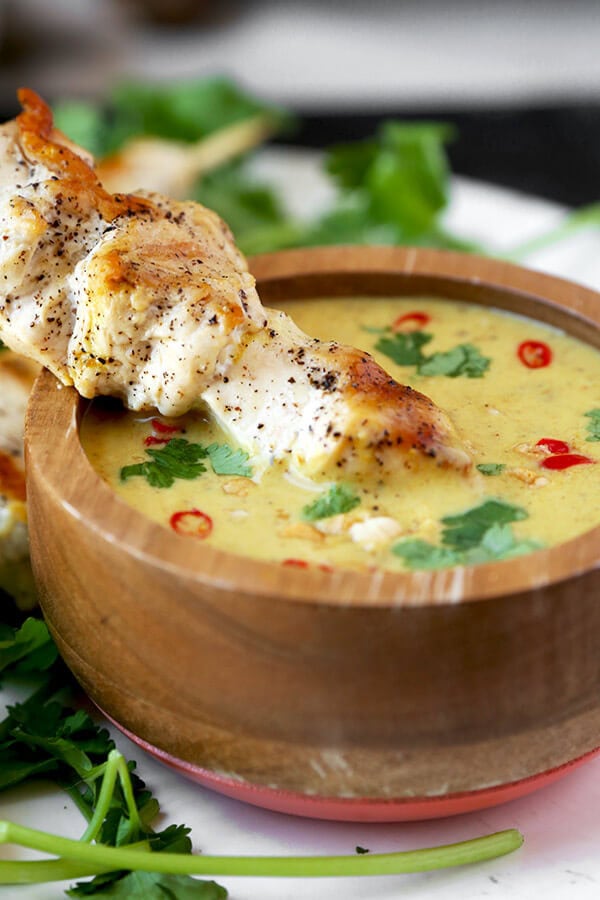 Thai Peanut Sauce
After a full week of blogging plus traveling to Chicago for more work over the weekend, I have to say I'm feeling pretty wiped out and in desperate need of R&R. My plans for the next day are to catch up on my favorite TV shows, drink some wine and do as little cooking as possible. When I feel tired I stay away from complicated recipes that have lots of steps and instead opt for simple dishes that are grilled or slow cooked. This weekend I thought I would make a quick Thai peanut sauce that can be used to dip chicken skewers and grilled veggies. Easy, healthy and ready to serve in no time!

MY LATEST VIDEOS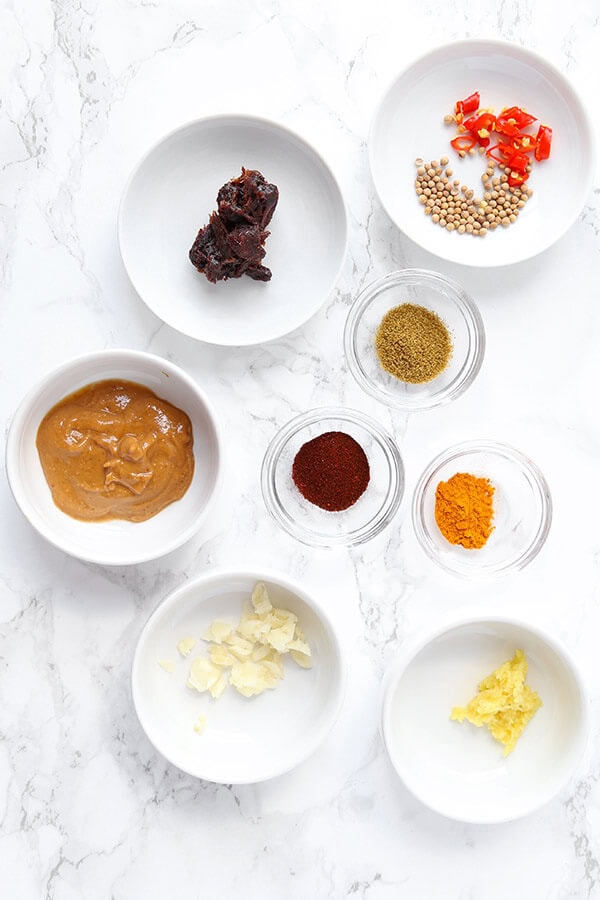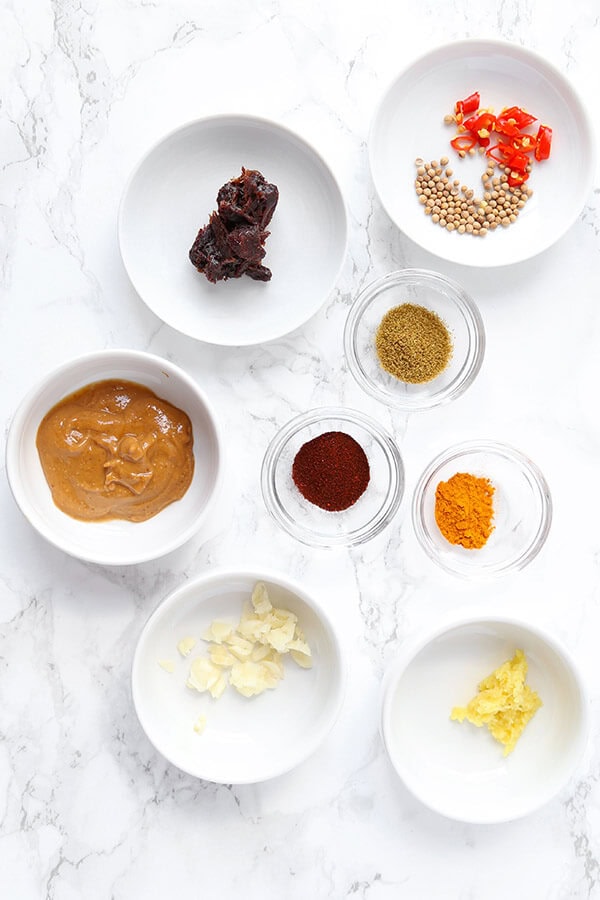 I prefer to make my own Thai peanut sauce because I find the store bought version too sweet and blah in taste. I'm also not crazy about the texture store bought peanut sauces have: they are creamy but not in a good way. More like sticky and pasty like glue which screams "full of chemicals" to me.
A good Thai peanut sauce is aromatic, a little smoky and has that pungent element that many southeast Asian dishes have. It's complex in flavor and just as savory as it is sweet. My version is not 100 percent traditional but I promise you will like it so much you will want to drink it! The flavors are bold and harmonious while the texture is more silky than creamy. Think of it as a curry like peanut sauce that could easily be poured over rice. It's that yummy!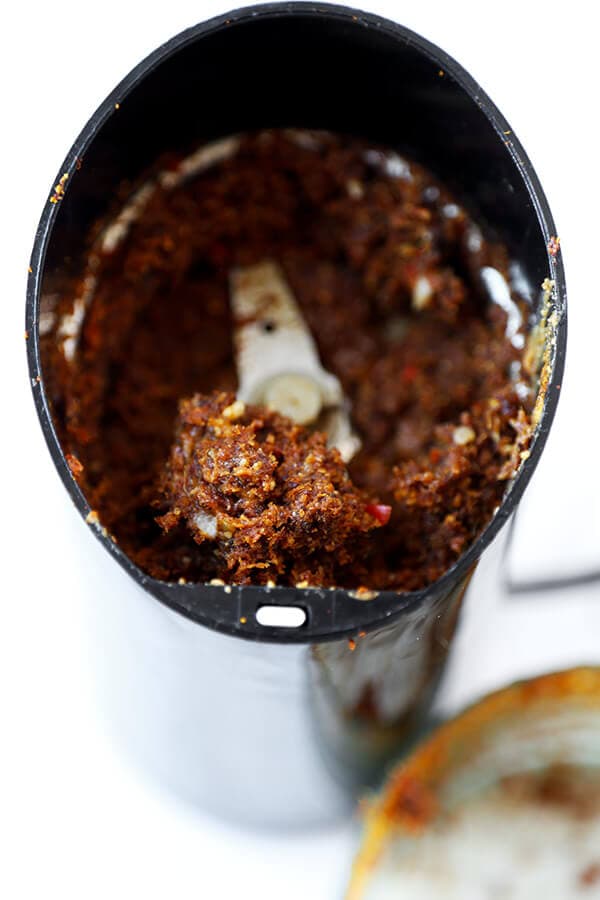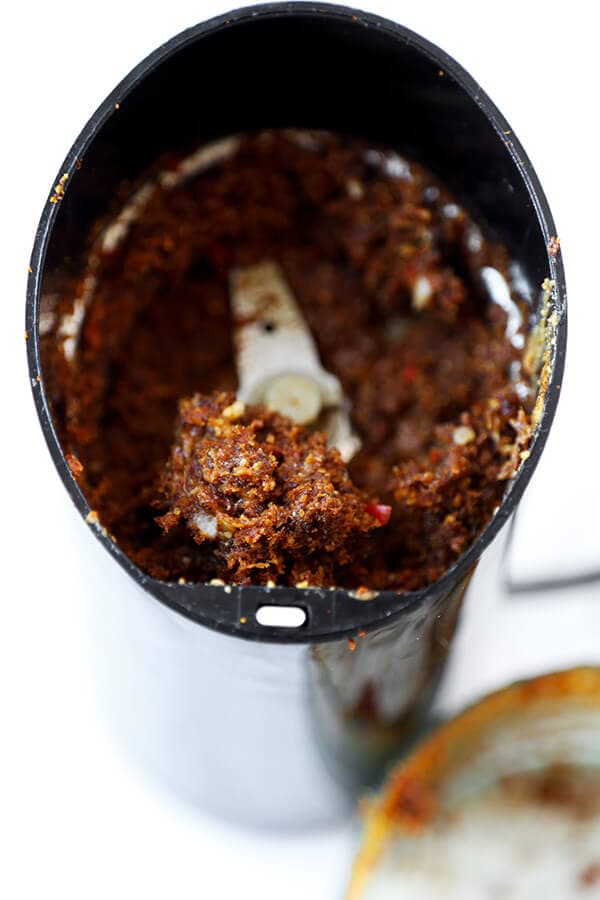 There are only three quick steps to this recipe; toast, grind and heat up. The spices are heated in a pan to add a little smokiness and are transferred to a grinder along with garlic, ginger, chili, tamarind paste and peanut butter. Once ground, the paste is then whisked into a pot with coconut milk and heated until it's dissolved. That's it! You can serve it hot or cold (I think room temperature is best) and with anything from shrimp, beef or chicken, raw or grilled vegetables, naan bread, summer rolls, chicken fingers, etc…
I love it when a meal can be made quickly without having to compromise on quality, nutrition and taste. Grilled vegetables such as red bell peppers, asparagus, carrots, cauliflower, zucchini and mushrooms are already so flavorful they only need a few minutes on the grill to shine. The same goes with organic, USDA labeled chickens; they only need to be seasoned with freshly ground black pepper and sea salt to taste great.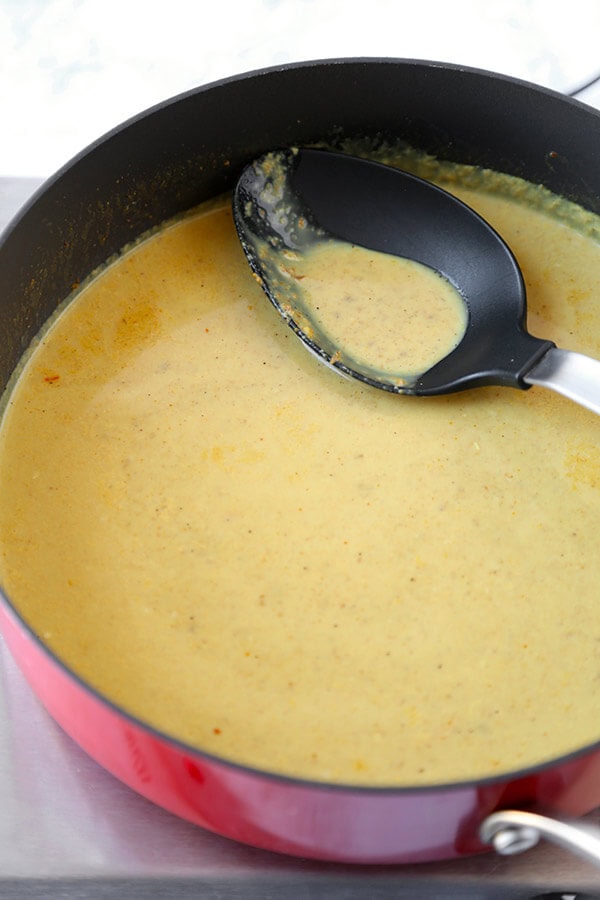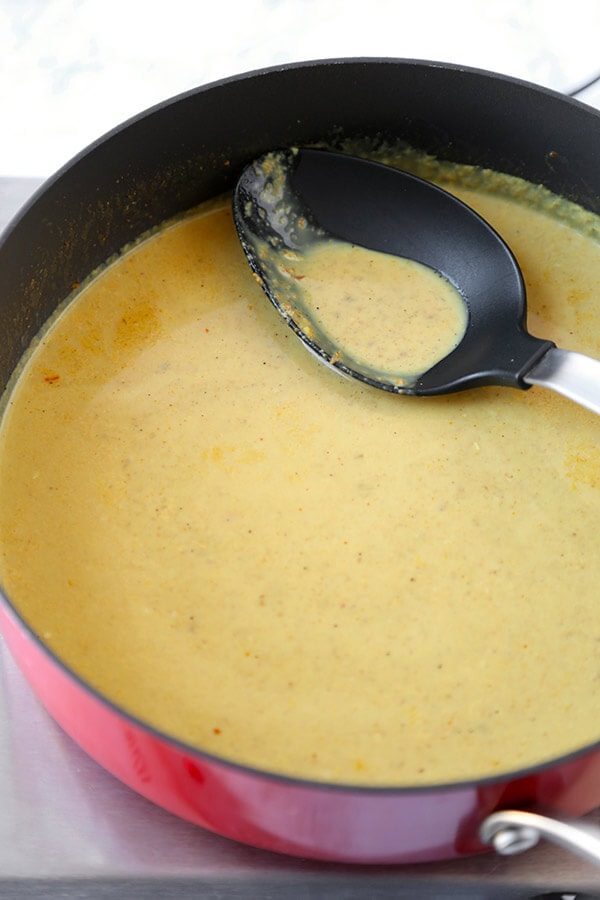 This evening, our meal will consist of 20% chicken and 80% vegetables and will be paired with a beautiful bottle of Albariño wine. Dessert? A caramel Drumstick ice cream. That's me spoiling myself right there! And lucky me, Ben is letting me have control of the remote so I'm going to go full girly on him 🙂 . Cheers everyone!
Other quick and healthy dishes: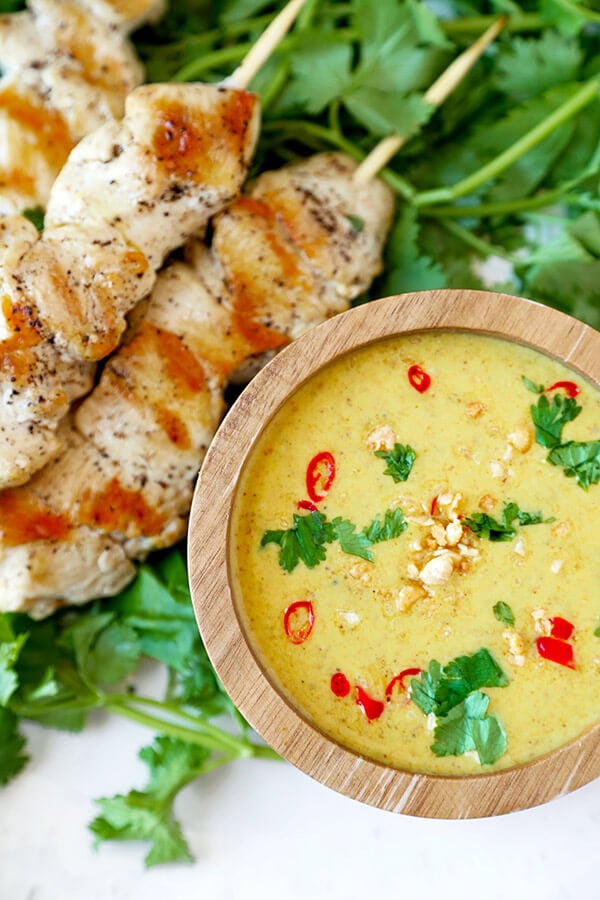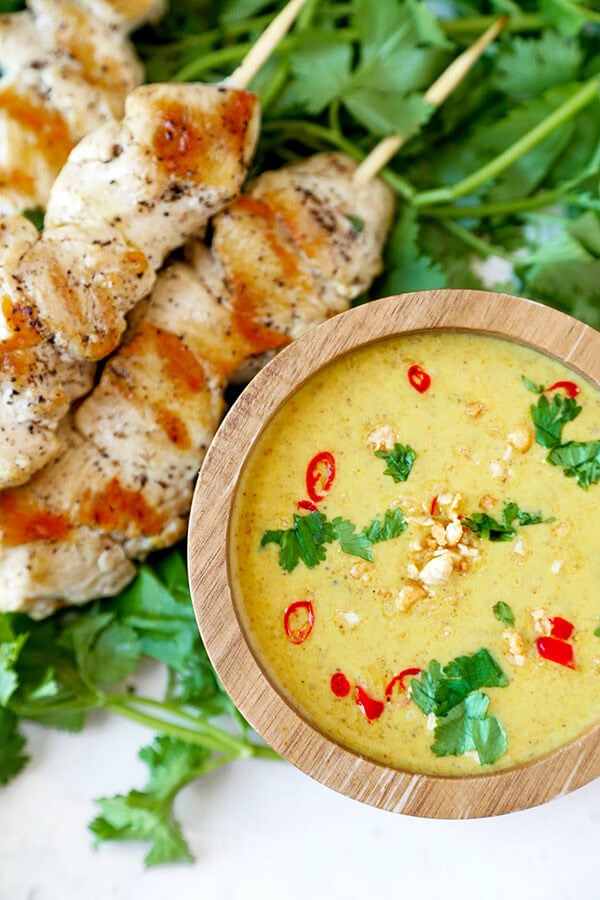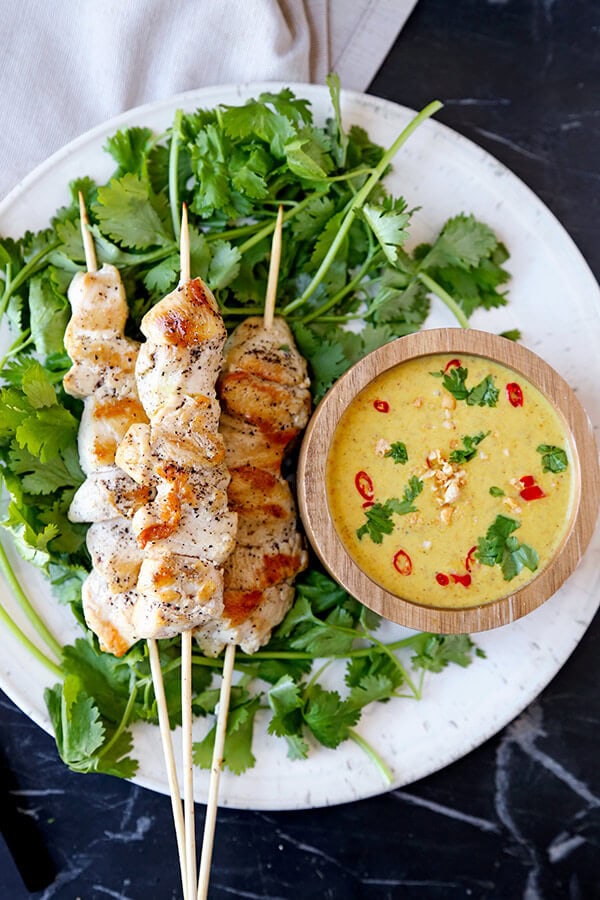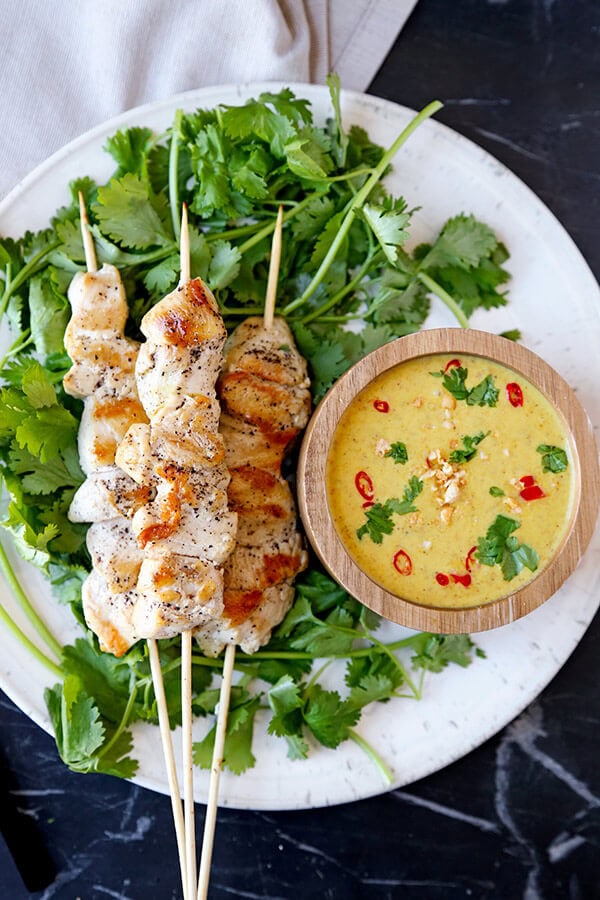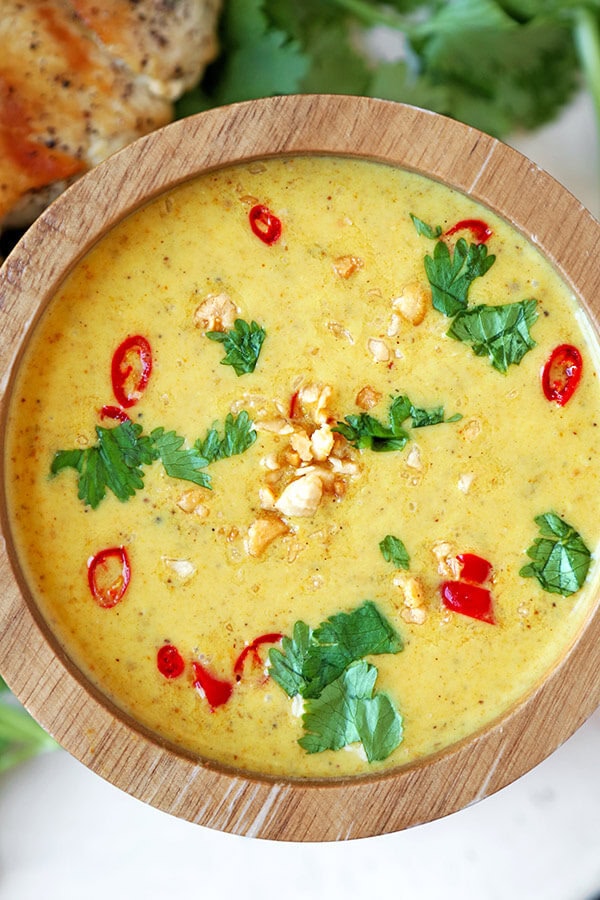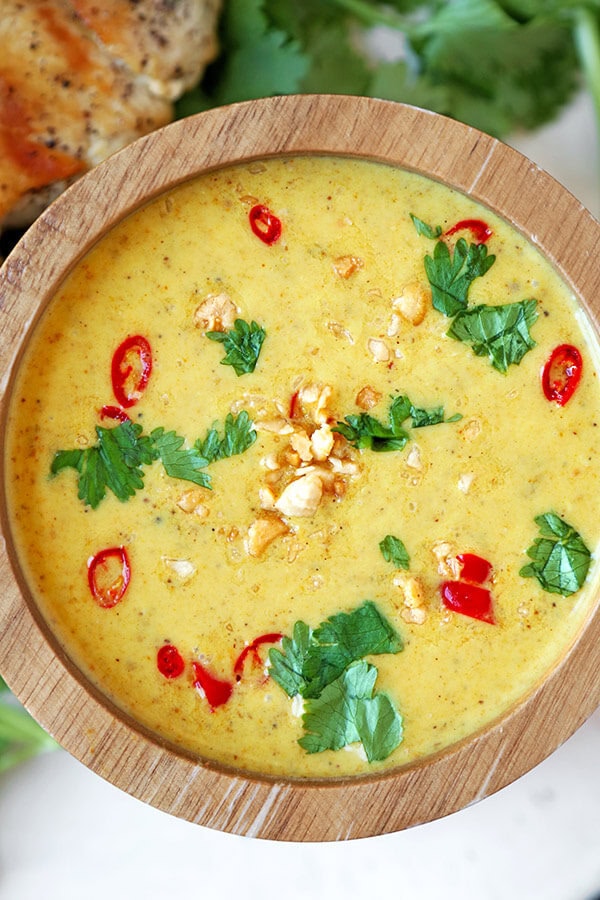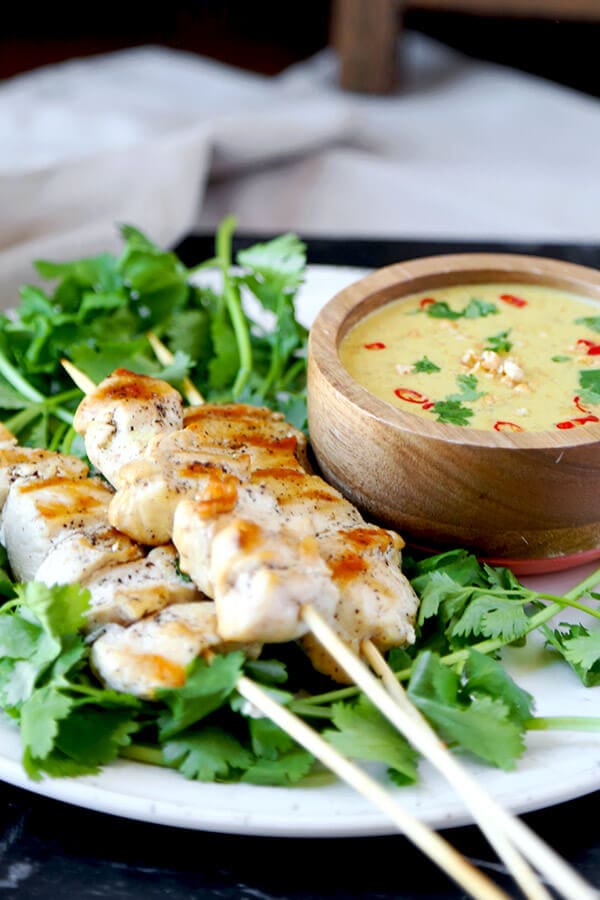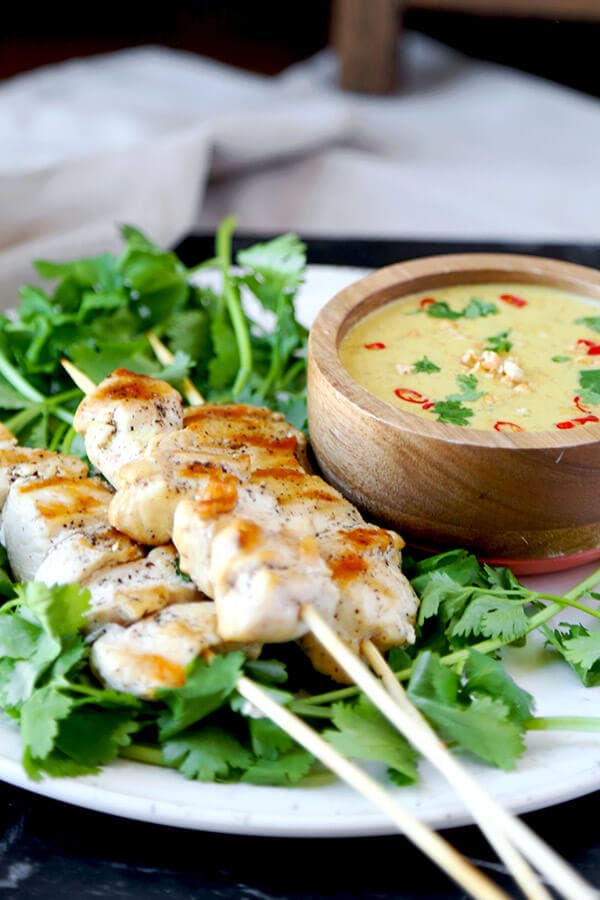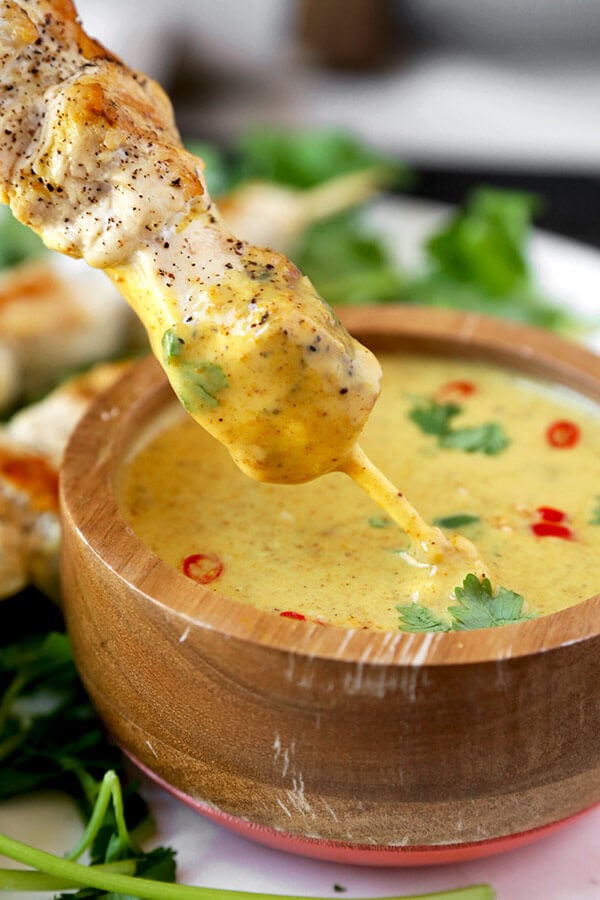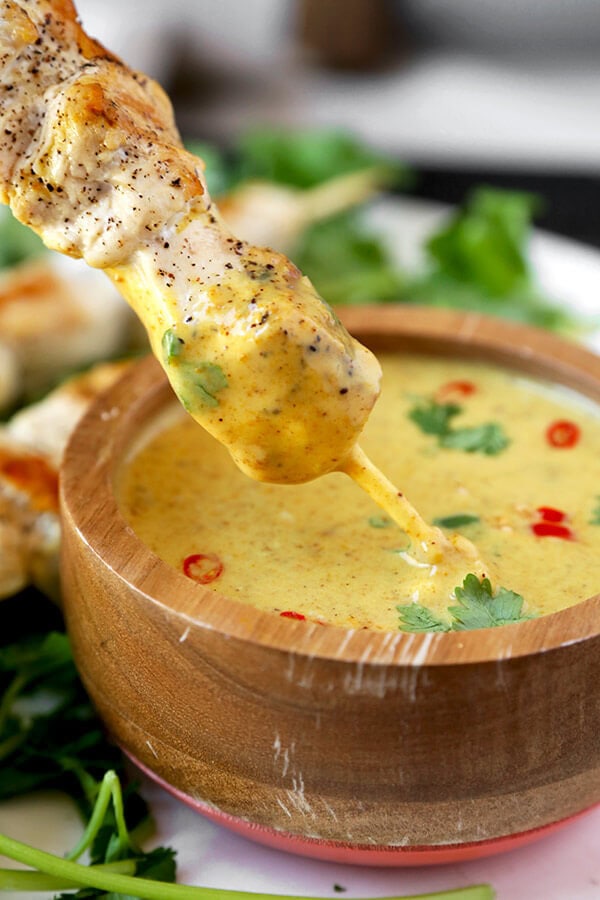 Did you like this Thai Peanut Sauce Recipe? Are there changes you made that you would like to share?
1/2

teaspoon

turmeric powder

1/2

teaspoon

chili powder

1/2

teaspoon

ground cumin

1/2

teaspoon

coriander seeds

1

clove

garlic

chopped

1

teaspoon

ginger

peeled and grated

1

Thai chili

chopped

2

teaspoon

tamarind paste

2

tablespoons

smooth peanut butter
In a small pan over medium heat, add turmeric powder, chili powder, ground cumin and coriander seeds. Cook until fragrant, about 1 minute.

Turn the heat off and transfer the spices to a spice grinder, small blender or pestle and mortar. Add the remaining ingredients for the paste and blend.

In a small pot over medium heat, add coconut milk and paste and whisk until the past has dissolved. Heat the coconut milk until hot (but not bubbling) and transfer to a bowl.

Serve the Thai peanut sauce with vegetables and skewers or use it as a sauce for a stir fry. It's delicious over rice!