You won't miss the meat in this savory and warming Vegetarian Split Pea Soup Recipe. So easy to make, the only three steps to follow are shop, chop and simmer!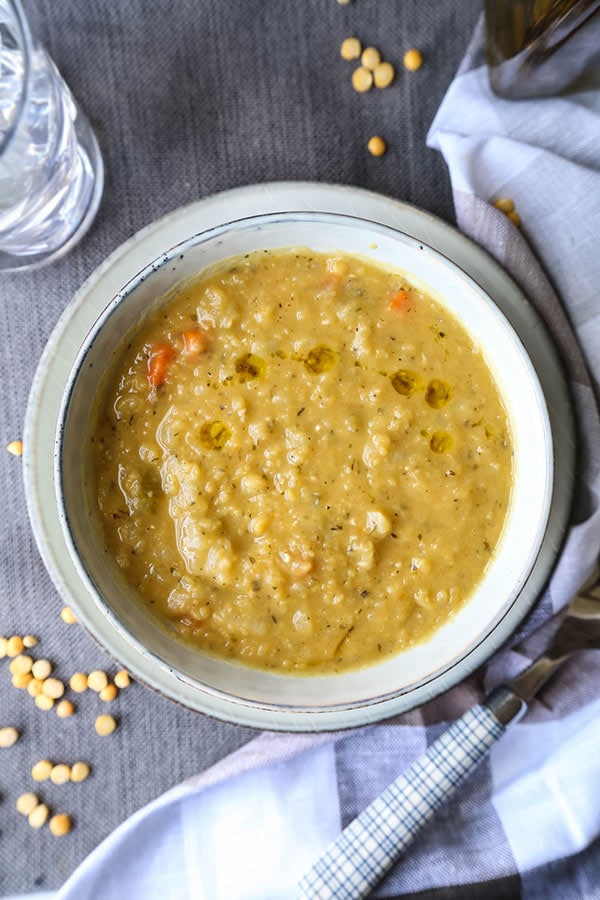 Vegetarian Split Pea Soup
Hey guys!
I'm Ben – Caroline's husband, and the taste-tester-in-chief in the Pickled Plum Kitchen. I love trying out Caroline's delicious recipes. And sometimes – when they're easy enough – I try my hand at making them myself.

MY LATEST VIDEOS
Caroline made this delicious vegetarian split pea soup recipe last week at home. It definitely ticks the easy box. So here we go!
As we speak, Caroline is at a photo shoot – and I want to have dinner ready when she returns from set.
Will it be as good as the original?
It must be said: I'm kinda nervous though.
I think you'll all agree with me that serving a dish to the creator of said dish can be a tiny bit of a nail biter. What if it's not as good as the one she made?
Well, it turns out this awesome vegan yellow split pea soup is absolutely foolproof. You just can't mess it up.
Perfect for a kitchen noob like me!
So, let's grab our knives, some veggie broth (and a ton of extra towels, haha) – and we'll get through this mega-easy dinner prep together.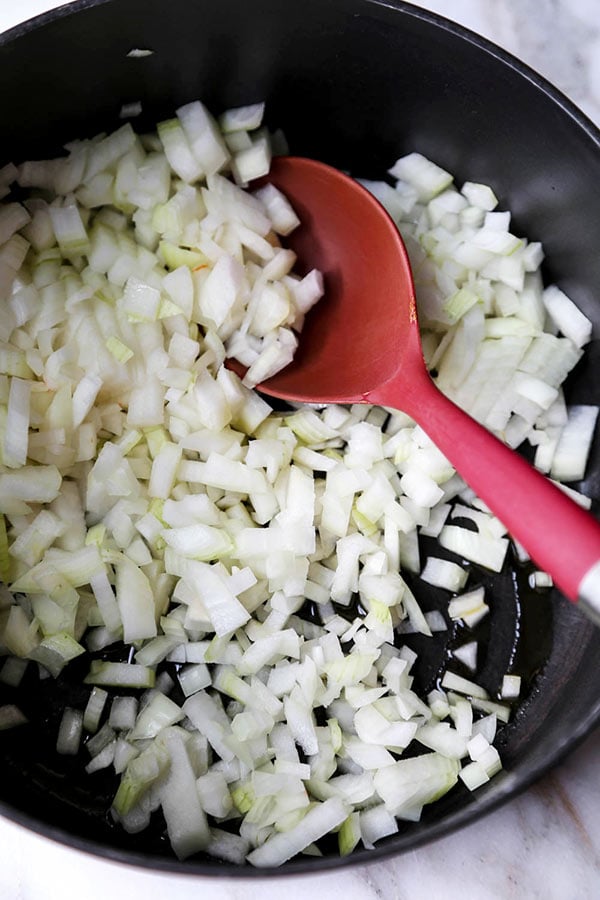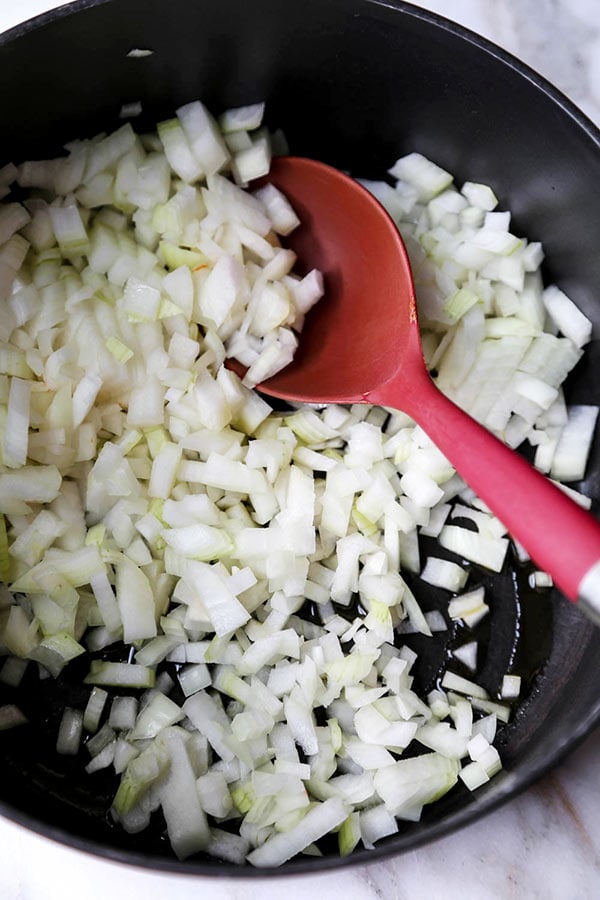 Food Flashback 
When Caroline first set her version of this vegetarian split pea soup on the table last week, I got major déjà vu.
You see, when I stayed home from school as a kid, I was all about soup for lunch. Whether I was actually under the weather – or, more likely, faking it – a can of soup was definitely making an appearance as I flipped the channels on the couch.
My favorite was pea soup with ham. Dang, that smoky dark green stuff was absolute magic.
Turns out it was the same for Caroline!
No joke – she grew up in Quebec and devoured can after can of split pea soup with ham. Before we knew it, our delicious dinner was done, but we were busy telling each other ridiculous stories from our childhoods. Many of which are waaaay too embarrassing to repeat here.
Pretty cool that food has the ability to provoke total-recall of some of the amazing weirdness of life!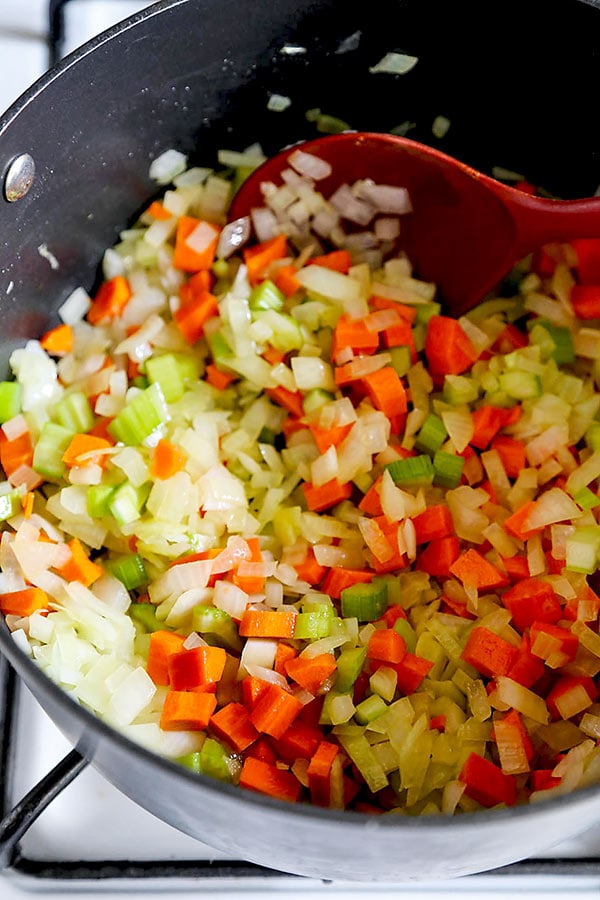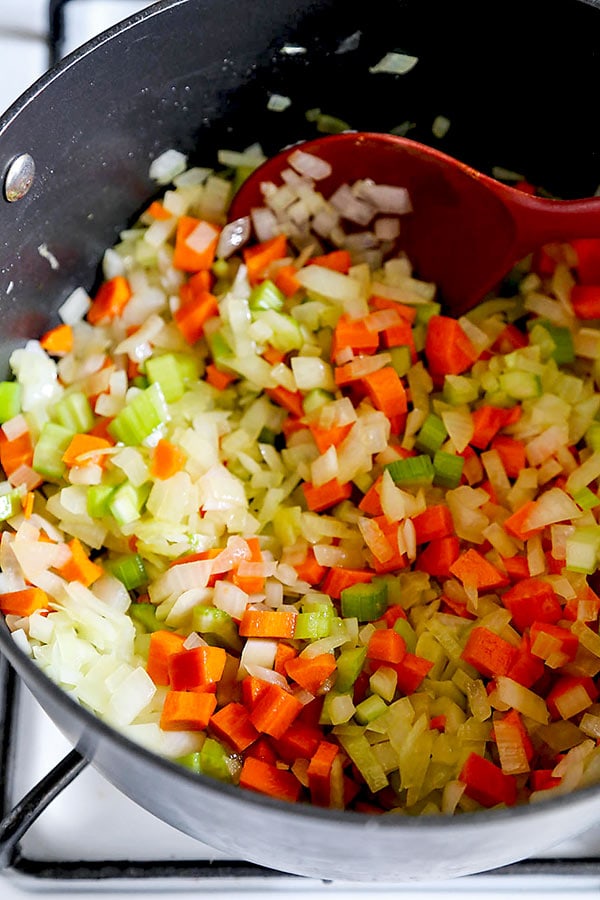 OK, but will it be as good without the ham? 
Both of us were wondering… Will this plant based simple split pea soup have the same comforting effect and deep taste as the OG with ham?
Since we've adopted a bit more of a plant based diet at our place, we've been trying to figure out how to make our favorite foods without most of the the meat.
We were midway through our first hearty bites when we found the answer to that perplexing question.
Yep – it's really good.
Geez, we never should have worried. This vegetarian soup is ON-POINT – and doesn't rely on meat at all to deliver that familiar split pea soup flavor profile that has been seared into my brain since childhood.
Turns out, in the case of this split pea soup, that the herbs, vegetables and stock really do all the hard work in the flavor department and totally create a hearty depth on their own.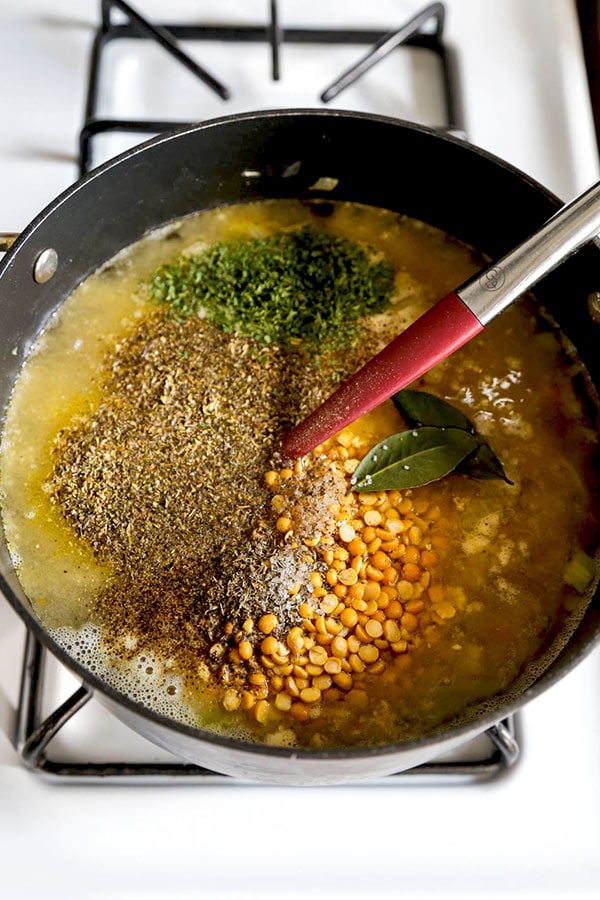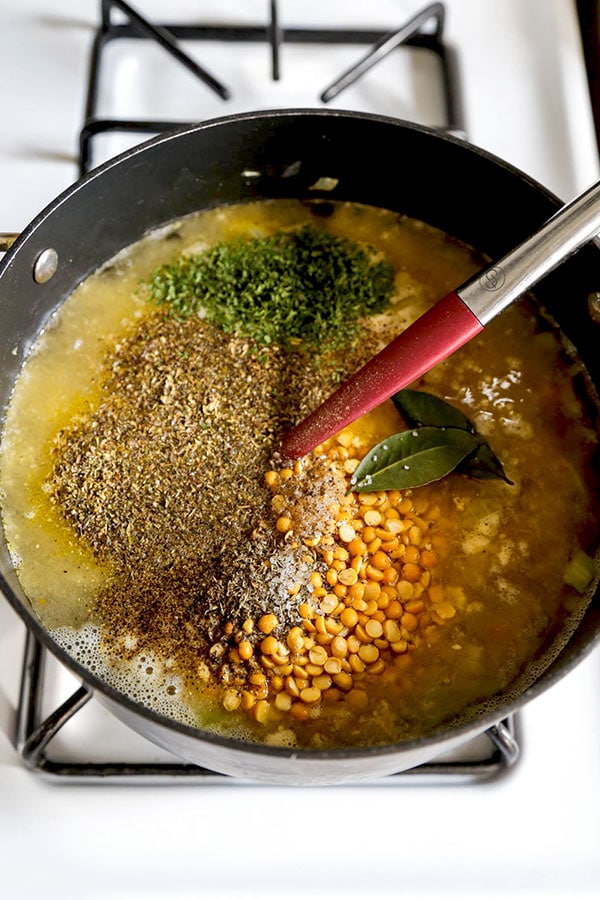 The perfect recipe for a guy like me
While I'm not a total waste of space in the kitchen, I'm easily intimidated by complex recipes with a ton of steps and a long ingredients list.
Most times, if left to my own devices, I'll just get frustrated and order Seamless.
The good news (for me at least) is that there isn't much you have to do to make this delicious veggie split pea soup.
Seriously – shop, chop and wait.
Actually, with this pea soup, it's the wait that's the biggest challenge for me!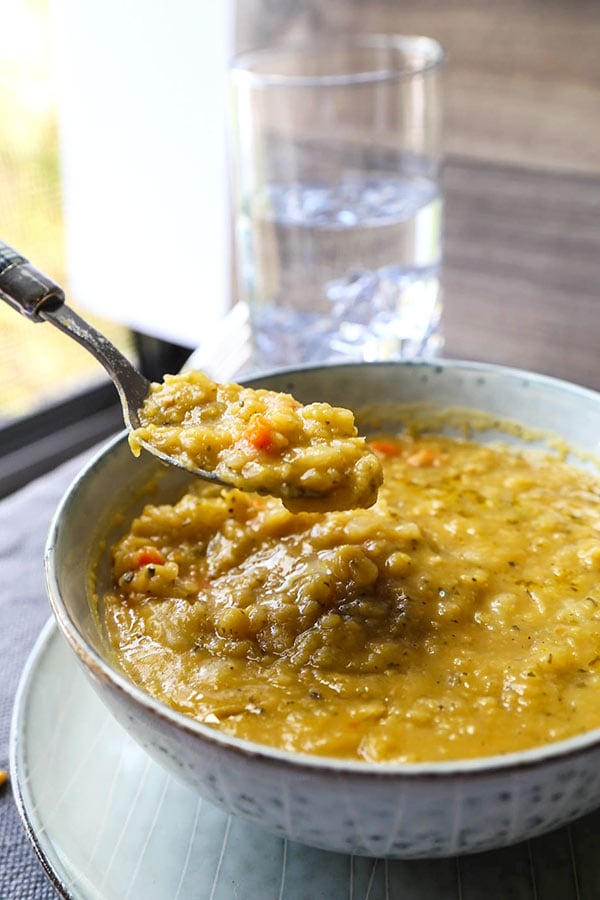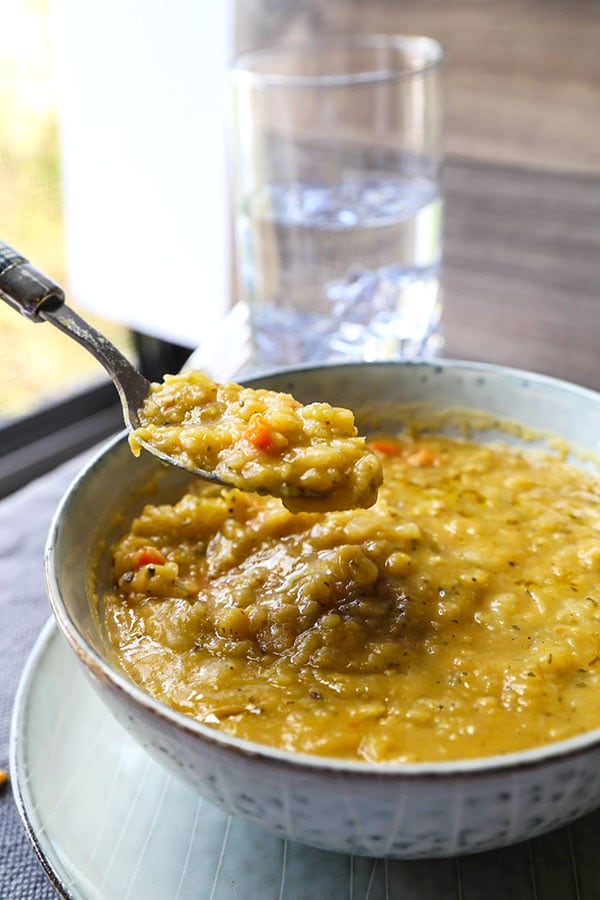 Are you rocking a Crockpot or slow cooker?
Another awesome option is to cook this split pea soup slow and low while you're at work. Dinner can be waiting for you when you walk through the door.
To make a crock pot split pea soup, simply add all the ingredients to the crock pot or slow cooker. Cover and cook on low heat 8 to 10 hrs – or on high heat 6 to 7 hours, until the peas are tender.
That's a definite pro move!
Going with the stovetop method? All good. You'll find all the instructions you need on how to make pea soup in a soup pot below.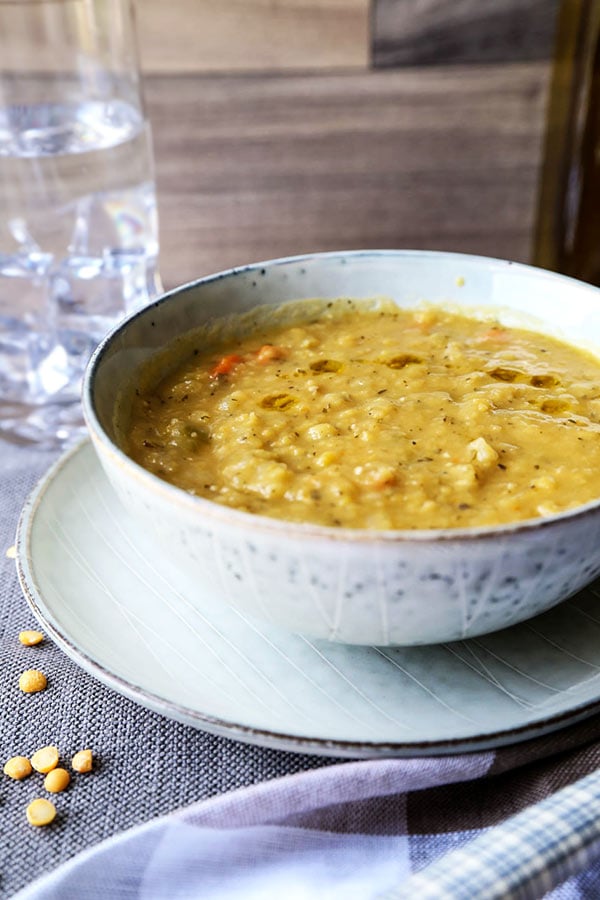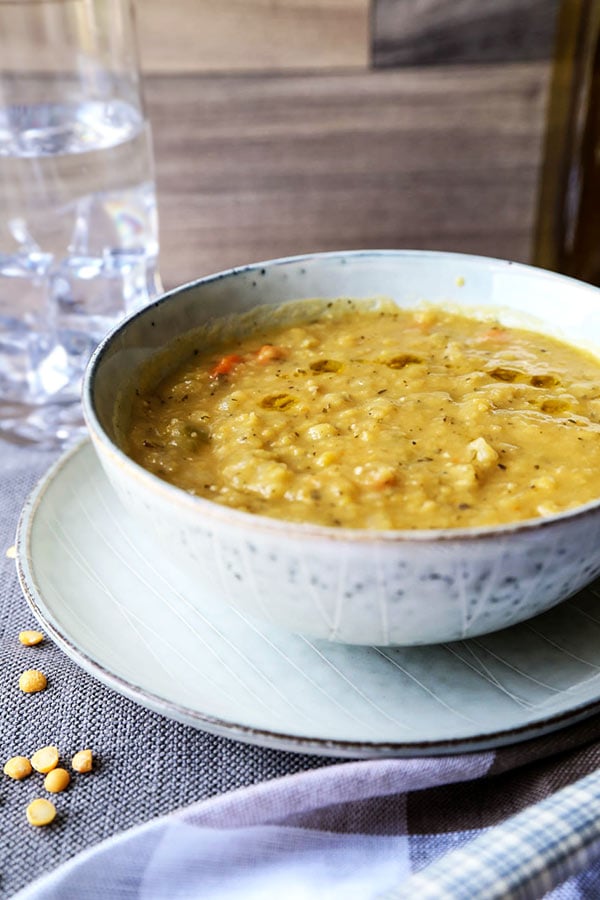 Easy and delicious. And Easy.
When it's my turn to make dinner, I want it to be delicious and SIMPLE.
I also want to make sure to do justice to Caroline's awesome recipes when I make them and serve them to her.
Will this thick, savory vegetarian split pea soup be a hit when she walks through the door from her long day on set?
I sure hope so. I followed her instructions to the letter.
But I also have a confession: I've been dipping my spoon in the soup pot pretty much the entire time I've been in the kitchen.
I think she's gonna like it. The flavor is THERE!
How about you guys? Is there a recipe you make that reminds you of being a kid? We'd love to hear about it in the comments!
Other simple and delicious plant-based soup recipes: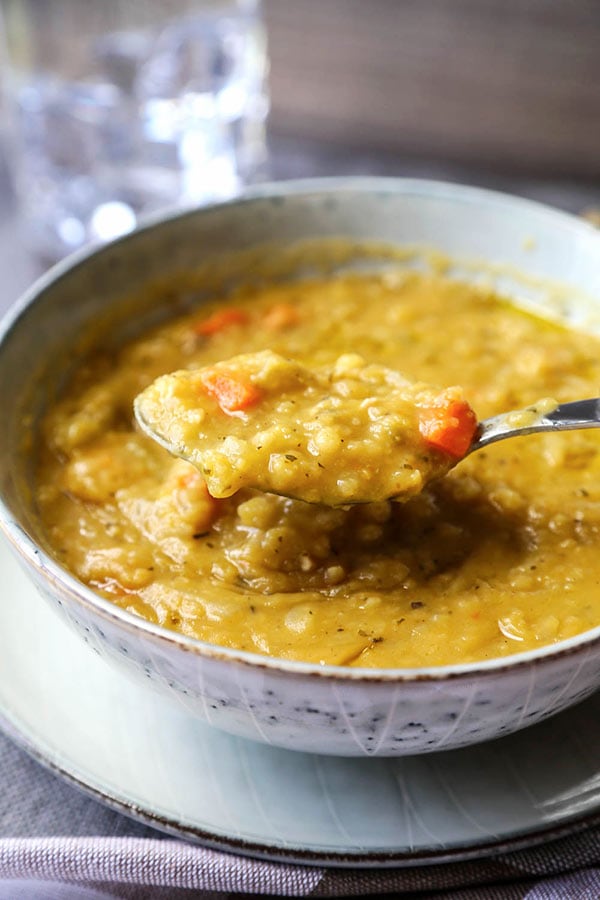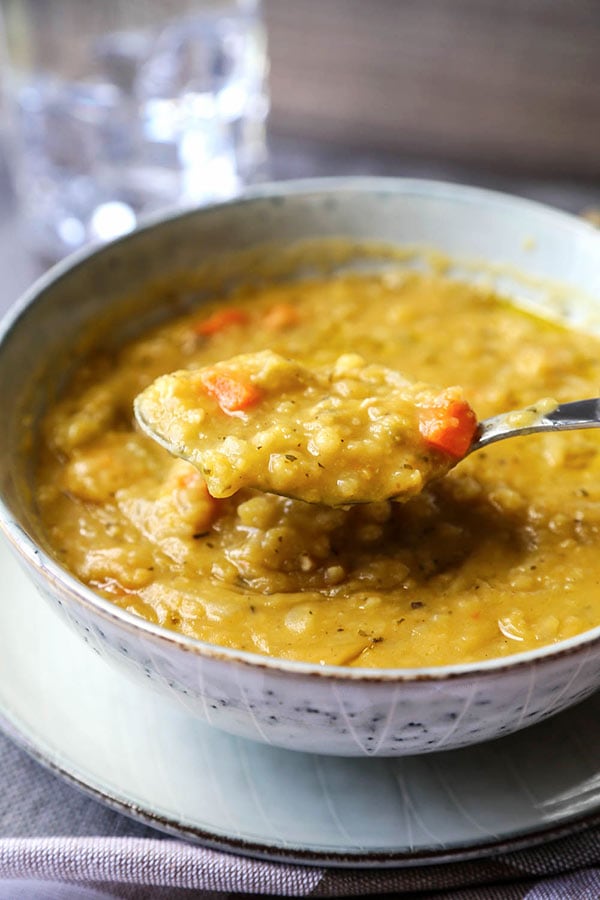 Did you like this Vegetarian Split Pea Soup Recipe? Are there changes you made that you would like to share? Share your tips and recommendations in the comments section below!
2

tablespoons

extra virgin olive oil

2

medium onions

diced

2

carrots

diced

3

celery stalks

diced

6

cups

vegetable stock OR water OR chicken stock

2

cups

yellow split peas

1

teaspoon

dried parsley

1/2

teaspoon

dried thyme

2

teaspoons

dried oregano

2

bay leaves

salt and pepper

to taste
In a large pot over medium high heat, add olive oil and onions. Cook for 4-5 minutes, until onions are translucent and becoming soft.

Add carrots and celery and cook for 2 minutes.

Add all the remaining ingredients, and bring to a boil. Lower heat, cover and simmer for 1½ hours, stirring every 25 minutes or so, until peas are tender.

Stir and adjust the consistency by adding ½ cup water at a time, until desired consistency is reached. I usually add between 1½ cup to 2 cups.

Pull bay leaves out, season well with salt and pepper and serve.