This fragrant, luscious and healthy Thai Coconut Soup is loaded with the flavors of Thailand – and is ready in 17 minutes from start to finish.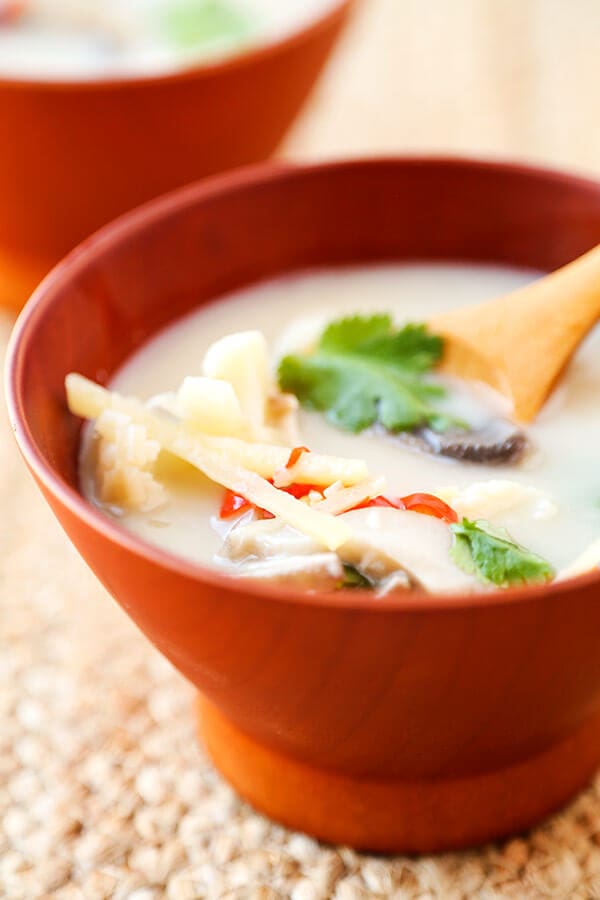 Thai Coconut Soup (Tom Ka)
It's fair to say that my mother is now a huge fan of Thailand. More years ago than I'd like to admit, I called my mom out of the blue and told her to pack a bag. We were headed to Phuket for a week. It was the first time I had taken charge and secretly planned a mother / daughter trip – and the weight of what I had just done rested firmly on my shoulders. Had I been hasty? What if it rained the whole time? What if she didn't like the food? I shouldn't have worried. One luscious bite of Thai coconut soup (tom ka) from a sun-drenched lounge chair on Karon beach was all I needed to relax and realize my mom was going to have an epic time in this enchanting land.

A Balance of Flavors
As motorbikes lazily putted on the beach road behind us, I got lost in my own head. What was it about that delicious Thai coconut soup that put my mind at rest and let me absolutely know that we were in for a great week together? Well, the perfect tropical surroundings didn't hurt. But it was the balance of flavors in the silky, lemongrass loaded broth that ultimately did the trick. After a few perfect spoonfuls, I came to an important conclusion. If a simple Thai coconut soup could put a beaming ear-to-ear grin on my mother's face, I no longer had to worry if she was going to enjoy her time here in the land of smiles. Was she ready to devour stinky (but perfect) durian on the regular? Hmmm… maybe not. But, wouldn't it be fun to try?!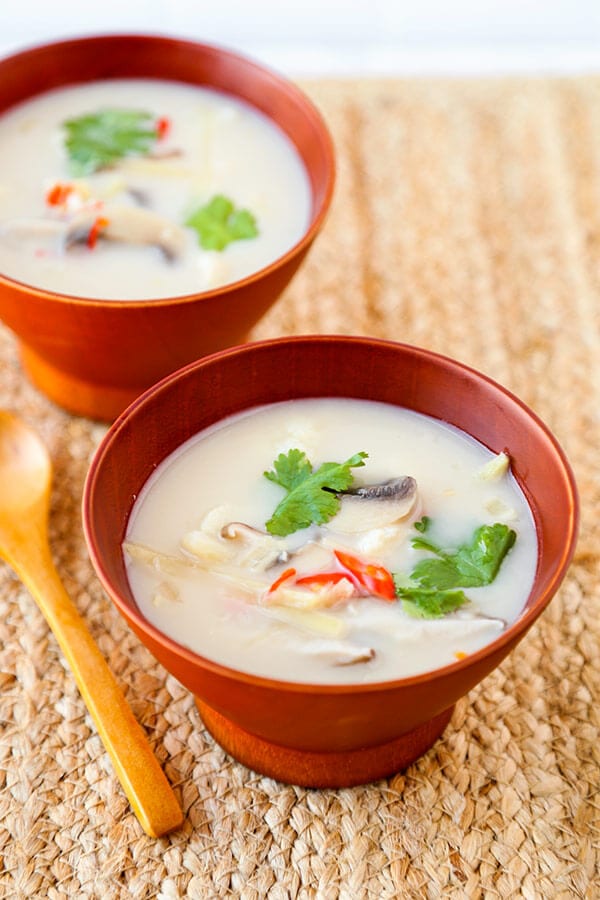 Sour, Salty, Spicy, Bitter + Sweet
Most Thai Coconut soup preparations will call for the use of chicken. And, while chicken tastes amazing in this soup, I opted for cauliflower instead. The mild, nutty flavor that cauliflower brings to the table works perfectly in tandem with the sour, salty, spicy, bitter and sweet elements of the broth. Ginger (you can also use galangal), lemongrass and cilantro form an aromatic flavor palate. The pungent and savory fish sauce and fiery Thai chili create an assertiveness that is only mildly tamed by the understated sweetness of the coconut milk and a dash of sugar. There's a lot going on in this super simple-to-make Thai coconut soup!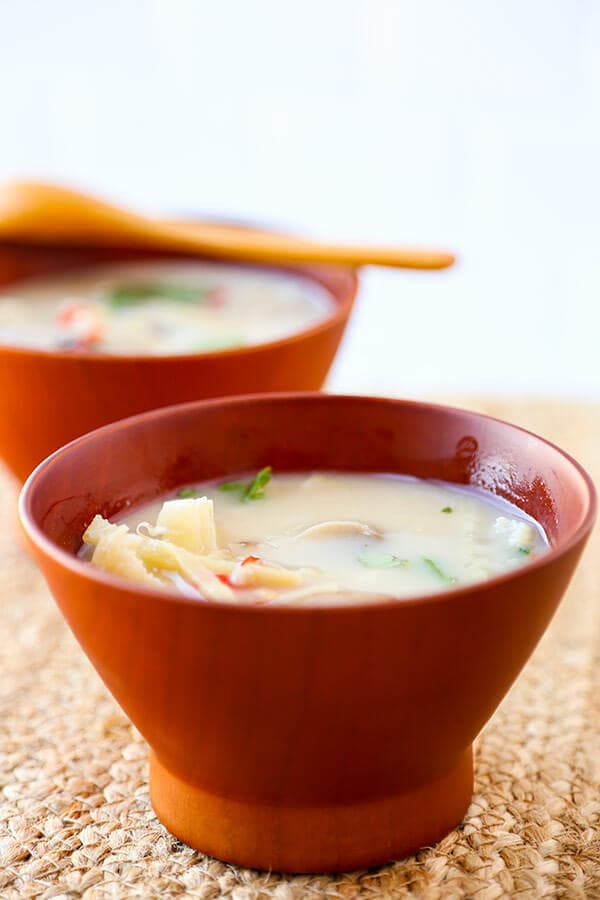 Yes. As Easy As It Looks
We love this soup so much in Casa le Phelps that I wanted to make a video that shows how easily you can make this Thai coconut soup in your home kitchen. Yes, it is as easy as it looks. I think you'll be surprised that so few ingredients combine to make such an outsized flavor. If you make this Thai coconut soup, be sure to leave a comment below and let me know what you think, and if you made any ingredient substitutes. I love hearing about your cooking exploits, friends!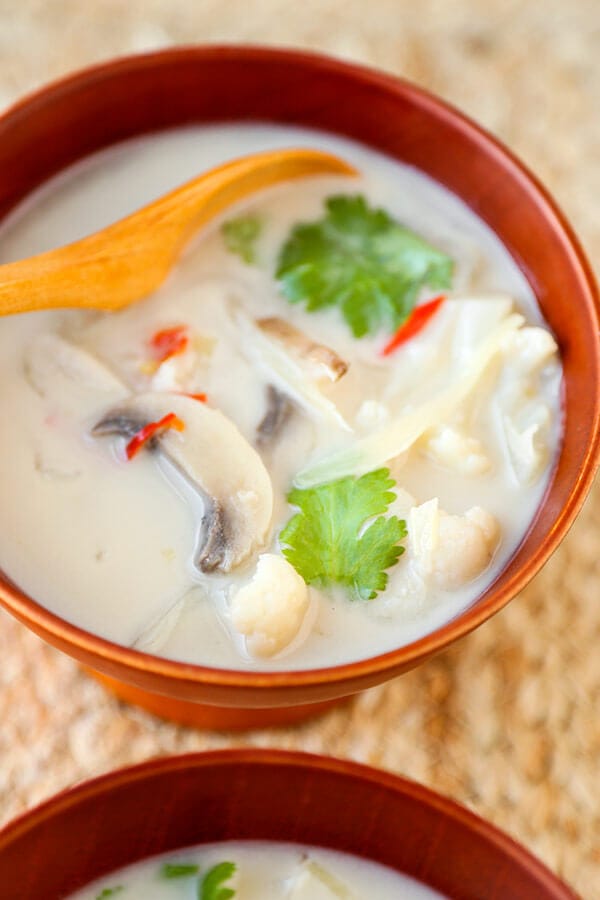 Real Comfort Food, But Healthy
Many times, people associate comfort food with heavier dishes loaded with fat and carbs. While I absolutely love a good poutine or mac & cheese, I've also some to rely on this healthy Thai coconut soup for a dose of comfort when I'm feeling unsure or blue. Ever since that first bite on a picturesque beach in Thailand with my mother, the fragrant, flavor-forward broth is a delicious reminder that everything is going to be alright!
Other simple, delicious Thai recipes: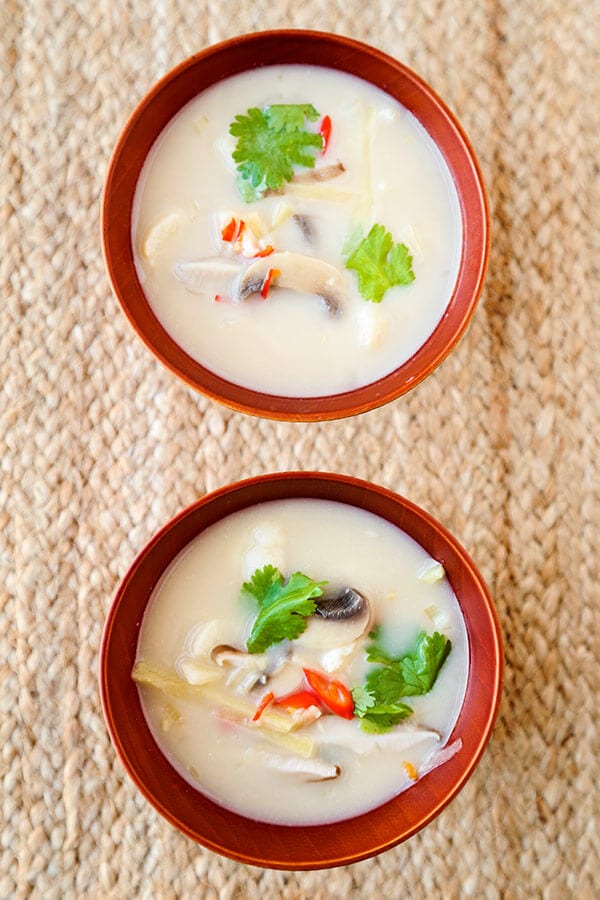 Did you like this Thai Coconut Soup Recipe? Are there changes you made that you would like to share? Share your tips and recommendations in the comments section below!
Thai Coconut Soup (Tom Ka)
Servings

Prep Time

4

people

5

minutes
Servings

Prep Time

4

people

5

minutes
Thai Coconut Soup (Tom Ka)

Servings

Prep Time

4

people

5

minutes

Servings

Prep Time

4

people

5

minutes
1

stalk

lemongrass

peeled, smashed and finely chopped into rings

1

1-inch piece

fresh ginger

peeled and chopped into thin strips

7

button or shiitake mushrooms

cut into strips

2

cups

cauliflower

chopped into bite size pieces

1

cup

light coconut milk

2 1/2

cups

vegetable broth

2

tablespoons

fish sauce

2

tablespoons

fresh lemon juice

2

fresh Thai chilies

finely chopped

2

tablespoons

fresh cilantro

chopped

granulated sugar

to taste
Put all the ingredients in a pot and bring to a boil.

Lower heat and simmer for about 10 minutes, or until cauliflower is cooked.

Taste the broth and add about 1/2 teaspoon sugar to sweeten the soup if you find it too acidic or salty. Serve hot.
Shopping Essentials For This Thai Coconut Soup Recipe: