Here are 2 quick turmeric tea recipes and a turmeric face mask to keep you looking and feeling healthy this winter!

Turmeric Face Mask + 2 Turmeric Teas
Winter is here and as the temperatures dip, we look for ways to ward off colds and flu and keep our skin hydrated. I always have to step up my beauty routine in the winter since the heaters dry it out and make it look dull. I also add a few extra ingredients to my daily cups of tea (I usually have plain matcha tea) to energize my body and keep it as healthy as possible since it doesn't take much to get me sick. Turmeric is an ingredient that I have been using more and more lately because of the amazing health and beauty benefits attached to it. Simply put, it's a superfood that may be the most powerful plant on the planet in its power to fight and reverse disease! I've helped a few of my friends get rid of their cold by sharing my recipe for a non dairy honey-ginger turmeric latte, and because it was so successful, thought I would share two more teas recipes that I make regularly to stay healthy. I've also added a quick and easy turmeric face mask that I use to keep my skin glowing and youthful.
But First Things First – What Is Turmeric?
Turmeric, also known as curcuma, is a spice from the perennial plant of the ginger family, Zingiberaceae. It's often used in Asian cooking to flavor or color curries, rice, butters, cheeses and teas. Turmeric grows wild in the forests of South and Southeast Asia. The plant can grow as tall as 1 meter and looks very tropical with large, ribbed leaves. The whole plant is edible (you can use the leaves to steam fish and sticky rice) but the roots (rhizomes) are where the wealth of health and beauty benefits lie. They are picked and thoroughly rinsed before being ground into a fine powder.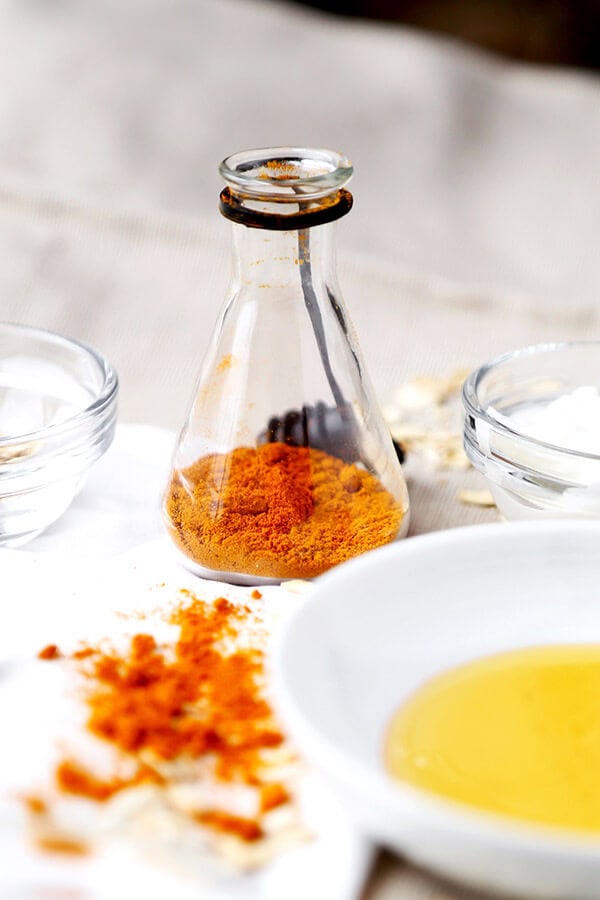 Easy Homemade Turmeric Face Mask
Adding a little turmeric powder to your beauty regimen can yield some amazing results! In India, a bride-to-be will apply turmeric paste to her face and body before the wedding to make her skin glow. Making a homemade turmeric mask is very easy and can tremendously help minimize scars and redness. Here are the the different ways turmeric can help heal your skin and give it a clear, smooth look.
Turmeric Benefits For The Skin:
Because turmeric contains antibacterial properties, it help reduce oil secretion by sebaceous glands – the main cause of breakouts.
Turmeric also contains anti-inflammatory properties which soothes flare up associated with skin conditions such as acne, dry skin, psoriasis and eczema.
It reduces redness and evens out the skin tone.
It protects against UV radiation and fights the appearance of wrinkles and dark spots.
FAQs
Turmeric Side Effects On The Skin
Some people have reported allergic reactions to turmeric on the skin after exposure to it. Symptoms are experienced as a mild, itchy rash. Stop use of turmeric if this happens.
Will the turmeric stain my skin and fingers?
The turmeric will not stain your skin but do make sure to cleanse it thoroughly once you are done using the mask. Use a gentle cleanser as opposed to something harsh containing alcohol.
Your nails may get stained but it's nothing to be worried about. Use a nail brush and a little lemon juice to scrub and voila! All gone.
How often can I use the turmeric face mask?
Up to three times a week. I personally don't feel the need to do it this often but if you have acne scarring, it would be beneficial to follow this treatment for 2-4 weeks in order to see improvement.
How do I store my turmeric face mask?
Refrigerated because it contains dairy. It will keep for about 2 weeks or for as long as the milk or yogurt is good – so make sure to keep track of your dairy product's expiration date!

Turmeric Face Mask + Turmeric Teas
I recommend doing this turmeric face mask treatment before getting in the shower since it's easier to wash out.
Author:
Pickled Plum - Caroline Phelps
Ingredients
1 teaspoon turmeric powder
1 teaspoon honey
2 tablespoons plain yogurt or milk
1 tablespoon rolled oats (ground in a blender)
3-4 drops of lemon juice (about ¼ teaspoon)
Instructions
Cover your clothing with an apron or wear something old, that you can throw out if it gets stained with turmeric.
Mix all the ingredients for the mask until well blended and using a brush or your fingers, apply a thin layer to your face. You can also apply some to your neck.
Leave for 20 minutes and rinse thoroughly.
Pat your skin dry and finish by using a softener and moisturizer (or just a moisturizer if you don't use a skin softener.)
---
Turmeric Golden Milk Tea & Turmeric Matcha Tea
Here are two simple teas to help you boost your immune system and keep your core strong. I drink them because they are good for me, not because they taste particularly delicious. Personally, I don't find these teas unpleasant but they are definitely an acquired taste!
What you need to know before taking turmeric
Turmeric Dosage
It's best not to take turmeric on an empty stomach since it may cause nausea. The recommended dose for adults is 1.5 grams daily (about 1/2 teaspoon). Turmeric is not recommended for children under the age of two. For older children and adults over the age of 65, use 1/4 teaspoon a day.
For beginners: Start with 1/4 teaspoon a day for about two weeks and work your way up to 1/2 teaspoon.
Turmeric Side Effects
High doses of turmeric have been observed to cause:
Nausea
Increased risk of bleeding
Lower blood pressure
Increased menstrual flow
Aggravation of liver and gallbladder conditions
Avoid taking turmeric if you are:
Taking blood-thinners such as warfarin (Coumadin), clopidogrel (Plavix), and aspirin. It may also interfere with non-steroidal, anti-inflammatory drugs and hypoglycemic medication. If you are taking any type of medication on a regular basis, make sure to check with your doctor before adding turmeric into your diet.
Trying to get pregnant. Turmeric is a uterine stimulant that increases the basal activity of uterine smooth muscle cells leading to premature uterine contractions, miscarriage or vaginal bleeding.
About to go in for surgery. It is suggested to stop taking turmeric up to two months prior a major surgery as it interferes with normal blood clotting.
Allergic to ginger or cumin. There is a high probability you will also have a reaction to turmeric.
Golden Milk Turmeric Tea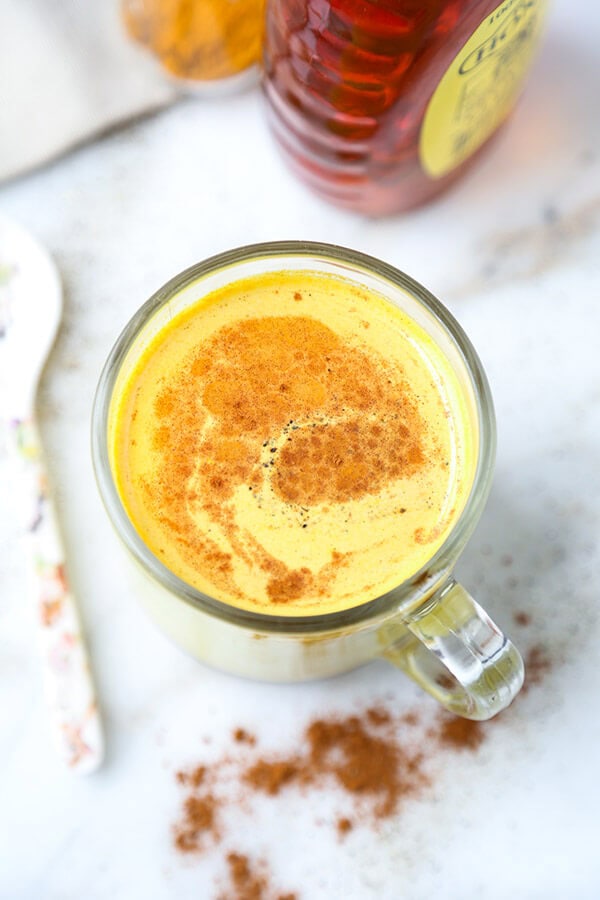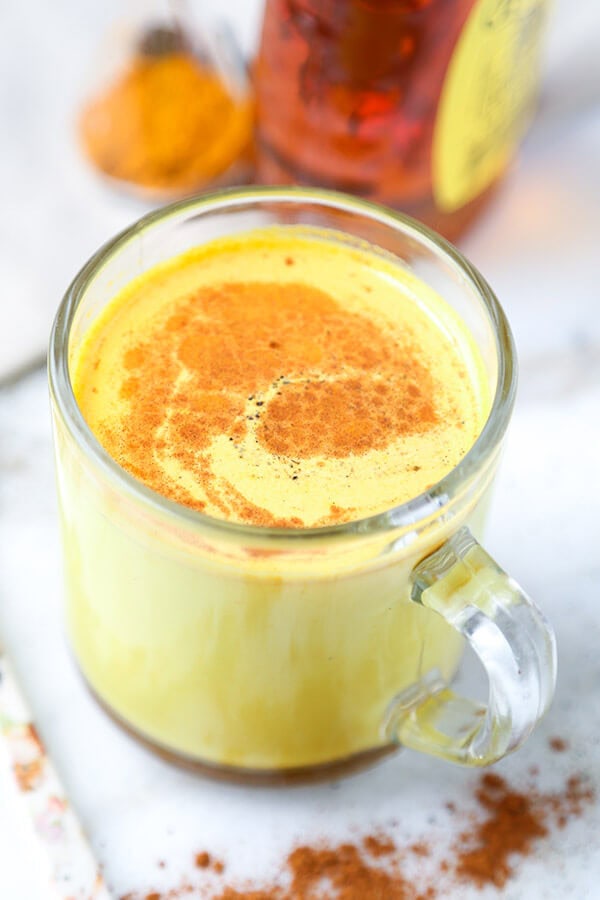 Golden Milk Turmeric Tea
Author:
Pickled Plum - Caroline Phelps
Ingredients
1 cup unsweetened almond milk or coconut milk
½ teaspoon turmeric powder
2 teaspoons honey or maple syrup
Pinch black pepper
Pinch ground cinnamon
Instructions
Put all the ingredients in a pot and bring to a low simmer (but not boiling).
Heat for 5 minutes and serve immediately.
Matcha Turmeric Tea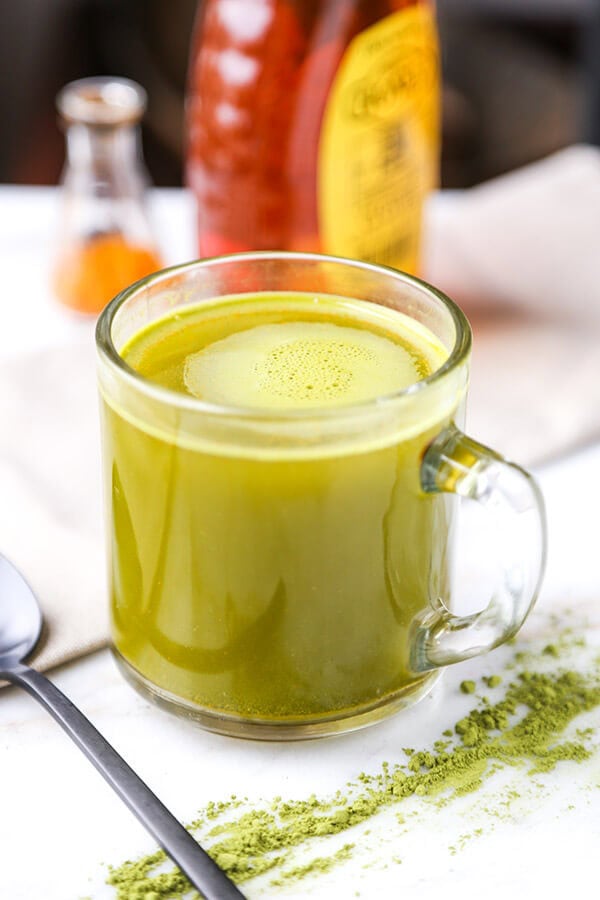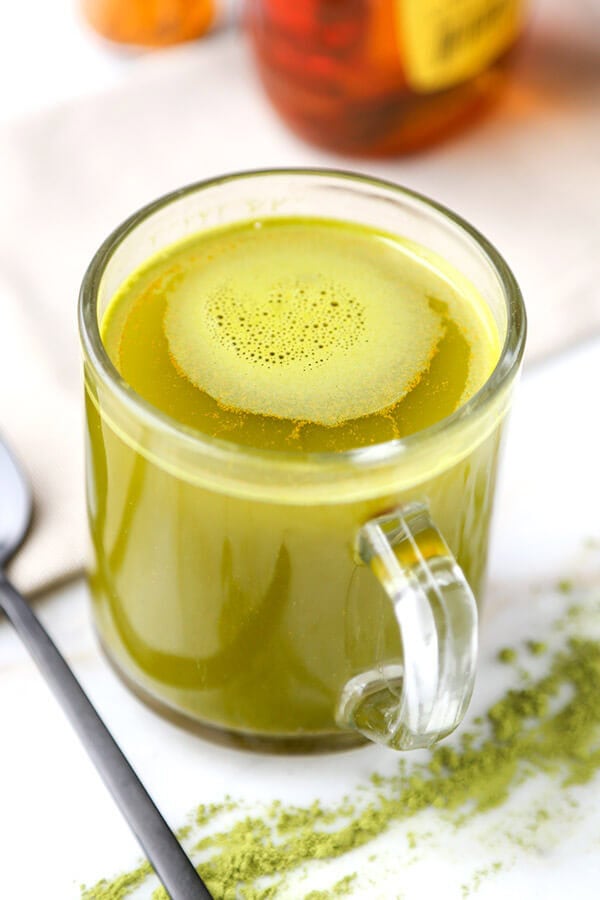 Matcha Turmeric Tea
Author:
Pickled Plum - Caroline Phelps
Ingredients
½ teaspoon good quality matcha powder
¼ teaspoon turmeric powder
1 cup water
1 teaspoon honey or maple syrup (optional)
Instructions
Put all the ingredients in a pot and bring to a low simmer (not boiling).
Heat for 3 minutes and serve.
10 Easy Turmeric Recipes