Baked general Tso chicken – Make dinner fun and healthy with this easy baked general Tso chicken recipe!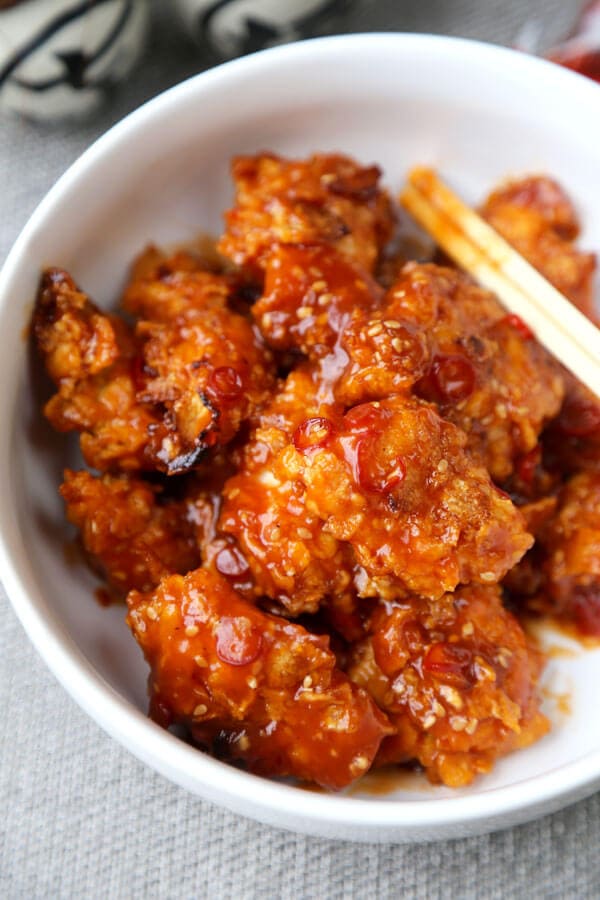 Baked General Tso Chicken Recipe
We don't have cable in our house. It's something we decided to sacrifice in exchange for a nice apartment located on a quiet block tree-lined with brownstones – something that comes at a high price in Brooklyn these days. But you know what? We don't miss it. Just like many of our friends in NYC who also don't have cable, it doesn't take long to forget it ever existed. That isn't to say we don't watch tv, oh no no no! Ben and I NEED television to take ourselves away from SEO, social media and other blogging chores.
Netflix is one of the ways we entertain ourselves and a few nights ago we came across this funny and very interesting documentary on general Tso's chicken! If you'd like to see it, it's called The search for general Tso and it's about finding the origins of general Tso's chicken. It also talks about the history of Chinese food in America and the struggles Chinese immigrants had to live through in order to survive and eventually thrive in this country. Very interesting doc!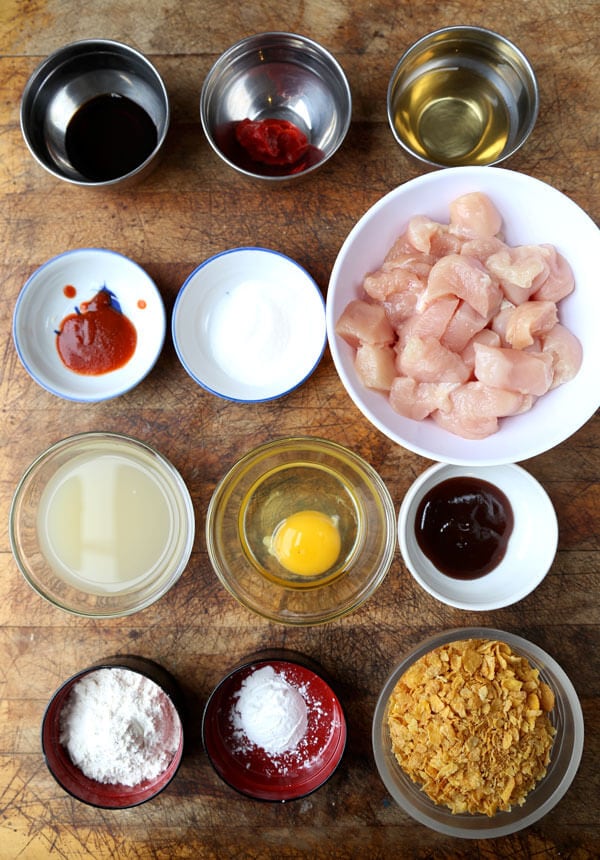 Once I finished watching the documentary I wasn't only craving a big plate of general Tso's chicken but I suddenly wanted to see if I could make it in my own kitchen – a healthier version of it. Baked general Tso chicken recipe. Yup, I'm going to make a baked general Tso chicken recipe but first I'm going to need help finding what goes into a general Tso sauce. One thing I can tell you is that there is no shortage of general Tso's chicken recipes online! I had to read through a dozen of them before I felt well informed about the ingredients the sauce was made of and different methods of preparation. I picked three of my favorite adaptations and began experimenting with the measurement of each ingredient. I knew I didn't want my own general Tso chicken recipe to be too sweet. I don't like much sweetness unless it's in a dessert. And since general Tso's chicken hails from Taipei by Hunan Province-born chef Peng, it only seemed right to create something with a little heat (Hunan province is known for its hot and spicy flavors). And while I still kept the dish somewhat sweet, I focused more on its savory and tangy side.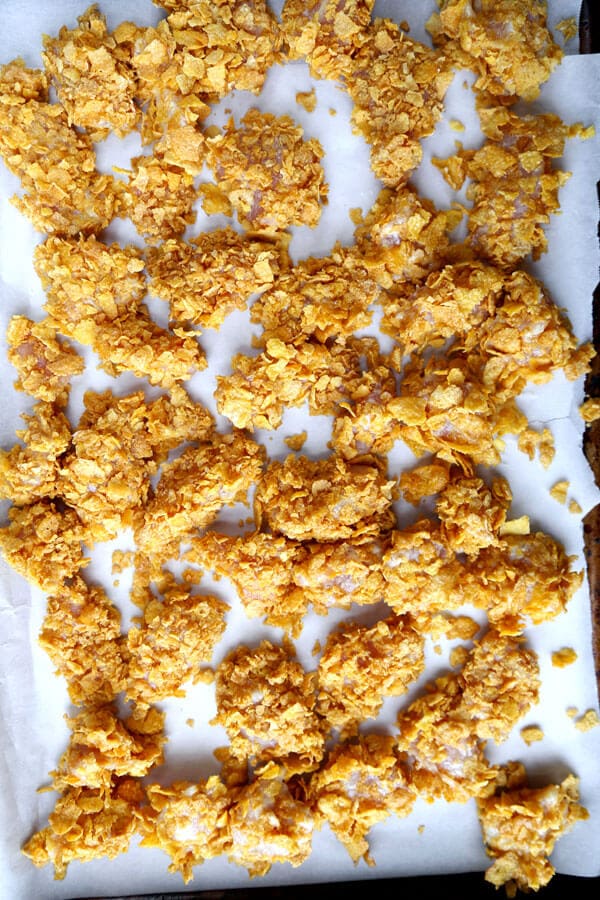 For this baked chicken Tso recipe I used crushed corn flakes to give the chicken a crispy, breading-like texture. It's a technique I've seen used a lot lately that I wanted to try. No frying is needed and the chicken is instead baked in the oven for about 15 minutes. The result is pretty amazing: crispy and juicy chicken bites just like you would get if you deep fried them! I had to remind myself every time I thought I was eating fried chicken that these were baked chicken pieces. Not fried – baked!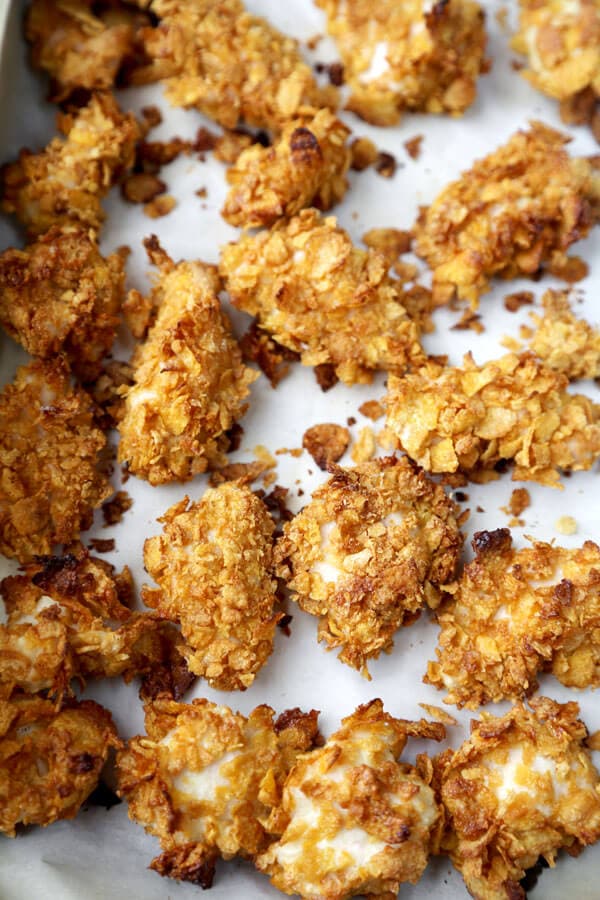 The baked cornflake chicken pieces are then put in a pan and tossed with the general Tso sauce. Lastly, I sprinkled some sesame seeds and chopped dried red chiles, and added a dash of sesame oil. Really, really delicious. If you are looking for a less sweet and healthier general Tso chicken recipe, I urge you to try my version!
Serve this general Tso chicken recipe with a bowl of rice, a quick and healthy Japanese cabbage salad, some pickled watermelon rinds and spicy egg drop soup. And if you want something sweet for dessert, try these yummy healthy rice crispy treats!
Other yummy and healthier Chinese takeout inspired recipes: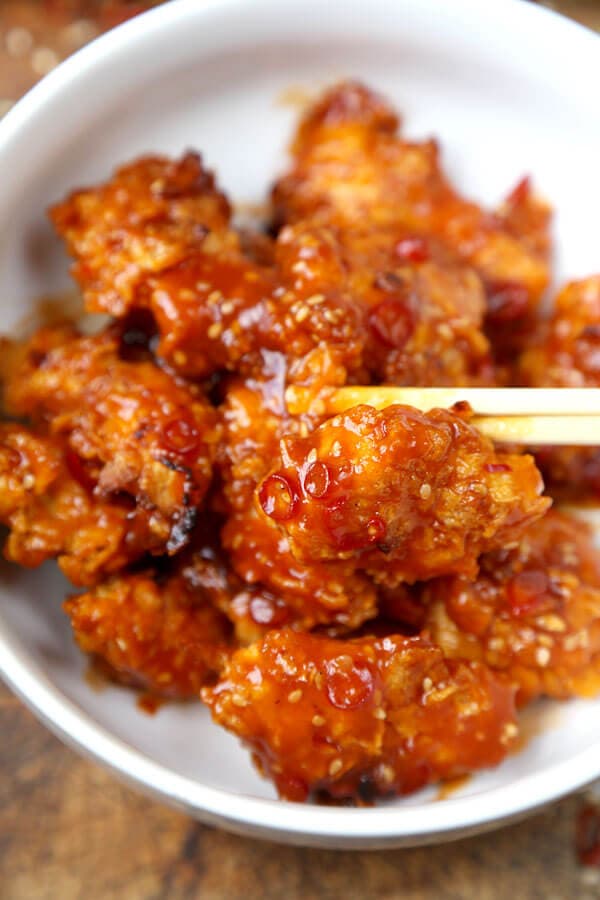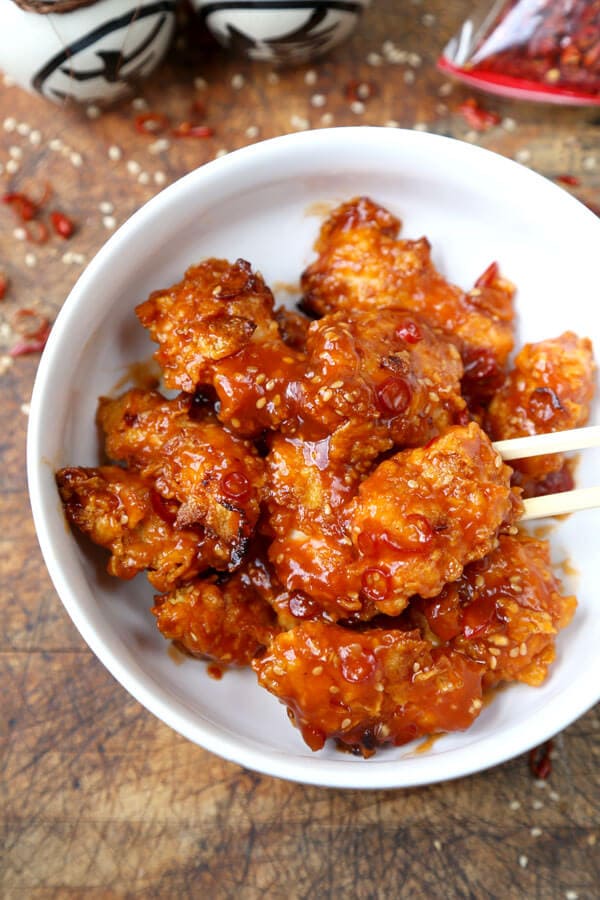 Did you like this Baked General Tso Recipe? Are there changes you made that you would like to share? Share your tips and recommendations in the comments section below!