A delicious Cauliflower Pizza Crust Alla Margherita Recipe that tastes just like a pizza-pie from your favorite pizzeria. Gluten Free and ready in 35 minutes!
Cauliflower Pizza Crust Alla  Margherita
Well, I've been baking a lot lately! Historically, I've been slightly wary of the oven. Of course, I use it. It's just that, when creating recipes, I have more confidence in my ability to fix flavor mistakes on the fly when I'm using a wok or sauté pan on the stovetop à la minute. There's a bit of a set it and forget it (and it better be right from the start) ethos to baking that makes me, well, a little nervous. But not nervous enough to sit on the sidelines! This cauliflower pizza crust alla Margherita was my attempt at stepping out of my comfort zone, working with ingredients in a slightly uncommon way and creating a delicious pizza recipe that would be on the healthier side.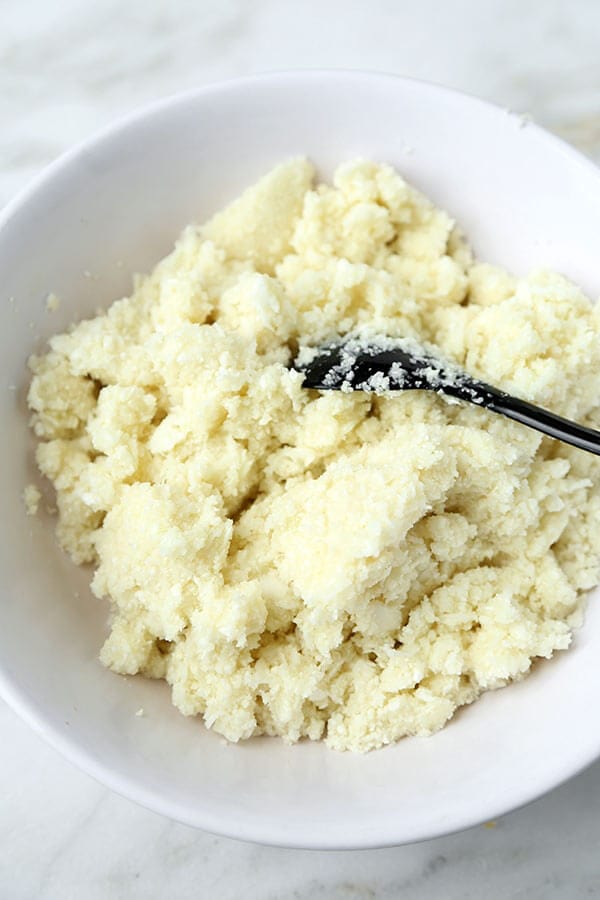 I know what you might be thinking: Cauliflower pizza crust? Gross. I definitely had my doubts. But the worry was for nothing! After blending, microwaving and squeezing away excess water, the cauliflower truly resembled pizza dough. After a simple treatment with fire roasted tomatoes and fresh mozzarella, the resulting cauliflower pizza was thin, crispy and almost indistinguishable from a Margherita pizza you might order at a great pizzeria. The only difference was that it was now gluten-free – and I didn't have to log on to Seamless to order delivery.
One of the biggest and best surprises of the entire process was the dried chili flakes that I added to the crust while mixing. They imparted a nice heat to the cauliflower pizza without overpowering the subtle flavors of the fresh mozzarella and basil. True pizza harmony! This awesome cauliflower pizza crust alla Margherita recipe was a huge hit with the friends I had in town from Montreal. It also allowed me to show off some of my baking chops to friends that know me primarily as a stove-top-girl! How about you? Do you consider yourself more of a cook, or a baker? Have you ever stepped out of the box? Tell me about it in the comments!
Other simple, delicious baked recipes:
Did you like this Cauliflower Pizza Crust Alla Margherita Recipe? Are there changes you made that you would like to share? Share your tips and recommendations in the comments section below!
Cauliflower Pizza Crust Alla Margherita
A delicious Cauliflower Pizza Crust Alla Margherita Recipe that tastes just like a pizza-pie from your favorite pizzeria. Gluten Free and ready in 35 minutes!
Author:
Pickled Plum - Caroline Phelps
Recipe type:
Easy, Healthy Recipe, Pizza, Gluten Free
Ingredients
1 cauliflower head, chopped
14.5 ounce can of fire roasted diced tomatoes
1 teaspoon kosher salt
1 small garlic clove, peeled
1 egg
½ cup grated Parmesan cheese
½ teaspoon dried red chili flakes
3 ounces fresh mozzarella, drained and hand torn
10 fresh basil leaves
Instructions
Preheat oven to 450°F and line a pizza pan or baking sheet with parchment paper.
Add cauliflower to a food processor and pulse until fine like rice grains.
Transfer cauliflower to a microwave-safe dish and microwave on high for 6 minutes. Transfer cauliflower to another plate or baking sheet to speed up the cooling process. Let cool to room temperature.
Meanwhile, put the canned tomatoes in a strainer and, using a spoon, gently push out excess liquid until most of the liquid has been drained. Transfer tomatoes to a blender, add salt and garlic and blend until smooth. Transfer to a bowl and set aside.
Put the cooled cauliflower in a kitchen towel, wrap and wring out as much water as you can. This step is important for a crispy crust. The cauliflower should almost look like mashed potatoes or dry dough.
In a large bowl add cauliflower, egg, Parmesan cheese and dried red chili flakes. Mix using your hands until you get a dough-like texture.
Add mixture to pizza pan and spread into a circle (or rectangle). Make sure the crust is not too thin or too thick (around ¼ inch - or slightly less - is ideal).
Spoon tomato sauce and spread evenly. Top with a few pieces of mozzarella and fresh basil leaves.
Bake in the oven for 25-30 minutes, until edges are golden brown. Serve.
Notes
This Cauliflower Pizza Crust Alla Margherita Recipe is:
High in calcium
High in dietary fiber
High in phosphorus
High in potassium
High in selenium
High in vitamin A
High in vitamin B6
Very high in vitamin C