Learn how to make egg foo young in your own kitchen with this simple and easy step-by-step chicken egg foo young recipe!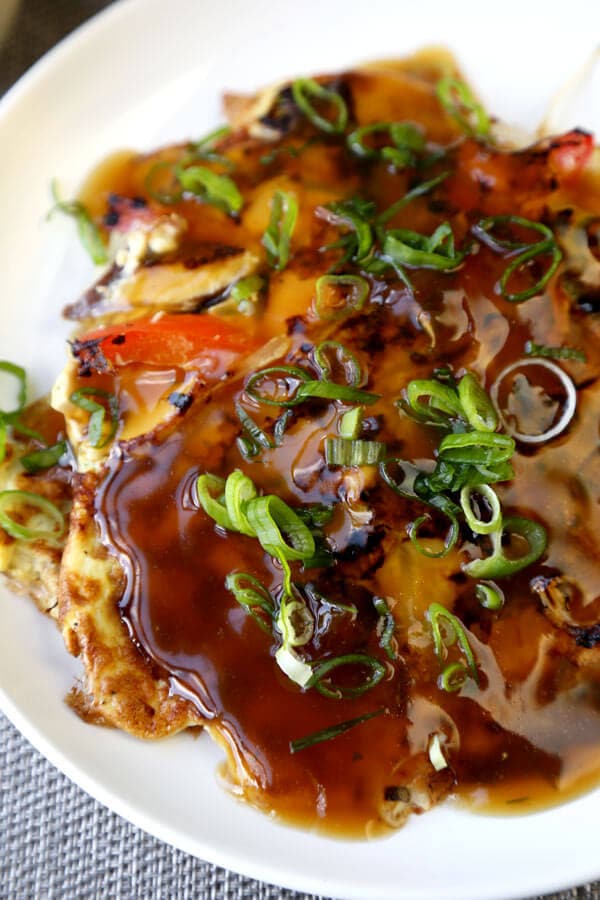 Chicken Egg Foo Young Recipe
Got leftover cooked chicken and a few eggs that are about to expire? How about making the most delicious, fluffy and healthy chicken egg foo young you've ever had! This recipe contains a lot less oil than most egg foo young dishes out there and is packed with yummy veggies. The pancakes are moist and light and accompanied by a gooey sauce made with broth, soy sauce and vinegar. It's savory and a little sweet and has all the classic Chinese flavors we all love so much.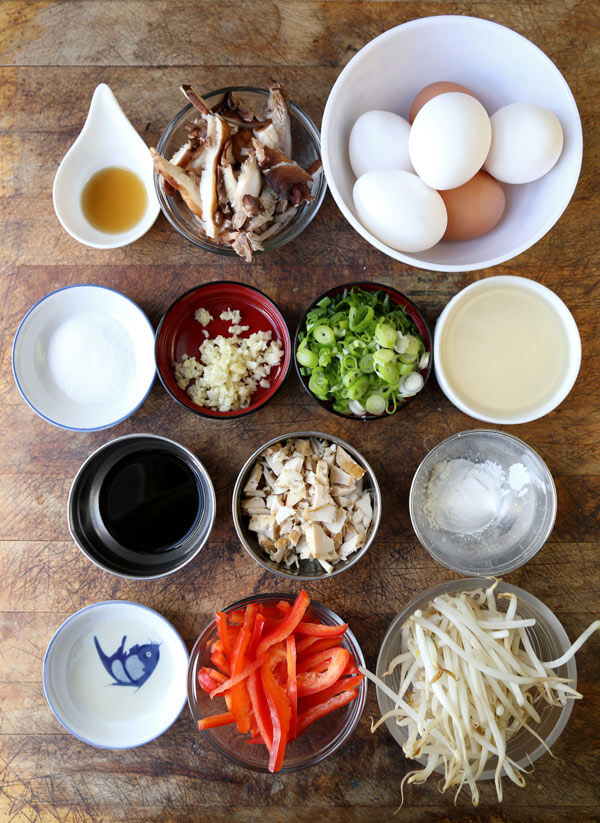 You can use red, green or yellow bell peppers for this chicken egg foo young recipe but I personally like using red ones to add a pop of color to the dish. It makes the pancakes vibrant, almost fiery. Notice that I've added chicken stock to the egg mixture – that was an accident that turned into a good thing!
I was feeling under the weather when I made this recipe and during a moment of confusion, I threw the chicken broth that was supposed to go into the sauce together with the pancake mix. It wasn't until I had to make the sauce that I saw I was missing the stock. I was afraid the pancakes would come out runny but instead they came out super fluffy! What a happy accident!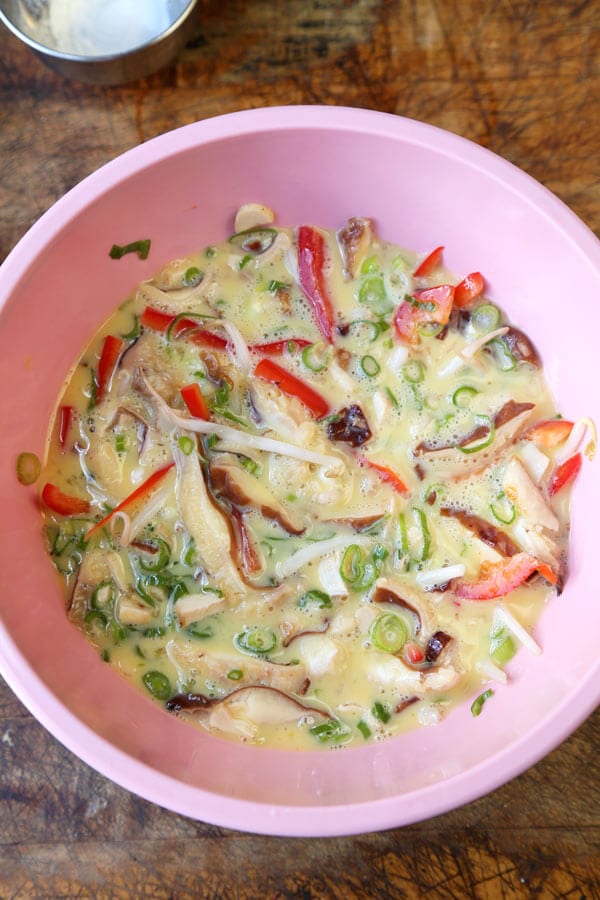 The egg foo young pancakes are delicious by themselves or with a splash of soy sauce (or hot sauce – scrumptious!) but taste best with a good spoonful of gooey Chinese brown gravy. The egg foo young gravy is very easy to make and stirring in a tablespoon of cornstarch is what gives it a sticky, addictive texture. And the vinegar comes through just enough to compliment the savory and umami combination of the other ingredients. This is a dish that's kid friendly too; there's nothing too complex or unfamiliar about this chicken egg foo young recipe. If your kids are used to eating Chinese American food, they will love this.
Serve this chicken egg foo young recipe with other easy to make Chinese dish such as dry-fried green beans with garlic sauce, Brussels sprouts with Maggi seasoning, a quick honey sriracha tofu stir fry, or some stir-fried glass noodles with shrimp.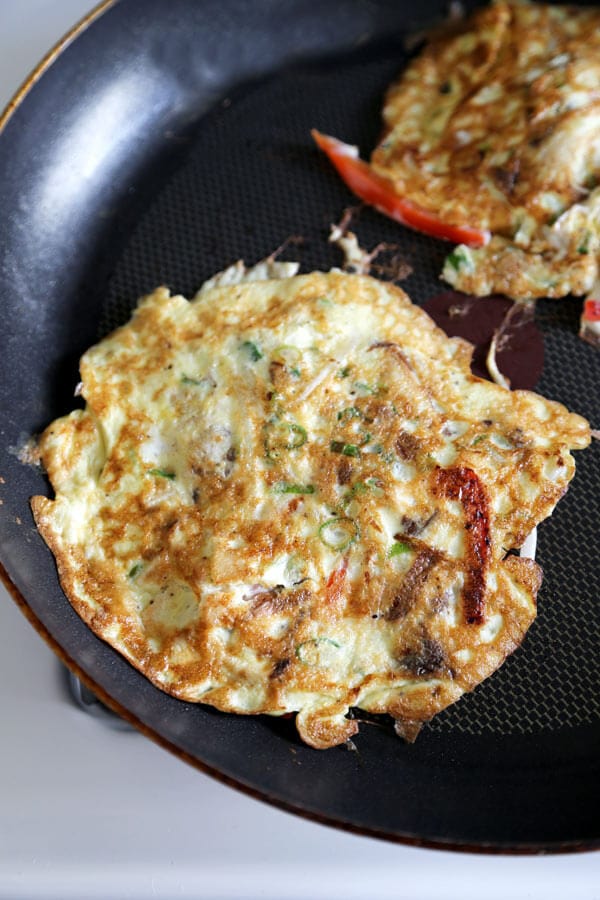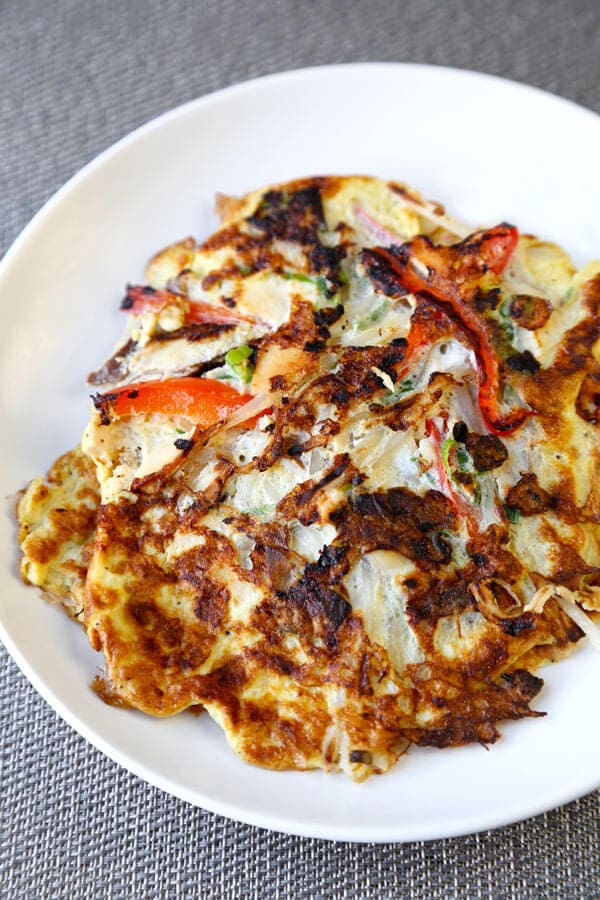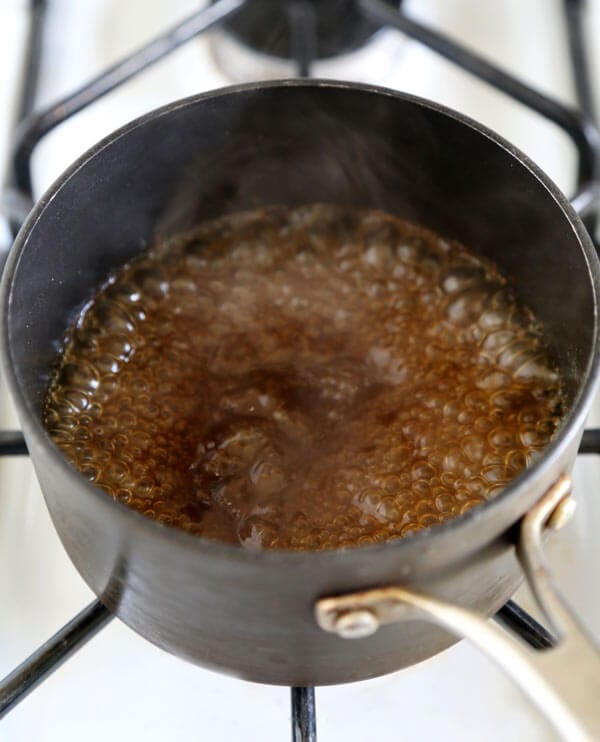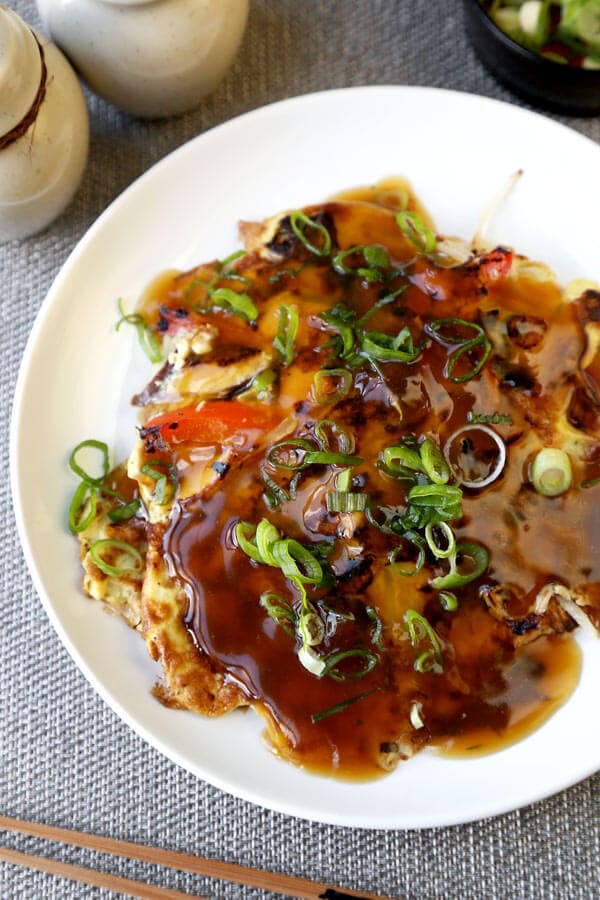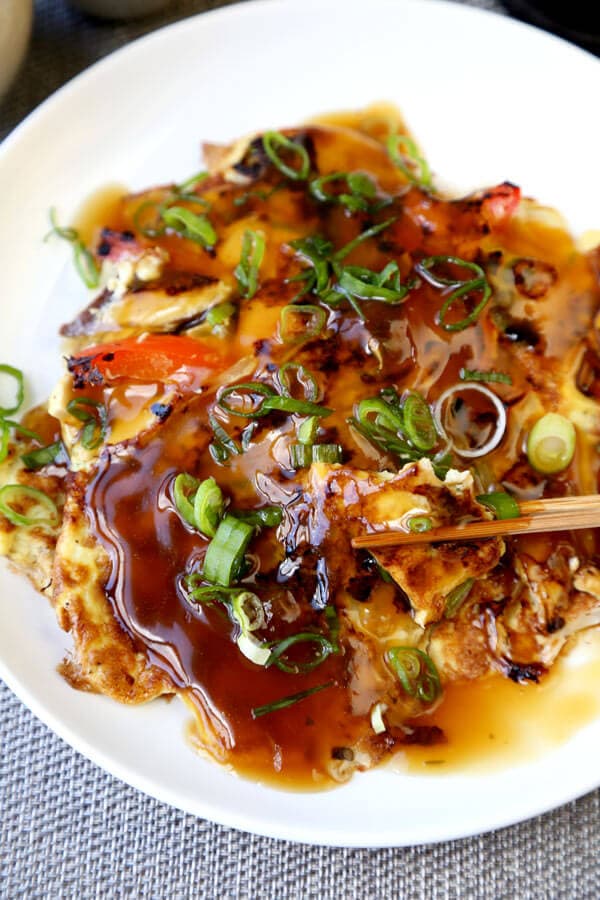 Serve this recipe chicken egg foo young with a side of Japanese rice. Watch our video on How To Make Japanese Rice the stove top or rice cooker method!
Chicken Egg Foo Young Recipe
Learn how to make egg foo young in your own kitchen with this simple and easy step-by-step chicken egg foo young recipe!
Author:
Pickled Plum - Caroline Phelps
Cuisine:
Chinese, Chicken, Easy
Serves:
6-8 small pancakes
Ingredients
Foo young pancakes:
6 large eggs
½ cup chicken broth
2 oz shiitake mushrooms, sliced in to thin strips
¼ cup bean sprouts
¼ red bell pepper, sliced in to thin strips
1 scallion, finely chopped
2 oz cooked chicken, finely chopped
2 garlic cloves, finely chopped
1 tbsp vegetable oil
Foo young sauce:
1 cup chicken broth
2½ tbsp soy sauce
2 tsp rice vinegar
2 tsp granulated sugar
1 heaping tablespoon corn starch mixed with 1 tbsp water
1 tsp sesame oil
Topping:
1 scallion, finely chopped
Instructions
Whisk the eggs in a bowl and add chicken broth, mushrooms, bean sprouts, bell peppers, scallions, chicken and garlic. Stir until all the ingredients are evenly coated. Season with salt and pepper and set aside.
Making the foo young sauce: Put all the ingredients for the sauce in a small pot and bring to a boil. Turn the heat to low and simmer for 2 minutes. Turn the heat off and set aside.
Cooking the foo young pancakes: In a pan over medium high heat, add vegetable oil. Using a ladle, pour small amounts of egg mixture into the pan and make 2-4 little pancakes at a time. Cook on both sides for 2-3, until slightly brown, and transfer two pancakes per plate. Work in batches until all the mixture has been used.
Quickly warm up the sauce and pour over pancakes. Top with scallions and serve immediately.
Notes
This Chicken Egg Foo Young Recipe is:
High in Riboflavin
Very High in Selenium
High in vitamin C