Vietnamese chicken noodle soup
Last night I served a roast chicken ( I bought at the supermarket) with lentils, roasted veggies and a big bowl of gravy. I was born in Montreal so I need a gravy fix as often as possible whether it's on French fries, meat pies or with chicken. Going into gravy withdrawals is not an option so I make sure to stock up on St-Hubert's gravy packs every time I cross the border!
Buying a roast chicken for two means there is definitely going to be leftovers the next day. One of the best and tastiest ways to serve leftover chicken is by making chicken noodle soup. Classic American chicken noodle soup is comforting and delicious but there is also another type that's spectacularly yummy; Vietnamese chicken noodle soup. I am not exaggerating when I say it is TO DIE FOR.
What makes this chicken noodle soup taste so good is the use of roasted chicken meat instead of regular boneless chicken breasts. The broth tastes like it's been simmering in a barbecue pit; intense and smoky! Add a little fish sauce, julienned ginger strips and chiles and you have a bowl of savory Asian street food at your doorsteps. I had planned on making  the broth from scratch but forgot to hold on to the carcass after cooking ( I get overly excited with cleaning the fridge the night before garbage day), so I am using store bought low sodium chicken stock instead. However I highly recommend making the broth yourself if you know how to, for an even more chicken-y taste!
The measurements for this chicken and noodle soup are arbitrary; you can add more or less chicken or noodles depending on whether you want the soup to be an appetizer or a main. The type of noodles and sides are also optional; my husband loves using ramen noodles with a squirt of sri racha, while I gravitate towards rice noodles and a squeeze of lime.
I like pairing this soup with a light spicy Thai mango apple salad or some quick vegetable maki rolls.  The recipe for this Vietnamese chicken noodle soup makes enough for four appetizer size bowls or two mains.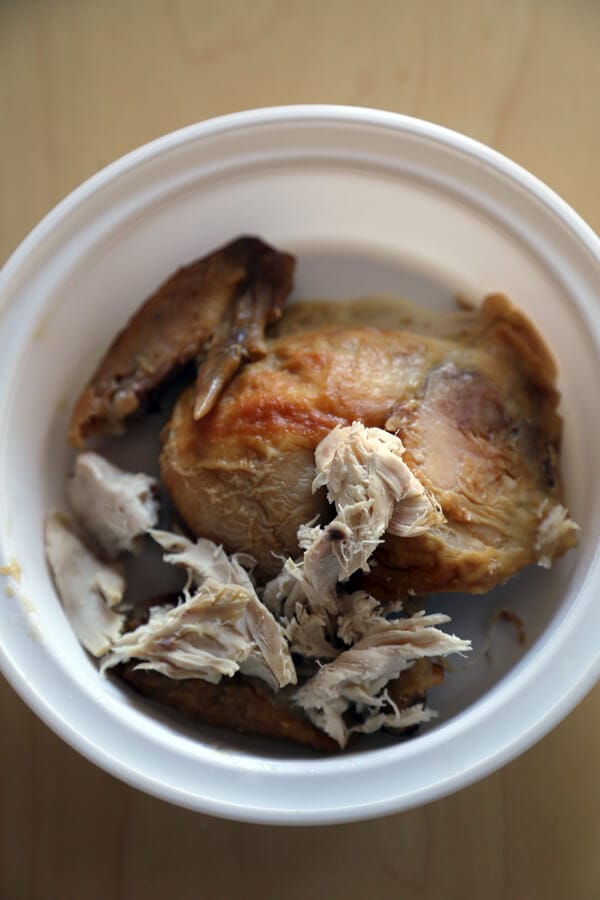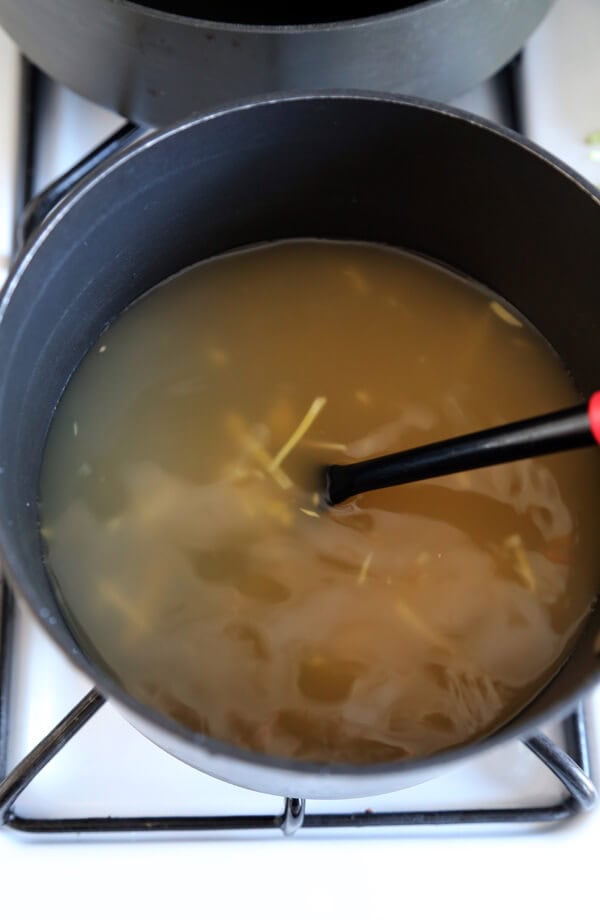 Vietnamese chicken noodle soup
Ingredients
- 1 quart low sodium chicken stock
- 2 tbsp ginger, cut into thin strips
- leftover roasted chicken (about 2 cups, with skin)
- 2 tbsp fish sauce
-1/2 cup cilantro, finely chopped
-1 jalapeno, thinly sliced
-rice noodles or ramen noodles (your preference)
lime segments
Instructions
- In a medium pot over high heat, add broth and ginger and bring to a boil.
- Shred the roast chicken using your fingers and add to the broth. Add fish sauce, lower heat and cover. Simmer for 15 minutes.
- Cook your noodles separately and set aside.
- Put your bowl of soup together by adding noodles and topping with jalapeno and cilantro.
- Serve with lime wedge and white pepper.