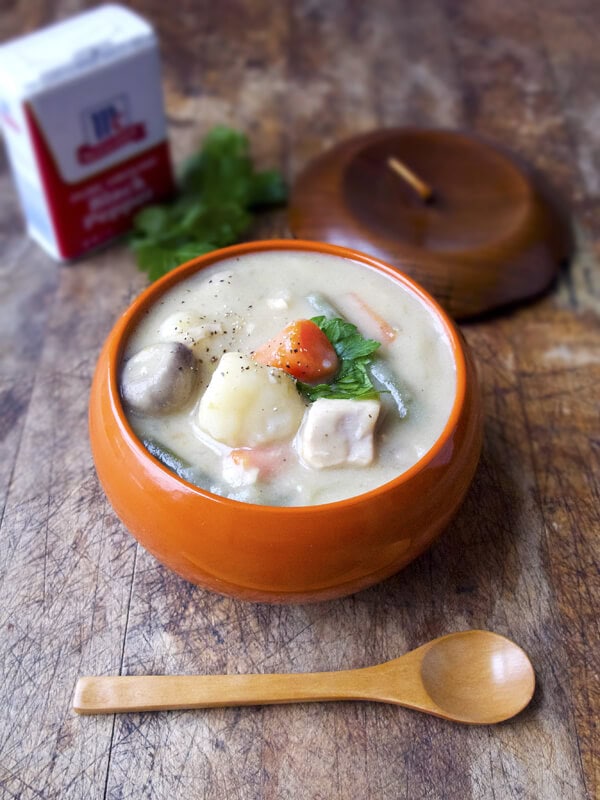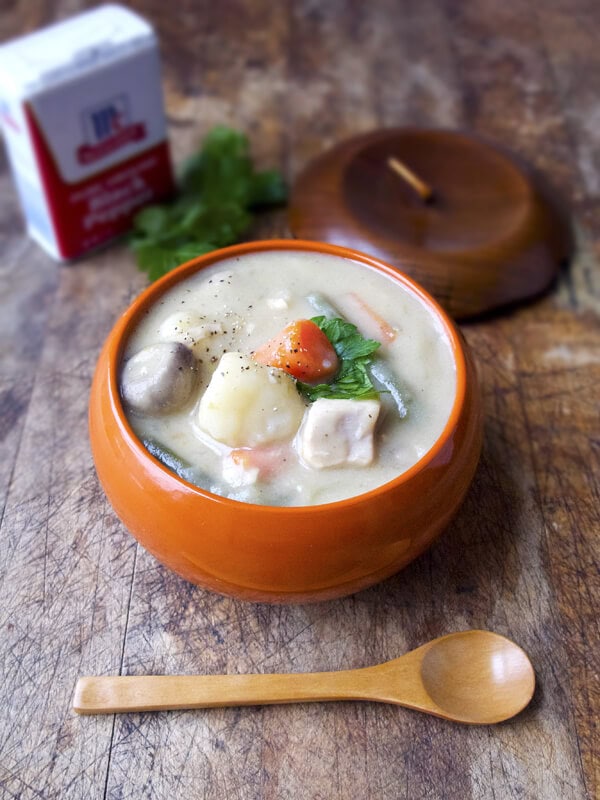 Cream Stew (Japanese)
Cream Stew or white stew is a very popular Western-influenced dish served in family restaurants and homes all across Japan. My cousin Setsuko always comes to mind whenever I think of creamy chicken stew since she is the queen of one pot meals and always made this stew so incredibly yummy! A simple roux is used as a base for the sauce and takes little time to make, or if you want to save even more time in the kitchen, pre-made cream sauce mix packages are sold in Japanese grocery stores. How convenient!
This cream stew recipe is the type of recipe I like to have around whenever I want easy comfort food. The taste reminds me of the inside of a chicken pot pie or a bowl of cream of chicken soup, but fancier and loaded with veggies. I'm definitely a stew and hot pot lover whenever the temperature drops outside. If I feel like going down the low fat and healthy road I'll make yosenabe (Japanese hot pot) or kimchi soup, and if I want something with more sustenance, a chicken vegetable stew or beef and ale stew will do the trick.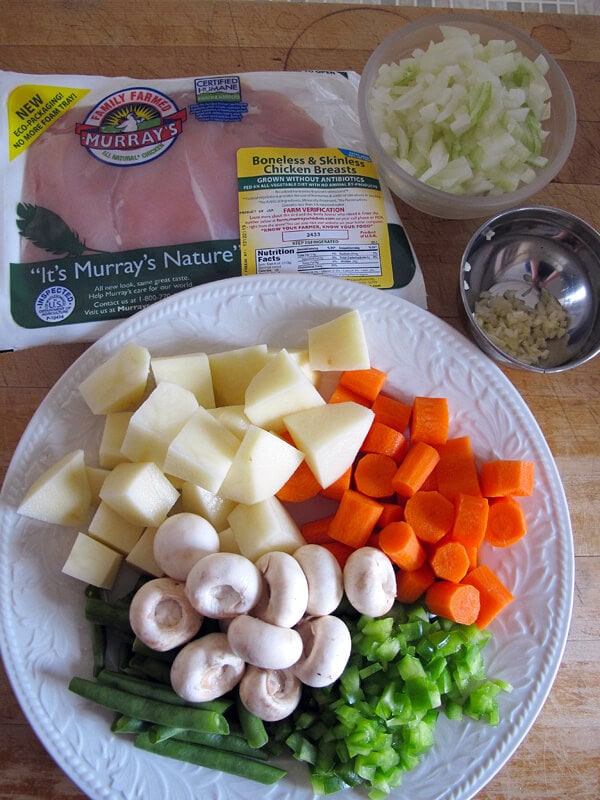 This cream stew recipe falls in the latter category though it is still considered relatively healthy! With plenty of vegetables to inject you with vitamins and the absence of skin on the chicken breast, you are looking at a bowl of creamy comfort goodness that won't ruin your diet. I find comfort alone in knowing that I don't have to keep count of every single bite I take if I dine a little heavier than usual on a particular night.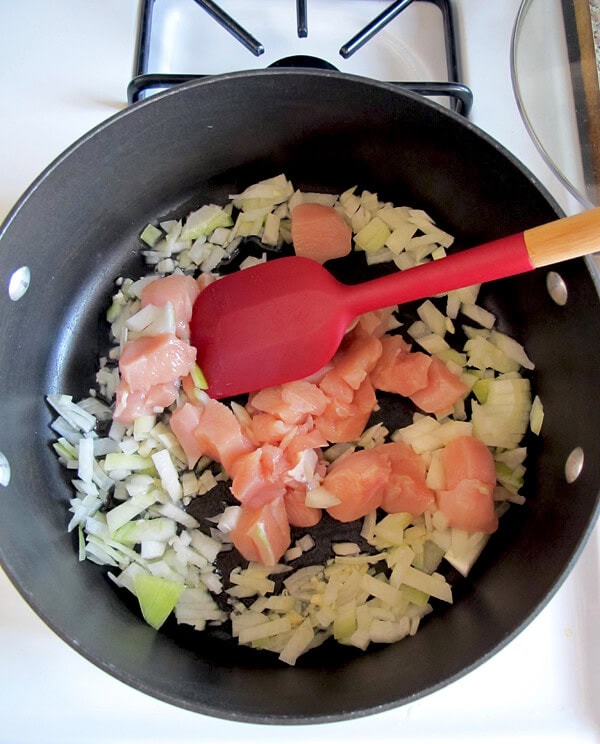 This cream stew is best when accompanied by something clean and acidic like this tomato basil pesto salad or spinach salad.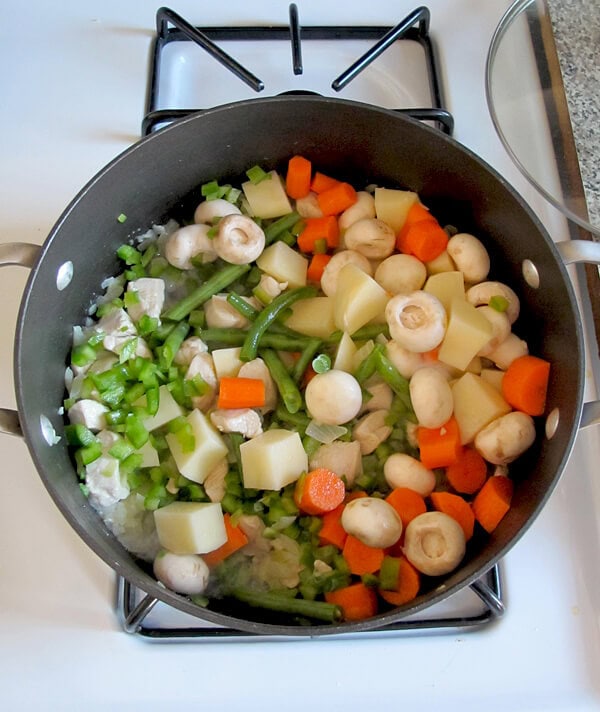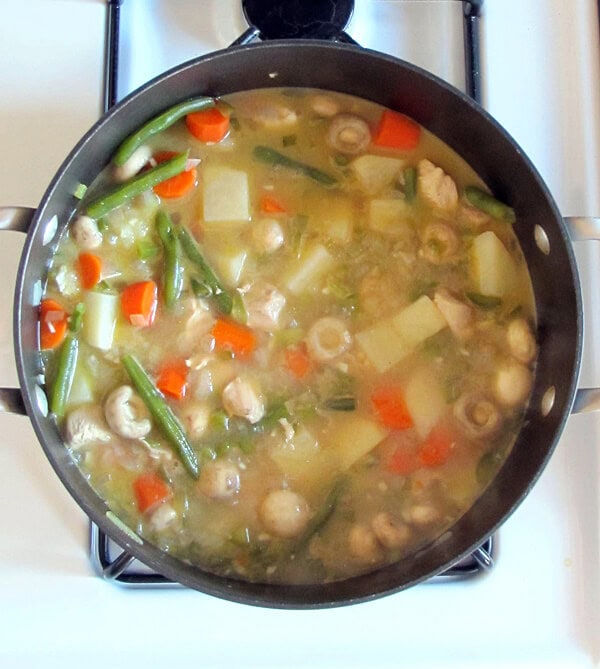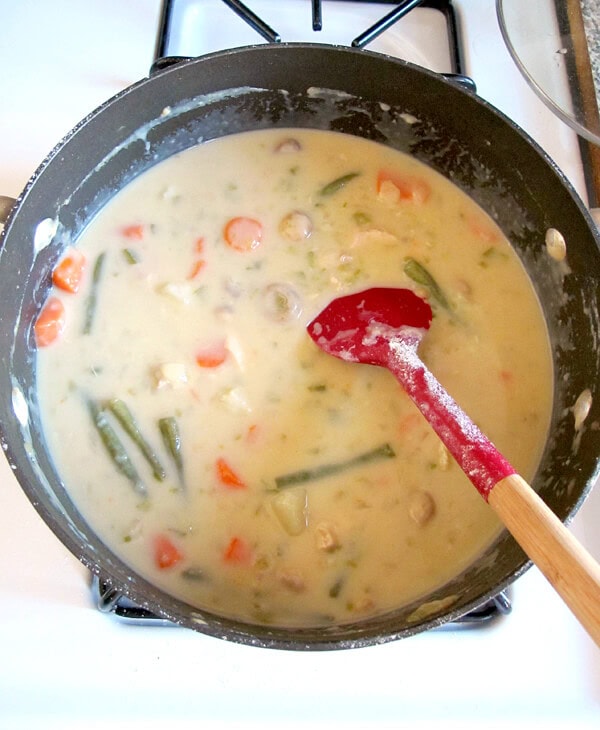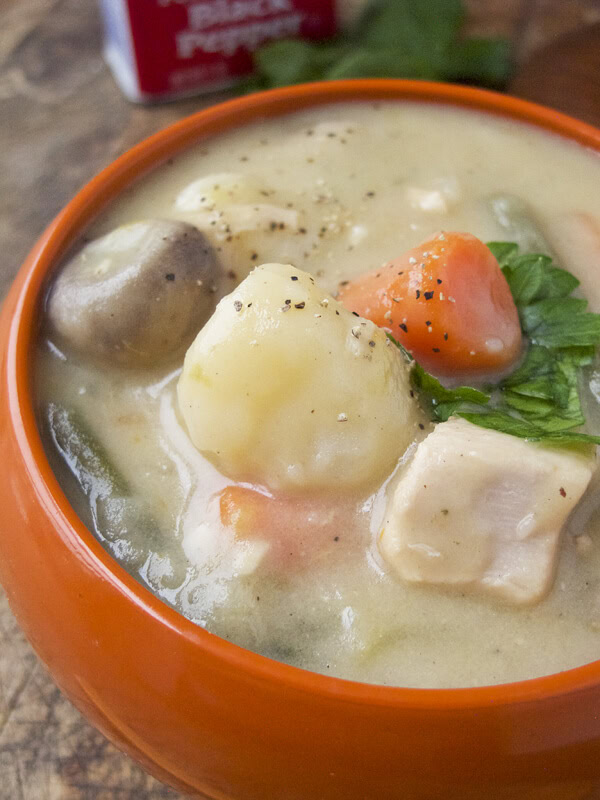 Japanese Cream Stew
Ingredients
1 small onion, roughly chopped
2 garlic cloves, finely chopped
1 tbsp vegetable oil
1 lb skinless, boneless chicken breast, cut bite size
¼ cup white wine
2½ tbsp flour
½ green bell pepper, finely chopped
1 medium size potato, peeled and roughly chopped
3 medium size carrots, peeled and roughly chopped
10 string beans, cut in half
12 button mushrooms, cut in half
3 cups low sodium chicken broth
½ cup 2% milk
1 tbsp butter
Instructions
- In a pot over high heat, add oil, onions and garlic. Cook for 3 minutes.
- Add chicken and wine and cook for about 5 minutes, until chicken is cooked through.
- Lower heat to medium/high, add flour and stir for two minutes.
- Add sliced potatoes, bell pepper, carrots, string beans and mushrooms. Cook for 2 minutes.
- Add chicken broth and bring to boil. Lower heat to a simmer, cover and cook for about 25 minutes, until vegetables are tender.
- Turn the heat off, add milk and butter and season with salt and pepper. Add more milk if the sauce is too thick. Serve warm.