This easy detox crock pot vegetable soup is light and cleansing. It's also tasty, low in calories and only takes 15 minutes to prep!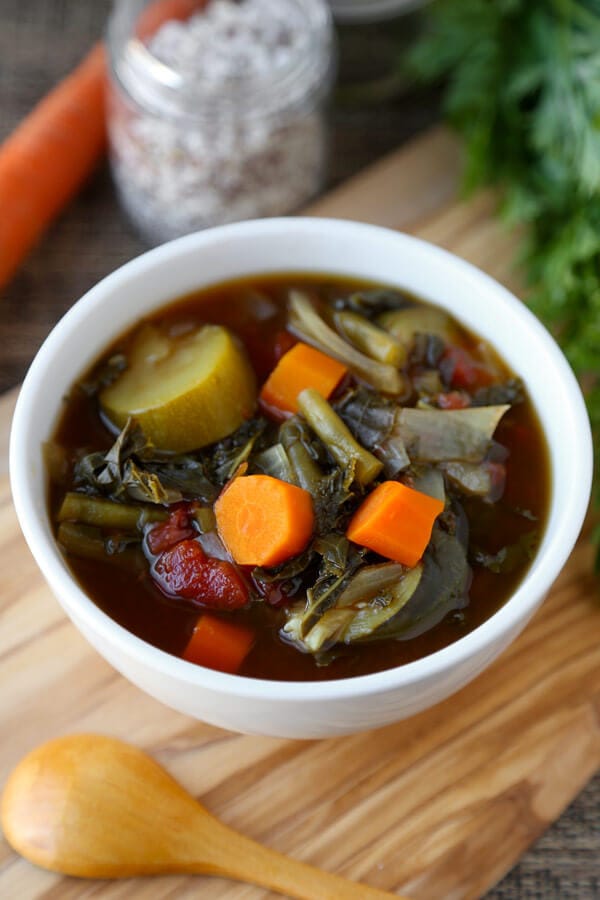 Detox Crock Pot Vegetable Soup
I'm offering you something lighter today! A little something to counteract those big holiday dinners we are about to have – a yummy detox crock pot vegetable soup. Instead of feeling pangs of guilt once January comes rolling in, how about balancing heavy and hearty dinners with lighter lunchtime interludes? This way, your new year's resolution list won't include "lose 10 pounds" and will instead say "keep up the good work, I am so proud of you!"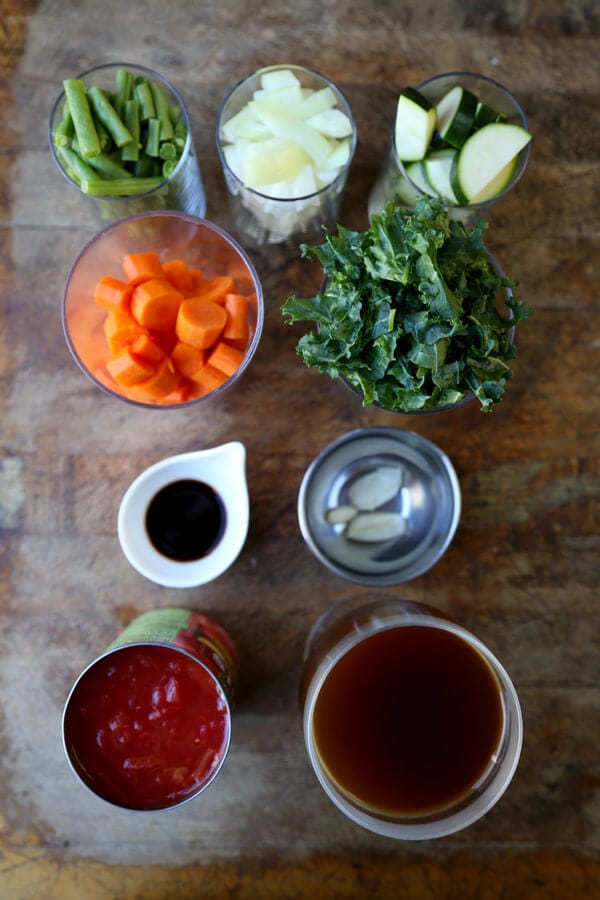 You could easily make this soup in a regular cooking pot (follow the same instructions except for the cooking time, which will be shorter), but I'm really enjoying cooking without having to keep an eye on a flame these days. There's nothing easier than to throw a bunch of veggies into a pot along with some broth and press Start. I love it! I can go shopping, leave the soup completely unattended for a couple of hours and have it ready for me to eat upon my return.
Why I resisted cooking with a crock pot (mine is a rice cooker with slow cooker function) for so long is beyond my understanding. I guess I never realized how amazing these machines could be! Plus, it makes cooking healthy dishes that much easier because you don't have to add any oil. Just a long, slow cooking process that keeps meats and vegetables juicy and flavorful. And I mean really flavorful, wow!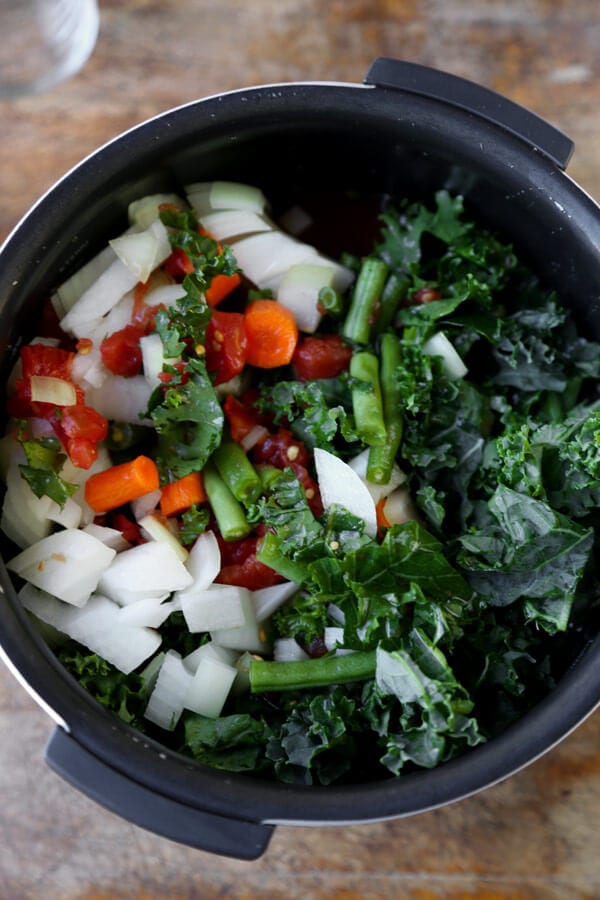 I made a big pot of detox crock pot vegetable soup last week and we ate it every night as an appetizer. I felt instantly lighter and thinner at the waist! But the best part is that this soup doesn't feel particularly light despite being very low in calories and fat! Because of the chunky vegetables, it feels hearty and really comforting.
My advice on staying slim this holiday season? Double this crock pot vegetable soup recipe and freeze it in individual servings. Then, whenever you feel like you need a boost of nutrients or something to help you get back on track to eating healthy, pull one out of the freezer and enjoy!
Other light and cleansing recipes: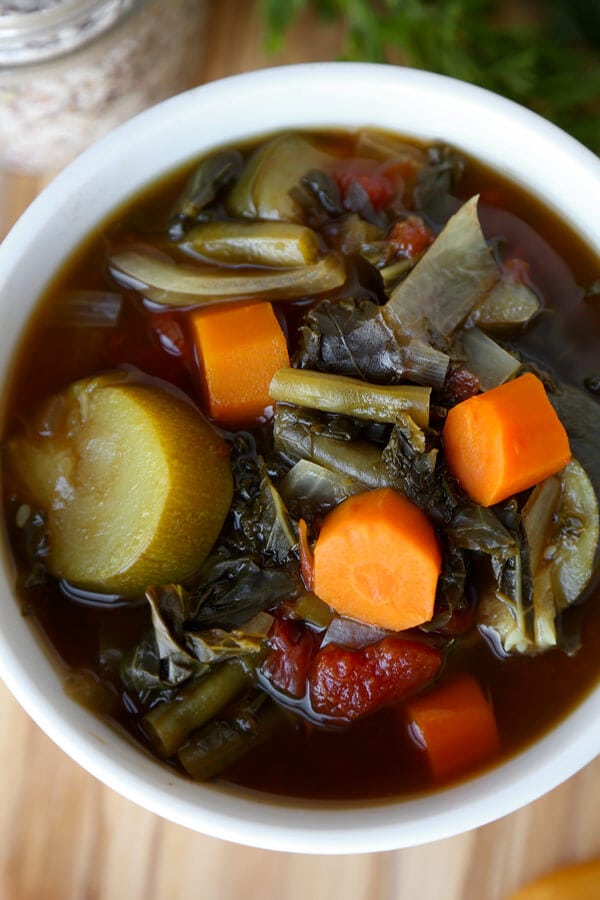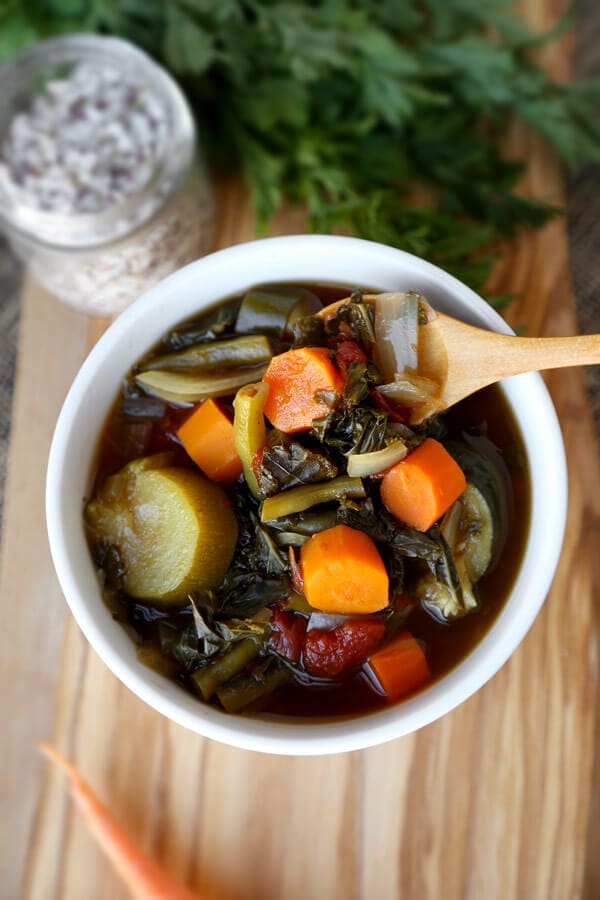 Did you like this Detox Crock Pot Vegetable Soup Recipe? Are there changes you made that you would like to share? Share your tips and recommendations in the comments section below!

Detox Crock Pot Vegetable Soup
This easy detox Crock Pot vegetable soup is the perfect soup to make when you want something cleansing and lighter. It's tasty, low in calories and only takes 15 minutes to prep!
Author:
Pickled Plum - Caroline Phelps
Recipe type:
Appetizer, Soup, Healthy
Ingredients
2 garlic cloves, crushed
1 medium onion, roughly chopped
3-4 cups kale, roughly chopped
2 medium carrots, peeled and roughly chopped
1 large zucchini, roughly chopped
1½ cup green beans, chopped bite size
1 14oz canned diced tomatoes
1 quart (947ml) vegetable broth
1 tbsp balsamic vinegar (or 1 tbsp freshly squeezed lemon juice)
salt and pepper to taste
Instructions
Put all the ingredients except for zucchini and balsamic vinegar in a Crock Pot, slow cooker or multi function rice cooker and cook on low setting (190-200 degrees) for 1 hour.
Add zucchini and cook for 1 hour.
Add balsamic vinegar (or lemon juice), season with salt and pepper and serve.
Notes
This Detox Crock Pot Vegetable Soup Is:
Low in saturated fat
Cholesterol free
High in calcium
High in dietary fiber
Very high in manganese
High in niacin
High in phosphorus
High in potassium
High in riboflavin
Very high in vitamin A
High in vitamin B6
Very high in vitamin C

* Alternatively, you can make this crock pot vegetable soup in a pot over medium heat. Bring everything to boil, lower heat to a simmering boil and cover. Cook for 40-50 minutes.
Nutrition Information
Serving size:
362g
Calories:
88
Fat:
1g
Trans fat:
0.0g
Carbohydrates:
14.6g
Sugar:
5.5g
Sodium:
684mg
Fiber:
3.8g
Protein:
6.2g
Cholesterol:
0mg