A fiery and fragrant Drunken Noodles Recipe that tastes like proper Bangkok street-food! This simple Thai Pad Kee Mao is ready in 16 minutes from start to finish.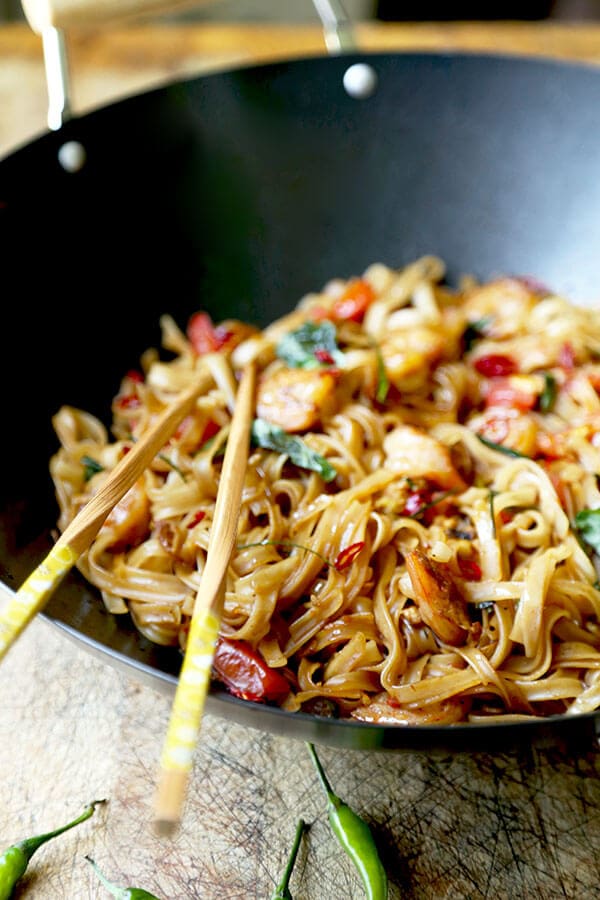 Drunken Noodles – Pad Kee Mao
One of my favorite things in the world is eating at one of the street-food stalls lining a vibrant, hectic and traffic clogged soi in Bangkok. There's an undeniable excitement when dining al fresco in a city where everyone is a foodie. Taxi drivers and bank execs belly-up, elbow to elbow at the same stall, and eat the specialty dish that particular open-air chef/proprietor is known for. Pad Kee Mao, or Drunken Noodles, has long been one of my favorites to eat in Thailand – or when I'm sitting at home and just wanting to introduce some delicious, spicy noodles to my tummy while working on a puzzle and streaming Bloodline on Netflix. The deep savory sweetness and herby fragrance of the springy stir-fried noodles just screams for me to pop a Singha and dig in. And drunken noodles is a super easy dish to make at home. Do you have 16 minutes? Yes? Then you have plenty of time to whip up a noodle dish that tastes like a trip to Southeast Asia!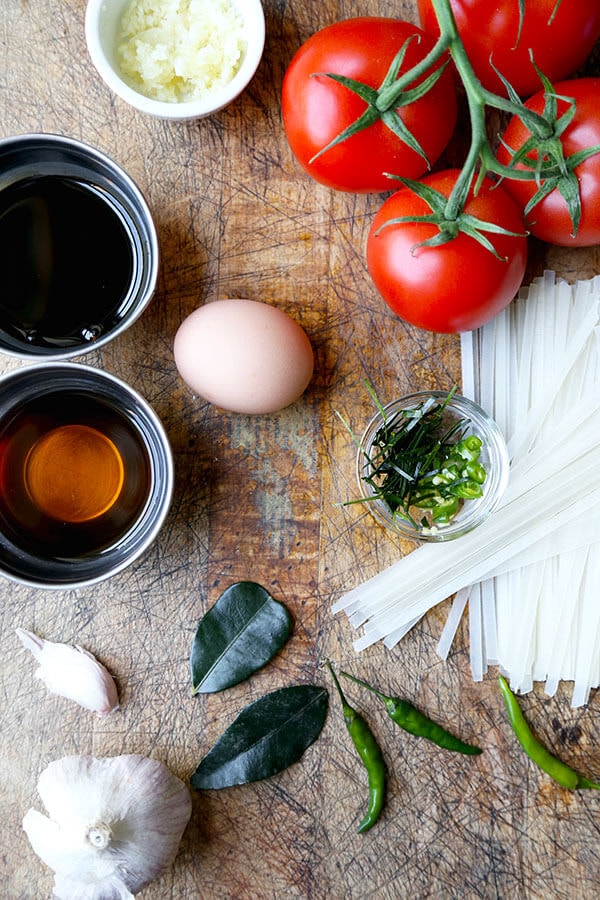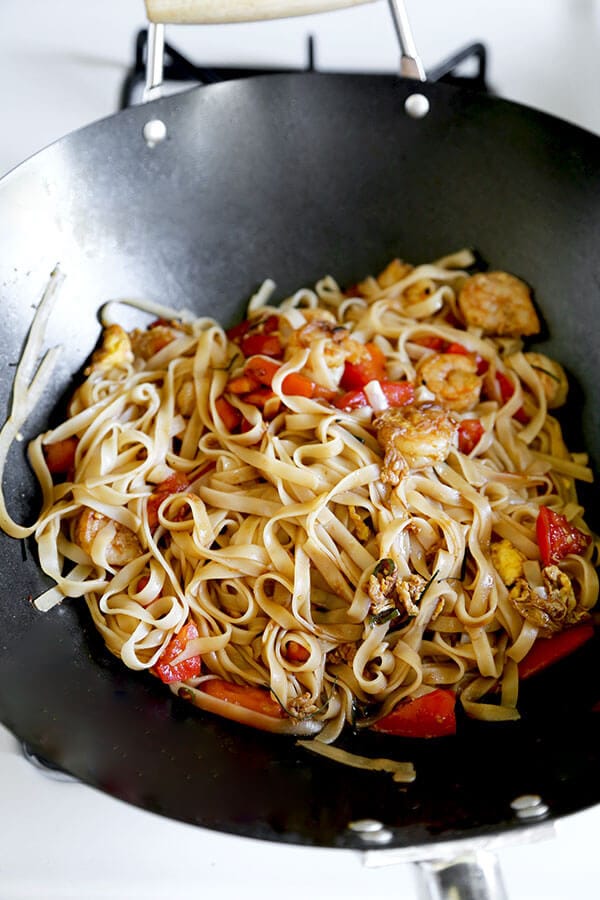 Depending on the depth of ingredients in your pantry, making pad kee mao at home may require a trip to your local Asian grocery store to pick up essentials. For this drunken noodles recipe, I used wide, rice-stick noodles. They soaked up the pungent sweetness brought on by the fish sauce and dark Thai soy sauce – and were a perfect vehicle for bits of fiery Thai chili and thinly sliced aromatic kaffir lime leaves. If you can find Thai basil or holy basil then you should definitely use it – otherwise, regular basil will do just fine.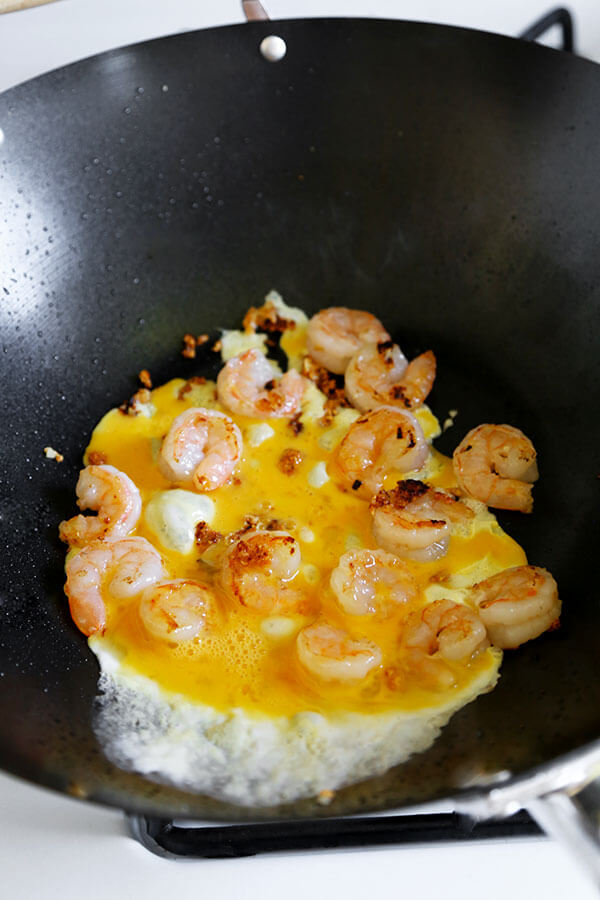 I used shrimp for this recipe but, in sticking with the choose-your-own-adventure nature of the dish, you can totally use beef, pork, squid, tofu, or chicken as your protein. Oh… a word on the volcanic Thai chili (Phrik Khi Nu, พริกขี้หนู): a little goes a long way! The peppers are tiny, but really pack an immense amount of heat. If you don't like spicy, just leave them out. On the other hand, Ben is a chili fiend and devoured his already spicy drunken noodles with an extra side of sliced Thai chili soaking in a small ramekin of fish sauce. Different strokes!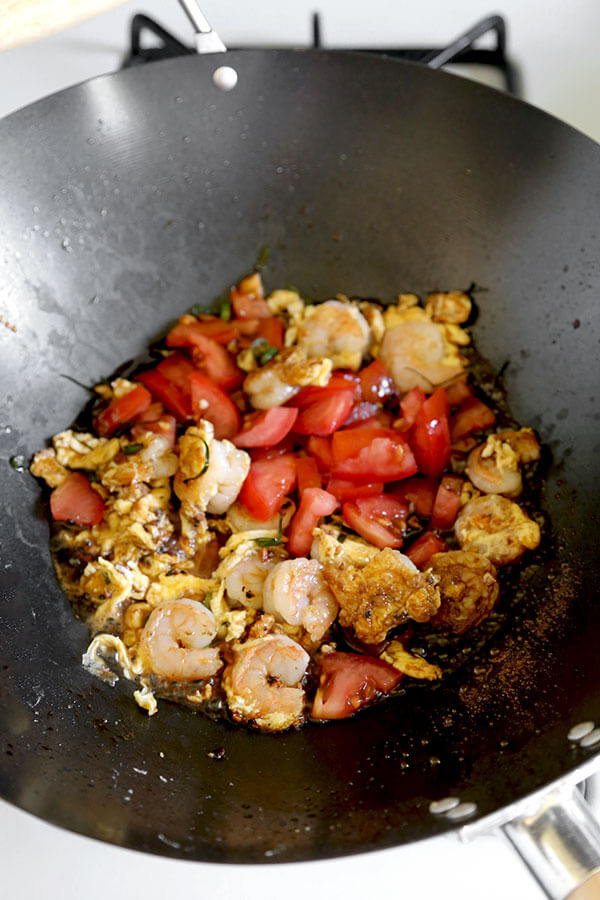 Theories abound as to how pad kee mao, or drunken noodles, first came to be. My favorite is the one suggesting that the originator of the recipe came home drunk one night, whipped out the wok and made a sloppy dinner with the ingredients that were available at that late hour. I imagine that very first mash-up of fragrant noodles really hit the spot. It's not often that an improvised late night meal after a few too many whiskeys becomes immortalized in the Thai food lexicon. How's that for a lasting innovation!? And, true or not, what really strikes me about that tale is how much a part of the true human/food experience it seems. Because, no matter how drunken noodles were actually invented, who hasn't played around with food combinations late at night, maybe after a few glasses of wine?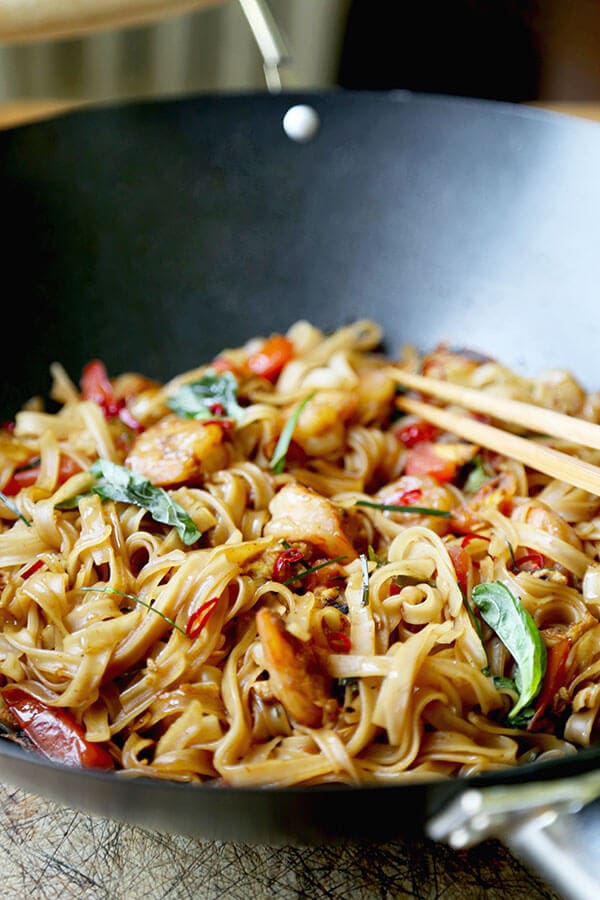 I'd venture a guess that most of the casseroles we've eaten throughout our childhoods were once dreamed up either out of necessity, or out of an intrepid spirit to create something new by our grandmother's neighbor's friend's great-aunt, twice removed – and then passed along through generations. The only difference is scale. 'Aunt Ina's Tuna Surprise' isn't on the menu when you're looking for dinner on Seamless. But drunken noodles sure is.
Other simple, delicious Thai inspired recipes: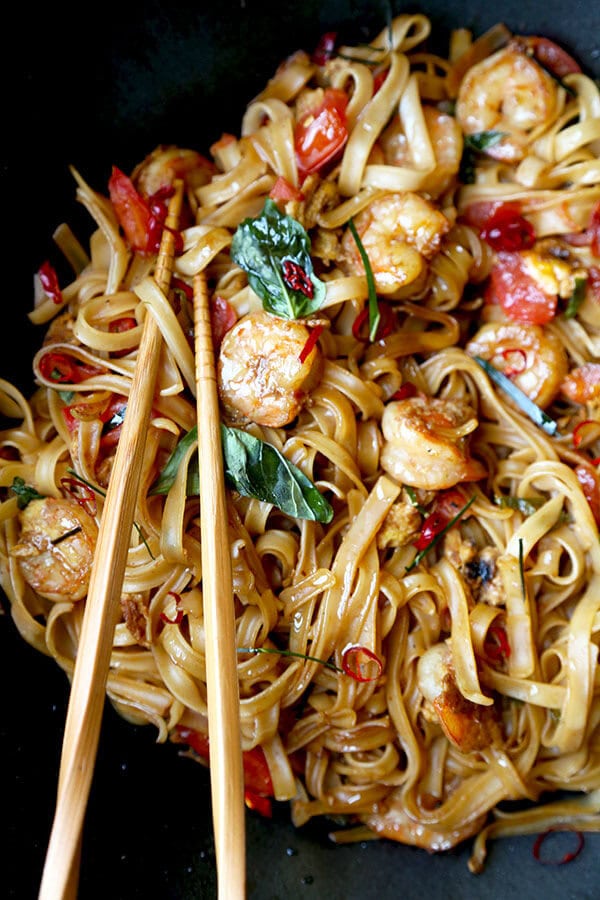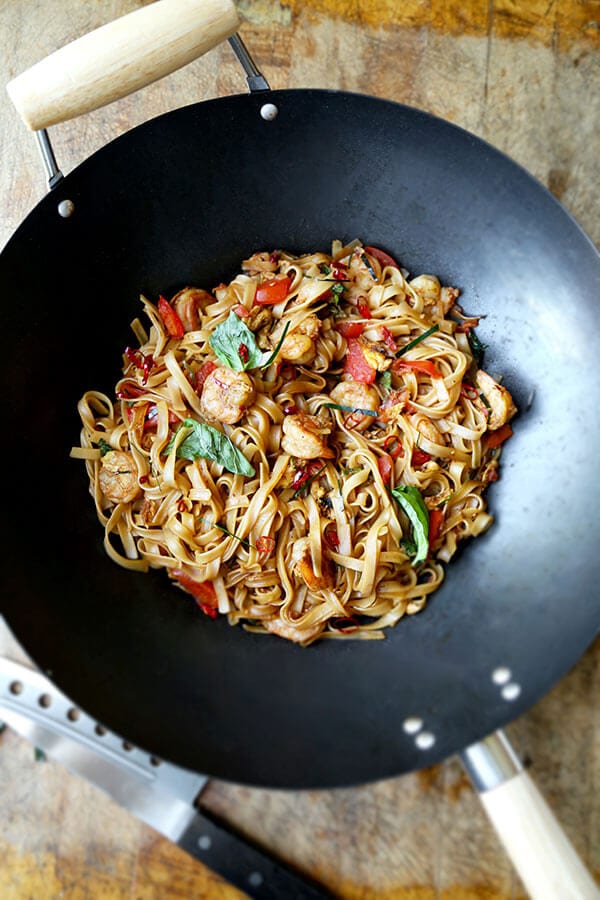 Did you like this Drunken Noodles Recipe? Are there changes you made that you would like to share? Share your tips and recommendations in the comments section below!

Drunken Noodles - Pad Kee Mao
A fiery and fragrant Drunken Noodles Recipe that tastes like authentic Bangkok street-food! This simple Thai Pad Kee Mao is ready in 16 minutes from start to finish.
Author:
Pickled Plum - Caroline Phelps
Recipe type:
Easy Recipe, Noodles
Ingredients
1 tablespoon canola oil
2 garlic cloves, finely chopped
1-2 Thai chilis (omit if you prefer not-spicy)
10-12 shrimp, uncooked and removed from their shells (thawed if previously frozen)
2 tablespoons fish sauce
2 tablespoons sweet dark soy sauce OR regular soy sauce mixed with ½ teaspoon sugar
1 large egg, whisked
2 Kaffir lime leaves, finely chopped OR substitute with 1½ teaspoon finely chopped lime zest (it's even better if you do half lemon and half lime zest)
1 large tomato, chopped
8 ounces dry rice stick noodles
10-12 fresh basil leaves, hand torn
Instructions
Prepare rice noodles by following the instructions on the package. Set aside.
In a wok or frying pan over medium high heat, heat the oil and fry garlic for 1 minute, or until golden.
Add shrimp and toss for approx 2-3 minutes, until almost cooked - then add egg and stir for a couple seconds until egg starts to set.
Add chili, lime leaves, tomatoes fish sauce and dark soy sauce and stir for a minute or so until the tomato is cooked and sauce is bubbling.
Add the rice noodles and toss until noodles are hot, evenly coated and ingredients are mixed well.
Turn off the heat and add basil. Toss and serve immediately.
Notes
This Drunken Noodles Recipe Title is:
Low in sugar
High in phosphorus
High in selenium

Drunken Noodles will keep in the fridge for 1-2 days.