A savory, sweet and nutty Japchae Recipe that marries chewy Korean glass noodles with stir-fried veggies. Ready in 16 minutes from start to finish!
Japchae Recipe (Korean Glass Noodles)
Every time Ben and I visit my mother in Fukuoka, Japan, two noodle related items are definites.
1. Ben will go down the rabbit hole and devour at least one form of Japanese spaghetti on a daily basis. Sometimes two.
2. My mother's hairdresser will drop by with a dazzling array of Korean dishes for us to eat. One of the foil wrapped bowls will surely contain her famous Japchae recipe.
We look forward to the heavy-knuckled rap on the door that signifies her visit. Her hearty laugh is only slightly bested by the plates of fiery tteokbokki (hot and spicy rice cakes) and her veggie loaded Korean glass noodles. In fact, my own japchae recipe takes a cue from hers: there is no meat used in either preparation. These Japchae noodles are so loaded with flavor, you won't miss the meat. Promise!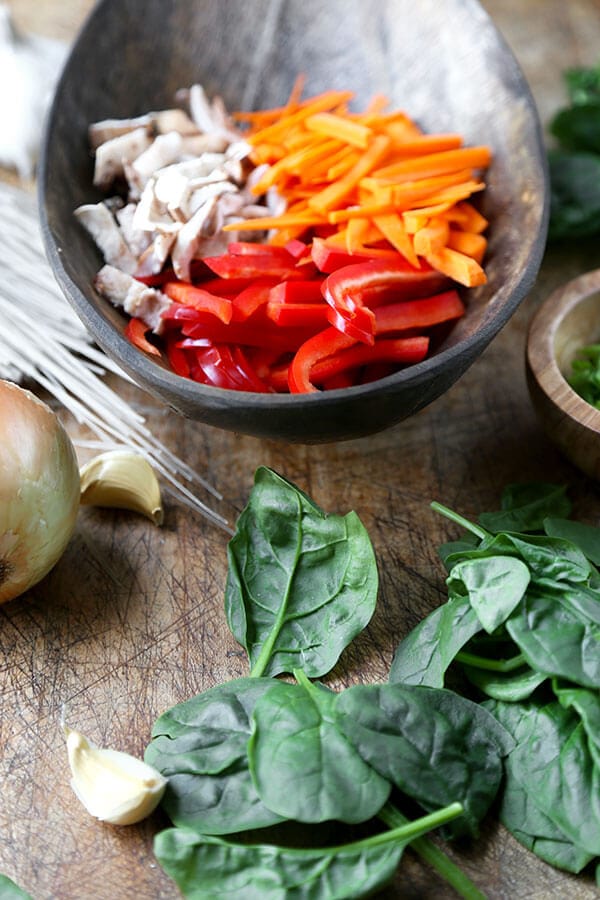 This japchae recipe is made using Korean sweet potato noodles. Made from the starch of sweet potatoes, your noodles will turn clear after boiling for about 5 minutes or so. The tasty result is a chewy, springy and slippery noodle that absorbs all of the sweet, salty and nutty flavors japchae is known for. Some brands of sweet potato starch noodles come pre-cut – but if yours are super long, cut them in half or thirds after cooking and cooling to make sure your japchae recipe is easy to eat!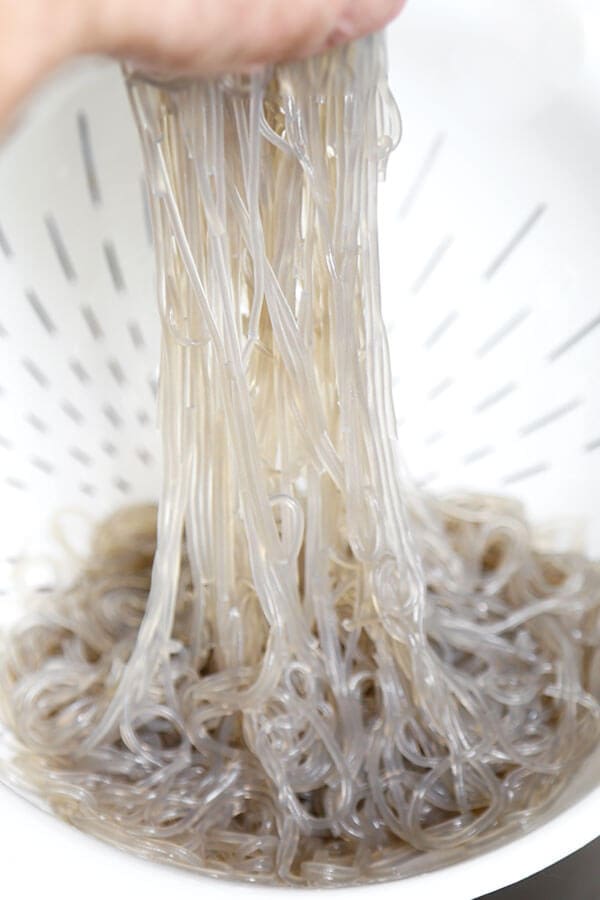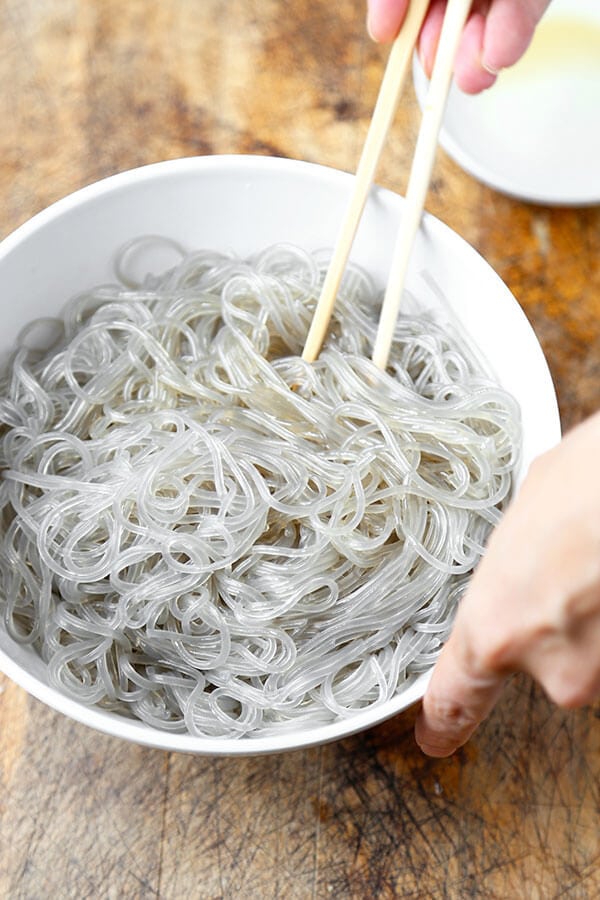 Many times, you'll find labor-intensive recipes for Japchae that call for you to prepare each vegetable ingredient separately. My own Japchae recipe keeps it easy! All of the veggie elements are stir-fried at the same time (except for the spinach). This is so you can get your japchae on the table quickly for your in-home diners, with minimal fuss. One night I spotted Ben in the kitchen, whipping up japchae for a late night snack. Aside from being pleased that I was about to eat delicious Korean glass noodles, the fact that he was laboring over the wok at all was a sure sign that this was a simple recipe to execute. Win/win!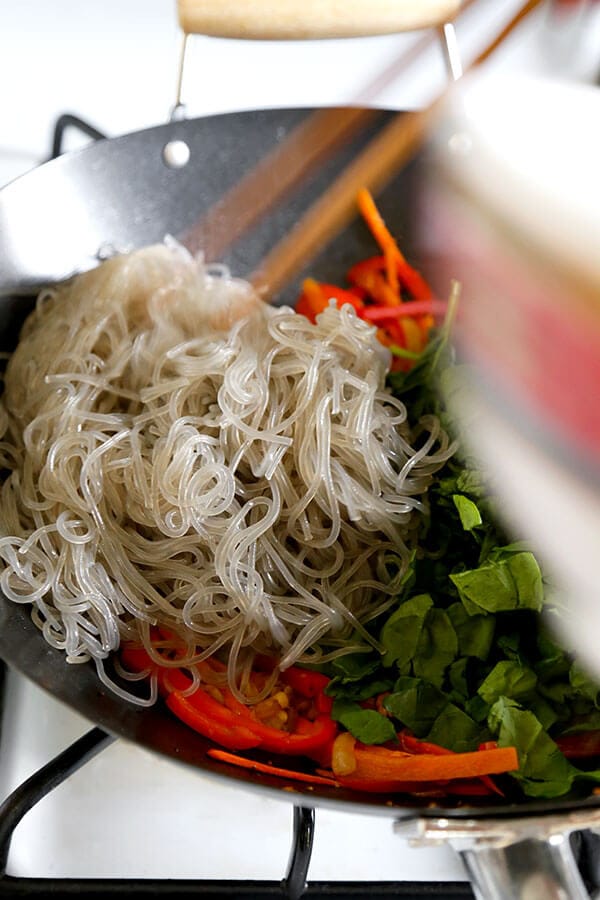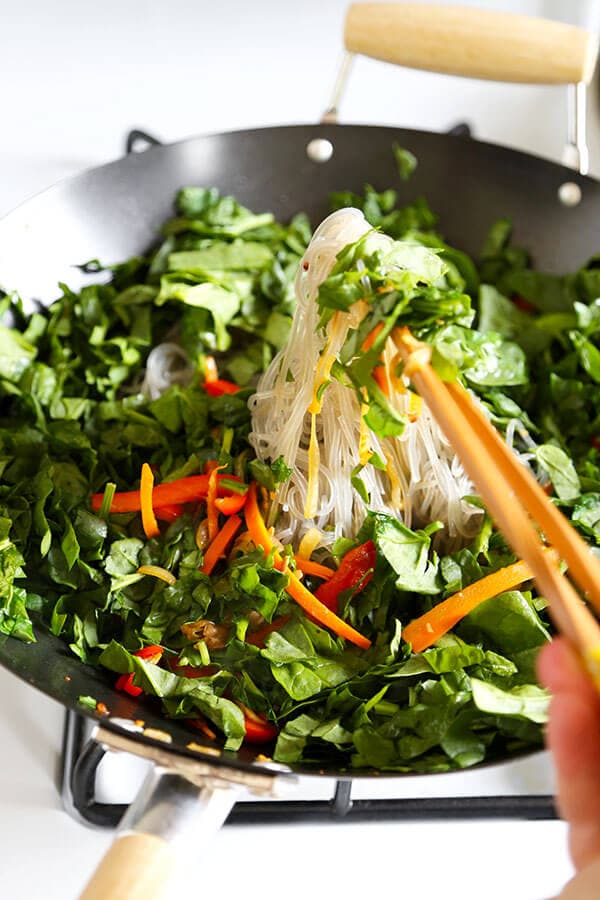 Korean food is wildly popular in Japan – especially in the south where my mother lives. Therefore, it's not uncommon to have a big dinner out that includes copious amounts of bulgogi (Korean BBQ beef), and all the associated side dishes, washed down with a few too many soju highballs. Invariably, my favorite dish on the table will be the Korean sweet potato starch noodles with nutty sesame oil, sweet and salty soy sauce and perfectly prepared veggies. My japchae recipe is a nod to those great nights out, eating Korean food with friends and family in Japan – and to my mother's hairdresser that keeps us well fed when visiting. What's your favorite Korean recipe? I'd love to hear about it in the comments!
Other simple, delicious Korean recipes:
Did you like this Japchae Recipe? Are there changes you made that you would like to share? Share your tips and recommendations in the comments section below!
Japchae Recipe (Korean Glass Noodles)
A savory, sweet and nutty Japchae Recipe that marries chewy Korean glass noodles with stir-fried veggies. Ready in 16 minutes from start to finish!
Author:
Pickled Plum - Caroline Phelps
Recipe type:
Easy, Healthy Recipe, Vegetarian, Vegan, Stir Fry
Ingredients
200 grams (7 oz) sweet potato starch noodles (dangmyeon)
2 teaspoons sesame oil
1 tablespoon canola oil
2 garlic cloves, minced
1 medium onion, thinly sliced into half-moons
6 shiitake mushrooms, sliced into strips
½ red bell pepper, sliced into thin strips
1 medium carrot, sliced into thin strips
½ pound (6 oz) baby spinach, roughly chopped
3 scallions, finely chopped on the bias
1 tablespoon sesame seeds
For the Japchae sauce:
3 tablespoons soy sauce
1 tablespoon dark soy sauce
2 teaspoons sugar
Instructions
Bring a pot of water to boil and add noodles. Follow instructions on package for cooking time (usually about 5 minutes). Drain and rinse under cold water. Drain well and transfer to a bowl. (If noodles are extremely long, cut in half or thirds with scissors). Add sesame oil to the noodles and toss. Set aside.
Put all the ingredients for the sauce in a bowl and stir until the sugar has dissolved. Set aside.
In a large pan or wok over high heat, add canola oil, garlic and onions and cook for 2 minutes, until onions are translucent.
Add mushrooms, bell peppers, carrots and cook for 3-4 minutes until vegetables are tender but still yielding a soft crunch.
Add noodles and spinach and toss well. Add sauce and cook for 1 minute. Turn the heat off and transfer to a plate or bowl. Top with scallions and sesame seeds.
Notes
This Japchae Recipe is:
High in dietary fiber
High in manganese
High in magnesium
Very high in pantothenic acid
High in potassium
High in riboflavin
Very high in selenium
Very high in vitamin A
High in vitamin B6
Very high in vitamin C

This Japchae recipe will keep in the fridge for 3-5 days.