This is a light and creamy kani salad with sweet and salty flavors your whole family will love – and it only takes 10 minutes to make from start to finish!
Kani Salad – カニ サラダ
I just finished watching Master of None on Netflix, and it got me thinking about how hard it must have been for my mother to adapt living in Canada. She came from the southern region of Japan where temperatures rarely dip below the forties, to Canadian winters where three feet of snow won't close any schools. Adding to that was the language barrier – she couldn't speak a word of French, and to make matters worse, had no access to Japanese food. Zilch, nada, zero. This was back in the '70s when the internet didn't exist (no Amazon groceries… I can't) and long distance calls cost two dollars a minute. The closest Japanese supermarket was a two hour drive away so whenever we made a trip there, it was serious business. We would stock up on rice, kombu, soy sauce and other Japanese pantry essentials, I would get my favorite Botan rice and Milky candy, and we would end the morning by having lunch at a sushi restaurant. I remember those trips so well because my mother would meticulously plan them so she wouldn't forget anything. We both looked forward to those shopping days since they felt like an adventure, something exciting and out of the ordinary.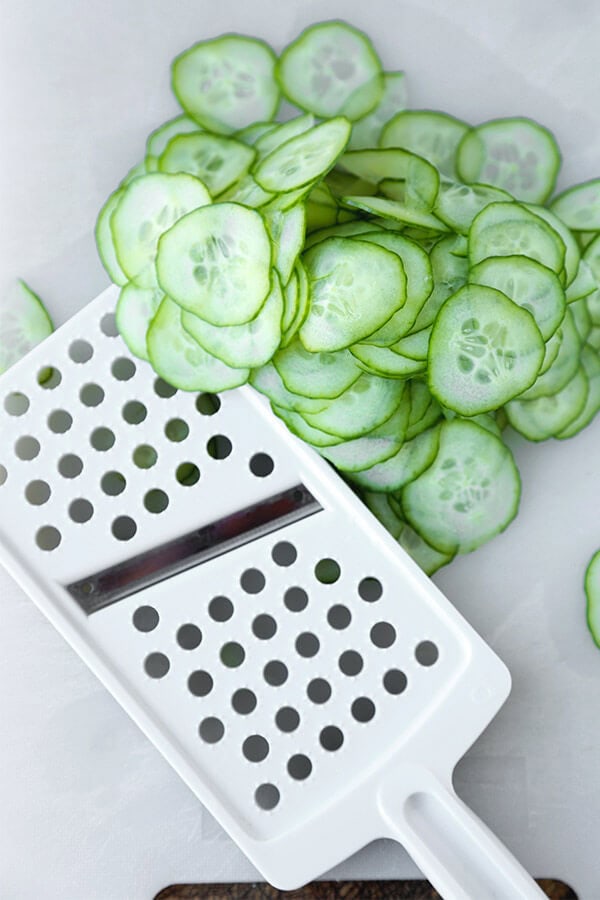 Because my mother had limited access to Japanese ingredients, she often mixed Western and Japanese cuisines together, creating dishes that were distinctly hers. This kani salad (kani means crab in Japanese) is a great example of how brilliant she was (and still is) in the kitchen, and why everyone always wanted to come over to our place for dinner! She had a knack for whipping up dishes that were very simple yet, beautiful and delicious. To this day, I feel very lucky to have been exposed to such great food at such a young age. I've learned from the best!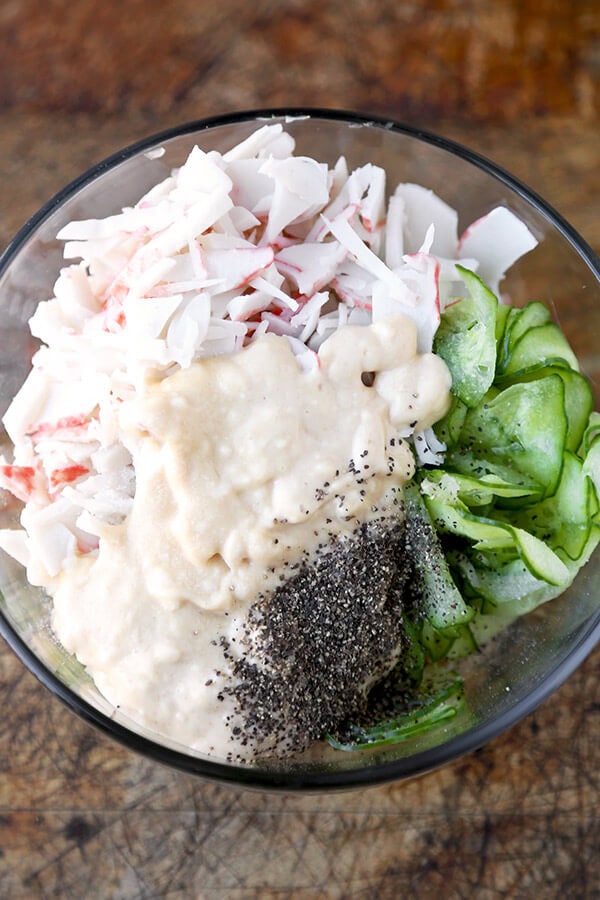 This kani salad couldn't be easier to make: only seven ingredients and 10 minutes of your time are needed. What you will end up with is one tasty cucumber and crab salad you won't be able to stop eating. It's light, creamy, crunchy, sweet, savory and peppery – and makes a wonderful side dish or topping to pasta and meats. You can make this kani salad ahead of time, it should keep refrigerated for 2-3 days.
Other simple Westernized Japanese dishes: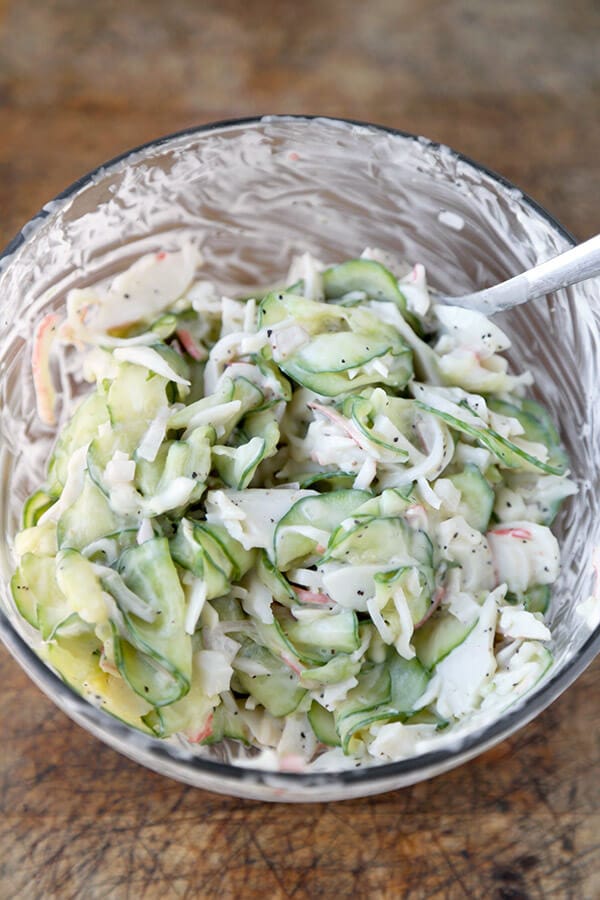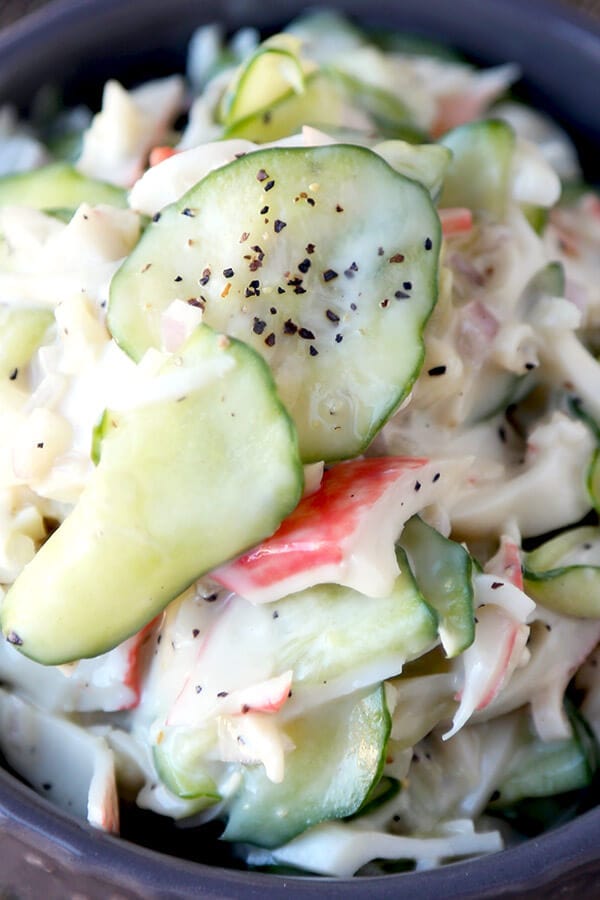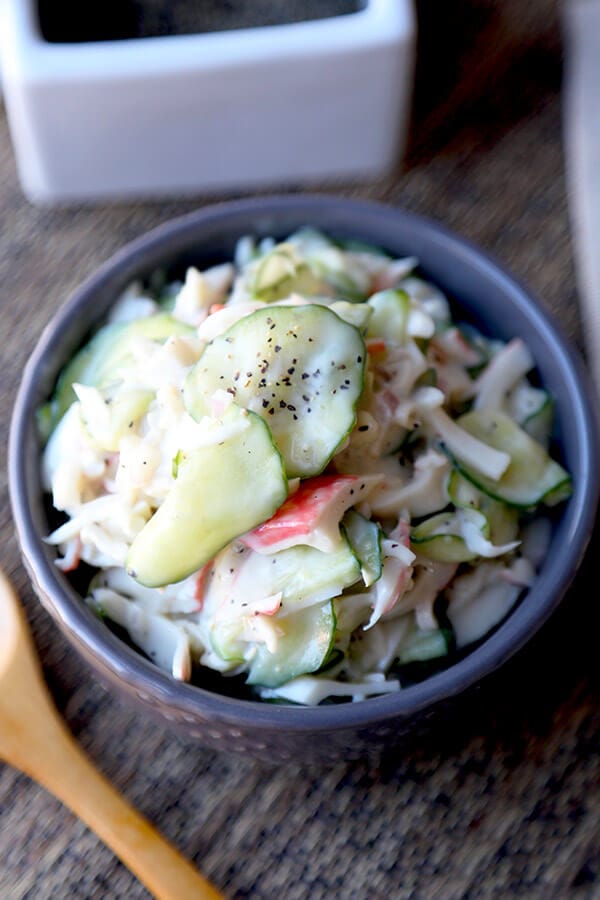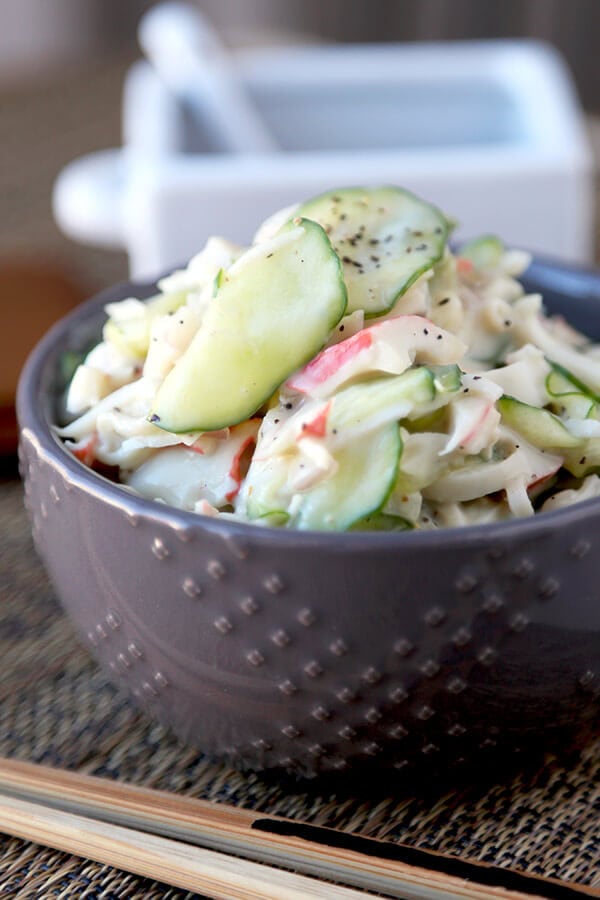 Did you like this Kani Salad Recipe? Are there changes you made that you would like to share? Share your tips and recommendations in the comments section below!

Kani Salad - カニ サラダ
This is a light and creamy kani salad with sweet and salty flavors your whole family will love - and only takes 10 minutes to make from start to finish!
Author:
Pickled Plum - Caroline Phelps
Recipe type:
Salad, Appetizer, Easy, Healthy
Ingredients
½ English cucumber, sliced thin (using a mandolin on its thinnest setting)
3 oz imitation crab(about ¾ cup), finely chopped lengthwise
2 tbsp shallot, minced
2½ tbsp light mayonnaise
1 tsp apple cider vinegar
1½ tsp soy sauce
¼ tsp ground black pepper
Instructions
Take cucumber slices in the palm of your hands and squeeze out as much water as you can - be careful not to break the slices.
Put cucumber, imitation crab and shallot in a bowl and briefly toss.
In a separate bowl, whisk mayonnaise, cider vinegar, soy sauce and black pepper, until smooth.
Add mayo dressing to the cucumber, crab and shallot mix and stir well, until all the ingredients are evenly coated.
Serve or keep refrigerated for up to 3 days.
Notes
This Kani Salad Recipe Is:
High in phosphorus
High in selenium