Better than takeout moo goo gai pan recipe that's savory and a little sour. Ready in less than 20 minutes!
Moo Goo Gai Pan
The literal translation for moo goo gai pan is button mushrooms, chicken, slices. Pretty spot on uh? A simple name for a simple stir fry that only takes about 20 minutes to make – and a delicious one that is! Most moo goo gai pan recipes are made Cantonese style, meaning with a cloudy white sauce and some ground white pepper. But since I generally prefer Szechuan food over Cantonese, I have tweaked my moo goo gai pan to be more savory and therefore, browner in color as well. Not that there is anything wrong with the classic white sauce but I am the kind of girl who likes bold, in your face flavors. That's why I'm so into curries (Japanese curry being one of my all time favorites), Thai and Japanese food, and any other cuisine that uses plenty of spices and condiments into their dishes.
Making Chinese stir fries has become a weekly thing now. The more I make them and the more I fall in love with the concept of tossing veggies and a protein into a wok and dressing them with a lovely gooey sauce. It's so easy, so good and there is also very little cleaning up to do afterward – all positive stuff!
For this moo goo gai pan recipe I am using chicken, mushrooms, snow peas, bamboo shoots and water chestnuts. The sauce is a combination of chicken stock, soy sauce, vinegar, sugar and sesame oil. It's a little sour, sweet, nutty, savory and contains lots and lots of umami. The flavors are assertive but also gentle to the palate. Think of this moo goo gai pan as perfectly seasoned; you won't need to add salt or soy sauce to it 😉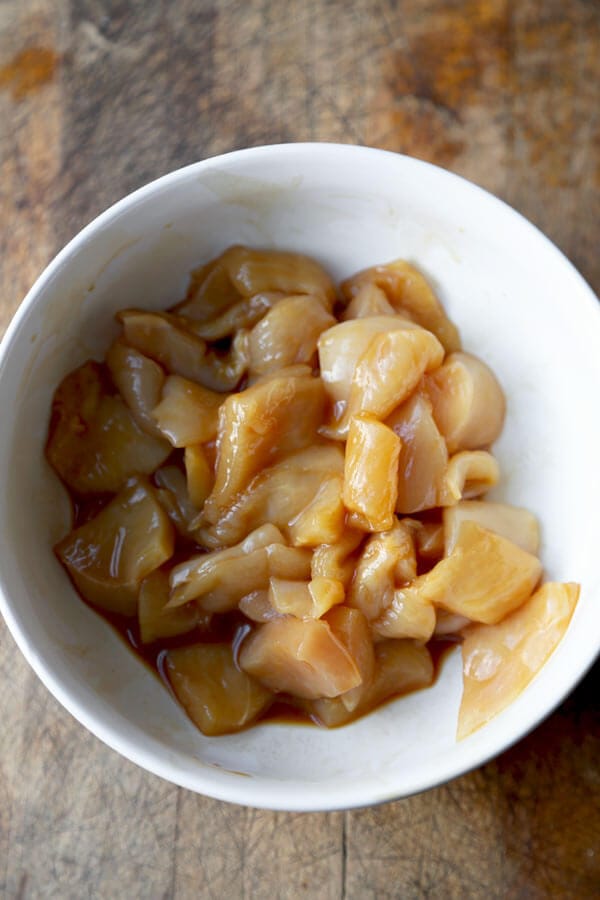 This is another great recipe to make ahead of time since it keeps well in the fridge. You can pack it up and take it to work (in a cute Bentgo lunchbox) or have it for dinner two or three nights in a row. Trust me, you won't get tire of it. Especially if you love Chinese takeout as much as I do!
Other quick and easy Chinese stir fries:
Did you like this Moo Goo Gai Pan Recipe? Are there changes you made that you would like to share? Share your tips and recommendations in the comments section below!
Serve this recipe with a side of Japanese rice. Watch our video on How To Make Japanese Rice the stove top or rice cooker method!
Moo Goo Gai Pan
Better than takeout moo goo gai pan recipe that's savory and a little sour. Ready in less than 25 minutes!
Author:
Pickled Plum - Caroline Phelps
Recipe type:
Main, Easy, Chicken
Ingredients
1 tbsp peanut or canola oil
½ pound boneless, skinless chicken breast, sliced into thin bite size piece
2 garlic cloves, finely chopped
1½ cup button mushrooms, sliced in half
1½ cup snow peas
½ cup canned bamboo shoots
¼ cup canned water chestnuts
1 tbsp cornstarch mixed with 2 tbsp water
ground white pepper
For the marinade:
1 tbsp soy sauce
1 tsp rice vinegar
1 tsp cornstarch
For the sauce:
½ cup chicken stock
1 tbsp soy sauce
1 tbsp rice vinegar
½ tsp sugar
1 tsp sesame oil
Instructions
Put all the ingredients for the marinade in a bowl, add chicken, mix well and let sit for 10 minutes.
In a pan over medium high heat, add peanut oil and chicken and cook for 5 minutes, or until chicken is cooked through. Transfer chicken on a plate and set aside.
In the same pan, add garlic, mushrooms and snow peas and cook on medium high heat for 5 minutes.
Add bamboo shoots, chestnuts and chicken and cook for 2 minutes.
Add ingredients for the sauce and stir. Add cornstarch and water mix and stir until sauce thickens.
Turn the heat off, season with ground white pepper and serve immediately.
Notes
This Moo Goo Gai Pan Recipe Is:

Low in saturated fat
Very high in niacin
High in phosphorus
High in selenium
Very high in vitamin B6
High in vitamin B12
Very high in vitamin C


More Yummy Stir Fry Recipes: