Ponzu Sauce Noodles with Avocado and Peppers
Mmmmm, every time I think about this simple ponzu sauce noodle dish I start to salivate! Created with leftovers I had in the fridge one day, it has since become a regular healthy and refreshing lunch at our house. Yum yum yum!
The combination of citrus and soy from the ponzu sauce and nuttiness of the sesame oil gives the dish classic asian flavors, while slices of creamy avocado and crunchy red peppers bring pops of color and freshness.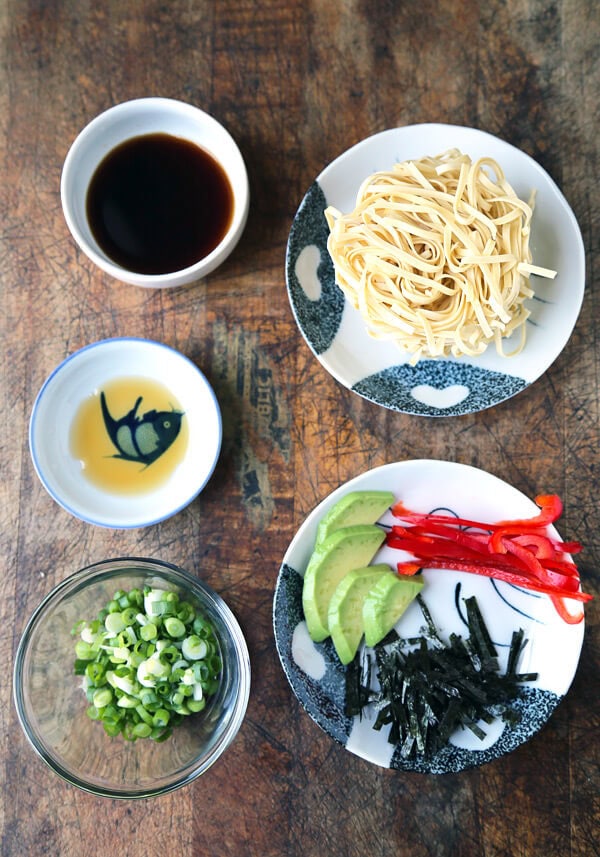 You can pretty much use any type of noodles for this dish from ramen to soba, even spaghetti! As I mentioned, this recipe was created from leftovers I had in the fridge so the combinations you can create are endless. Do the same; browse each shelf of your own fridge and make an interesting bowl of noodles! However, the Ponzu Sauce, sesame oil and shredded nori are the main flavorful components of the dish, so don't go changing that! 🙂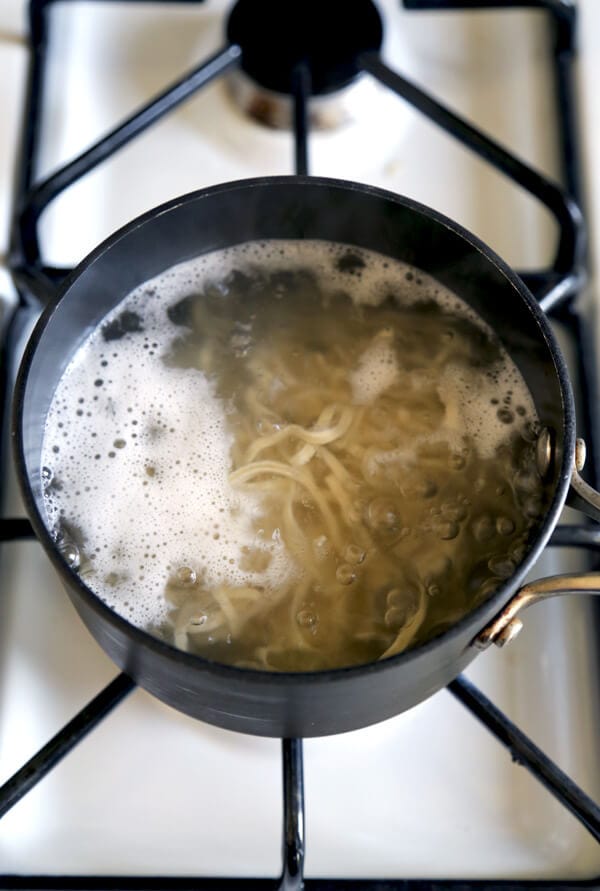 If you've had hiyashi chuka (chilled ramen noodles with toppings), this recipe is a similar version yet completely vegan and with less sodium. It's ideal for hot summer days and pairs really well with other easy dishes like fried tofu pockets or a simple cold cucumber and sesame chicken salad. You can also top these ponzu sauce noodles with some pickled daikon or cucumber pickles, it's so delicious! And instead of a cold glass of water, try iced mugicha (barley tea) – I think there's nothing more refreshing!
Other Great Chilled Vegetarian Noodle Recipes:
Bun Chay (Vegetarian Vietnamese Noodle Salad), Thai Tofu and Noodle Salad, Zucchini 'Noodles' with Sesame Peanut Sauce.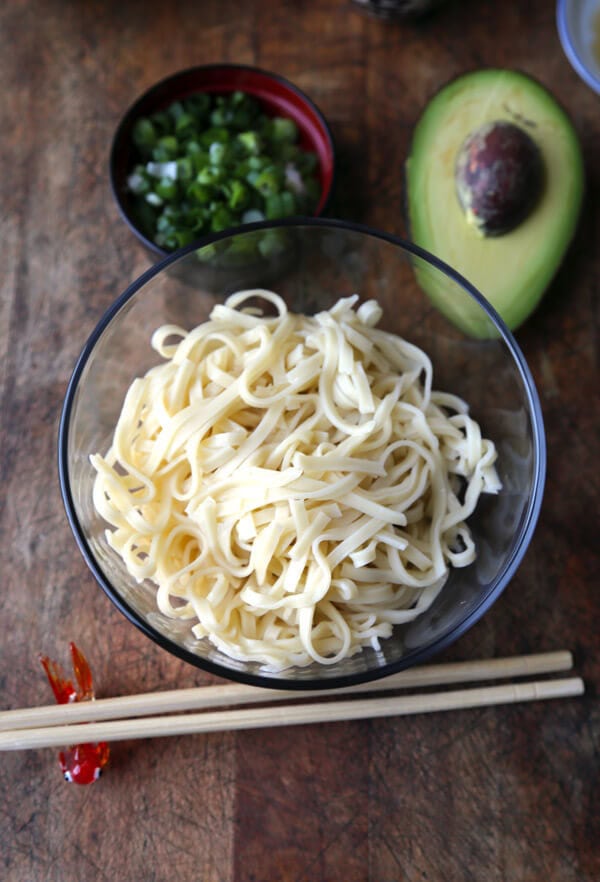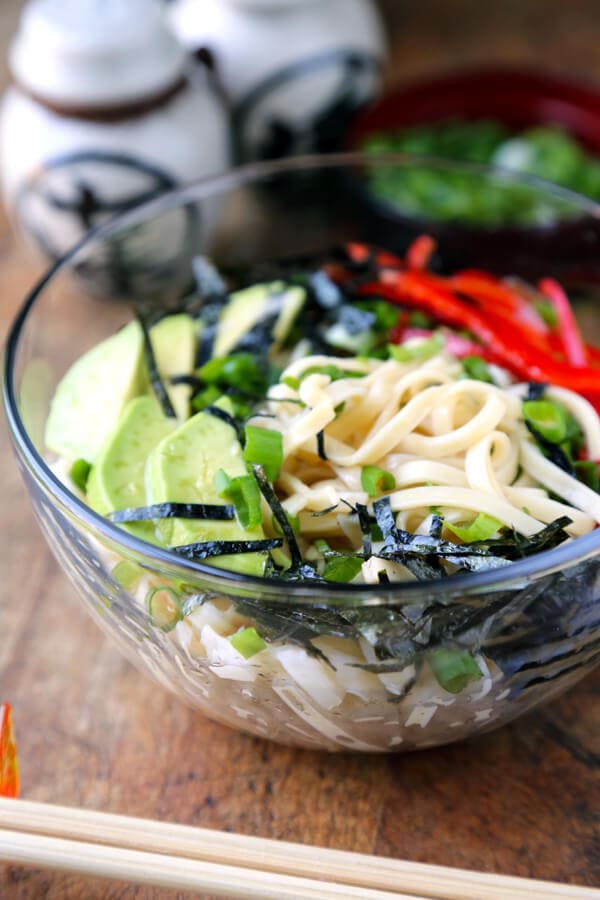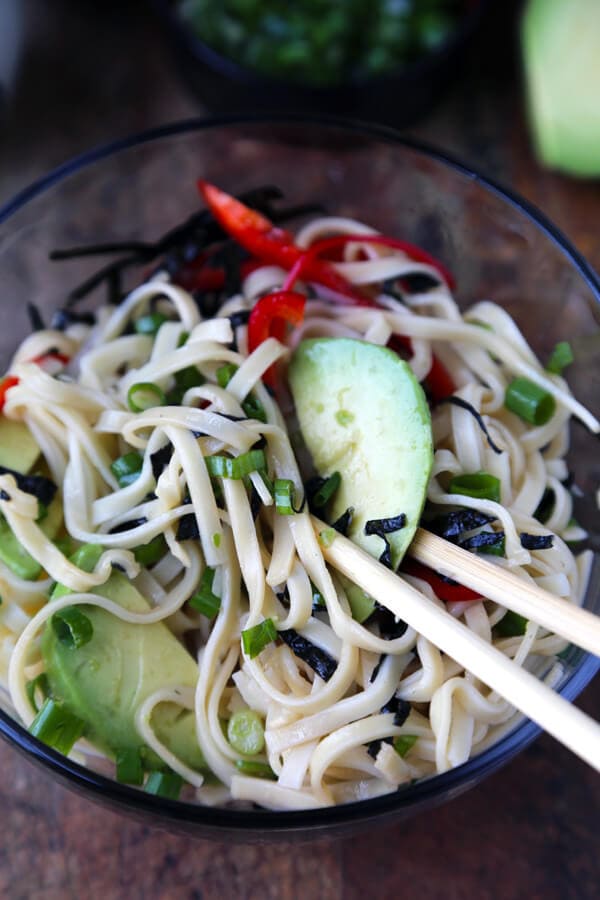 Ponzu Sauce Noodles with Avocado and Peppers
Delicious and refreshing cold egg noodles and vegetables tossed in a ponzu and sesame sauce.
Author:
Pickled Plum - Caroline Phelps
Recipe type:
Noodles, Main
Ingredients
250g dry egg noodles
½ cup scallions, finely chopped
½ red bell pepper, cored, seeded and julienned
1 avocado, peeled, pitted and finely sliced
¼ cup nori, shredded
1 tsp sesame oil
¼ cup + 2 tbsp ponzu sauce
Instructions
Boil noodles according to direction on the package. Drain and rinse in cold water.
Divide the noodles evenly among two bowls.
Divide ingredients and top evenly among two bowls.
Pour 3 tbsp ponzu and ½ tsp sesame oil in each bowls.
Toss and serve cold.