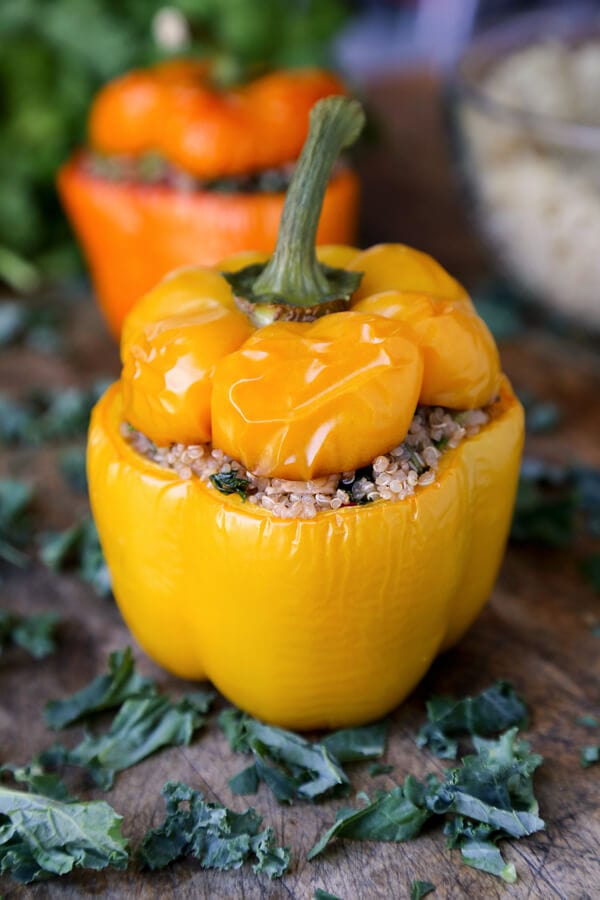 Quinoa stuffed peppers recipe
I don't know if this year's long and cold winter is causing me to react this way but bright and colorful vegetables are all I seem to want these days. Maybe my body needs a vitamin injection from all the days I have been spending indoors… I admit to being a hermit lately.
When I first thought of making quinoa stuffed peppers, I was going to bake all of the ingredients together. But then I thought about the texture of the quinoa (see how to cook quinoa); just like overcooked pasta or rice, it can make or break a good dish. Okay, so it won't be as quick and easy as I had planned, but these quinoa stuffed peppers are worth the extra few steps because they are seriously good and texturally perfect!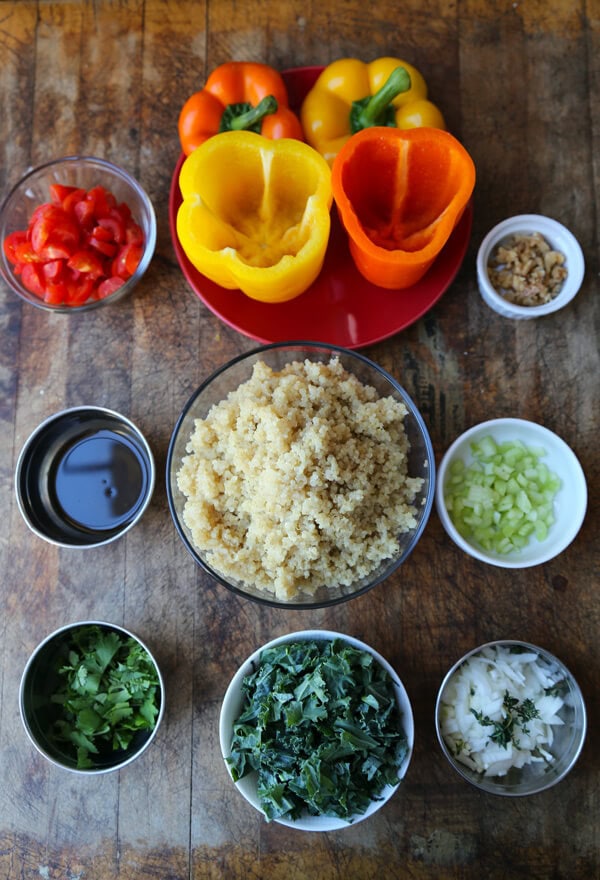 Quinoa has been a huge trend in the health and culinary world lately. Whenever I cook with one such ingredient, I test it on Ben since he is the ideal candidate; skeptical of things that are trending with a slight allergy to hippies and extreme diet followers, he will straight up tell me if my cooking tastes like a pair of used Birkenstocks. If I hear a mmmm come out of his mouth after hearing how much he dislikes quinoa, I know I have a winning dish – and yes, these quinoa stuffed peppers did the trick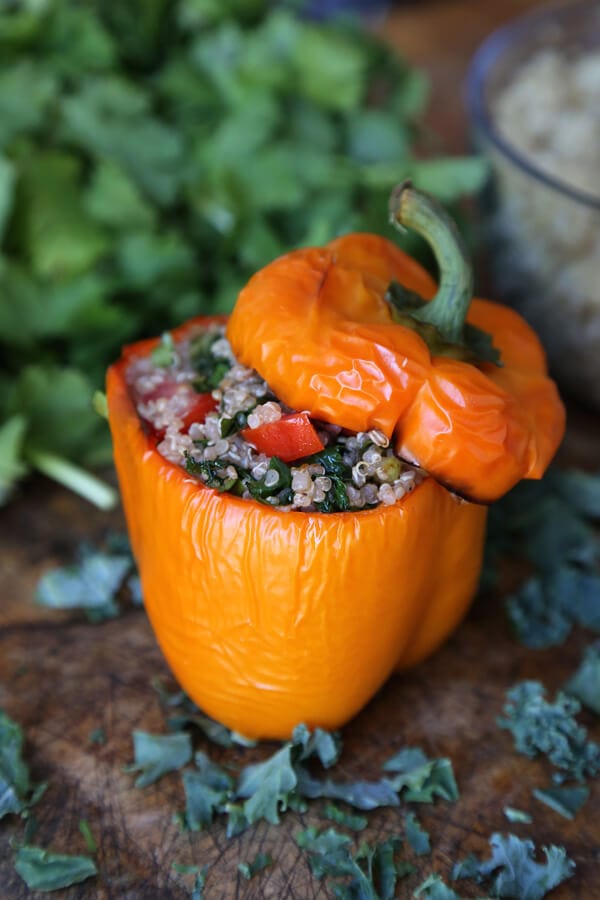 This dish may be more of a side than a main but is quite filling nonetheless. That evening, I served it with steak and kale with mustard sauce and all the flavors were in harmony. It was also just the right amount of food to fill us up but not to the point where we had to unbutton our pants. The balsamic vinegar adds a touch of sweetness to the overall savory peppers and keeps the flavors light and summery.
Dishes to serve with this quinoa stuffed peppers recipe: White bean and swiss chard soup, spicy tomato and sweet potato soup, Spaghetti squash with mushrooms and parmesan.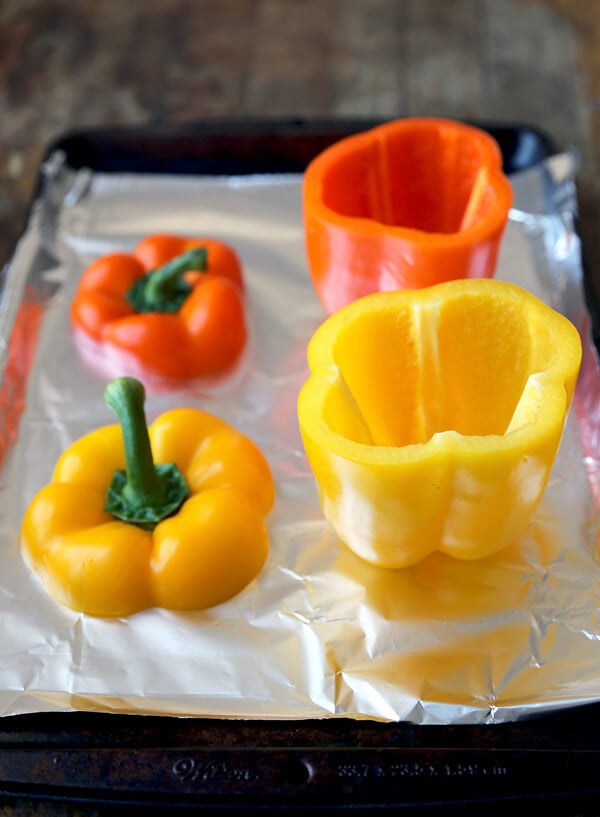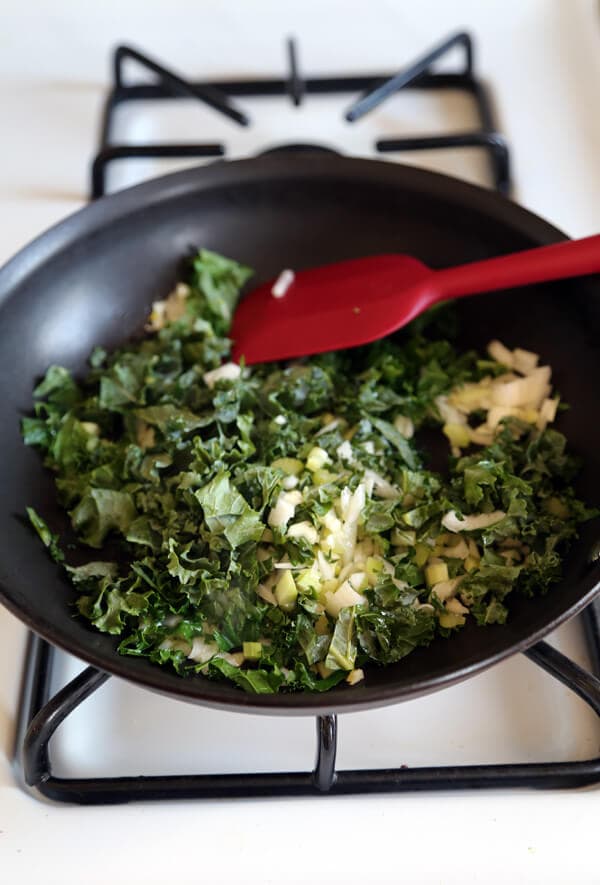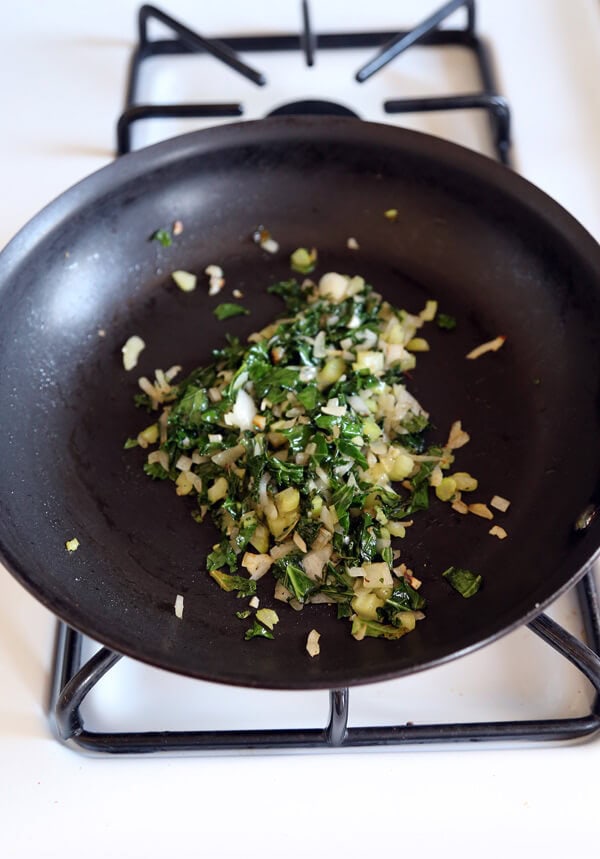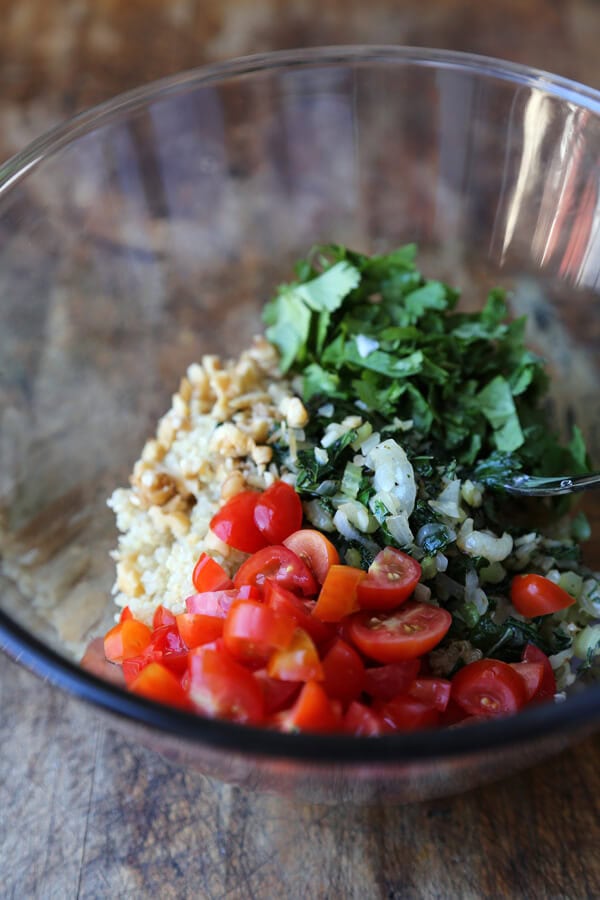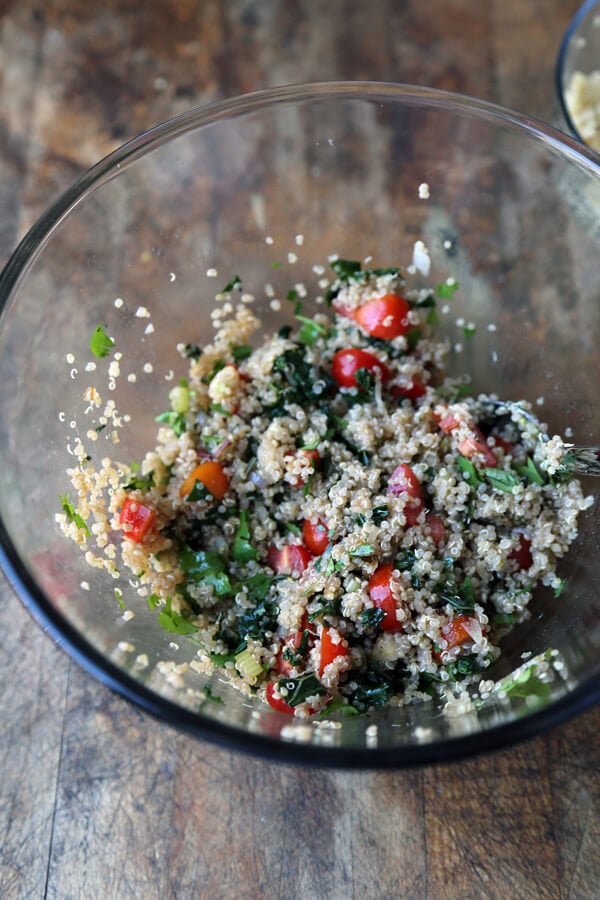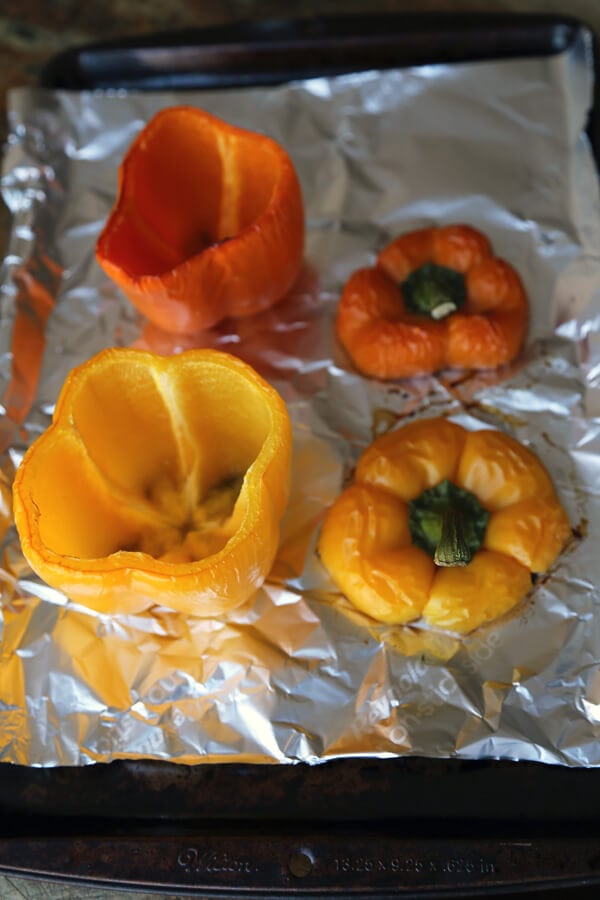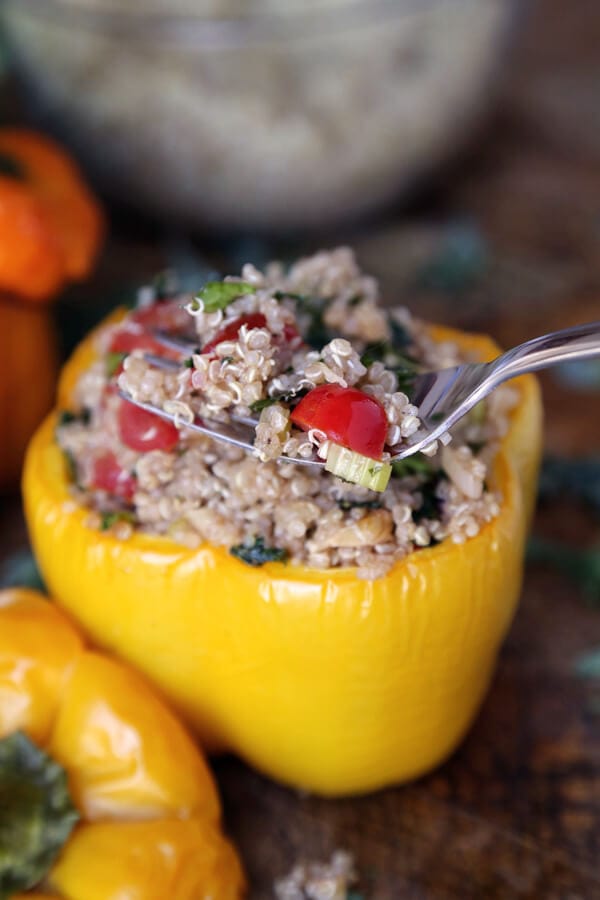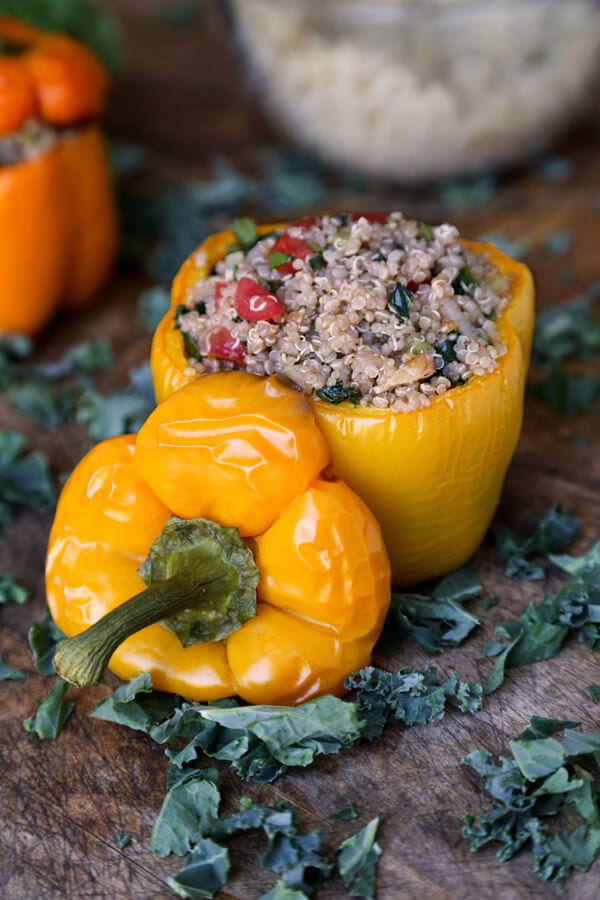 Quinoa Stuffed Peppers Recipe
Ingredients
2 large bell peppers, cored and seeded. Tops removed and reserved
2 cups cooked quinoa
2 tbsp extra virgin olive oil
1 tsp fresh thyme
2 garlic cloves, finely chopped
½ small onion, finely chopped
1 cup kale, finely chopped
½ tsp white wine vinegar
1 tbsp walnuts, finely chopped
6 cherry tomatoes, finely chopped
handful cilantro (about ¼ cup), finely chopped
1 celery stalk, finely chopped
1 tbsp balsamic vinegar
salt and pepper
Instructions
- Preheat oven to 400Fº.
- Cook quinoa according to direction on the package (or see 'how to cook quinoa')
- Cover cookie tray with foil and lay pepper tops and bottom. Cook for 25 minutes.
- Meanwhile, in a medium size pan over high heat, add 1 tbsp olive oil, thyme, garlic, onions and kale. Cook for 3-4 minutes, until kale is tender.
- Turn the heat off and add white wine vinegar. Mix well and season with salt and pepper. Set aside.
- In a large mixing bowl add quinoa, walnuts, tomatoes, cilantro and celery. Mix well.
- Add cooked kale mixture and stir well.
- Add 1 tbsp olive oil and balsamic vinegar, stir well and season with salt and pepper.
- Stuff each pepper with the mixture and top with pepper lid. Serve warm.