Spaghetti squash with mushrooms and parmesan
For a while there, a slew of spaghetti squash recipes made appearances on Pinterest and some of my favorite food blogs, all looking beautiful and mouthwatering. I was curious but never attempted to cook it because it looked too elaborate. I was comfortable in my butternut squash zone and secretly believed other gourd family members wouldn't taste as good or be as easy to prepare. But a couple of weeks ago, I saw a recipe on steamy kitchen with step by step photos showing how easy making spaghetti squash can be and that was enough to convince me to give it a try (thank you Jaden!)
I've adapted the recipe by adding a few more ingredients and omitting the butter (to keep it a little lighter.) The flavors are savory and very earthy, almost like a mushroom risotto but instead of creamy grains of rice are beautiful golden strings still yielding a crunch and served in a rustic style preparation.
Baking and scraping the spaghetti squash couldn't have been easier! I'll admit to previously hacking cutting squash into pieces before throwing them on a sheet tray, making the whole experience much more tiring than it needs to be. Well, never again as the secret is out; bake THEN cut to avoid slicing through a hard and waxy exterior!
Spaghetti squash may be very low in calories but it's actually quite filling! Especially when prepared with meaty mushrooms and a good dose of parmesan cheese. It's a side dish that's a little heavy so I would recommend serving it with a light pasta (like spaghetti vongole), a simple meat dish (burger Lyonnaise) or just soup (French onion soup with miso) and sandwiches.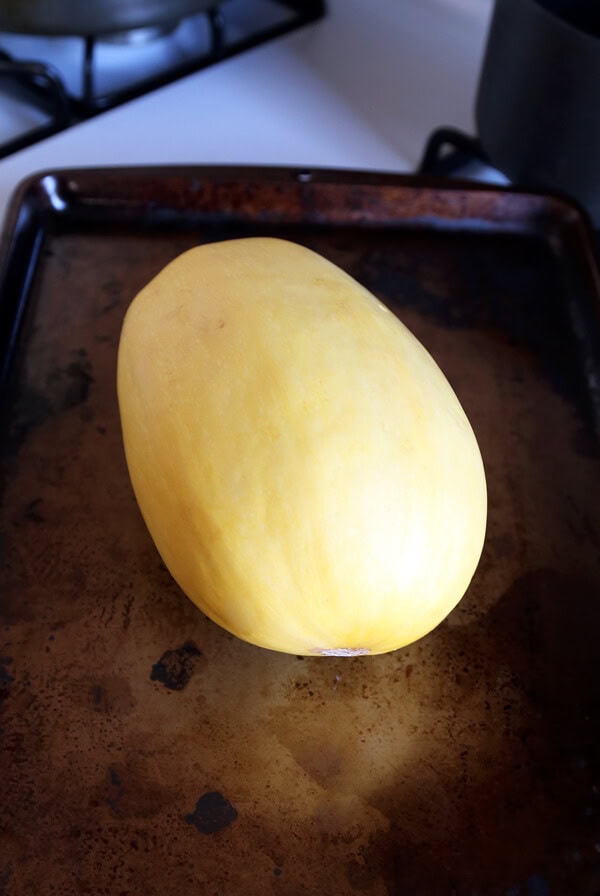 I'm certainly glad I've given spaghetti squash a try since it's absolutely delicious! The flavors are milder and not as sweet as butternut squash, which makes a great vehicle for ingredients that are more savory and umami based. It's a wonderful addition to the menu!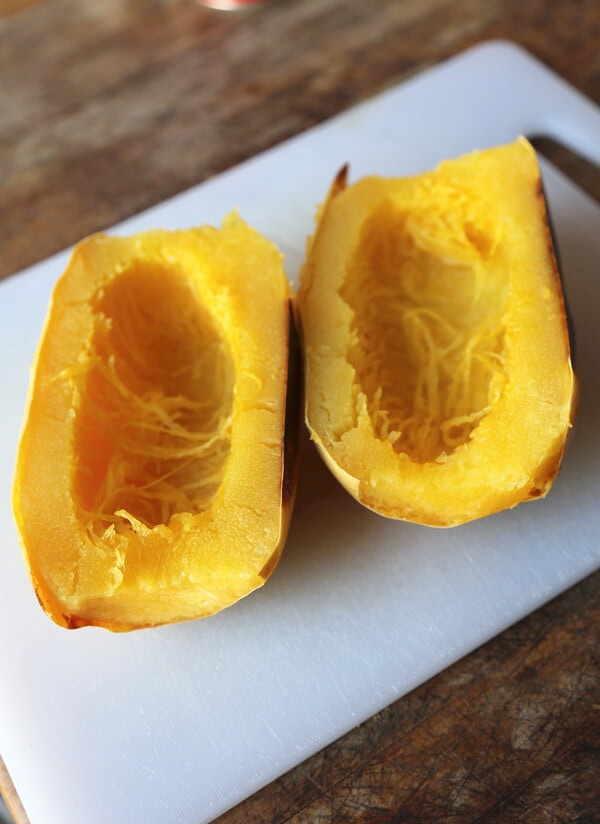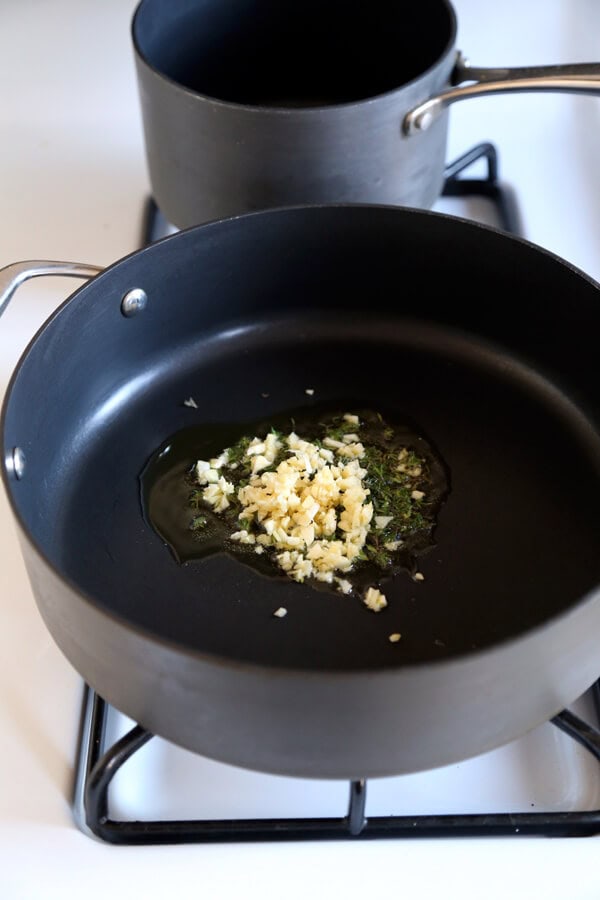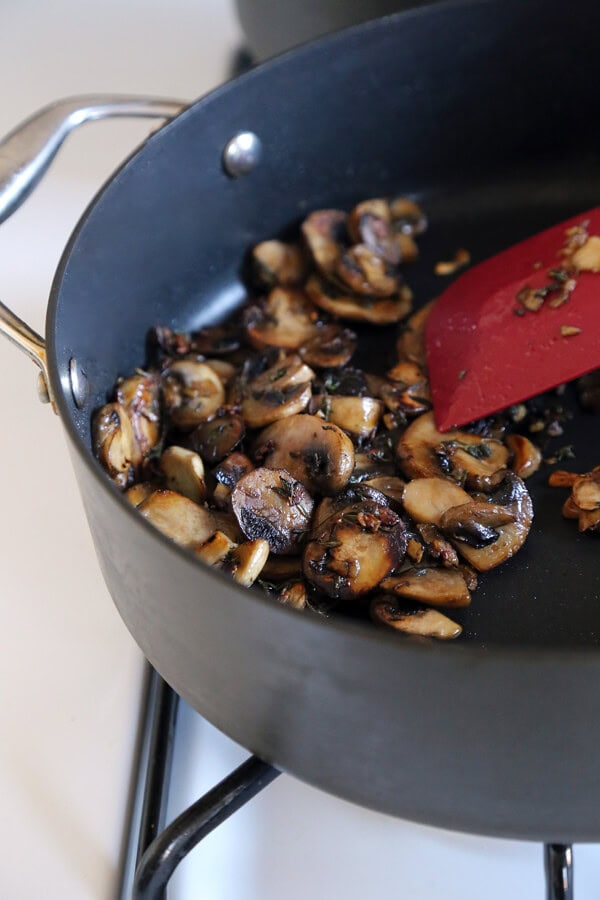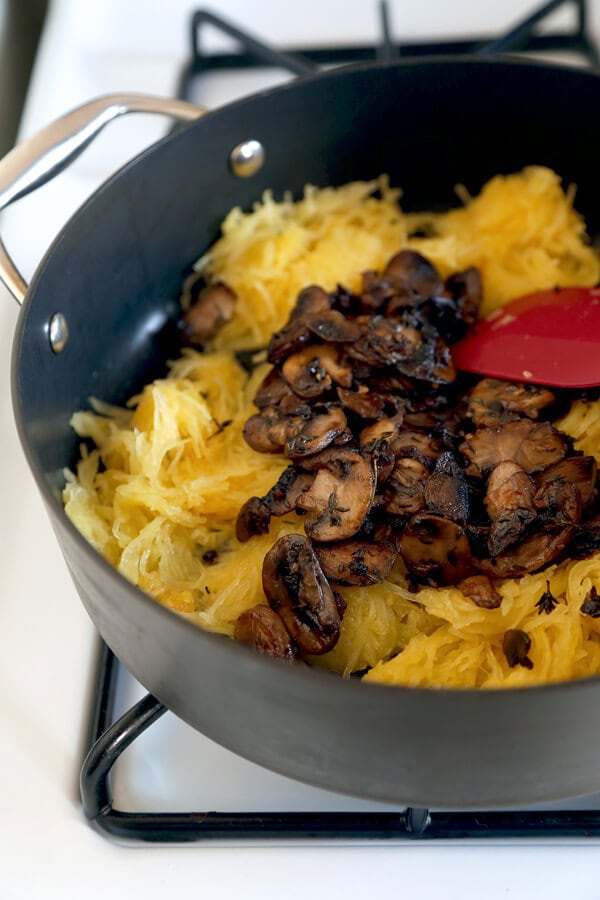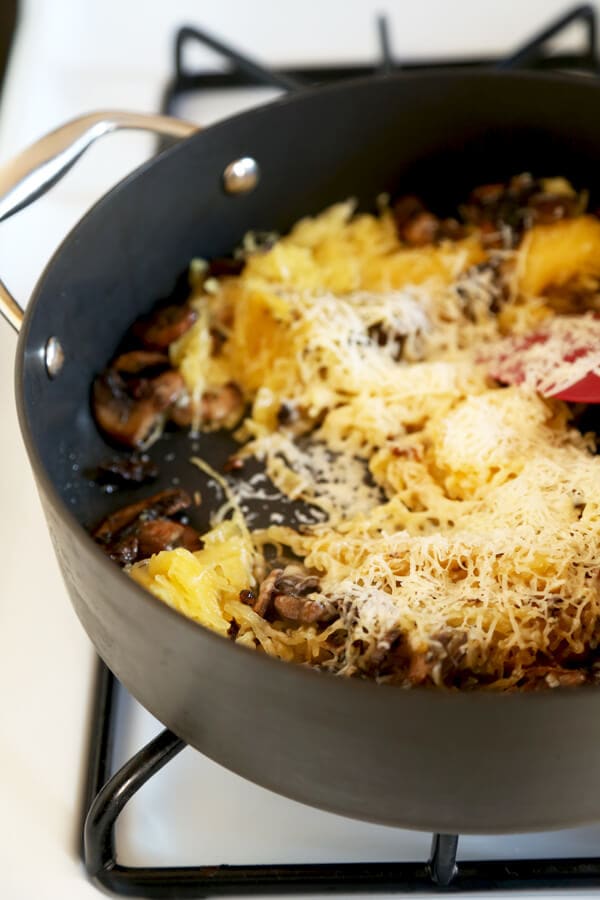 Spaghetti Squash With Mushrooms And Parmesan
Prep time:
Cook time:
Total time:
Ingredients
1 small spaghetti squash (about 3lbs)
1 tbsp fresh thyme
2 garlic cloves, finely chopped
2 tbsp extra virgin olive oil
2 cups button mushrooms, roughly chopped (about 20 mushrooms, 8oz)
¼ cup parmesan cheese, grated
handful fresh parsley, finely chopped
salt and pepper to taste
Instructions
- Preheat oven to 380Fº
- In a deep skillet (or large pan), add olive oil, garlic and thyme. Cook for 2 minutes over high heat and add mushrooms. Cook until mushrooms are golden brown. Turn off the heat and set aside.
- Put the spaghetti squash on a baking tray and bake for about an hour, until squash can be pierced with a knife.
- Take squash out of the oven and let cool to room temperature. Cut in half and get rid of the seeds. Use a fork to scrape the squash into strings.
- Add squash to the skillet (or pan), turn the heat to high and quickly fry with mushrooms. Sprinkle parmesan while sauteing for a minute.
- Turn the heat off, season with salt and pepper and serve warm.
Nutrition Information
Serving size:
4
Calories:
99
Saturated fat:
2g
Unsaturated fat:
6g
Trans fat:
0g
Did you enjoy this article?