This easy, kid-friendly and gluten-free spaghetti squash recipe is cheesy, earthy and super healthy. Oh – and it's delicious too!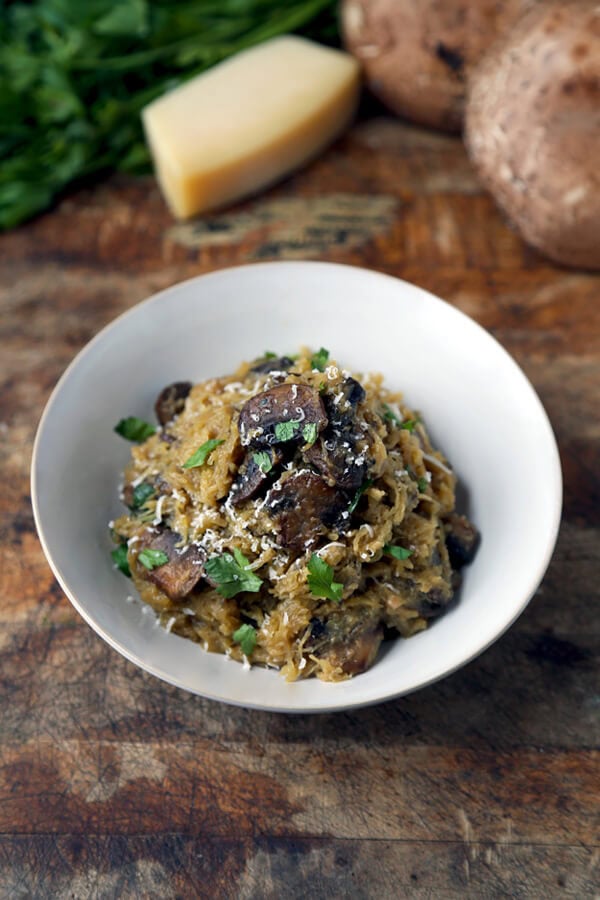 Spaghetti Squash Recipe with Mushrooms and Parmesan
Sometimes the flavors of a creamy mushroom risotto call out to me. There's nothing better than a spoonful of super umami rice and mushrooms. Unfortunately, eating risotto usually involves ingesting mammoth levels of butter – and leave me feeling like I swallowed a bowling ball. So I embarked on a mission to capture the flavors of risotto in a vegetable dish. The flavors in this spaghetti squash recipe are savory and very earthy, almost like that much loved mushroom risotto. However, instead of creamy grains of rice in this rustic style preparation, we're substituting beautiful golden strands of squash which yield a satisfying crunch. Baking and scraping the spaghetti squash couldn't have been easier! I'll admit to previously (and laboriously) hacking cutting squash into pieces before throwing them on a sheet tray, making the whole experience much more tiring than it ever needed to be. Well, never again! The secret is out; bake THEN cut your spaghetti squash to avoid slicing through the hard and waxy raw exterior!
For a while there, a slew of spaghetti squash recipes made appearances on Pinterest and on some of my favorite food blogs, looking beautiful and mouthwatering. I wanted to give it a shot but had never cooked with spaghetti squash before. It looked complicated and too elaborate. I was comfortable in my butternut squash zone and secretly believed other gourd family members wouldn't taste as good or be as easy to prepare. But a couple of weeks ago, I saw a recipe on Steamy Kitchen with step by step photos on how to work with spaghetti squash. That was enough to convince me to give it a try (thank you Jaden!). I've adapted the recipe by adding a few more ingredients and omitting the butter (to keep it a little lighter.)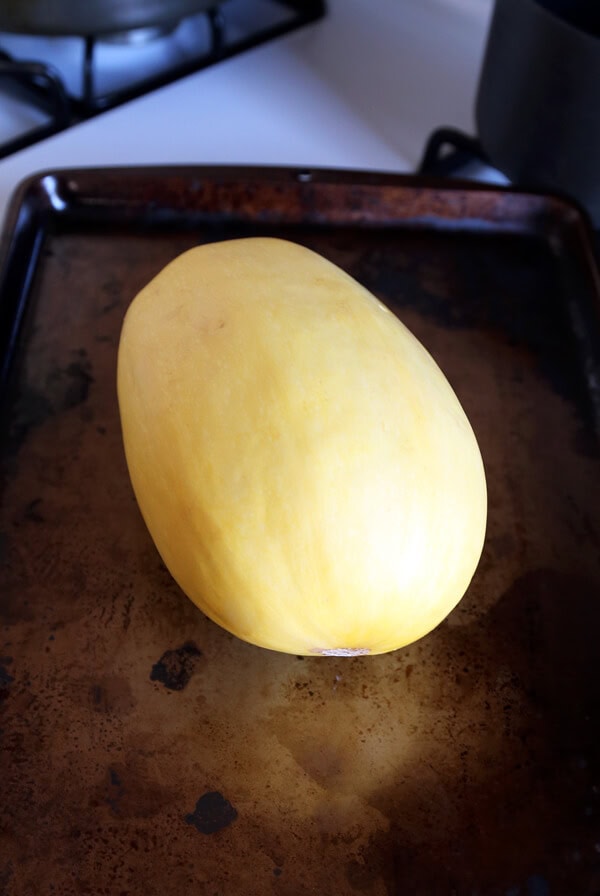 Spaghetti squash may be very low in calories but it's actually quite filling! Especially when prepared with meaty mushrooms and a good dose of Parmesan cheese. It's a side dish that's a little heavy so I would recommend serving your spaghetti squash "risotto" with a lighter dish. I'm certainly glad I've given spaghetti squash recipe a try since it's absolutely delicious! The flavors are milder and not quite as sweet as butternut squash, which makes a great vehicle for ingredients that are more savory and umami based. It's a wonderful addition to the menu!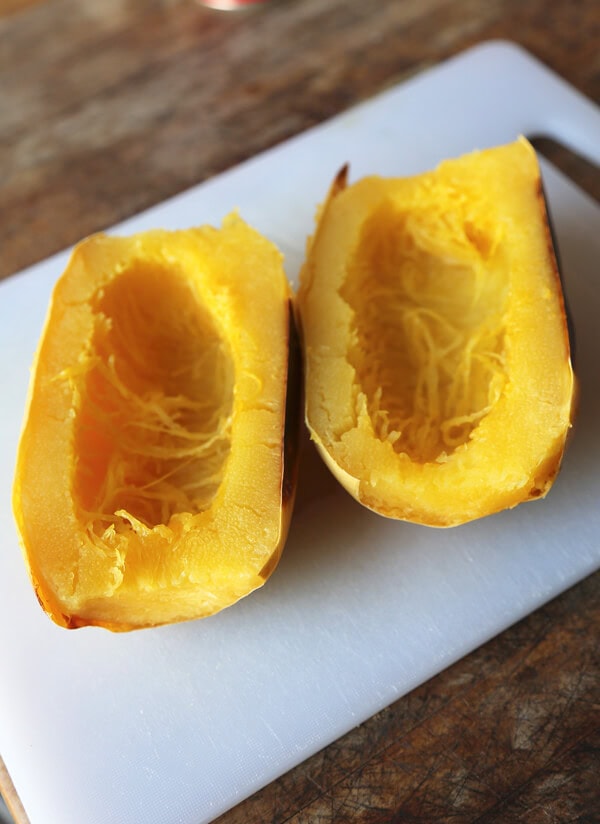 Other yummy spaghetti squash recipes: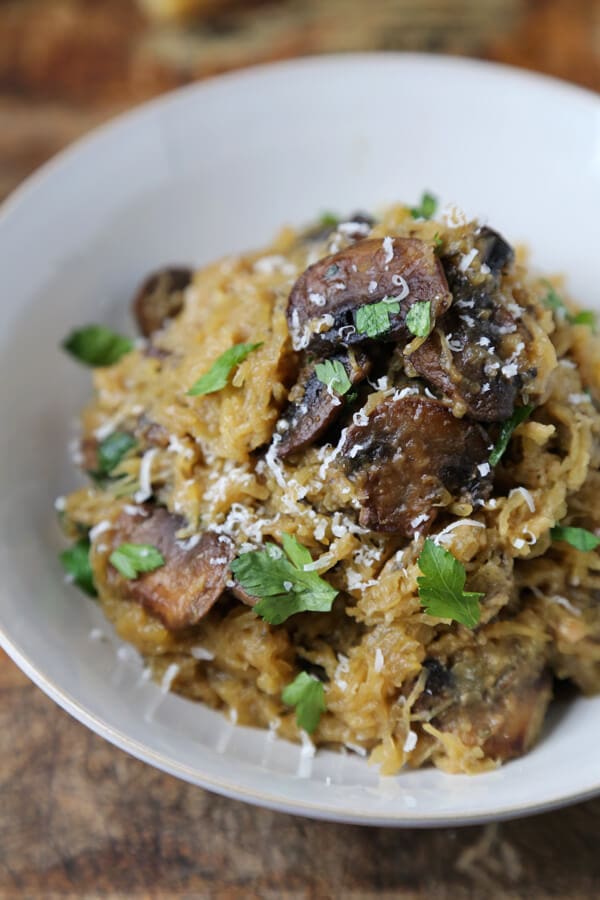 Did you like this Spaghetti Squash Recipe with Mushrooms and Parmesan Recipe? Are there changes you made that you would like to share? Share your tips and recommendations in the comment section below!

Spaghetti Squash Recipe With Mushrooms And Parmesan
Cheesy, earthy and healthy spaghetti squash recipe that's kid friendly and gluten-free!
Ingredients
1 small spaghetti squash (about 2 pounds)
2 tbsp extra virgin olive oil
2 cups button mushrooms, chopped bite size
2 garlic cloves, finely chopped
1 tbsp fresh thyme
¼ cup parmesan cheese, grated
1 handful flat leaf parsley, finely chopped
salt and pepper to taste
Instructions
Preheat oven to 380Fº
In a deep skillet (or large pan), add olive oil, garlic and thyme. Cook for 2 minutes over high heat and add mushrooms. Cook until mushrooms are golden brown (about 7-8 minutes). Turn off the heat and set aside.
Put the spaghetti squash on a baking tray and pierce a the skin a few time using a knife. Bake for about an hour, until squash can be pierced with a knife. Alternatively, you can microwave the spaghetti squash. Instructions are at the bottom.
Take squash out of the oven and let cool to room temperature. Cut in half and get rid of the seeds. Use a fork to scrape the squash into strings.
Add squash to the skillet (or pan), turn the heat to high and quickly fry with mushrooms. Sprinkle parmesan while sauteing for a minute.
Turn the heat off, top with parsley and season with salt and pepper. Serve.
Microwaving spaghetti squash: Place spaghetti squash on a microwave safe plate or other microwave safe container. Place the cut side down (skin facing up). Microwave on high for 10 minutes.
Take the spaghetti squash out of the microwave and shred with a fork. If the squash is still hard, microwave for another 2-3 minutes, or until tender.
Notes
While you can refrigerate this Spaghetti Squash with Mushrooms and Parmesan recipe for 1-2 days, it is ideal if you finish it the day you cook it.

This Spaghetti Squash Recipe Is:
Low in cholesterol
Low in sugar
High in calcium
High in phosphorus
Very high in vitamin B6
Want to know more about spaghetti squash?
Check out this post on cooking spaghetti squash and all you ever need to know about spaghetti squash!