This sweet and sour tofu recipe is a quick and tasty dinner option that's much better than takeout – and is ready in just 20 minutes!
Sweet and Sour Tofu
These past three weeks went by so quickly. One minute I'm sitting in a beautiful resort in Okinawa, enjoying the perfect weather with my mother and husband, the next I'm back in Brooklyn, sleepy head and a bad jet lag to get over. That's the thing about Japan; going there is so much fun that it always feels like it's over too soon. I always want to stay a little longer, spend more time with my mother, explore more of what Japan has to offer. But my life (and kitty) in New York was calling so I hugged my mother one last time and headed to the airport. That was yesterday.
Today, the 13 hour time difference makes it hard to do simple chores such as cleaning and grocery shopping. All I want to do is sleep or watch TV so to make it easy on myself, I've created a quick sweet and sour tofu.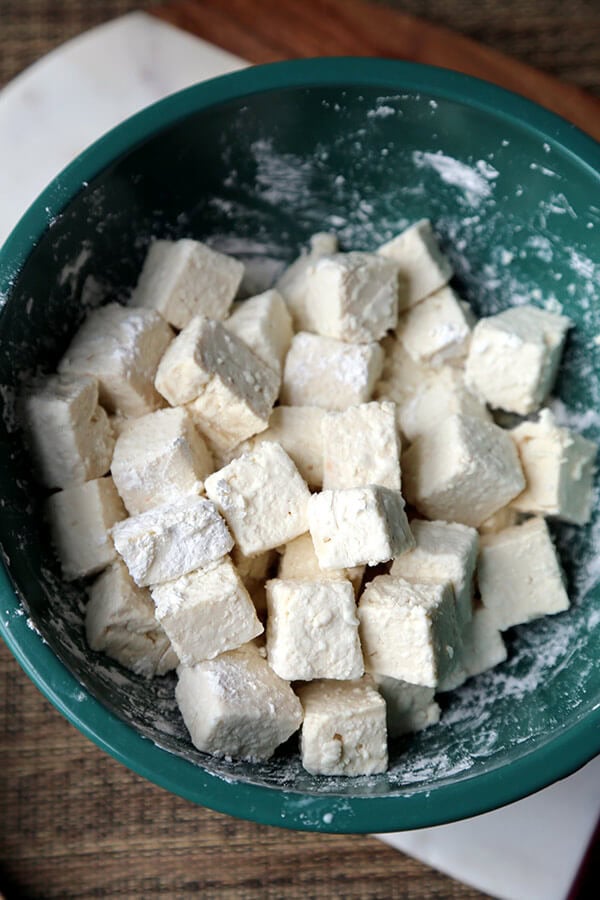 Sweet and sour tofu takes less than 20 minutes to make and hits the spot if you are craving sweet and gooey American Chinese food. As you know, I love using the dust and quick fry method with tofu because it gives it a nice, crispy texture while keeping the cubes moist and silky on the inside. It's the best!
I'm only using red and green bell pepper for this recipe as I didn't think it needed anything else. I love onions but sometimes I think they get overused in Chinese inspired recipes. Simplicity is the key to keeping the delicate texture of this sweet and sour tofu dish a success.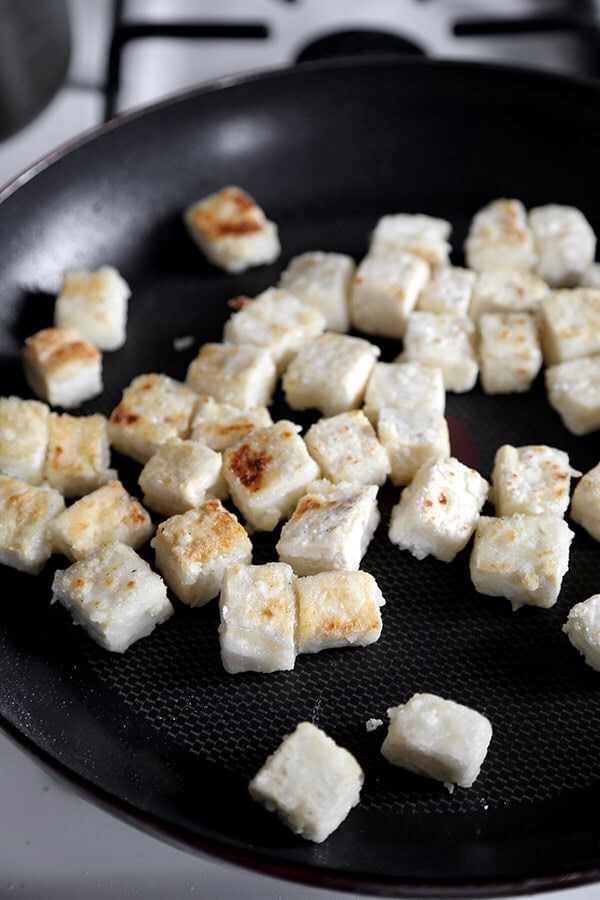 This sweet and sour tofu tastes best when served fresh and hot because of the crispy tofu cubes. You can cook it in advance and take it to lunch the next day but I can't guarantee you'll get the same Oh-my-gosh-this-is-so-amazing reaction as you would if you ate it right out of the pan. Serve it with hot rice or on its own with a light salad on the side.
Other delicious, vegetarian tofu recipes: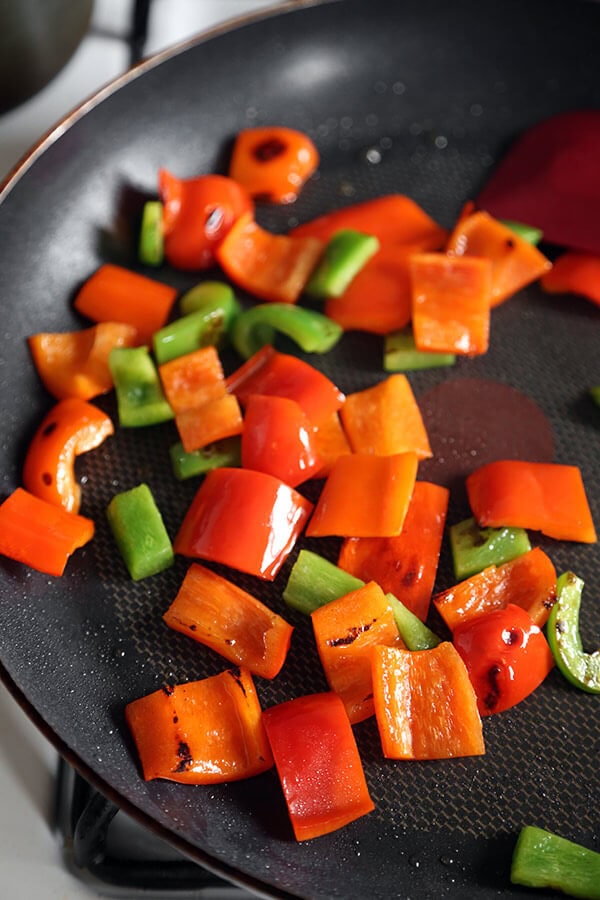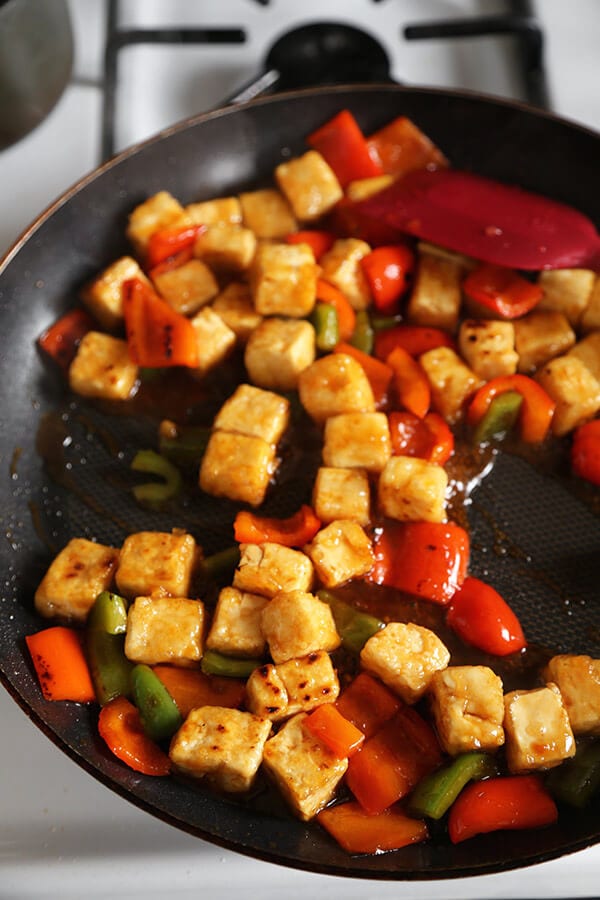 Did you like this Sweet and Sour Tofu Recipe? Are there changes you made that you would like to share? Share your tips and recommendations in the comments section below!
Serve this recipe with a side of Japanese rice. Watch our video on How To Make Japanese Rice the stove top or rice cooker method!
Sweet and Sour Tofu
This sweet and sour tofu recipe is a quick and tasy dinner option that's much better than takeout - and is ready in just 20 minutes!
Author:
Pickled Plum - Caroline Phelps
Recipe type:
Main, Tofu, Easy, Vegetarian
Ingredients
One 14oz (396g) block medium firm Tofu
1 Red bell pepper cored and chopped into bite size pieces
1 Green bell pepper cored and chopped into bite size pieces
2 tbsp vegetable oil
Cornstarch for dusting
For The Sweet And Sour Sauce:
3 tbsp brown sugar
¼ tsp salt
1 tbsp ketchup
1 tbsp soy sauce
3 tbsp rice or cider vinegar
⅓ cup water
Instructions
Whisk all the ingredients for the sweet and sour sauce (until sugar has dissolved) in a bowl and set aside.
Drain tofu and wrap in paper towel or tea towel to remove excess water. Repeat 3 to 4 times until the tofu is drier. Slice tofu into 1 inch cubes.
Dust tofu with potato starch until all sides are well coated.
In a large pan over high heat, add oil and tofu and fry until all sides are slightly golden (about 7 minutes). Transfer tofu to a plate and set aside.
Add red and green bell pepper to the pan and cook for 3-5 minutes, until peppers have softened but still yield a crunch.
Return tofu to the pan, add sauce and stir until tofu and bell peppers are coated.
Turn the heat off, transfer to a plate and serve.
Notes
This Sweet And Sour Tofu Recipe Is:
Cholesterol free
High in calcium
High in manganese
High in vitamin A
Very high in vitamin C