Colorful veggies and chile paste make this Szechuan chicken vibrant and deliciously spicy! And it only takes 25 minutes to make from start to finish!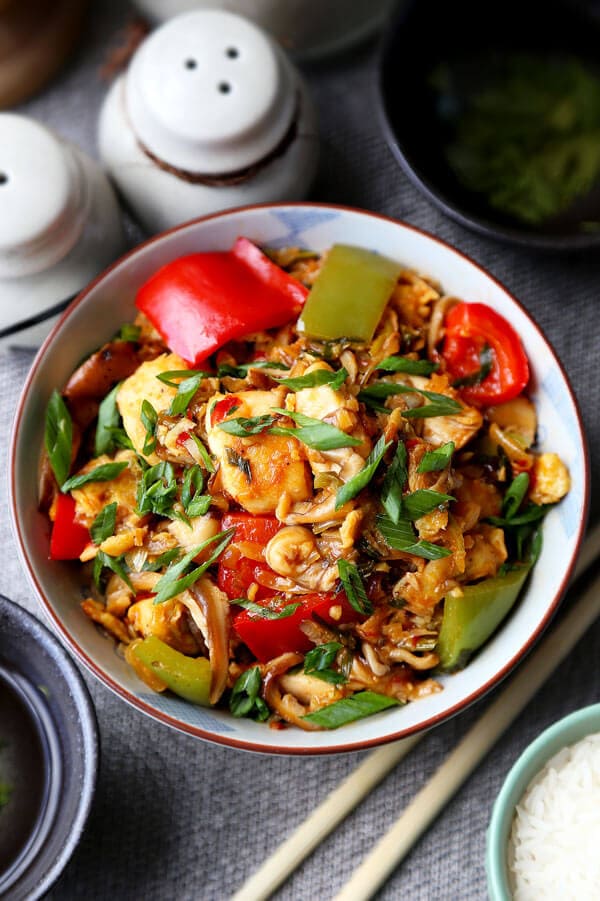 Szechuan Chicken Recipe
Oh yum – this picture makes me wanna grab a pair of chopsticks and dive into that beautiful bowl of Szechuan chicken! Just imagine how hard it was to shoot this when the whole apartment smelled of fragrant garlic fried with fresh ginger, sambal oelek and a dash of soy sauce. We plated the dish, each had a taste and hunger suddenly took over – we could barely concentrate! This is one amazing Szechuan chicken stir fry that has a good amount of heat and lots of savory, umami notes that will make you crave for more!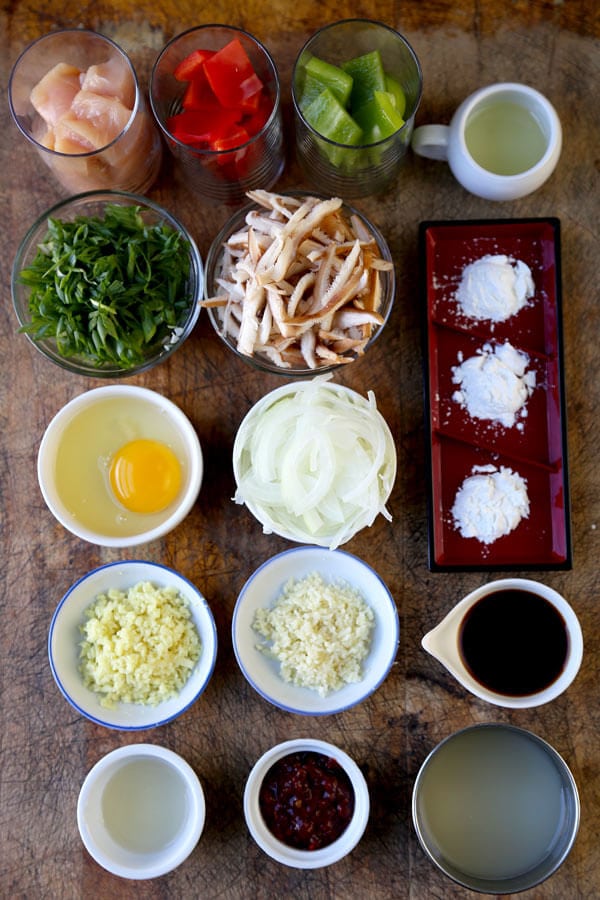 Szechuan chicken is very similar to Hunan chicken in that they both contain lots of veggies, the chicken is prepared the same way and they are both stir fries. The main difference is the amount of heat that's infused into the dish: Szechuan chicken is less spicy than the Hunan version. Plus, I've added loads of shiitake mushrooms to soak up the juices and act as a vehicle for the sauce. Flavor bombs!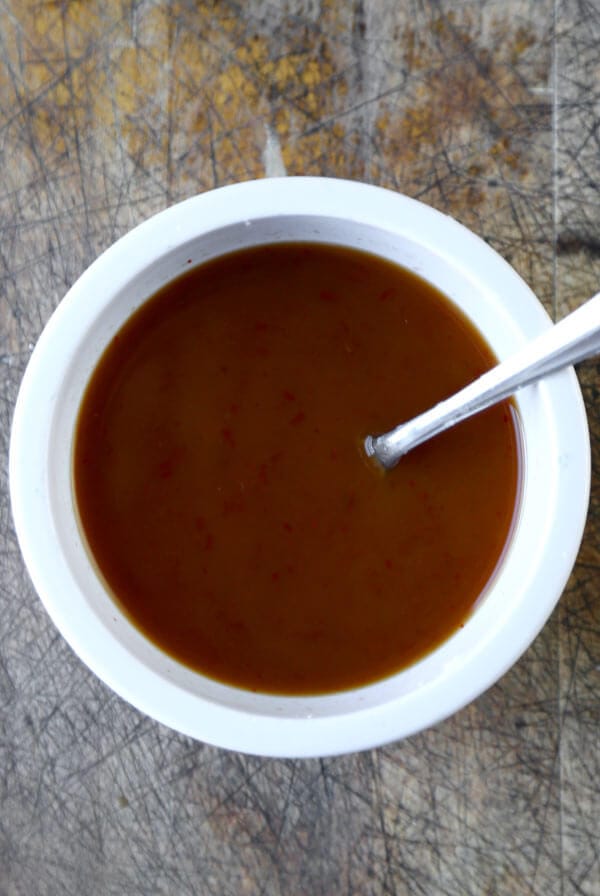 The flavors are so striking that a simple bowl of steamed white rice pairs best with Szechuan chicken. Another interesting option is to use it as a topping for congee! Ben loved the combination of porridge and spicy chicken bites – he said it transformed the delicate dish into something complex and flavorful. Leave it to him to find the best ways to recycle leftovers!
Other delicious Asian inspired recipes: kimchi udon stir fry, Mongolian chicken, baked general tso chicken, honey sriracha tofu.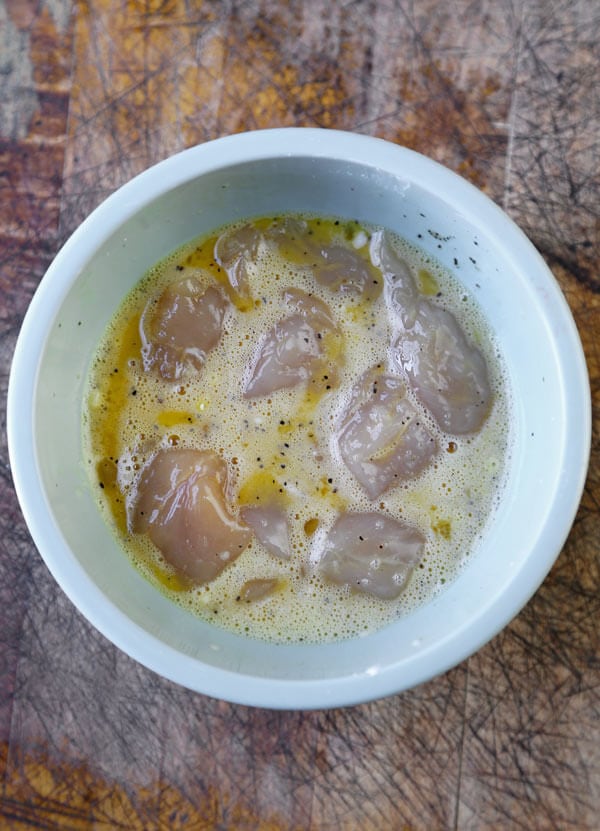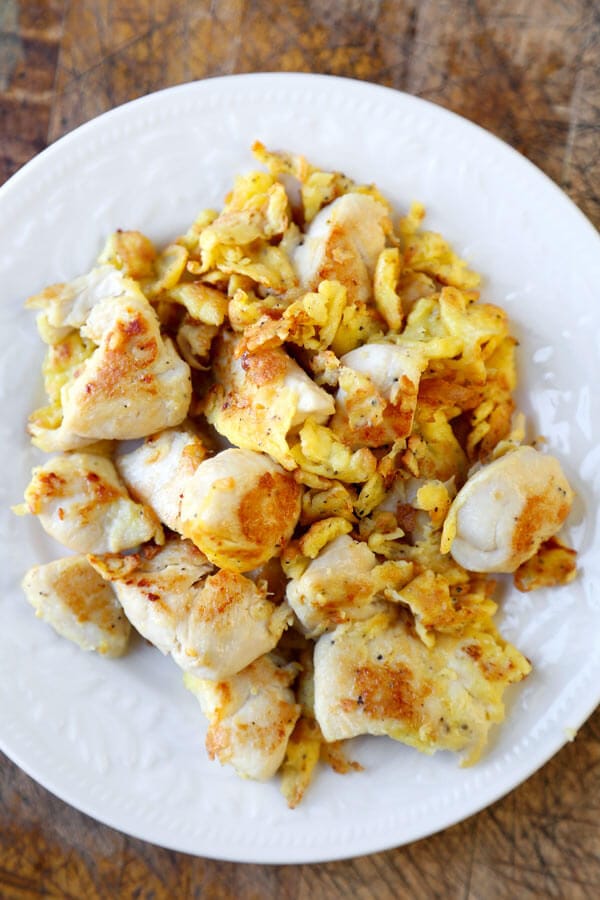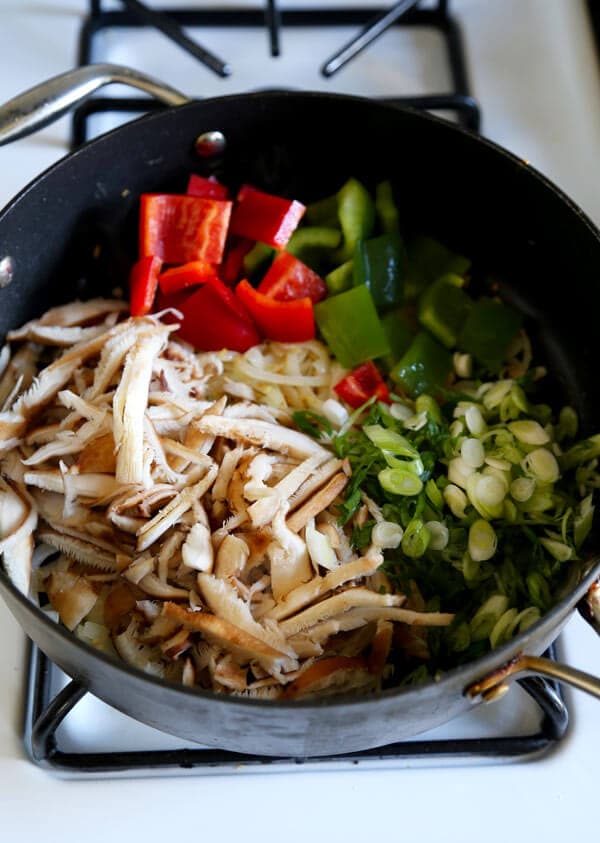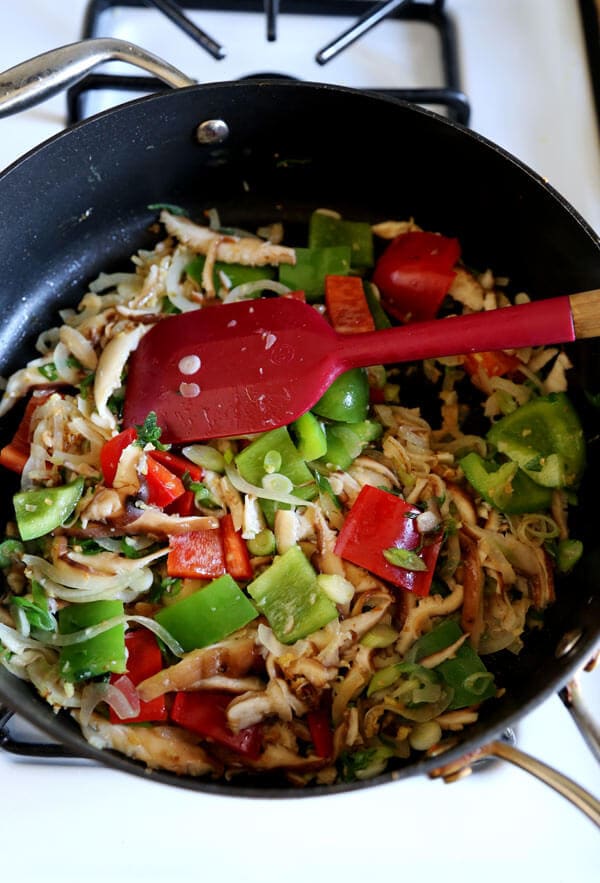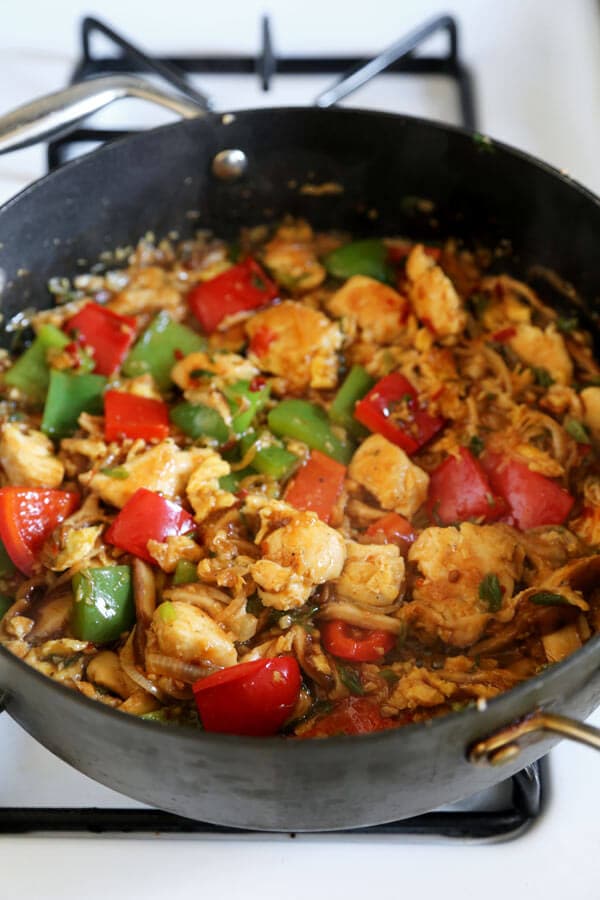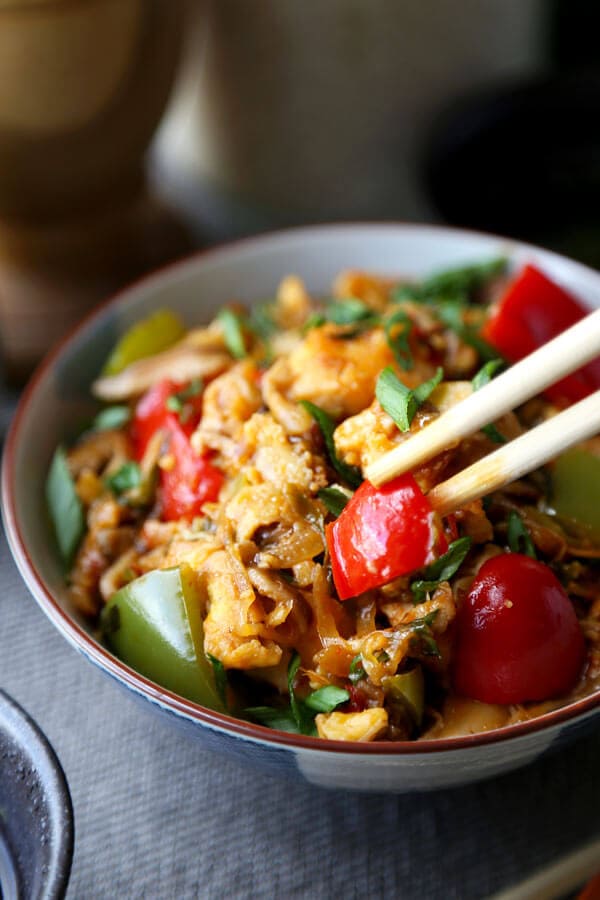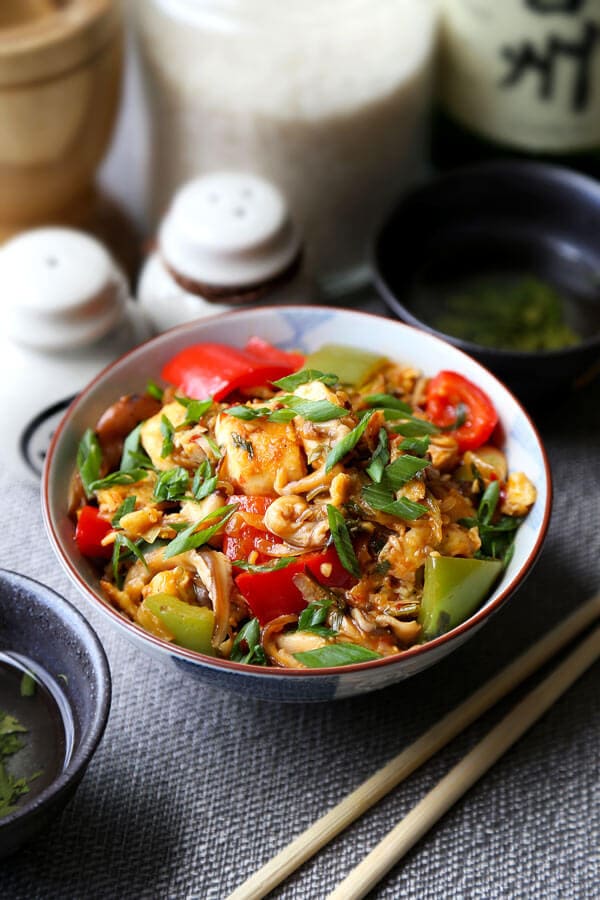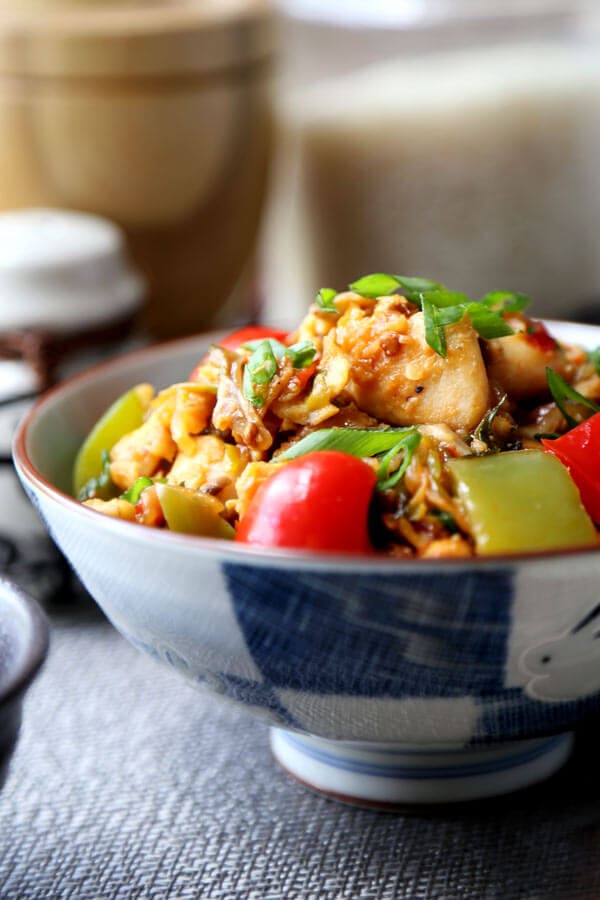 Did you like this Szechuan Chicken Recipe? Are there changes you made that you would like to share? Share your tips and recommendations in the comments section below!
Serve this recipe with a side of Japanese rice. Watch our video on How To Make Japanese Rice the stove top or rice cooker method!
Szechuan Chicken Recipe
Colorful veggies and chile paste make this Szechuan chicken vibrant and deliciously spicy! And it only takes 25 minutes to make from start to finish!
Author:
Pickled Plum - Caroline Phelps
Recipe type:
main, chicken
Cuisine:
Chinese, Spicy, Healthy
Ingredients
½ pound skinless, boneless chicken breast (or fillets), chopped bite size
1 large egg, whisked
2 tsp cornstarch
2 tbsp vegetable oil (or peanut oil)
2 garlic cloves, minced
1 thumb size piece of ginger, peeled and finely chopped
1 small onion, julienned
½ green bell pepper, julienned
½ red bell pepper, julienned
10 shiitake mushrooms (or button mushrooms), julienned
3 scallions, finely chopped
For the sauce:
1 tbsp chile paste (like sambal oelek or gochujang)
¼ cup chicken stock
1½ tbsp soy sauce
½ tbsp rice vinegar
1 tsp cornstarch
Instructions
In a bowl, combine egg and cornstarch and season with a little salt and pepper. Add chicken pieces and marinade for 5 minutes.
Add all the ingredients for the sauce into a bowl and whisk until well blended.
In a large pan over medium high heat, add 1 tbsp vegetable oil. Drop chicken pieces and cook until both sides are golden brown. Remove chicken from the pan and set aside.
Add remaining 1 tbsp vegetable oil to the pan (still over medium high heat) and add garlic and ginger. Cook for 1 minute and add onions, green and red bell pepper and shiitake mushrooms. Cook for 5 minutes.
Return chicken to the pan and add sauce. Stir and coat vegetables and chicken for 1 minute and turn the heat off.
Transfer to a plate or bowl and serve Szechuan chicken with a side of white rice.
Notes
This Szechuan Chicken Recipe Is:
Very high in pantothenic acid
Very high in selenium
Very high in vitamin C
Nutrition Information
Serving size:
343g
Calories:
284
Fat:
10.7g
Saturated fat:
2.6g
Trans fat:
0.0g
Carbohydrates:
32.6g
Sugar:
9.1g
Sodium:
885mg
Fiber:
5.3g
Protein:
18.3g
Cholesterol:
79mg