A delicious Yaki Udon Recipe ready in just 10 minutes! Stir fried Udon noodles with butter and dashi powder served with bonito flakes and fresh scallions.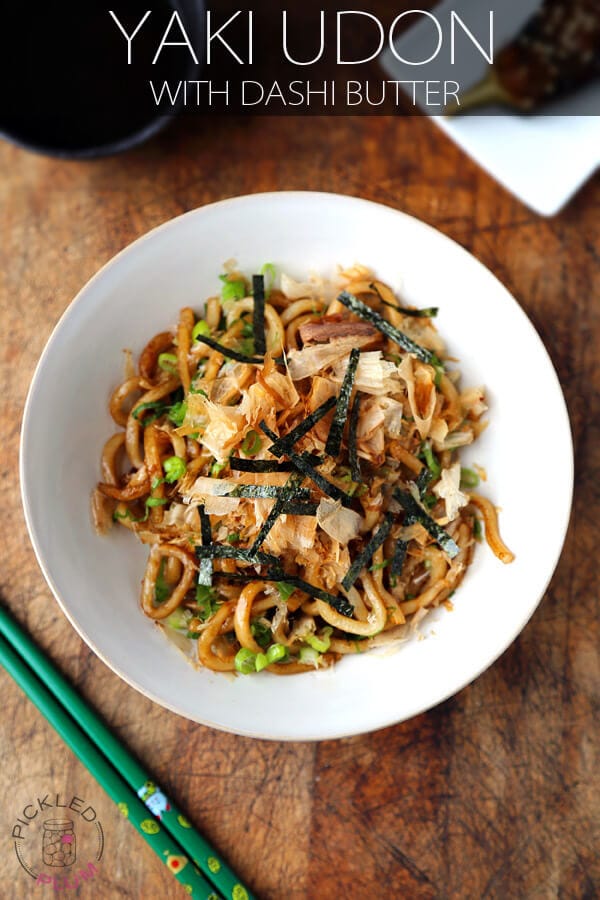 Yaki Udon with Dashi Butter
Yaki udon total cooking time: 9 minutes
I think it was a Tuesday evening, two nights before Ben was flying back to New York when my cousin and his family invited us out to dinner at their favorite yakitori bar in downtown Iizuka, Japan. The bar itself was quite small but to the side were private rooms for bigger groups of people like us. We were led to one of them and sat around a large wooden table facing an aquarium filled with live squids. The waiter then brought over a couple of large bottles of Kirin Beer and proceeded to take our order. The menu was HUGE: one page listed every single part of a chicken, including bones and organs, to be served skewered and seasoned with either salt or tare sauce (Yakitori literally means grilled chicken), while the second and third page offered rice dishes, noodles, raw fish, salads, rice pancakes,  you name it.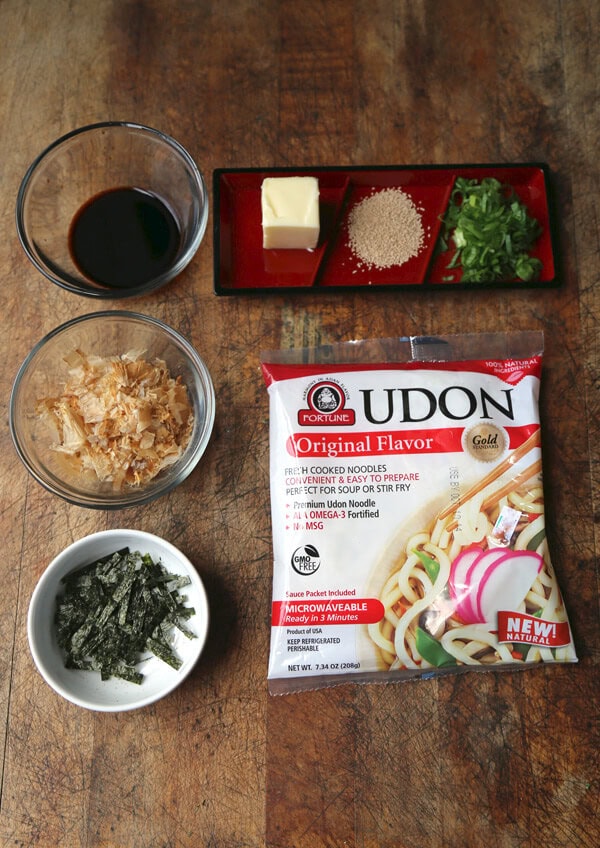 We left it up to my cousin and his wife to order since they knew the entire menu so well and were treating us to it. Dish after dish made their way to our table – Korean style rice flour pancakes lightly brushed with a sweet soy sauce, a massive tray of skewered chicken breast, hearts, crispy skin, liver, asparagus wrapped in bacon, charred onions and peppers, sardines and squid, a small bowl of raw octopus marinated in fresh wasabi, grilled onigiri, a deep fried julienned potato salad with mayonnaise and finally, the best yaki udon I have ever tasted.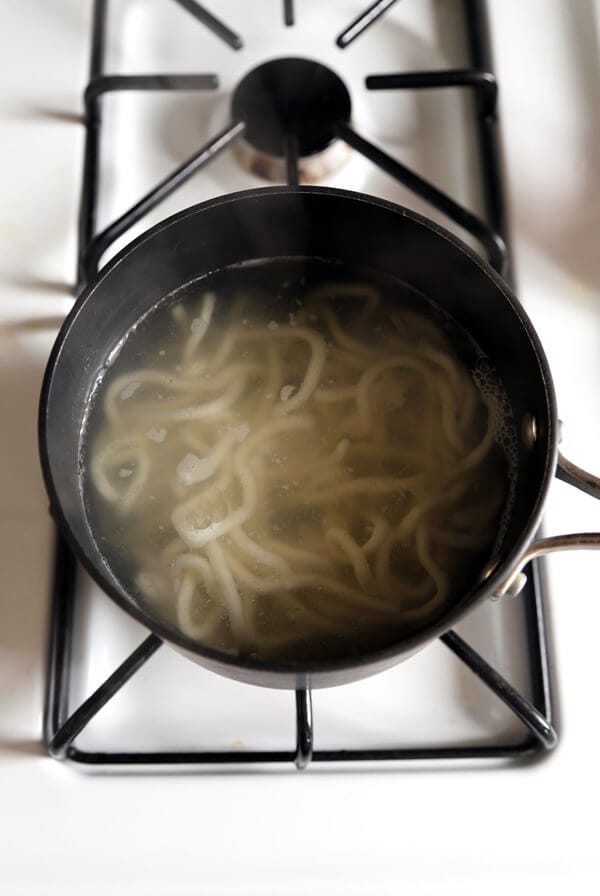 There was something really special and unique about the way they prepared yaki udon and I wasn't about to leave without the recipe! Every bite I took became an adventure, a quest to discover each ingredient used and how they were able to infuse so much flavor inside the udon noodles themselves. I came back to New York with yaki udon on my mind (literally dreaming about yaki udon) and began testing a few theories.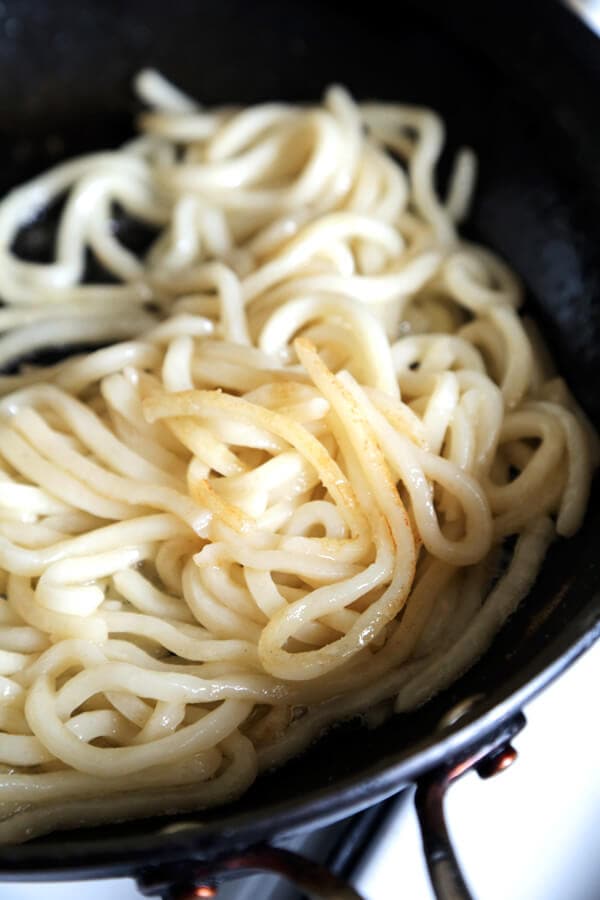 What really changed this particular yaki udon dish was the addition of Dashi to the butter as it melted; that seemed to do the trick in infusing the flavors throughout the thick noodles. I then fried the noodles long enough to let them get a little crispy and finished with a tablespoon of soy sauce. Stir well and top with chopped scallions, nori and a generous amount of bonito flakes.
The result: Divine Yaki Udon and very close to the original dish I tasted back in the south of Japan. Delicious with beer and other bar snacks like Korean wings, cucumber kimchi, kale chips and edamame.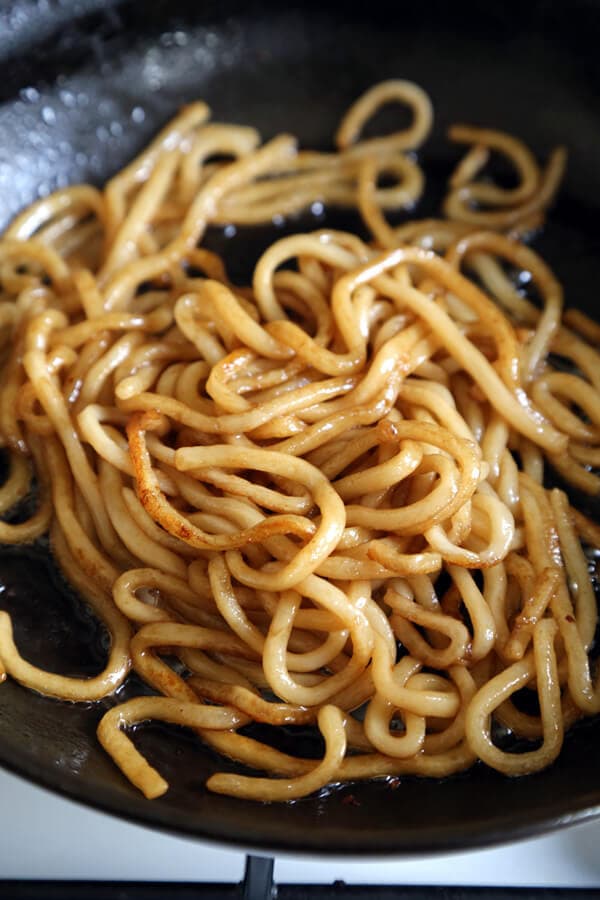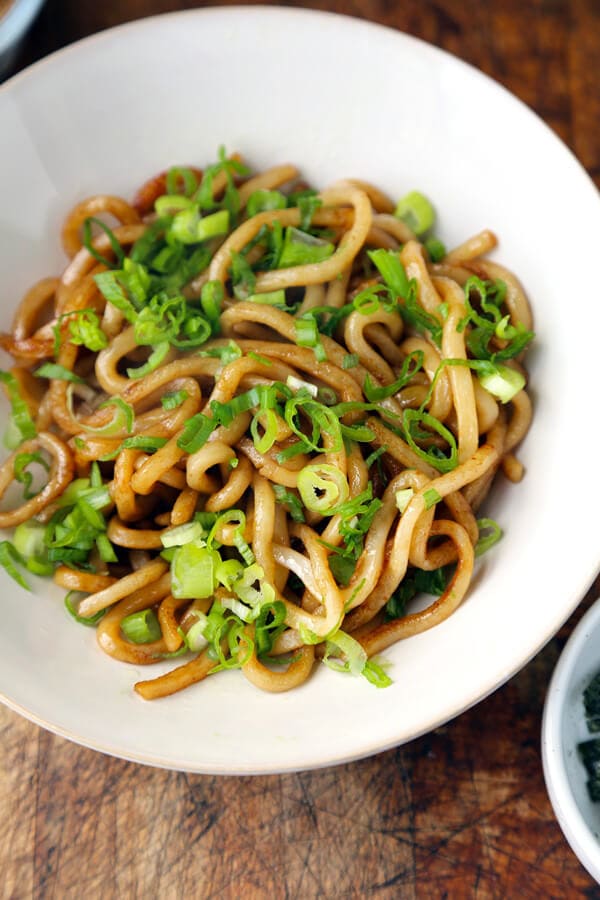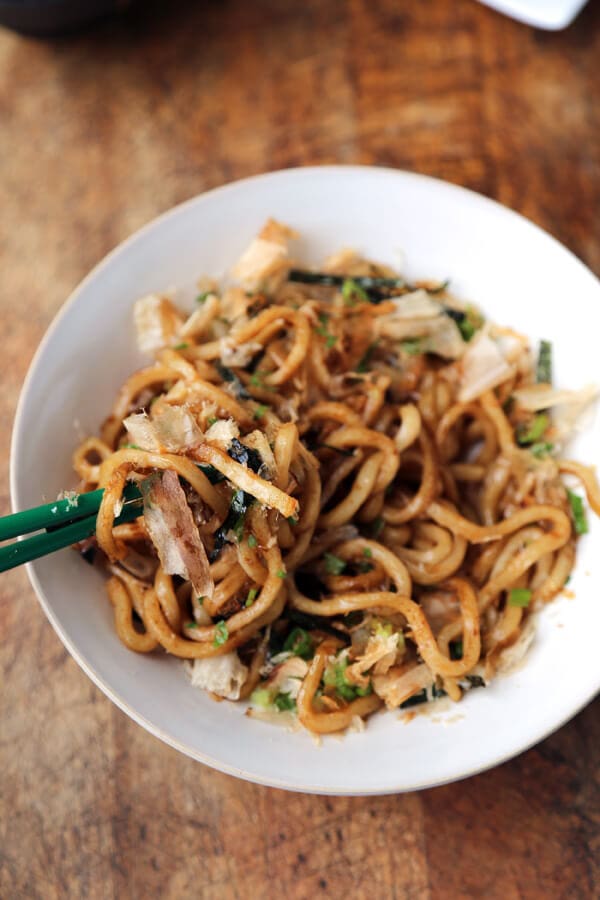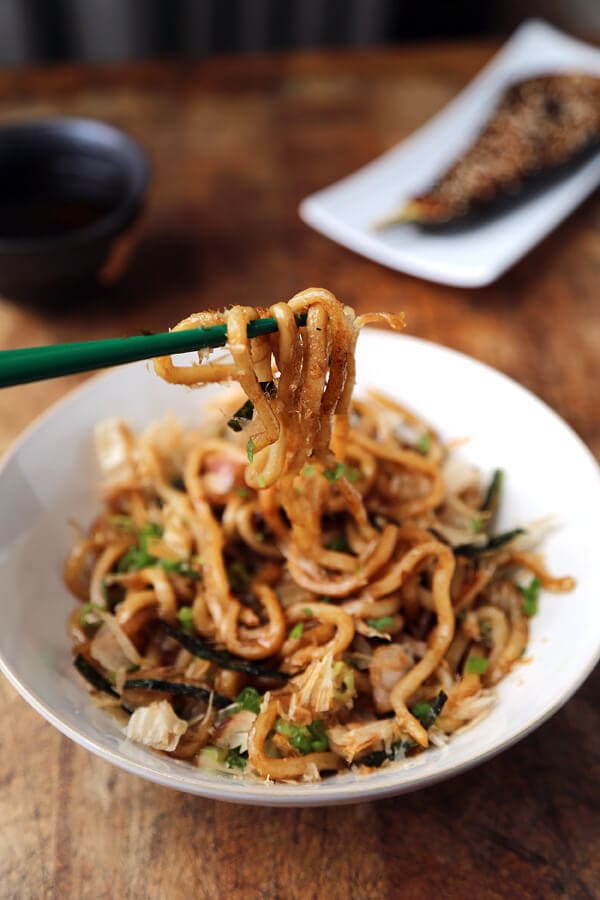 Did you like this Yaki Udon Recipe? Are there changes you made that you would like to share? Share your tips and recommendations in the comment section below!

Yaki Udon with Dashi Butter
A delicious bowl of stir fried yaki udon tossed in dashi butter, soy and topped with scallions, nori and katsuobushi. Yaki udon is the perfect bar snack!
Author:
Pickled Plum - Caroline Phelps
Recipe type:
Noodles, Main
Instructions
Boil udon noodles according to package (about 3 minutes for pre-cooked ones)
In a pan over high heat, add butter, dashi and water and swirl until bubbly.
Add udon noodles and coat well. Cook for about 4 minutes, until noodles are still soft but with a slight crunchy exterior (some noodles will be a light brown color).
Add soy sauce, turn off the heat and coat well.
Transfer to a plate, add scallions and top with katsuobushi and nori.
Serve yaki udon immediately.
Notes
This Yaki Udon Recipe Is:
Low in Sugar

This yaki udon recipe will keep in the fridge for 1-2 days.


Nutrition Information
Serving size:
300g
Calories:
367
Fat:
12.7g
Saturated fat:
7.3g
Trans fat:
0.0g
Carbohydrates:
57.5g
Sugar:
1.4g
Sodium:
992mg
Fiber:
1.3g
Protein:
8.6g
Cholesterol:
31mg
Other Yummy Noodle Recipes: