5 Japanese Skin Care Secrets (With Anti Aging Benefits)
"She has no wrinkles and her skin is so smooth!" is something I hear my friends say all the time whenever they talk about my mother's skin. And it's true: my mother's skin is unbelievable. At the age of 75 she still has perfectly hydrated and bouncy skin. If anyone knows about what works and doesn't work when treating fine lines and saggy skin, it's her. And the good news is, it doesn't have to cost a lot of money and doesn't take long either.


These are simple and popular anti aging Japanese skin care tips to help you achieve a youthful look. By taking an extra 10 minutes out of your day, you will dramatically improve your skin's texture and complexion. It's never too late to get started; turn these tips into daily habits and you'll see some major positive changes that will make you look and feel younger. A good anti aging skin care routine will help you age well and make you radiant inside and out. Follow these 5 simple Japanese skin care tips and be on your way to youthful, beautiful skin!
1. Use A Gentle Skin Cleanser.
(Japanese Skin Care Secret: the gentler the product, the better)
Japanese women stay away, far away from harsh products containing lots of chemicals. Instead, they prefer using softer, more natural and alcohol-free products. By using more gentle products like a softener (I wrote a post about it, you can read it here), the skin remains more hydrated (instead of being stripped away of its natural oils).
Cleansing is essential to healthy skin because it washes away bacteria that could possibly get into pores and create breakouts. Whether you wear makeup or not, you should always give your skin a good cleansing before bedtime and finish by applying serum and a nighttime moisturizer. Using softer products will benefit your skin in retaining its moisture, plus, they also often cost less money!
Complete Your Beauty Regimen With A Gentle Skin Cleanser

 
2. Leave Your Skin Bare Once A Month.
(Japanese Skin Care Secret: Simplify and let your skin breathe)
While it's great to care for your skin, it's also good to let it breathe once in a while. Too many products can cause the skin to suffocate resulting in a loss of elasticity and color. If you're spending the evening at home, take off your makeup before dinnertime and leave it bare until the morning. I know it will be tempting to slap on a little serum or moisturizer but try to stay away from all skin products. Remind yourself you are doing your skin a favor!
The next day, apply a little skin softener (read skin softener: a girl's best friend) or a beauty mask to add moisture.
Complete Your Beauty Regimen With A Softener Or A Mask
3. Eat More Seaweed Based Products.
(Japanese Skin Care Secret: eating seaweed everyday fights fine lines and wrinkles)
You are what you eat and this is especially true when it comes to your skin! Eating too much fried foods will result in breakouts while skimping on fruits and vegetables will make your skin look dry and dull. Your diet makes a big difference in how you feel and look and adding a little seaweed to it can improve your overall health.
Japanese women eat seaweed on a regular basis – not only because they know it's an anti aging superfood for the skin, but also because it's widely used in Japanese cuisine. Getting your daily recommended intake of seaweed is a very easy thing to accomplish in Japan. Unfortunately, not so much in this neck of the woods.
Fortunately, it's become a lot easier to find seaweed based products in both food and product forms. Many grocery stores now offer packaged flavored dried seaweed snacks and Japanese food is accessible more than ever before (onigiri, bento boxes). Seaweed is a great anti-aging food and contains a wealth of vitamins and minerals hard to find in other foods. Because of its natural anti-inflammatory properties, seaweed reduces redness caused by rosacea as well as swelling. The iodine regulates the metabolism and helps rejuvenate the skin. One sheet of nori contains the same amount of Omega 3's as two avocados! Omega 3's are the good fatty acids that help keep the skin retain moisture, consequently reducing fine lines and wrinkles. Filled with Vitamin C, it also strengthens nails and hair.
Fill Your Pantry With Seaweed
4. Lightly tap your skin when applying skincare products.
(Japanese Skin Care Secret: give your face a daily mini massage)
Japanese women lightly tap their face when applying products onto their skin to stimulate blood flood. Going upward (starting with the chin), gently pat your face to elevate energy levels. Most Japanese women do this ritual (including my mother for as long as I can remember) and it's something I have recently included in my daily skin care routine before bedtime.
Complete Your Beauty Regimen With Day And Night Creams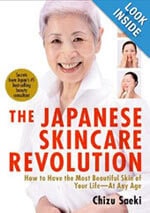 Not a tip but a MUST for those interested in learning more about Japanese skin care (e.g: how to create your own home spa + detailed step-by-step pictures of various anti aging facial massages). Written by Chizu Saeki (now in her 60s) who used to manage Christian Dior in Tokyo, this book is detailed like no other beauty books I've seen. With a three year waiting list to get in to her beauty salon, she's Japan's skin care guru. Learn cheap at home techniques that won't break the bank and how to maximize the use of beauty products.
5. Drink And Eat More Green Tea Based Products. 
(Japanese Skin Care Secret: drink 1-2 cups a day)
Green tea is packed with antioxidants and anti-inflammatory properties to protect the skin against UV rays (which is one of the main causes for wrinkles). Some research has been done with women who had moderate skin damage and by supplementing their diets with green tea (over a two month period), saw significant improvement in elasticity. It's easy to include green tea into your diet these days as there are so many green tea based products available on the market.
Fill Your Pantry With Green Tea
Other Beauty Related Posts: